Barmbrack, Toffee and Other Treats to Have an Around-the-World Halloween Celebration
This weekend's celebrations extend beyond snarfing down Hershey and Mars bars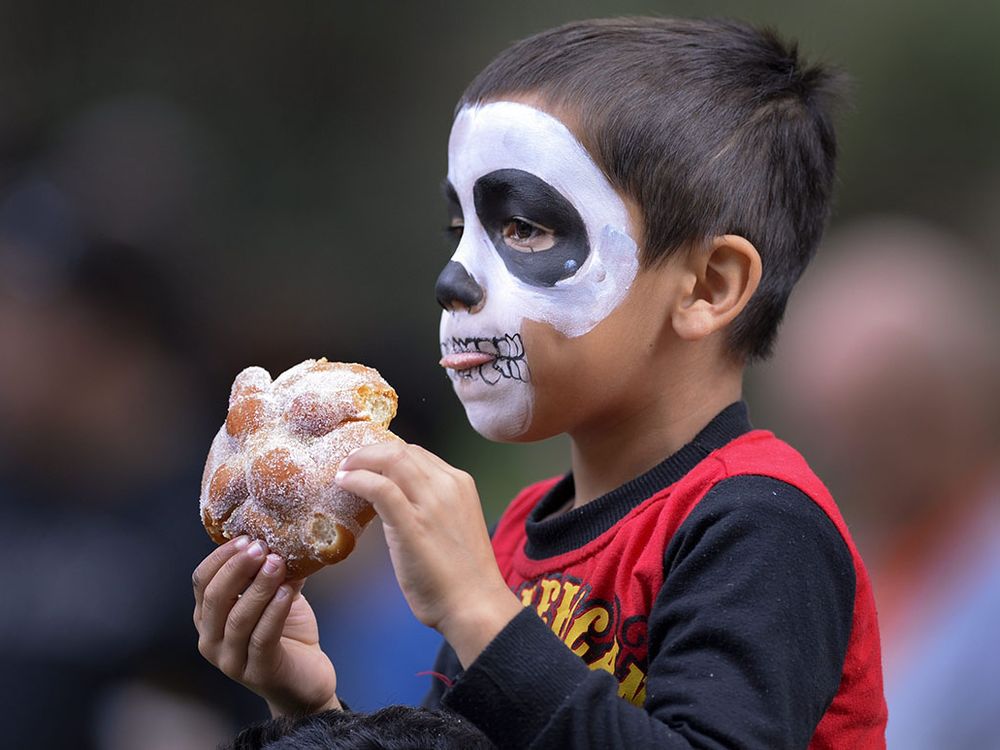 The history of Halloween can be traced back to Samhain, an old Gaelic festival that traditionally began on October 31 to celebrate the end of the harvest season and the entry into winter. Eventually, Samhain merged with the Christian celebrations of All Saints Day (November 1) and All Souls Day (November 2) to become known as 'All Hallows' Eve,' a preparatory eve for the days to come. In the United States, kids dress in costume and eat ungodly amounts of packaged candy while college students drink ungodly amounts of booze. Other countries, however, have their own, more cultured, ways of celebrating one or all of this trio of events—including some delicious culinary dishes and baked goods. If you're tired of roasted pumpkin seeds and caramel apples, sample these unusual eats instead:
Ireland
Along with carving jack-o-lanterns and bobbing for apples, another big Halloween tradition in Ireland is eating barmbrack, a sweet, cake-like bread made with pieces of dried fruit that have been soaked overnight in hot tea (and sometimes whiskey). It's baked in either a loaf or bundt pan and is often served with butter. Barmbrack's real treats, however, are the inedible surprises that you'll find baked inside or pressed into the bottom of the bread after baking—each one symbolizing a fate for the upcoming year. For example, a ring means impending marriage, while a coin signifies wealth. Other traditional 'ingredients' include a pea or small piece of cloth, both meant to indicate you should probably live sparingly over the next 12 months; other bakers devise their own tokens, such as a charm to symbolize a year full of travel. When preparing a barmbrack yourself, the key is to sprinkle these items throughout so that each person receives a slice representing a different fate. Most barmbrack recipes call simply for chopped, dry mixed fruit as an ingredient, meaning anything from dates and apricots to cranberries and blueberries.
Colcannon is another popular Halloween dish in Ireland, typically served as part of the evening meal. While the recipe varies from region to region and family to family, colcannon's key ingredients include potatoes, cabbage and onions. Some recipes substitute leeks for white onions, others use kale as their greens. You can also add meat, such as bacon or boiled ham (http://www.foodnetwork.com/recipes/colcannon-recipe.html). Boil and mash the potatoes in one pot and the other ingredients in separate pots, then stir them all together and serve the finished dish in soup bowls with a pat of butter on each.
England
The first week of November—including October 31—is a big one for Brits, beginning with Halloween and topping off on November 5 with Guy Fawkes Day, or Bonfire Day, which pays tribute to Fawkes and his conspirators' foiled 1605 plot to blow up Parliament (these days Bonfire Day is often celebrated over the nearest weekend). Toffee plays a large part in both festivities, with the caramelized confection providing the outer shell for homemade candy apples and what's known as Bonfire Toffee, or Treacle Toffee, being as central to the celebrations as stuffing is to American Thanksgiving. Made with black treacle, a dark molasses that has a strong, slightly bitter flavor, Bonfire Toffee is served hard and brittle, typically in bite-size chunks (which may require a bit of smashing). Shocking, really, that the British stereotype is to suffer from bad teeth.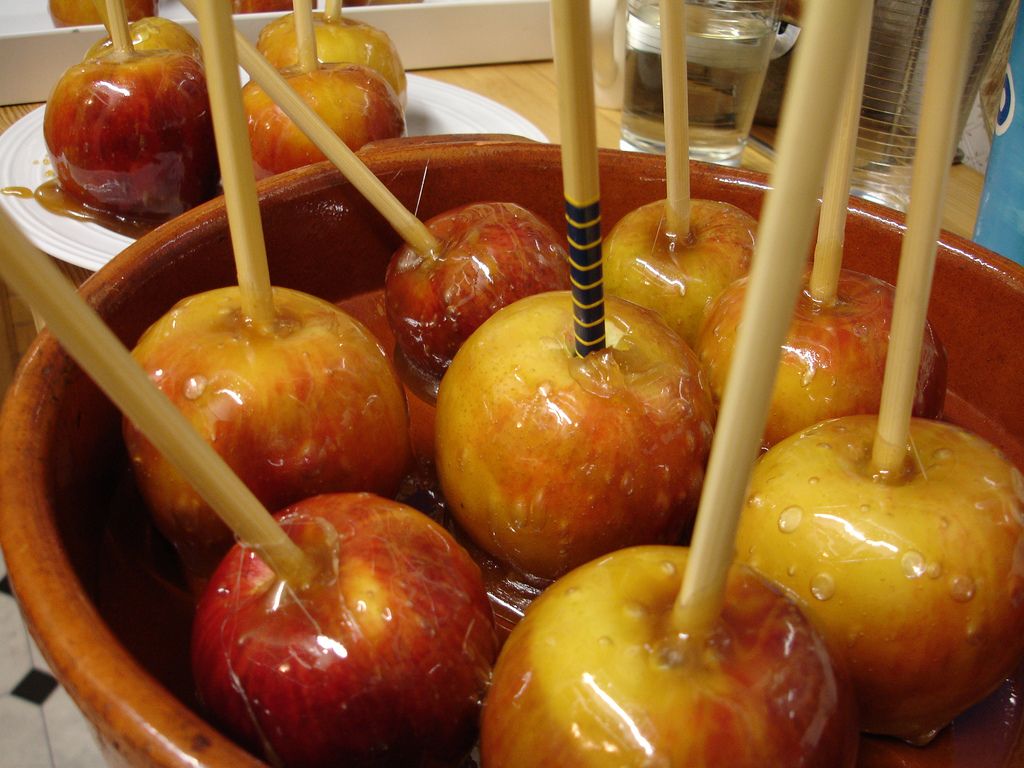 One of the United Kingdom's more traditional Halloween practices—though  not as well known today—is the baking of soul cakes, little 'cakes' that are more like shortbread or biscuits and were giving out during souling, a precursor to trick-or-treating. Originating prior to the Protestant Reformation, souling was was the practice of wandering door to door, soliciting soul cakes in exchange for prayers. While the cakes would vary—some were flat and oval shaped, others looked more like buns—they typically included spices such as cinnamon and nutmeg as well as raisins on top, often in the shape of a cross. Here's a recipe for cookie-like soul cakes. Raisins are optional. (Editors' note: they better be.)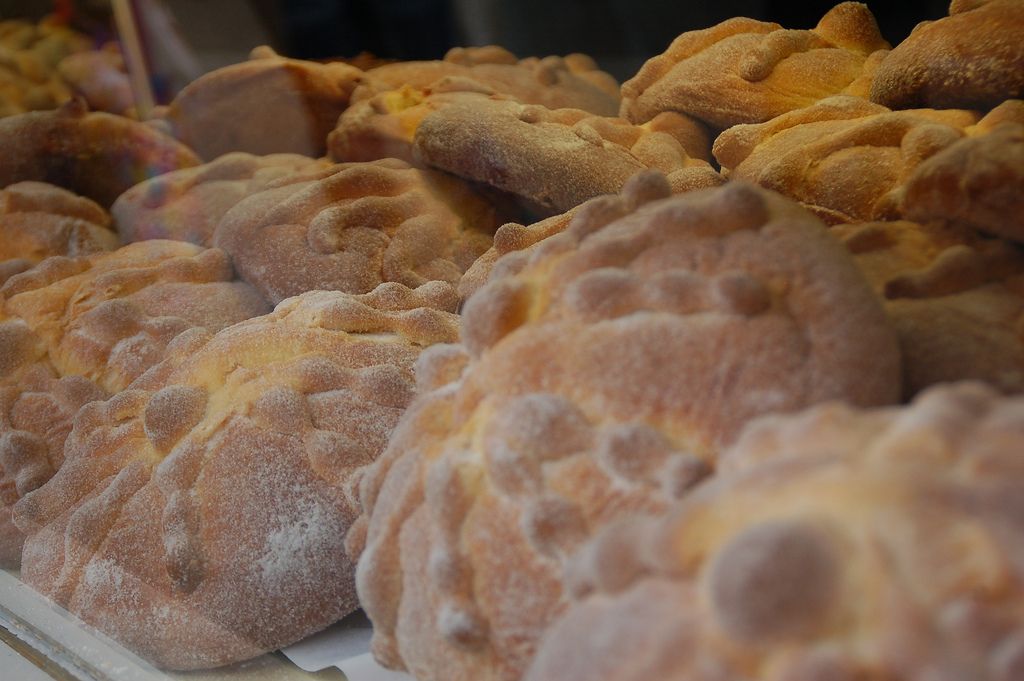 Mexico
Dia de los Muertos or 'Day of the Dead' is an annual holiday of celebration and remembrance in both Mexico and other Latin American countries for all who have passed away. The rituals associated with Dia de los Muertos  include several culinary offerings, which are meant to be both shared among the living as well as presented at tombs and placed on alters. One of them is pan de muertos (http://allrecipes.com/recipe/pan-de-muertos-mexican-bread-of-the-dead/), a glazed sweet bread that's baked either in a loaf or as a bun and adorned on top with strips of dough to resemble bones. There's often a small, round piece of dough placed atop as well—this to symbolize teardrops. The bread typically includes anise seeds and orange peel, and is sometimes decorated with added sugar after glazing. For a bit variety, mold the dough into alternative shapes, such as animals or angels, before baking. Pan de muertos goes especially well with a cup of Mexican hot chocolate.
In Mexico, calabaza en tacha, or candied pumpkin, is another beloved Dia de Muertos dish. It's similar in taste to candied yams and makes great use of fresh pumpkins. The recipe calls for piloncillo, a raw form or pure sugar available in Latin markets and some larger grocery stores, though you can easily substitute brown, pure can sugar. You can also use any type of winter squash in lieu of pumpkin.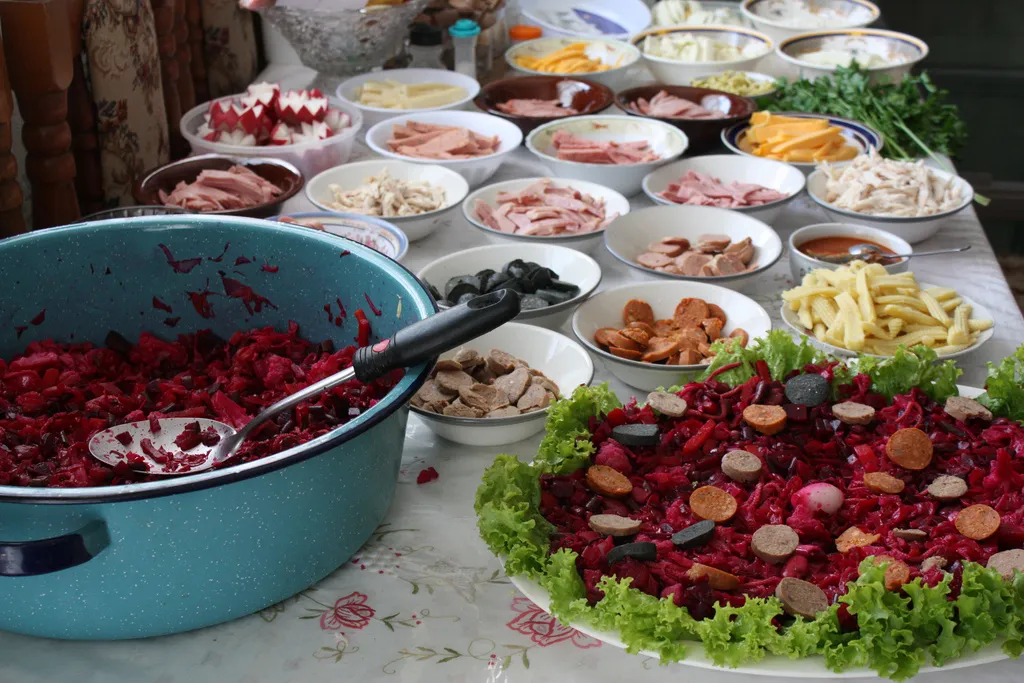 Guatemala
Guatemalans also celebrate Dia de los Muertos, but their dish of choice is fiambre. This  chilled salad can be made with more than 50 different ingredients, including a variety of cheeses and meats (like sausages, cold cuts, and chicken), picked and fresh vegetables, and hard-boiled eggs, all piled atop one another so that each plate resembles a work of art. Like many of the other recipes each family has their own way of preparing fiambre, though there are several well-known versions. Fiambre Rojo is made with beets while fiambre blanco is not. Fiambre verdo is the vegetarian version of the dish, while fiambre desarmado or 'deconstructed fiambre' keeps each ingredient in its own separate bowl so that guests can easily mix and match ingredients according to preference. Due to the many ingredients, fiambre can take a while to prepare, but according to this family-inspired recipe on the blog 'Growing Up Bilingual', it also 'feeds an army."