An Online Food Education
Sharpen your cooking skills, get a culinary degree, learn to write about food or feed your inner geek with these courses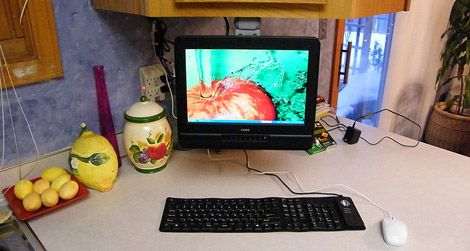 Whether for career development or their own edification, the culinarily curious can gorge on all kinds of food knowledge online. Here are a few of the offerings:
Sharpen your cooking skills. Everything from nifty tips on peeling garlic to full-fledged cooking shows are available online. Saveur (source of the amazing garlic video), Epicurious, Chow and Cook's Illustrated (for subscribers only) are good sites to check for short technique and recipe demonstrations. The Culinary Institute of America's ciaprochef.com is full of recipes and videos. And a number of YouTube cooking shows have gained a loyal following, including Show Me the Curry, where Hetal and Anuja help you navigate South Asian and occasionally other cuisines; Great Depression Cooking, starring 96-year-old Clara; and the amusingly enigmatic Cooking with Dog (tagline: It's not what you think…), where you can learn to make all kinds of Japanese dishes while the host's coiffed poodle looks serenely on.
Get a culinary degree. Until someone figures out how to transport food via the Internet, you can't actually attend cooking school online. But you can earn an online degree in a culinary-related subject that doesn't involve cooking. Le Cordon Bleu USA offers a bachelor of arts in culinary management and an associate of occupational studies in hospitality and restaurant management. If you can't move to Vermont (which you should consider, because it really is lovely), the New England Culinary Institute offers an online bachelor of arts in hospitality and restaurant management. And Virginia College Online's culinary arts associate's degree  is designed for those who have already completed cooking school elsewhere.
Feed your inner geek. One of the greatest developments in recent years for people like me who love to learn but live far from a big university is iTunes U. Institutions like Oxford University, the University of California at Berkeley and the National Portrait Gallery upload audio and video of lectures—and most of them are free to download from iTunes. A few of the foodie offerings are Harvard University School of Engineering and Applied Science's public lecture series on science and cooking, with demonstrations from top chefs like Wylie Dufresne, on meat glue (transglutaminase), and José Andrés, on gelation; the University of Warwick on how to build a chocolate-powered race car; and culinary historian Jessica Harris speaking at the Library of Congress National Book Festival.
Learn how to write about food. If you already know plenty about food and want to share your knowledge with the world, online food-writing classes can help tune up your presentation. Indian cookbook author Monica Bhide offers occasional e-courses covering everything from recipe writing to food memoir. The latest class started in September, but check her site for upcoming dates. Gotham Writers' Workshop's next 11-week course, which includes a Q&A session with a New York Times food editor, begins October 4.