Charming and Unusual Bookstores Around the World
Curl up with a new book—or catch a reading or concert—at these thriving independent bookstores from Mexico City to Melbourne
Rumor has it J. K. Rowling was inspired by Livraria Lello while writing Harry Potter (and teaching English) in Portugal. It doesn't take long to appreciate Lello's potential as muse: a stained-glass atrium puts the spotlight on the bookshop's deep-red staircase, spectacular enough to stop you in your tracks.
It's one of the distinctive bookstores that—against industry odds—continue to thrive across the globe. For travelers, these shops go beyond well-curated selections of books: they pack in an abundance of beauty, quirky character and local history within their walls. And they serve as community hubs, where you can tap into the creative pulse of a destination.
In Paris, the romance between Left Bank fixture Shakespeare & Co. and the city's literary set dates back to the era of F. Scott Fitzgerald and Ernest Hemingway. And it continues to attract luminaries like Zadie Smith, who recently read to a packed house.
Brooklyn, sometimes described as New York's Left Bank, has become the borough of choice for many local writers—and for independent bookstores. One of the most intriguing is Powerhouse Arena, where readings, book launch parties, temporary art exhibits and conversations with contemporary literary voices are hosted in an amphitheater-style seating space with soaring 24-foot ceilings.
As British author Neil Gaiman once said, "A town isn't a town without a bookstore." Our favorites live up to that assessment, whether located in a converted church, bank, home or even a former bomb shelter.
Barter Books, England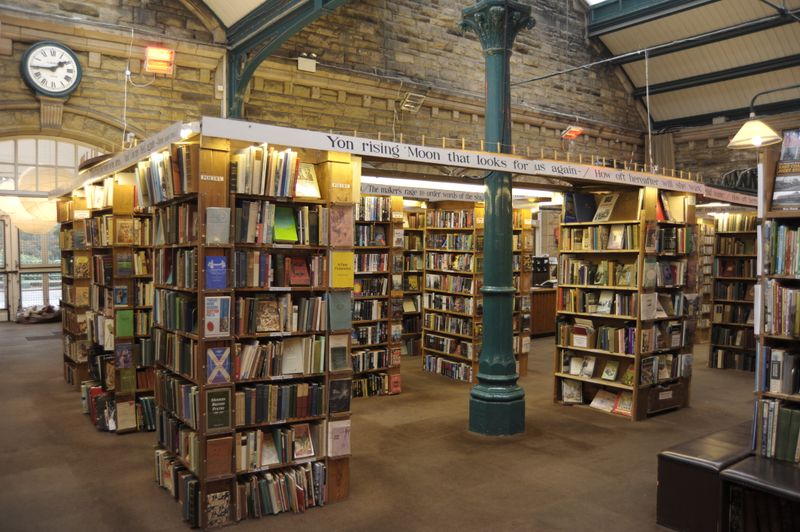 This Alnwick bookshop attracted attention for its role in discovering and producing the now ubiquitous World War II Keep Calm and Carry On poster. Housed in an old Victorian railway station, Barter Books has a cozy living room vibe, thanks to rugs, crackling fireplaces in the winter, toys for kids, a model railway acting as a link between the book columns of the central room and comfy seats amid a vast selection of secondhand books on a variety of subjects. It's even more irresistible once you hear the owners' backstory: U.S.-born Mary and British-born Stuart Manley met on a transatlantic flight.
Livraria Lello, Porto, Portugal
The neo-Gothic façade of this former library barely hints at the opulence inside: carved wood, gilded pillars, ornamented ceilings, and a gorgeous red staircase lit by a stained-glass atrium. The century-old bookshop features more than 100,000 different titles in several languages, including English translations of Portuguese talents Fernando Pessoa and José Saramago. You'll also find magazines, CDs, antique books, and a large selection on Porto itself.
Bart's Books, Ojai, CA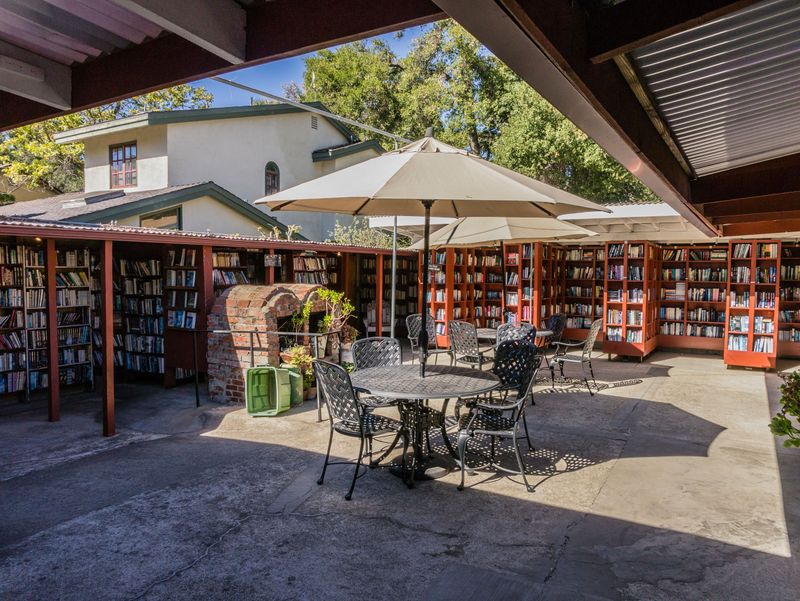 When owner Richard Bartinsale's collection of books became so large that there was no room left in his house, he began arranging them as a few shelves on a footpath. Customers left payment in coffee cans. That was in 1964. Nowadays, he runs a full-fledged open-air bookstore, with courtyards, couches, coffee and sunny SoCal weather to boot. It's a labyrinth of mostly used books, including the delightful "kitchen" area of Bartinsale's former home (for cookbooks, naturally) and a "gallery" with art books.
Dominicanen Bookstore, Maastricht, Holland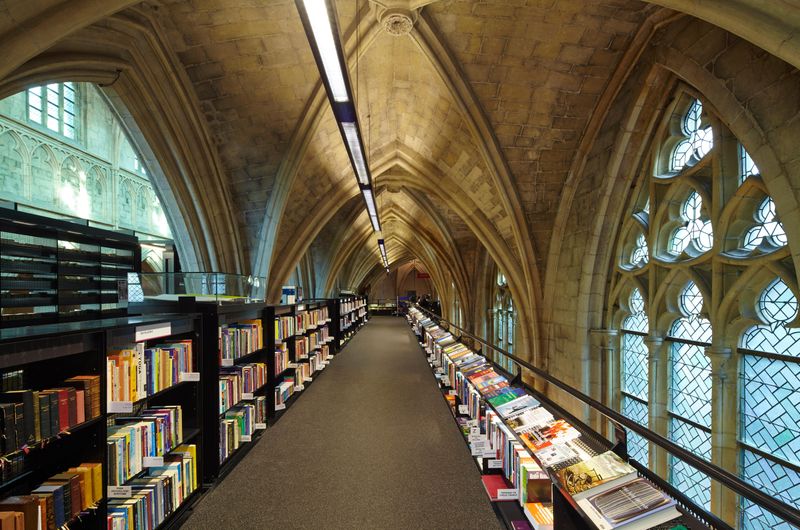 This heavenly bookshop-in-a-church is truly an inspiring space, with soaring grand stone pillars, alcoves set up as reading nooks and views from the top shelf along the nave of the church. Settle in with a good book at the café (where the former choir sang)—just be prepared to be distracted by the ceiling's ornate medieval frescoes.
Powerhouse Arena, Brooklyn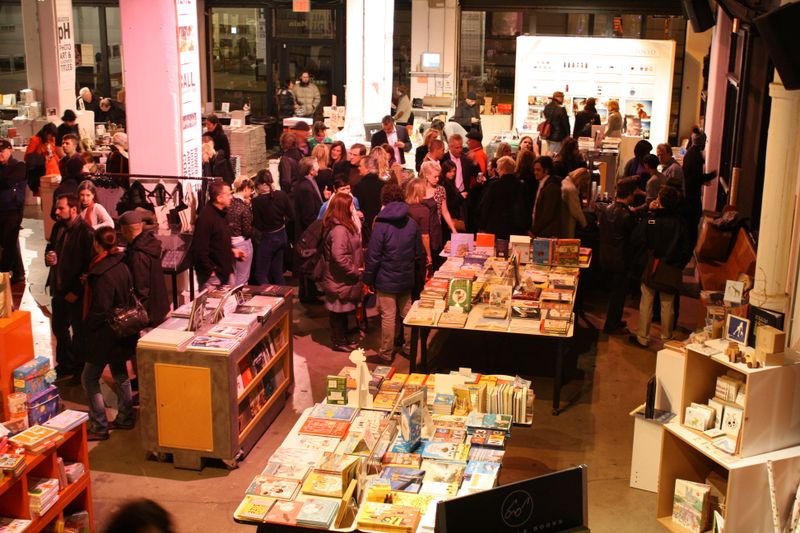 Brooklyn has emerged as the center of New York's literary scene, with notable residents like Paul Auster, Jhumpa Lahiri and Jennifer Egan and flourishing independent bookstores. Begin your browsing at the PowerHouse Arena, which opened in DUMBO in 2006 and bills itself as a "laboratory for creative thought." The industrial, modern space is dedicated not only to books, but also to hosting a variety of events—readings, book launch parties, temporary art exhibits and conversations with contemporary literary voices in its amphitheater-style seating space with soaring 24-foot ceilings. Art books and children's literature dominate the shelves.
Shakespeare and Co., Paris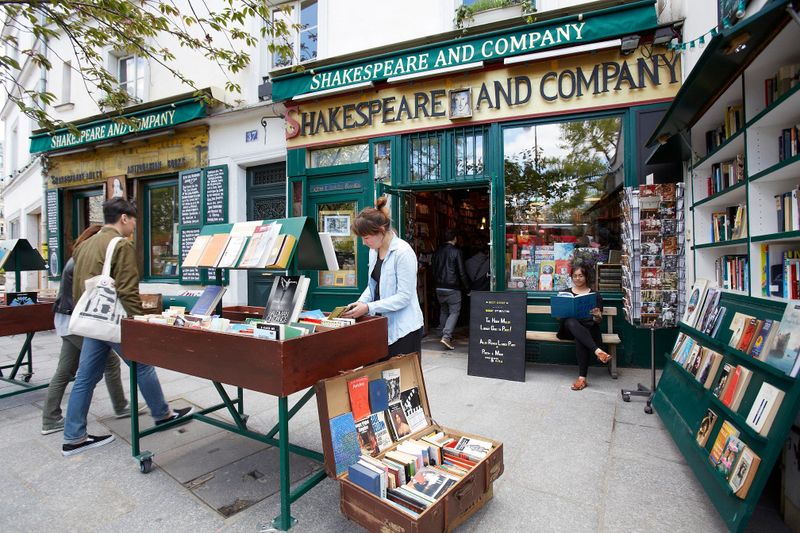 Gertrude Stein, Ernest Hemingway and their literary contemporaries famously hung out at this Left Bank bookstore overlooking the Seine (it's referenced in Woody Allen's Midnight in Paris). Shakespeare & Co., one of Paris's many icons, continues to be a bohemian refuge, attracting countless tourists and expats. Writers can even bunk here for a few days or weeks, in exchange for a couple of hours' worth of work around the shop. Contemporary talents like Dave Eggers and Martin Amis have also found home at the celebrated bookshop, which hosts book readings, writers' meetings and Sunday tea.
Cafebrería El Péndulo, Mexico City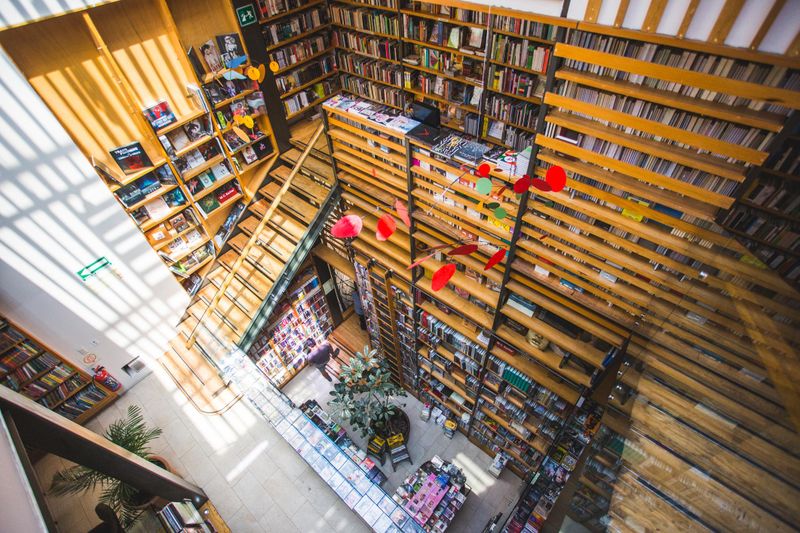 Shopping for books is almost beside the point at Cafebrería El Péndulo, which hosts live music, poetry readings, stand-up comedy and other events in an attractive space with balconies and lush plants. While the chain has several locations throughout Mexico City, its Zona Rosa shop stands out for its vast selection of English titles, along with Bukowski's Piano Bar, dedicated to poet and novelist Charles Bukowski and "all writers inspired by alcohol." Café Baudelaire and vodka-infused Kerouak are among the writer-inspired cocktails on tap here.
Books for Cooks, Melbourne
Indulge your inner MasterChef (or at least light the spark) at this independent Fitzroy bookshop with a mix of new, secondhand, antiquarian and out-of-print classics as well as the latest celebrity-chef blockbusters, biographies and collections of food criticism. In other words, anything you want to read about food can be found here. The cherry on the cake is the wonderful service, which should be no surprise: Books for Cooks is owned and run by food lovers and chefs.