Wining and Dining in Vienna
Sacher tortes, wiener schnitzel, and autumn wines are the treats to have when visiting Austria's capital city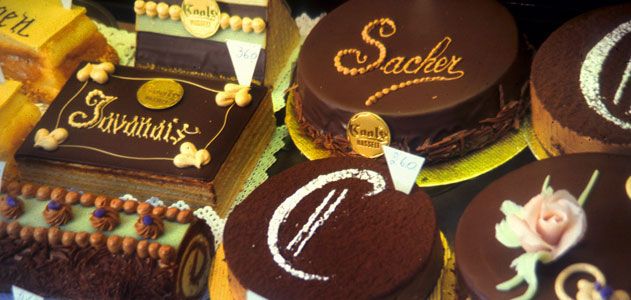 If any European capital knows how to enjoy the good life, it's Vienna. Compared to most modern urban centers, the pace of life here is slow. Locals linger over pastry and coffee at cafés. Concerts and classical music abound. And chatting with friends at a wine garden is not a special event but a way of life.
For many Viennese, the living room is down the street at the neighborhood coffeehouse, which offers light lunches, fresh pastries, a wide selection of newspapers, and "take all the time you want" charm (just beware of the famously grumpy waiters). Each coffeehouse comes with its own individual character. Café Sperl dates from 1880, and is still furnished identically to the day it opened—from the coat tree to the chairs. Café Hawelka has a dark, "brooding Trotsky" atmosphere, paintings by struggling artists (who couldn't pay for coffee), smoked velvet couches, and a phone that rings for regulars. Mrs. Hawelka died a couple of weeks after Pope John Paul II. Locals suspect the pontiff wanted her much-loved "Buchteln" (marmalade-filled doughnuts) in heaven.
Make it a point to stop by Demel, the ultimate Viennese chocolate shop, filled with Art Nouveau boxes of choco-dreams come true: "Kandierte Veilchen" (candied violet petals), "Katzenzungen" (cats' tongues), and much more. An impressive cancan of cakes is displayed to tempt you into springing for the 10-euro cake-and-coffee deal (point to the cake you want). You'll sure to see Sacher torte, the local specialty. Apart from its apricot filling, the recipe seems pretty simple...chocolate on chocolate. You can sit inside the shop, with a view of the cake-making, or outside, with the street action. Fancy shops like this boast on their sign: "K.u.K." (meaning good enough for the "König und Kaiser"—king and emperor).
For another royally good experience, head to the wine gardens. Clustered around the edge of town, mostly in the legendary Vienna Woods, wine-garden restaurants feature cold-cut buffets paired with fine Austrian wines in an old-village atmosphere with strolling musicians. If you visit in fall, try Sturm, the semi-fermented new wine made from the season's first grape harvest and only available in autumn. Many locals claim that it takes several years of practice to distinguish between Sturm wine and vinegar. The red version is so hearty and fruity that locals say "Eat up!" when toasting with it.
Of the many wine-garden suburbs, Grinzing is the most famous and lively. To avoid tour groups, try Nussdorf, popular with Viennese. Music-lovers head to Heiligenstadt to visit the Beethovenhaus wine-garden, where the composer lived and began work on his Ninth Symphony.
Within Vienna, you'll find a colorful pub on nearly every street corner, filled with poetry teachers and their students, couples loving without touching, housewives on their way home from cello lessons, and waiters who enjoy serving hearty, affordable food and drinks.
Vienna claims to be the only city with a cuisine of its own. Vienna soups come with fillings, such as semolina dumpling or pancake slices. Wiener schnitzel is a breaded and fried veal (or pork) cutlet. For hardcore Viennese cuisine, drop by a "Würstelstand." The local hot-dog stand is a fixture on city squares throughout the old center, serving a variety of hot dogs and pickled side dishes with a warm corner-meeting-place atmosphere. Or eat at Buffet Trzesniewski, famous for finger sandwiches with toppings like chicken liver or herring. The Naschmarkt Old World market has two parallel lanes—one lined with fun eateries, the other featuring high-end produce and gourmet goodies. This is where top chefs like to get their ingredients.
From July through early September, a thriving people scene erupts each evening in the park in front of the City Hall, where free concerts are broadcast on a giant screen. Scores of food stands and picnic tables are set up. There are no plastic cups, just real plates and glasses—Vienna wants the quality of dining experience to be as good as the music that's about to begin. Thousands of folding chairs face a 60-foot-wide screen up against the building's Neo-Gothic facade. The program differs every night, ranging from movies of opera to classical concerts. But even if you're not visiting in summer, you can get your fill of music by seeing the famous Vienna Boys' Choir, the world-renowned opera, or a hokey Mozart or Strauss concert performed by powdered-wigged musicians.
In this sleepy city, culture is king and locals are experts in the art of good living. Any traveler with an interest in slowing down and experiencing the finer things—a good cup of coffee, fine wine, heavenly music, or a Sacher torte with whipped cream—will feel right at home.
Rick Steves (www.ricksteves.com) writes European travel guidebooks and hosts travel shows on public television and public radio. Email him at [email protected], or write to him c/o P.O. Box 2009, Edmonds, WA 98020.
© 2010 Rick Steves