Will Matt Rutherford be First to Circumnavigate the Americas Solo?
"Basically, I either fail and everyone thinks I'm crazy, or I succeed and I'm a hero," says the sailor, who is on the homestretch of a one-year journey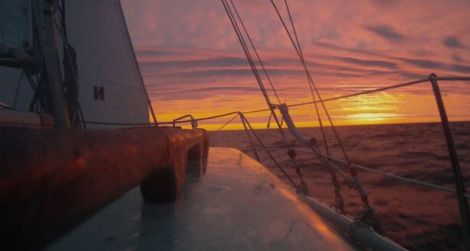 After Columbus, Magellan and Drake; after Steller, Nansen and Amundsen; after the golden age of exploration fizzled into the era of idleness and suburbia; after the deepest jungles of New Guinea were finally mapped; and after the conquest of the solar system—still there remained one thing undone.
And now Matt Rutherford is doing it: He is on the homestretch of a nearly one-year journey that should make him the first person ever to circumnavigate the Americas on a single voyage. The 30-year-old sailor from Annapolis, Maryland is currently riding the wind northwest through the western Atlantic Ocean. The journey runs 25,000 miles from the edge of Arctic Canada to the tip of Patagonia and two oceans in between. He's sailing alone, though that isn't essential to the record.
"Nobody, period, has done this before," Rutherford told me by satellite telephone on March 8. "Not on a 100-foot boat with a crew of 50, not on an aircraft carrier."
Rutherford's boat is the sort, as he says, that could be moored at a wharf and not attract a second glance. It's a modest 27-foot Albin-Vega with a tendency for mechanical things to break and a ceiling so low that the 6-foot-tall Rutherford bumps his head any time he wakes up and forgets where he is. Rutherford, a sailor since 2004, has not set foot on land for almost 280 days, with an estimated 30 left. When we spoke, he was about 200 miles north of the mouth of the Amazon River and moving homeward, and certainly the most perilous parts of the journey are in the sack.
Indeed, right after setting out last June, he tackled the once almost mythical, now plain legendary Northwest Passage. Then he braved the nasty Bering Sea, and southward he went along the West Coast of Canada, the United States and Mexico. He entered the 30-to-35-degree latitude zone of famously windless weather, often called the "horse latitudes," where many a sailing ship of the old days was stranded for sweltering, thirsty weeks. But Rutherford sailed through and into the sticky, balmy tropics. He paid little notice to the Panama Canal—the lazy sailor's gateway to the Atlantic—for Rutherford was taking the scenic route. Ecuador, Peru and Chile sailed by before the American faced off with the tip of South America. As most sailors do when they find themselves in this neighborhood, Rutherford slipped through the Strait of Magellan, which brought him back again to the ocean he knows best, and the final leg of the trip began.
Rutherford has been fishing, he said. He trolls a lure behind him and, about two weeks ago, landed a mahi mahi worth a few good meals. He took a mid-sized yellowfin tuna off of New England early on and has lost a good many lures to strong strikes that broke his line. Those may have been sharks, swordfish or bluefin tuna. But the ideal catch, Rutherford explains, is a skipjack tuna, since they're big enough for a feast but small enough to not to be wasted.
He is also eating freeze-dried foods provided by a sponsor, Shelf Reliance. The Utah company's products are of high quality, Rutherford says, and he's been preparing restaurant-quality soups and stews.
"All the great freeze-dried foods come out of Utah because of the Mormon ideology that you should have at least a year's worth of freeze-dried food on your shelf," Rutherford explained. "They make good freeze-dried food. You've gotta go to the Mormons if you want the good stuff."
Rutherford has fought through just enough nasty weather to keep him on his toes, and he had a close call in the Bering Sea when an icy wave nearly flipped him over. Elsewhere, he has seen about 15 gales, he says, adding that he respects the ocean but doesn't fear it.
"If the boat sinks and I drown, so be it," he said. "That's just how it is, but there's no sense in being scared all the time."
His vessel has had a few technical problems – not the least of which was when his water desalinator conked out off of Newfoundland. More recently, off Brazil, his engine petered out. Rutherford's engine has served mostly as a generator for various appliances and lights, not for locomotion (he is, after all, a sailor). In each minor crisis, nearby vessels came to his assistance, tossing him the parts needed to make repairs.
Other vessels have been less helpful—like the one in early March that approached him in the middle of the night and began circling, coming closer and closer at each pass until, when the strange boat came to within 20 feet away, Rutherford fired a gun twice into the night sky. The boat departed in a hurry.
Asked whether any peers have criticized his voyage as haphazard or foolish, Rutherford said, "With these kinds of trips, it just depends on the outcome. If I had failed early on, then it could have been easily ridiculed, like, 'Oh, you can't do that trip on such a small budget or sailing alone, or on such a small boat.' Basically, I either fail and everyone thinks I'm crazy, or I succeed and I'm a hero."
Rutherford's journey is a fundraising venture for Chesapeake Region Accessible Boating (CRAB), a nonprofit sailing program for people with disabilities, and donations can be made via his website. His progress can be followed through his blog. Rutherford is an experienced adventurer and a self-titled "gypsy," and this journey will not likely be his last. He has already pedaled a bicycle around Southeast Asia and spent 2008 to 2010 on a 32-foot sailboat zigzagging between four continents in the Atlantic Ocean. Next up may be a return to the Arctic, where Rutherford hopes to film a documentary. But first: home, where he says he's anticipating "a cold beer and a hot shower."