What Is Paczki Day?
The Fat Tuesday tradition centered around eating fried, filled Polish pastries is celebrated across the Midwest, but especially in Chicago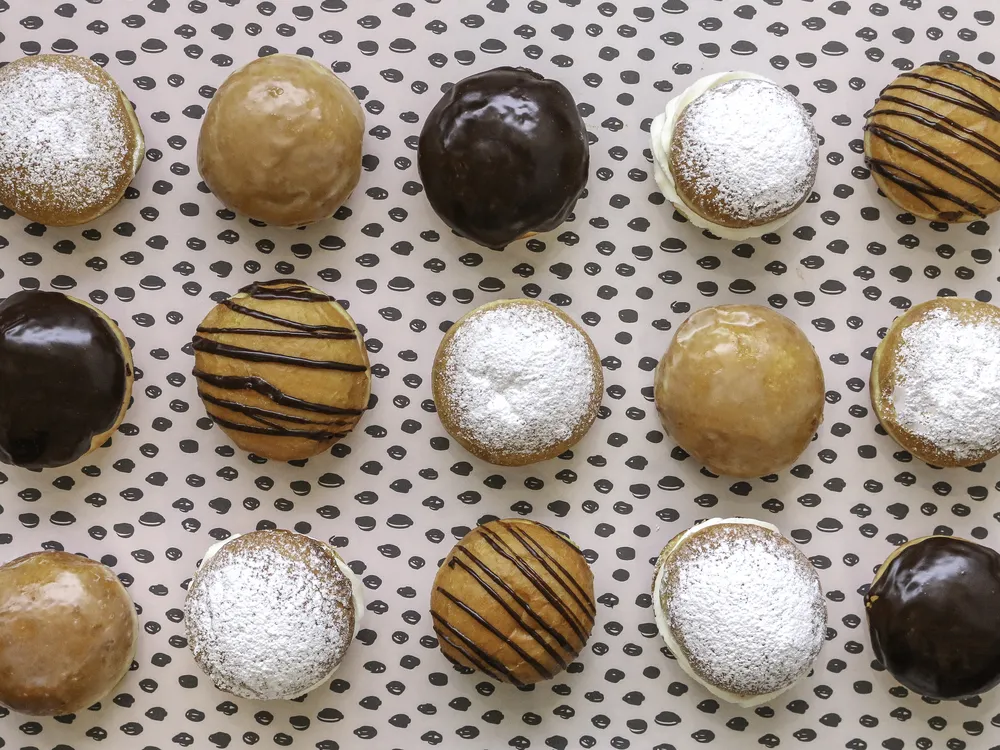 Leading up to Fat Tuesday, many Chicago bakeries are hard at work taking orders, organizing ingredients and prepping dough for the impending rush. All this festive fuss isn't for Mardi Gras classics like king cake—though they'll make that, too—but for paczki.
Paczki are a traditional Polish dessert for Fat Tuesday, which has caught on in the Windy City and other cities with Polish heritage like Detroit and Buffalo to the point that some simply call the holiday "Paczki Day."
Though they're similar to other fried pastries, paczki aren't just a doughnut by another name, says Dobra Bielinski, the owner of Chicago bakery Delightful Pastries. Paczki dough is richer and denser than the dough usually used for doughnuts, lending the pastry a certain plushness. A fresh-fried paczek is like a doughnut crossed with a brioche, traditionally complemented by a sweet fruit preserve filling, a very thin glaze on top and often a hint of orange peel.
Proper paczki, Bielinski says, require eggs, milk, butter, sugar and vanilla—all ingredients that stem from the religious origins of the paczki tradition. Before the beginning of Lent on Ash Wednesday, Catholic Poles celebrated Fat Thursday, a time to use up "luxurious" foods like lard and sugar before Lenten fasting began and they could no longer eat them. Since at least the Middle Ages, the paczek has provided a delicious way to do just that.
In Poland, paczki are traditionally made on the Thursday before Ash Wednesday, but many Polish Americans have also combined the festivities with the celebration of Mardi Gras on Tuesday.
"As a Polish American, it's great, because we get to double-dip," Bielinski says. "We celebrate on Thursday and then we go with the rest of America and celebrate it on Tuesday. Imagine having Christmas twice!"
Nowadays, you can also find paczki in many Chicago bakeries in the week leading up to and after Fat Tuesday—if not year-round.
Still, a special fervor sets in for the traditional days. "It takes us a whole month to prep for Fat Tuesday, because we have to do thousands and thousands of paczki," Bielinski says. This year, Delightful Pastries expects to sell between 20,000 and 25,000 paczki during the week.
Not only do the bakers have to proof, fry and glaze the paczki, but they also have to fill them with one of Delightful Pastries' house-made fillings, which range from passionfruit jelly to chocolate custard and whiskey, in addition to more traditional paczki fillings like plum, raspberry or rose petal jelly. Anyone can enjoy these treats, but it's the city's large Polish community—it's estimated by some that one million Polish Americans call the Chicagoland area home—that keeps the passion for paczki alive, and Bielinski and so many other bakers busy during February.
"There's always been this Polish-Chicago connection," says Dominic Pacyga, a historian who has studied the contributions of Polish Americans in Chicago and the lead researcher for the upcoming Chicago History Museum exhibition "Back Home: Polish Chicago."
During the 20th century, the popular saying was that Chicago had the biggest population of Polish people outside of Warsaw. While the accuracy of the statement is up for debate, Chicago was one of the largest settlements of Polish people in the world at that time.
"In a lot of ways, Chicago is the capital of Polonia, which is the name for the diaspora," says Pacyga. "It became that early in its existence."
Polish people moved to Chicago as early as the 1830s, Pacyga says, but the first major wave of Polish immigration came in the 1850s. These Poles were known as "Za Chlebem," or "for-bread" immigrants, since they moved for economic reasons as they struggled to afford food in the midst of a partition and occupation by Russia, Prussia and Austria that erased a formal Polish state from the map. When they arrived in Chicago, Polish immigrants, like other immigrants, often congregated in the neighborhoods near their places of work, creating their own Polish communities in America. These communities were full of vibrant traditional Polish life for many generations. Pacyga, who grew up in a Polish community in the Back of the Yards neighborhood, says his grandmother spoke only Polish, despite living in Chicago for more than 50 years.
Polish immigrants worked hard to keep their traditions alive when they arrived in Chicago, says Ann Hetzel Gunkel, a cultural historian at Columbia College Chicago focusing on the Polish diaspora and the co-author of the book Poles in Illinois. "They left not because they didn't love Poland, but because they were driven out by people who wanted to basically erase their ethnic identity," she says. "So they were in no way going to voluntarily give up ethnic identity when they got somewhere else. They held onto that, and they built huge communities, halls, taverns, sausage companies, bakeries, banquet halls and especially Polish parishes."
As two more waves of Polish immigration followed, Chicago Poles continued to fry and fill paczki. Now, even though many people of Polish heritage have moved to the suburbs, Paczki Day continues to be a time to honor their heritage and to enjoy the delightful excess of a fresh paczek.
"It connects identity to food, and that's why people cling to it," Gunkel says.
Many in the Chicago Polish community are no longer making their paczki themselves. According to Bielinski, the involved recipe, which requires two rises, careful frying and filling, takes a special eye and a knowledge difficult to acquire without hands-on learning. Still, they continue to share the tradition, if not in the making of the paczki, then in the eating.
"There's literally no reason to be up at 4 a.m. frying things, because you've got the best ones all around you everywhere in Chicago," Gunkel says. Instead, she and other Polish Americans she knows bring cartons of paczki to friends, family and even co-workers.
That's not to say Gunkel's family isn't dedicated to the tradition. On Paczki Day, she says, "My husband is in line by 6 a.m. at our favorite place, so that it's as fresh as possible."
To Bielinski, what keeps people coming back for more paczki is connection. Even for those who weren't born in Poland themselves, but whose parents or grandparents came from Poland, waiting in line for paczki is something to make time for.
"They still continue this tradition of the paczki, because it's not only cultural, but it's also about family and the really good times they had when they shared this food," Bielinski says. "So the smell of the paczki, the taste of it, brings people back to their childhood and their good memories."