Wandering Through Georgia, the Eden of the Caucasus
There is beauty and drama at every turn in the country's rugged landscapes, at its feast-laden tables, in its complex history

This story originally appeared on Travel + Leisure.
The Georgian people have a trove of stories that explain their good fortune to be living in this fertile corner of the Caucasus. My favorite is this one: when God made the world, he asked all the peoples of the earth where they wanted to live, and distributed their homelands accordingly. From the Georgians he heard nothing; they were too busy feasting. He paused to rebuke them on his way home, but the tamada—the toastmaster at a traditional Georgian feast—told God to calm down, that the Georgians had spent the whole time praising his handiwork, and that they really didn't mind if they wound up homeless anyway. God found this answer so pleasing, not to mention adroit, that he gave the Georgians the little plot of land he had been saving for himself.
I've been visiting Georgia off and on for years, and much about this story feels right. There's no denying that this beautiful country enjoys the kind of Old Testament abundance that bespeaks God's favor. Plant a seed here and it grows, rich and healthy: tea, tobacco, walnuts, grapes, everything. Crunch a Georgian cucumber (Georgian meals regularly start with bowls of fresh tomatoes and cucumbers on the table) and that most anemic of vegetables whacks you with flavor.
The creation myth carries other grains of truth as well. Yes, Georgians do like to sit around feasting more than most people. And no, they're not shy about admitting it, even if there's something they might be better off doing—like, say, petitioning God for a land of their own. Problematic as this quality might be when it comes to nation-building (something Georgia has been striving unevenly to do since it declared independence from the Soviet Union, in 1991), it also places Georgians among the world's most congenial and hospitable dinner companions. Georgia must surely rank as the toughest place on earth to pick up a check.
I was ruminating on all this from the broad wooden deck of Rooms Hotel Kazbegi, at the foot of snow-tipped Mount Kazbek, at 16,558 feet tall, the third-highest peak in Georgia. It's not hard to see why you'd want to put a hotel here, or why so many of the guests were lounging in wicker chairs, wrapped in throws against the mountain chill, just staring up and smoking.
Across the valley stood ranks of jagged volcanic peaks, and perched on a treeless hill directly in front of the hotel, the lonely 14th-century Gergeti Trinity Church. Georgia has been a deeply religious nation since it adopted orthodox Christianity in the fourth century, and you can see its distinctive churches, with their conical domes and layered roofs, everywhere.
Rooms Hotel Kazbegi used to be a Soviet tourist dormitory, so the building is squat and blocky—perfect for accommodating large groups of workers from a far-off tractor factory. Viewed from our century, the big glass-and-steel rectangle now looks quite chic, and some very good Georgian designers have given the inside a cozy feel with the help of plenty of rough wood, worn leather, and red-brown kilims.
The Russians who come to Rooms today (the border is a 10-minute drive away) arrive in flashy 4 x 4s via the great Georgian Military Highway, which connects Vladikavkaz, in Russia, to Tbilisi, Georgia's capital (where there's a second outpost of Rooms), through the Darial Pass. Russia built the highway after absorbing Georgia in 1801, opening up a savage Eden that has gripped the Russian imagination ever since. Georgia was Russia's Wild West, inspiring a mixture of wonder, fear, awe, and desire. Tolstoy, Pushkin, and Lermontov all fell under the country's spell. "I have survived the Georgian Military Highway," wrote Chekhov in a letter. "It isn't a highway, but poetry."
The food at Rooms is good, and features a dish named "Soviet cake"—part of a widespread nostalgic revival of GOST cuisine (a Russian acronym for the state standards that regulated every aspect of daily life in the Soviet Union, including cake). It brought on a hankering for real country cooking, so my wife, our young son, and I headed down the road to the nearby village of Arsha, the taxi radio blasting out Russian pop songs.
Tsarneti, the restaurant where we ended up, is a vast and shabby establishment, divided, like so many Georgian restaurants, into separate little rooms for private dining. We were ushered into a cell-like box, and there were treated to some of the wonders of one of the world's least-known great cuisines.
Georgian cooking has benefited from the country's location on the Silk Road and from its history of having been overrun by hostile neighbors again and again (between the sixth and the early 19th centuries, when it came under Russia's wing, Tbilisi was sacked many times). All the invaders—Arabs, Turks, Persians, Mongols—left something of themselves in Georgia's stones, and in its kitchens.
"Georgian cooking is the original fusion cuisine," the inventive young chef Tekuna Gachechiladze told me. She was spending the weekend at Rooms Hotel Kazbegi on a break from Café Littera, her restaurant in Tbilisi. "We took what we wanted from Persia, from India, from Turkey. The soup dumplings we call khinkali came from the Mongols in the thirteenth century."
You find these addictive dumplings everywhere in Georgia; we ordered a platter of them to start the meal. They are plumper than your average dumpling, with a twisty hat of dough at the top and a filling of meat, herbs, and fragrant broth. The trick is to nip a hole in the dough and suck out the broth without spritzing yourself, then eat the rest (except for the hat—never eat the hat!).
Tsarneti's khinkali were superb, pungent with caraway, and we dispatched an even dozen without taking into proper account what was to follow: chicken chmerkuli, fried and topped with a sauce of sour cream, garlic, and walnuts (walnuts show up often in Georgian cooking). With the chicken came bread stuffed with melted cheese called khachapuri, which is ubiquitous here. The variety we ordered was packed around a stick and baked over an open fire. We washed it all down with bottles of Tarkhuna, a bright green soda made with tarragon. After all that, it felt like a minor miracle when we were able to get up and walk away.
If the mountains to Georgia's north are its Alps, those along its eastern border are its Berkshires: greener, gentler, and equally magical in their own way. Tucked in the foothills is the cluster of lovely lodges that make up the Lopota Lake Resort & Spa. Over lunch there, we marveled at the dramatic changes in landscape visible in a country only slightly bigger than West Virginia. Tbilisi was 60 miles to the west, and Kazbegi about 100 miles up from there, and yet we had traversed alpine passes, humid lowlands, and lush rolling hills as we traveled between them. "Georgia has fifty-three microclimates—I have that somewhere in the back of my head," said our lunch companion in a crisp English accent. She turned out to be the British ambassador to Georgia, Alexandra Hall Hall, who tries to grab a weekend in Lopota with her family whenever she can. Hall Hall was just coming to the end of her two-year tour, but she was pushing to stay on another year. "It's just so beautiful here," she sighed.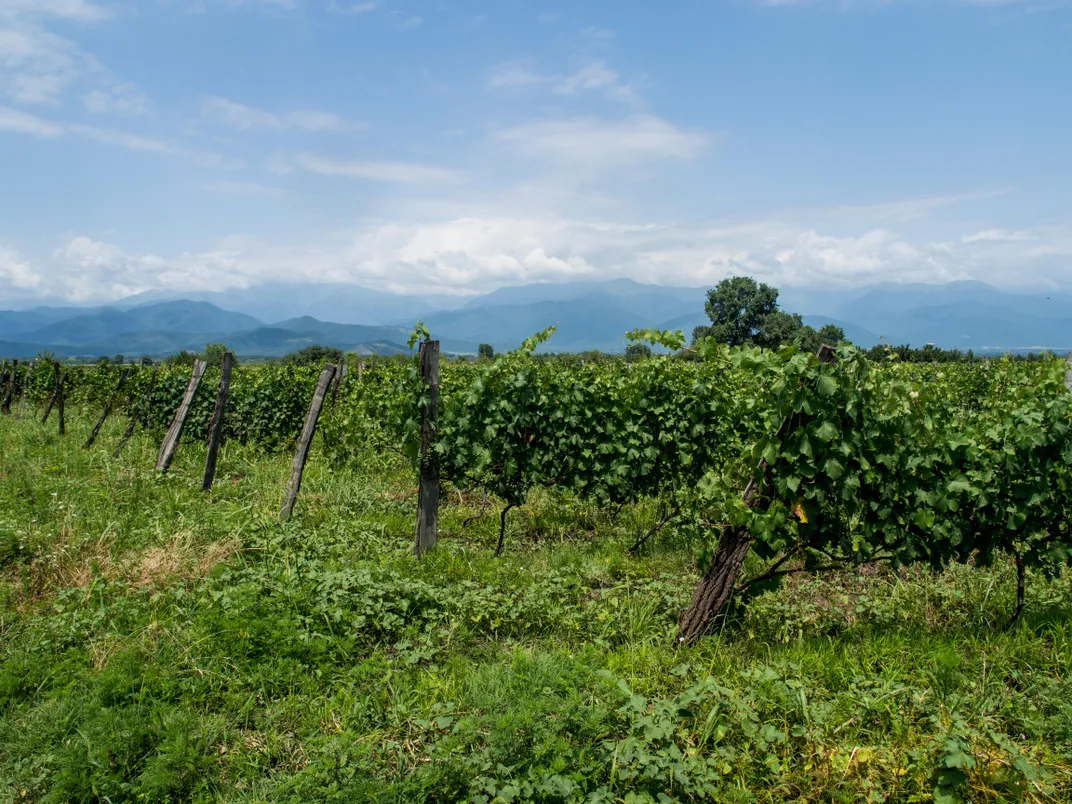 The microclimate that surrounded us there in the Kakheti region is one of Georgia's kindliest, which explains why the wide plain stretching out from the hills is lined with row upon row of grapevines. Georgians have been making wine all over the country for some 7,000 years, but Kakheti is deemed the best place for it. Many households still make their own wine the old-fashioned way, fermenting the juice with its seeds and skins, then filtering it and burying it to age in large clay amphorae called kvevri. Traditional Georgian wine often has a fresh, raisiny flavor, and the natives knock it back by the pitcher.
The man who transformed Georgia from a nation of casual tipplers into a formidable wine exporter, Alexander Chavchavadze, introduced modern European wine-making methods to the country in the early 19th century. But that wasn't the half of it: he translated Voltaire and Victor Hugo into Georgian; he brought Georgia its first grand piano and its first billiard table; he fought Napoleon as a Russian officer, and later championed Georgian nationalism against Russia. In short, Chavchavadze spun the whole country around so that it faced west instead of east.
This patriotic polymath is regarded today as a kind of Georgian Thomas Jefferson, and Tsinandali, his estate built in 1818, is his Monticello. The two-story structure mixes Italianate stonework with a wooden, Ottoman-style loggia in an elegant multicultural mash-up. The garden, much celebrated in its day, reminded contemporaries of Richmond or Kew in England, but with a wilder soul. Dumas père called it, simply, the Garden of Eden. The spirit of Georgia lives here.
Paintings along the walls inside chronicle the great man's life and melodramatic death. We see Chavchavadze in his horse-drawn carriage just as his scarf is caught in the spokes—ironically, he had brought the horse-drawn carriage to Georgia, too. Moments later, he was pitched headfirst onto the pavement, dying a few days afterward.
What happened to Chavchavadze's home in the aftermath of his death echoes strikingly today. In 1854, the Muslim insurgent Imam Shamil swept across the mountains from neighboring Dagestan and raided Tsinandali, a reprisal for Russian expansion in the Caucasus. Shamil's men burned parts of Tsinandali and took Chavchavadze's daughter-in-law Anna hostage, along with 23 others. Shamil held his prisoners for nine months while Alexander's son David scraped and borrowed the money to ransom his wife (it bankrupted him). A painting at Tsinandali records the eventual hostage exchange, which took place on a river raft.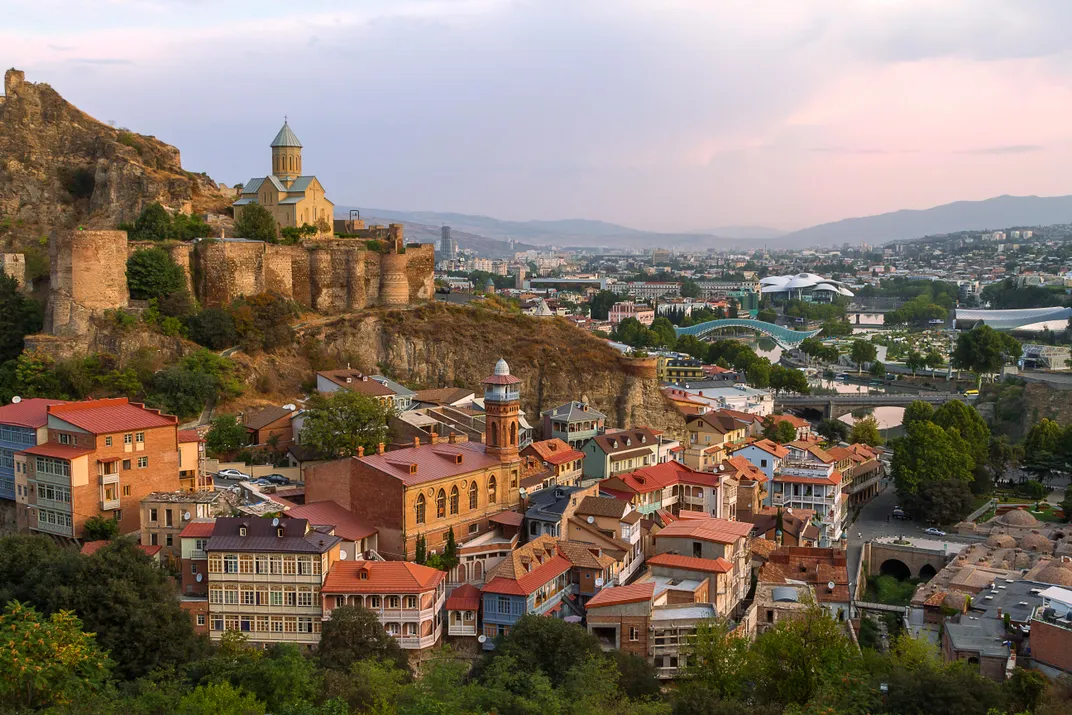 Georgia's past is never far away—its people refuse to let it go. In Tbilisi, which lies under the ancient gaze of the ruined Narikala fortress, this past is particularly present. I love the city for its smoky evocation of bygone centuries and cultures. Tbilisi is poor and run-down in many places, but its magnetic pull is somehow stronger for all that. Indeed, Georgia's ongoing culture wars have left Tbilisi with a handful of sleek Modernist monuments that, while forward-looking, can appear jarring in a city so comfortable in its old skin (the locals wickedly dubbed a recent wavy-roofed footbridge the "Always Ultra" for its resemblance to a maxi pad).
The Rooms Hotel Tbilisi has managed to strike a nice balance. Like its Kazbegi cousin, it has taken a hulking Soviet shell—it used to be a printing plant for the newspaper Pravda—and made it funky inside. In the lobby hangs a large self-portrait by the flamboyant Georgian painter Eteri Chkadua—in this one she's riding backward on a zebra. The hotel's courtyard attracts Tbilisi's smart set, who come to drink mojitos and nibble very good fish tacos.
You'll find the same kind of cosmopolitan crowd in the spacious garden behind Tbilisi's Writers' House, a handsome Art Nouveau mansion built in 1903 by the man who brought brandy to Georgia (after his death, Georgia's Writers' Union took it over). Chef Gachechiladze now leases it for her restaurant. It's one of the loveliest spots in town, surrounded by high walls hung with black-and-white photographs and lined with clusters of pretty people on wooden benches set around low tables. We dined there on a balmy August night under a full moon that shone through the branches of a towering pine tree.
As soon as she opened, in May 2015, Gachechiladze started taking heavy flak from the guardians of classic Georgian cooking. She puts mussels instead of meat in her chakapuli, a stew made with sour plums, tarragon, and white wine. She just happens to like mussels. In Minghrelia, Georgian cooking's heartland, they eat a heavy porridge called elarji made of cornmeal and cheese. Gachechiladze lightens it and fries it up in croquettes. It all tasted mighty good to me, but tweaking traditional recipes is not something Georgians applaud.
"When it comes to religion and food, Georgians are very conservative," Gachechiladze told me when she stopped by our table. "We put walnuts in everything, so I said, 'Why not almonds? They are lighter and healthier.' That's why the Georgians don't like me. Three-quarters of the people in this restaurant are foreigners."
The tussle between the traditionalists and the modernizers goes far beyond Gachechiladze's restaurant, and lately it has grown fiercer. Like Chavchavadze, Mikheil Saakashvili staked Georgia's future on a race toward the west when he became president, during Georgia's so-called Rose Revolution in 2004. Saakashvili and his forward-thinking crew got kicked out in 2013, and the party that took over slammed on the brakes, edging closer to Putin again. I could feel the loss of momentum on this past trip.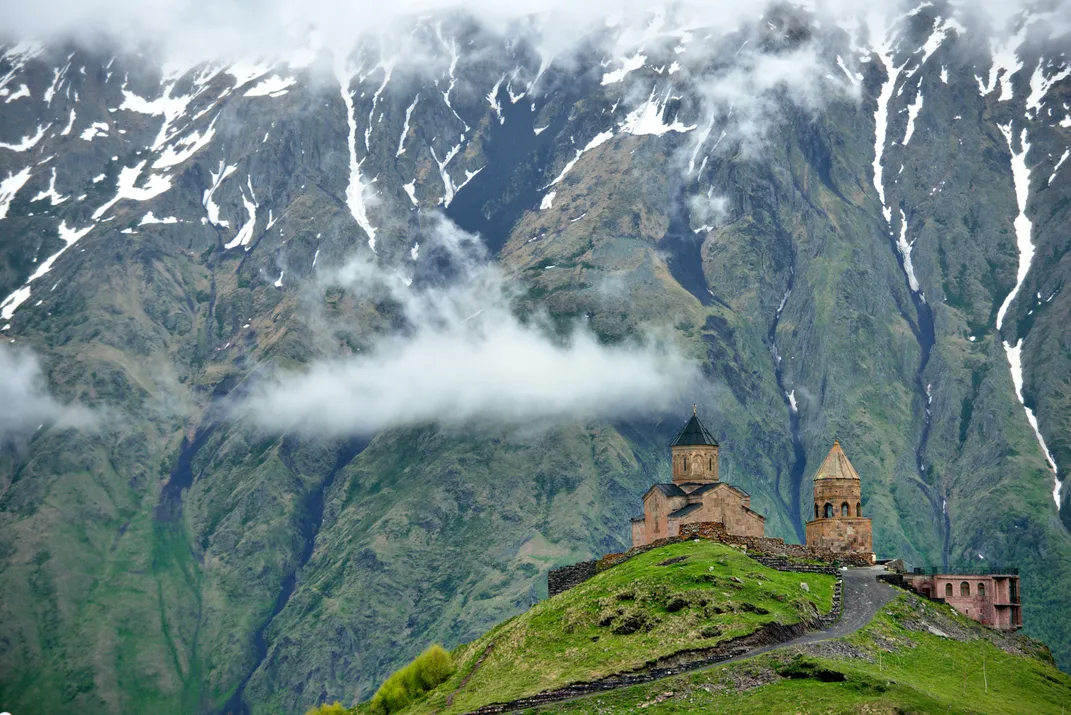 Recent developments have dismayed my worldly Georgian friends. Gachechiladze learned to cook professionally in New York, but she returned to Georgia in 2005, when many people felt that Georgia was finally emerging from the shadows of primitivism and corruption. She's since lost much of her optimism. "I could leave again," she said, "but somebody's got to stay and build the country." Ambassador Hall Hall had been more, well, diplomatic, when we discussed politics earlier, back in Kakheti. The Russian bear loomed close to us, just over the mountains that we could see from where we sat. "Georgia doesn't have an easy hand to play," Hall Hall said. "It would be easier if the whole country were a thousand miles away."
To get a vivid sense of Georgia's cultural ambivalence, you have only to drive 45 minutes west from Tbilisi to Gori. Gori is the birthplace of Joseph Stalin, Georgia's most notorious native son, and not much else. He was born in a miserable two-room hovel that once stood among scores of similar hovels. All those other shacks have been razed, and Stalin's now stands alone in a small park, somewhat absurdly covered by a massive marble portico that's now part of the Stalin museum.
The museum's large main building is across the street. We joined a tour as it raced through the rooms, where paintings and posters show Stalin gazing up resolutely, or gazing down benevolently. Hidden under the stairs is one last little room, which we came to at the end of the tour. This is the so-called Room of Repression: little more than a few tattered garments that apparently belonged to people deported to the gulag, and a replica cell looking considerably more pleasant than the original probably did.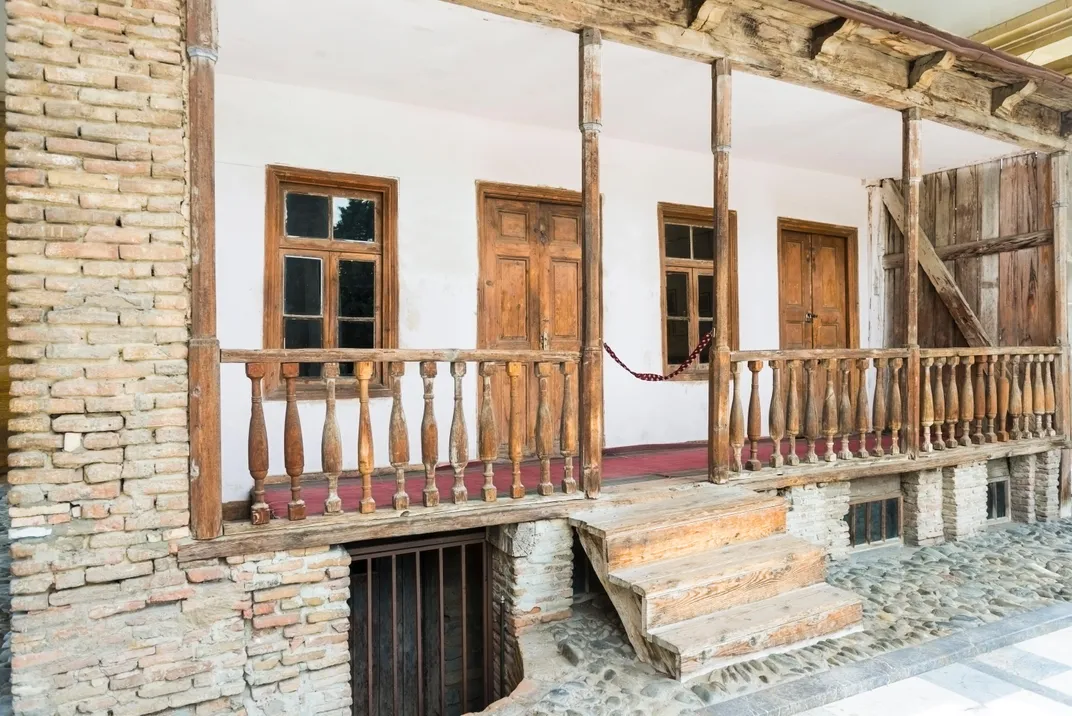 History tells us that Stalin treated his fellow Georgians particularly cruelly, but he remains the only Georgian the rest of the world has heard of, and that still counts for a lot around here. "Gori has always been very proud of Stalin, but the young people detest him," explained our pretty young tour guide. Her personal opinion? "That's my secret."
I wanted to look back as far as I could into Georgia's past, so I arranged to drive out to the archaeological site at Dmanisi, about 60 miles southwest of Tbilisi. It was pelting rain that day, however, so I met David Lordkipanidze at the nearby Georgian National Museum, where he is general director. Lordkipanidze showed me resin replicas of the five hominid skulls, dating back 1.8 million years, that he and his teams have unearthed since starting work at Dmanisi in 1991. These five people—they're officially designated Homo erectus georgicus, which makes them people—are history's first tourists, in the sense that they represent the first-known hominid group excursion outside Africa. It's been an enormously important scientific discovery, and the researchers have only scratched the surface. Before Dmanisi, the consensus had been that humans left Africa "only" a million years ago.
"These discoveries have been an incredible chance for Georgia. People all over the world want to come see Dmanisi—we even have private-jet tours," Lordkipanidze crowed. What we don't know, he added, is why Homo erectus left home—home being Africa—and how they ended up here. Lordkipanidze told me he doubts the humans had a fixed itinerary when they departed, but I have a different theory. I think they were sitting around in Africa one day when one said to another, "I hear God has created this terrific country called Georgia. Wanna go?"
**********
The Details: What to Do in Georgia
Getting There
There are no flights to Tbilisi International Airport from the United States, but a connection can be made via Istanbul. If you're already in Europe, Georgian Airways has nonstop flights to the capital from Amsterdam and Vienna.
Hotels
Lopota Lake Resort & Spa A lakeside resort in the Kakheti region, known as the Napa Valley of Georgia. Telavi; doubles from $100.
Rooms This old Soviet printing plant in the capital has been turned into a high-design hotel where le tout Tbilisi goes to hang out. The property's second location in Kazbegi offers breathtaking views of one of the highest peaks in the Caucasus Mountains. Doubles from $115.
Restaurants
Café Littera The beautiful garden setting is as enticing as chef Tekuna Gachechiladze's light-handed takes on Georgia's classic comfort food. You can also learn to whip up your own khachapuri at Gachechiladze's cooking school and café, Culinarium. Tbilisi; entrées $10–$14.
O, Moda, Moda This mash-up of café, art gallery, and vintage clothing store feels like a little bit of Brooklyn in Tbilisi. Entrées $4–$12.
Shops & Activities
Dmanisi Museum-Reserve Located about 53 miles southwest of Tbilisi is this early archaeological site, where paleontologists discovered human fossils dating back 1.8 million years. Visitors can walk the grounds Tuesdays through Sundays from late spring to early autumn. Dmanisi.
Prospero's Books & Caliban's Coffee House This bookstore and café is a great place for a rest stop. Pick a book, grab a coffee, and sit back at one of the tables lining the courtyard outside. Tbilisi.
Rezo Gabriadze Theater You won't want to miss the extraordinary puppet version of the battle of Stalingrad at this quirky home of a true Georgian master. The theater's restaurant is also excellent. Tbilisi.
Tour Operator
Wild Frontiers This operator offers a signature tour of the Caucasus that includes Tbilisi, Kazbegi, and Kakheti, along with Yerevan, Armenia, and Baku, Azerbaijan.
Other articles from Travel + Leisure: