What to Read, Watch and Download Before Your Trip to India
Know before you go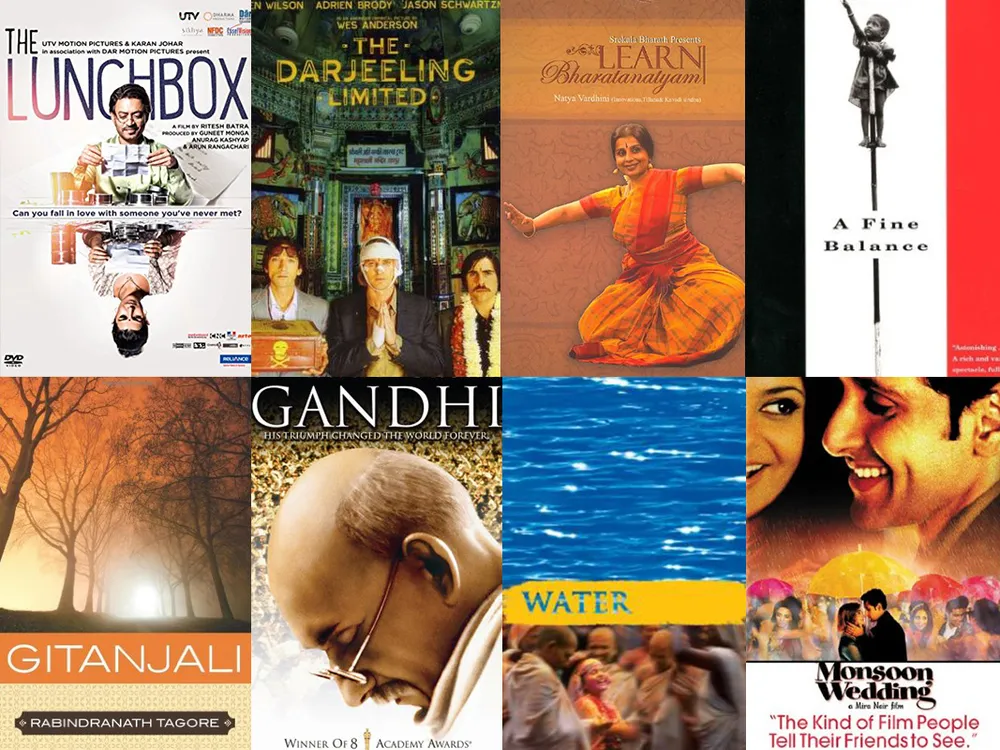 Contributing writers and experts from the Smithsonian submitted their suggestions for India-themed books, movies and online resources to enjoy before traveling.
Movies
Inspired by Jean Renoir, renowned Bengali filmmaker Satyajit Ray follows an inquisitive boy into sobering maturity in the Apu trilogy: Pather Panchali (1955), Aparajito (1956), and The World of Apu (1959). 
Anurag Kashyap's epic Gangs of Wasseypur (2012) dramatizes violent power struggles in an eastern Indian coal-mining community.
Deepa Mehta lays bare a century of female plight in her Elements trilogy. In Fire (1996), two women in unhappy arranged marriages begin a clandestine love affair. In Earth (1998), religious fissures during India's 1947 partition are seen through the eyes of an eight-year-old girl. Ostracized widows welcome the youngest occupant to their ashram in Water (2005).
A vibrant, four-day celebration for an upper-middle-class Indian family pulses with excitement in Mira Nair's Monsoon Wedding (2001).
A fluke in Mumbai's lunch delivery system brings two strangers together in Ritesh Batra's The Lunchbox (2013).
A Briton of Gujarati Indian descent, Ben Kingsley plays the bespectacled lawyer turned beloved leader in Richard Attenborough's biographical film Gandhi (1982). 
The travel plans of three brothers go off the rails in Wes Anderson's screwball comedy Darjeeling Limited (2007), which was largely filmed inside a moving train on Indian Railways tracks.
Instagram
Ordinary people share intimate thoughts and secrets in a feed of portraits inspired by Humans of New York @officialhumansofbombay.
Fleeting quotidian moments in India are chronicled by @IndiaPhotoProject and @EveryDayIndia.
Music & Dance
The Best of Abida Parveen showcases the undisputed queen of Sufi music, who is as popular in India as in her native Pakistan. 
The Coke Studio blends the sounds of classic musicians from Rajasthan, Karnataka, and other regions with folk, Western, and other world music.
Learn Bharatanatyam, a DVD taught by dancer and choreographer Srekala Bharath, features classical techniques, originally performed by temple dancers and prevalent in southern India today.
Apps
India's myriad temples, in photographs, illustrations, and by location, are accessible through Temples of India.
India Food Network has photos, blogs, and recipes for regional Indian dishes.
What's Hot Discover Events offers information about events, restaurants, and shopping in 11 Indian cities.
A seemingly endless array of Indian music can be streamed through Saavn.
Websites & Blogs
The Caravan, a website and monthly print magazine, produces New Yorker-style stories about contemporary politics, culture, and arts.
Digital magazine The South Asian Life & Times covers the heritage of the region, including its arts, politics, sports, and books.
Launched in 2013, Scroll.in offers a fresh take on Indian issues, from beef politics to gender equality.
Hangouts has information on New Delhi restaurants, bars, and cafés, as well as food festivals, parties, and other timely events.
Marketing professor Nirmalya Kumar describes modern India's "invisible innovation," business professor Anil Gupta discusses its emerging entrepreneurs, and seven additional TED Talks presenters reveal a vibrant tech scene.
Chennai native Pavitra Mohan showcases more than 400 modern artists, architects, and designers on Masala Chai.
Writer Anete Jekabsone rounds up some of New Delhi's best contemporary art galleries, with map links and telephone numbers, in The Culture Trip. 
"Drinking tea in high places and low," graphic designer Sriparna Ghosh photographs each steaming cup on Travelling Teadom.
Books
John Keay traverses five millennia of the subcontinent in India: A History, from the ancient Harappan to independence.
In India: A Sacred Geography, Harvard University professor of comparative religion Diana L. Eck explores the "living landscape" of tirthas, or sacred crossings that bind the country together.
Gitanjali is a collection of poems by Rabindranath Tagore, with verses so lyrical they earned him a Nobel Prize in literature. In Light of India brims with insights from poet Octavio Paz, Mexico's ambassador to India in 1962.  
William Dalrymple's account of a year spent in Delhi in City of Djinns weaves together travel and memoir, stopping to dwell on philosophers, eunuchs, and sadhus. Eric Newby's Slowly Down the Ganges traces his 1,200-mile expedition along the sacred river. 
Siddhartha, by Hermann Hesse, is the timeless story of a young man in ancient India who forsakes everything in the quest for fulfillment. Salman Rushdie blends historical fiction with magical realism in Midnight's Children.
Rohinton Mistry's novel A Fine Balance brings four strangers together under one roof, against a backdrop of poverty and political unrest. The Ever After of Ashwin Rao by Padma Vishvanathan explores the impacts of emigration and violence in the globalized world of the recent past. A fishing community ruled by age-old traditions is transformed in Anita Desai's Village by the Sea.  
The Book of Indian Birds by Sálim Ali illustrates the exquisite variety of some 500 birds. In the coffee-table book Falaknuma, Hyderabad, the lavish beauty of Falaknuma Palace is captured through the photographs of Bharath Ramamrutham and archival research of George Michell and Anthony Korner.