The Parthenon's Old World Order
After a recent restoration, the center of the Athenian Acropolis and symbol of Western democracy still inspires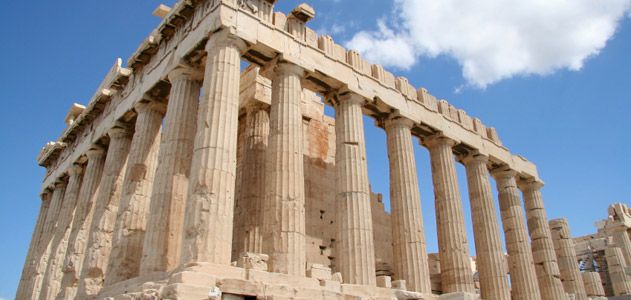 More than 2,400 years after its construction, the Parthenon—the sanctuary to the goddess Athena—still dominates the skyline of the Acropolis in Athens. The structure, originally painted in brilliant shades of red, green and blue, remained largely intact until 1687, when a force of Venetians laying siege to invading Turkish troops ignited a gunpowder magazine stored there. The explosion reduced the sanctuary to near ruins.
Today, the Greek government is overseeing a massive restoration effort. Although the edifice cannot be returned to its pre-1687 condition, the goal is to minimize, as much as possible, damage to what is left. (Replacement marble, for example, is being mined from the classical-era quarry that supplied the original.)
This past October, the final phase began with the creation at the base of the citadel of the Acropolis Museum, which will showcase more than 4,000 ancient statues, friezes and artifacts when it opens in autumn 2008.
One treasure, however, will remain absent—the marble friezes that England's Lord Elgin removed from the site between 1801 and 1803 and sold to the British Museum, where they remain. The designer of the new museum, Bernard Tschumi, has crowned his building with a glass gallery that awaits their return. "My hope," he recently told the Christian Science Monitor, "is that one day the [Elgin] marbles will be reunited and people can know the story all at once, in one single place."