The Berkshires
The hills are alive with the sounds of Tanglewood plus modern dance, the art of Norman Rockwell and a tradition that goes back to Nathaniel Hawthorne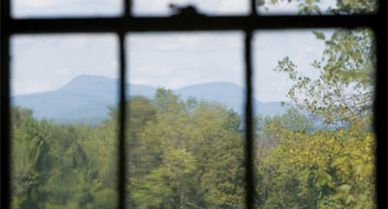 From the desk at which he wrote Moby-Dick—a touchstone of American literature and arguably the greatest seafaring novel ever published—Herman Melville could gaze upon the forested hills and sloping fields of western Massachusetts' Berkshire Mountains. In the summer of 1850, at age 31, the writer had moved from New York City, 150 miles south, to the outskirts of Pittsfield, then still a village, where he settled into a modest, mustard-yellow farmhouse called Arrowhead—for the Native American artifacts once unearthed on the property. After years of sailing the world aboard New England whaling vessels, Melville was trying his hand at farming; his plan was to harvest corn and potatoes, cabbages and hay. But in winter, the landscape turned his thoughts back toward the mariner's life.
"I have a sort of sea-feeling here in the country now that the ground is covered in snow," Melville wrote a friend in 1850, shortly after beginning his 13-year Arrowhead stay. "I look out my window in the morning when I rise as I would out of a port-hole of a ship in the Atlantic. My room seems a ship's cabin; & at nights when I wake up & hear the wind shrieking, I almost fancy there is too much sail on the house, & I had better go on the roof & rig in the chimney."
From Melville's cramped, book-lined study, visitors today take in a clear view of Mount Greylock, at 3,491 feet the highest elevation in Massachusetts. For Melville, the brooding mass of wintry Greylock called to mind, or so biographer Andrew Delbanco has speculated, a great leviathan, emerging from a roiling, whitecapped ocean. Although Melville's few surviving letters make no mention of this, his neighbor and fellow novelist, Nathaniel Hawthorne, once wrote that Melville spent his days "shaping out the gigantic conception of his white whale" while staring at the snow-covered mountain. In his novel, Melville would describe Moby-Dick as a "grand hooded phantom, like a snow hill in the air."
For more than 150 years, the Berkshires have inspired writers and artists, who took up residence here because land was cheap—no longer—and the vistas were enchanting. "The bloom of these mountains is beyond expression delightful," wrote Melville in his 1855 novel, Israel Potter, describing summer in the forests and pastures of western Massachusetts. "Each tuft of upland grass is musked like bouquet with perfume. The balmy breeze swings to and fro like a censer." From the mid-19th to the early 20th centuries, novelists including Melville, Hawthorne and Edith Wharton, and landscape painters such as Thomas Cole and George Inness, flocked here. According to Carole Owens, author of The Berkshire Cottages—a survey of the palatial summer retreats constructed by millionaires in the post-Civil War Gilded Age—the influx of literary and artistic luminaries "gave the Berkshires a panache that attracted wealthy New Yorkers and Bostonians looking for more than just sylvan beauty."
In 1761, Sir Francis Bernard, governor of the colony of Massachusetts, conferred the name Berkshires on the region, in honor of his home county in England. Today, the area, whose 950 square miles offer a concentration of literary, artistic and historic treasures, beckons some 2.5 million travelers annually. In North Adams (pop. 14,000), the Massachusetts Museum of Contemporary Art (MASS MoCA) provides more gallery space for the display of 20th- and 21st-century pieces than any museum in New York City. At the southern end of the Berkshires, some 25 miles away, Lenox (pop. 5,100) is the site of the Tanglewood Festival, where hundreds of classical concerts and recitals are staged each summer; performances began here in 1936. And throughout the Berkshires, smaller museums, devoted to subjects ranging from the region's role in the Industrial Revolution to the work of its artisans, as well as landmark residences and repertory theaters, abound.
Amid all these cultural attractions, it's possible to overlook the extraordinary natural beauty here. I was nearly guilty of this oversight myself, until I took a back road from one museum to another and stopped to admire the view of forest and pasture from a stone bridge over the Green River near North Adams. Down a grassy embankment, cool waters eddied around glacial boulders. I clambered to the river's edge, rolling up my jeans to wade against a strong current; cedar waxwings soared and plummeted, snatching insects in the air.
It was such a desire for immersion in bucolic splendor that first drew Melville and Hawthorne to the Berkshires. They met on August 5, 1850, while hiking with mutual friends on Monument Mountain, just south of Pittsfield. As the party laid out a picnic, a sudden downpour sent its members scurrying for cover. Hawthorne and Melville took shelter under a rocky ledge, where they fervently discussed works in progress until the rain ended. Writing a few days later of their fortuitous encounter, Melville thanked Hawthorne for dropping "germinous seeds into my soul." Thus began one of the most celebrated friendships in the history of American letters.
In May of that year, Hawthorne, 46, and 15 years Melville's senior, had moved with his wife, Sophie, and two children, Una and Julian, from the town of Salem near Boston to a small cottage outside Lenox. Melville arrived in the Berkshires with his wife, Elizabeth, and their infant son, Malcolm, a month later. Hawthorne, the more established writer, had favorably reviewed Melville's novel Typee in 1846. After their initial encounter, Melville reciprocated with an enthusiastic review of Hawthorne's short story collection Mosses from an Old Manse.
Hawthorne encouraged Melville to transform his whaling experiences into fiction. When Moby-Dick was published, in 1851, Melville dedicated it to Hawthorne, "in token of my admiration for his genius." Hawthorne took only two days to read through all 700 pages and wrote an adulatory letter, which unfortunately no longer survives. But it moved Melville to reply: "I shall leave the world, I feel, with more satisfaction for having come to know you. Knowing you persuades me more than the Bible of our immortality."
As the Moby-Dick manuscript had grown ever thicker during the late winter of 1850, Melville journeyed five miles east of his farm to the Crane paper mill in Dalton for "a sleigh-load of paper." In those days, paper was manufactured from rags, making it far more expensive than the wood-pulp-based variety that would be introduced in 1876 by another Massachusetts mill. Melville, alas, never earned enough royalties to accrue a stash of another desirable product—dollar bills. (Crane began manufacturing the paper on which American currency is printed in 1776 and has retained that monopoly since 1879.)
Shady, tree-lined Dalton (pop. 4,700) remains a company town, where the Crane Museum of Papermaking draws 2,500 visitors in its June through October season. According to company historian Peter Hopkins, mill founder Zenas Crane chose the location "because the nearby Housatonic River provided power and water without mineral impurities, and because there were plenty of rags available in nearby communities." Peddlers arrived in horse-drawn carriages to unload their bundles; Crane laborers sorted the fabrics and cut them into small pieces. The shreds were then dropped into enormous vats where huge beaters, powered by a mill on the Housatonic, churned the rags in water, turning them into pulp. "That's where the expression 'beaten to a pulp' comes from," says Hopkins.
Another Berkshires landmark, a 19th-century Shaker village on the edge of Pittsfield (pop. 43,900), eight miles northwest of Arrowhead, also attracted Melville, who admired the crafts produced here; over time, he purchased several household items, including a sewing box and pincushion. Today the Hancock Shaker Village, a farm and workshop complex set on 1,200 verdant acres, is a museum, having closed as an active community in 1960. The Shakers, a Christian sect—so named for the trancelike trembling its adherents exhibited during ecstatic worship services—emigrated from England to America in 1774. A belief in celibacy, communal life, gender equality and dedication to manual labor defined the movement. At their peak in the 1830s, some 300 Shakers lived at Hancock, where they crafted elegant furniture, farm implements and household items. Although the Shakers subscribed to fundamentalist theology, they nevertheless "used the best-available technology and most sophisticated marketing," says Todd Burdick, director of education at Hancock, as he conducts visitors through a collection of 22,000 objects in 20 historic buildings.
Within a few years of the publication of Moby-Dick, the Melville-Hawthorne friendship began to wane. Perhaps the contrasting fortunes of the two were at least partially to blame. Hawthorne's great work, The Scarlet Letter, published in 1850, sold more copies in its first ten days than did Moby-Dick in three years. Melville's novel would not be recognized as an American expression of genius until the 1920s, three decades after the author's death in 1891. Unsuccessful at farming as well, Melville returned to New York City in 1863 and took a job as a customs inspector.
Melville had lapsed into nearly total obscurity by the time that the young Edith Wharton became a published writer in the 1880s; she would later confess that she "never heard his name mentioned, or saw one of his books." Wharton completed her masterpiece, The House of Mirth (1905), at her lavish, 113-acre Berkshires estate, The Mount, in Lenox, only a dozen or so miles south of Arrowhead. The unflinching portrayal of hypocrisy and social climbing in wealthy New York City in the late 19th century placed her in the pantheon of great American novelists, and the book broke all sales records at the time. "It was the Da Vinci Code of that era," says Stephanie Copeland, president of The Mount Estate & Gardens, today one of the most important tourist draws in the Berkshires.
Wharton, who inhabited the upper echelons of the Gilded Age society, described that world with an acid pen, complaining that in Boston she was considered "too fashionable to be intelligent," while in New York, her primary residence, she was said to be "too intelligent to be fashionable." She dismissed Newport, Rhode Island, the favorite summer haunt of the rich, as a place obsessed with status. By contrast, The Mount, as Wharton described it in her 1934 autobiography, A Backward Glance, conferred "country cares and joys, long happy rides and drives through the wooded lanes of that loveliest region, the companionship of a few dear friends, and the freedom from trivial obligations which was necessary if I was to go on with my writing."
Constant attention to The Mount, as well as its gardens and woods, easily occupied as much of Wharton's time as did her novels. "She chastised her acquaintances, including the Vanderbilts, for building country homes that resembled English castles plopped down in a New England setting," says Copeland. Their Newport "cottages," to Wharton's mind, were meant to inspire awe and envy from the moment the manors came into view, a mile or more away from their entrances. The Mount, on the other hand, emphasized Wharton's insistence upon discretion and privacy; the estate lies hidden behind a half-mile allée of sugar maples. The white-stucco residence, in the British Georgian style, also combines aspects of Italian and French architecture. Its largely unadorned forecourt is surfaced in gravel.
Tree-shaded lawns slope down to an Italianate garden with a stone pergola at one end and an English garden planted in perennial beds and herbaceous borders at the other. "I am amazed at the success of my efforts," Wharton wrote to her lover, Morton Fullerton, in 1907. "Decidedly, I'm a better landscape gardener than novelist, and this place, every line of which is my own work, far surpasses The House of Mirth."
After moving into The Mount in 1902, Wharton lived there for nearly a decade. Her routine was to wake at dawn in a bedroom that looked out over forest to Laurel Lake, and to remain in bed until 11 a.m., writing furiously, allowing pages to drop on the rug, to be collected later by her secretary. Afternoons and evenings were meant for intimate meals and gatherings limited to no more than six guests, invited for a few days or a long summer weekend. Henry James, describing a 1904 sojourn at The Mount, declared himself to be "very happy here, surrounded by every loveliness of nature and every luxury of art and treated with a benevolence that brings tears to my eyes."
Seven years later, the Berkshires idyll came to a close for Wharton. Her marriage to the handsome but boorish outdoorsman, Edward Robbins Wharton—"Dear Teddy," she always called him—had ended by 1911. So had the affair with Fullerton. Wharton moved to Europe and arranged to sell The Mount. The building and estate fell into disrepair until about 1980, when a nonprofit organization, Edith Wharton Restoration, began resurrecting the house and gardens—a process only now nearing completion. The Mount is open from April through October.
By the time Wharton died at age 75 in 1937, a momentous transformation was under way barely two miles west of her former estate. That same year, the Tappan family, descendants of wealthy Bostonian merchants and abolitionists, had given their 210-acre Tanglewood estate in Lenox to the Boston Symphony Orchestra (BSO) for summer performances. The name pays homage to Hawthorne's Tanglewood Tales, a short-story collection published in 1853. (The small Lenox cottage where the novelist wrote that work is located on the property.)
In 1938, Tanglewood inaugurated its outdoor concert hall, the 5,100-seat Shed. The open-sided Shed allows 150,000 music lovers annually to enjoy classical performances, even when it rains. On clear afternoons and evenings, thousands more gather on the great lawn in front of the Shed to picnic while listening to concerts free of charge. Many additional performances are staged in 1,200-seat Seiji Ozawa Hall, opened in 1994 as part of the Leonard Bernstein Campus on 84 adjoining acres acquired in 1986.
Today, a summer season of Tanglewood concerts draws 350,000 visitors. On a crowded Friday evening this past July, BSO conductor James Levine was making his first public appearance since injuring his shoulder in an onstage fall in Boston four months earlier. The crowd cheered the conclusion of Beethoven's Ninth Symphony; the critics were also enthusiastic. "Mr. Levine can wave his arms just fine, thank you," wrote Bernard Holland in the New York Times.
The morning after the performance, Anthony Fogg, BSO's artistic administrator, analyzed the elements that distinguish Tanglewood from other summer music festivals, particularly those in Europe, where performances of this kind began. "In Salzburg or Lucerne, different ensembles perform every night," says Fogg. "Here, the BSO is in residence throughout the festival, and the musicians, support staff and their families move into the Berkshires for the duration." Fogg calculates that during the eight-week performance period, Tanglewood schedules some 1,600 "events," including rehearsals and performances.
From its inception in the 1930s, Tanglewood drew a well-heeled summer crowd, even as the northern Berkshires slid into economic decay. Northwestern Massachusetts, once a cradle of the Industrial Revolution, witnessed the decline of its mills in the face of competition, first from textile producers in the American South and then from abroad. Today, however, the northern Berkshires are reviving, thanks in large measure to the 250,000-square-foot MASS MoCA, since 1999 one of the world's largest art exhibition spaces.
The museum revels in its industrial roots, with cutting-edge art displayed amid the exposed brick, peeling paint, chipped columns and stained floors of 19th-century buildings, last occupied by an electrical components manufacturer in 1985. "Contemporary art got bigger and New York City real estate got too expensive," says Katherine Myers, MASS MoCA's head of public relations. "So, it made sense to put a museum in this old factory space." This summer's offerings will include a celebration of Dutch arts and culture; a survey of works by American conceptual artist Spencer Finch and an exhibition examining the interlinked visions of artists, scientists, spiritualists and conspiracy theorists.
Art realists might prefer to return to the southern Berkshires, for a glimpse into the reassuring world of Norman Rockwell (1894-1978), the artist and illustrator famous for his evocations of small-town America. (He is perhaps best known for the 322 Saturday Evening Post covers he executed from 1916 to 1963.) Born in New York City, Rockwell lived for 24 years in the northern suburb of New Rochelle, then a hub for magazine illustrators and copywriters.
But in 1953, he moved to Stockbridge (pop. 2,250), five miles south of Lenox. With its main street, barbershop, high-school prom, swimming hole and Sunday church services, Stockbridge seemed to exemplify the world that inspired Rockwell's works. "The commonplaces of America are to me the richest subjects in art," the artist wrote in 1936. "Boys batting flies on vacant lots; little girls playing jacks on the front steps; old men plodding home at twilight, umbrellas in hand...the things we have seen all our lives, and overlooked."
Much of his output—678 paintings and drawings—today hangs in the Norman Rockwell Museum, on Stockbridge's western outskirts. Constructed of wood, slate and fieldstone and opened in 1993, the building evokes a New England town hall; it draws some 165,000 visitors annually. On the day I showed up, entire families, from grandparents to toddlers, wandered the galleries—kids hoisted on their fathers' shoulders; an elderly man leaning on his cane while he stared intently at the portrait of a young girl applying makeup, perhaps for the first time; a middle-aged couple holding hands in front of a work titled Marriage License (1955).
The painting depicts a young couple applying for a marriage license at Stockbridge's Town Hall from a clerk clearly at the end of his workday. "You get this wonderful emotional contrast that interests Rockwell so much—the enthusiasm of the young couple paired with the apathy of the clerk," says Stephanie Plunkett, the museum curator. The bride-to-be stands on tiptoe at the high counter to sign marriage documents. The clerk, having already put on his galoshes, is about to reach for his raincoat and umbrella.
Rockwell knew of course that the real Stockbridge was more sophisticated than the town he depicted and whose citizens he used as his models. By the time he moved there in the 1950s, Tanglewood was drawing vast audiences of classical music aficionados, while only ten miles to the northeast, in Becket, lies Jacob's Pillow, the 161-acre farm that is now home to the acclaimed center for dance.
Almost a century earlier, artists in the Berkshires had been inspired by nature rather than by the small-town society that Rockwell documented. In his 1856 short story, "The Piazza," Melville described the view in summer from his porch at Arrowhead as one that, throughout the season, attracted landscape painters. "[The] country round about was such a picture, that in berry time no boy climbs hill or crosses vale without coming upon easels planted in every nook, and sun-burnt painters painting there," he wrote. Many of these artists were local residents, a number of them amateurs. They would not for a moment have imagined themselves as better subjects for their canvases than Mount Greylock or Monument Mountain.
Writer Jonathan Kandell, who lives in New York City, reports frequently on culture and history. Photographer Michael Christopher Brown is based in Brooklyn, New York.