Snapshot: Adelaide, South Australia
Down Under's unofficial capital of food and drink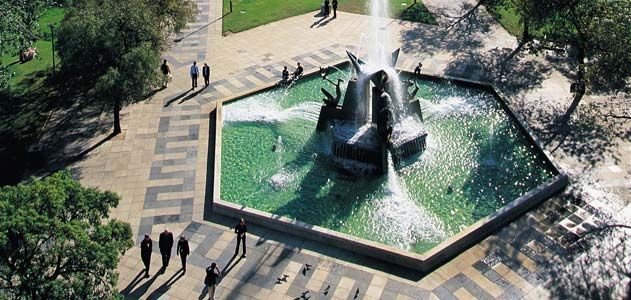 Origins: For thousands of years, the Kaurna Aborigines inhabitants of what is now Adelaide, capital of the state of South Australia, called it Tandanya, meaning "the place of the red kangaroo." The Europeans who founded the colony in 1836, named it after Britain's Queen Adelaide, consort of King William IV. Unlike Sydney, Melbourne and Brisbane, Adelaide was not established as an outpost for criminals but instead was settled by British citizens seeking religious freedom from the Church of England. German Lutherans and other waves of immigrants followed. After the Second World War, favorable immigration policies aimed at curbing labor shortages lured even more foreigners to South Australia. Adelaide is now the fifth-largest city in Australia with a population of 1.1 million.
The Appeal: Named by The Economist as one of the most livable cities in the world, Adelaide, with its sunny Mediterranean climate, has everything for both nature lovers and bon vivants. You can swim with dolphins, surf the waves, sunbathe on golden beaches, row down the Torrens river, pet kangaroos and koalas, see exuberant trees and exotic birds—all within the city and its suburb. Scenic Kangaroo Island is only 90 miles away. Even closer are some of Australia's most famous vineyards, offering generous wine tastings, pub lunches, and, sometimes, dinners. The city itself is famous for its restaurants—more than 700, serving some of the best and most culturally varied cuisine in the world, giving Adelaide the reputation for being Australia's unofficial wine and food capital. For culture buffs, Adelaide is rich in theater, museums and music, holding hundreds of arts festivals each year.
Interesting historical fact: South Australia's first Surveyor-General, Colonel William Light and his team took only eight weeks in 1837 to design Adelaide in a one-mile square grid, making it Australia's first planned city and giving it its characteristic wide, tree-lined streets, squares and 45 percent parkland.
Famous sons or daughters: Lleyton Hewitt (b.1981), winner of the 2001 U.S. Open and 2002 Wimbledon men's singles titles; cricketer Sir Donald Bradman (1908-2001), the world's best batsman; NASA astronaut Dr. Andrew Thomas (b. 1951), the first Australian to go into space.
Who goes there: Over two million of the approximately 2.5 million people who visit Adelaide every year are Australian. Of the international visitors, numbering around 330,000 each year, the British are the most numerous, accounting for 23 percent, with the United States and Canada jointly making up 14 percent. These figures are likely to go up now that that Adelaide has a gleaming new $220-million airport designed to accommodate five million passengers a year.
Then and Now: When the early colonists arrived, they celebrated their new religious freedom by building so many churches that Adelaide became known as the city of churches. But pubs, restaurants and nightclubs have long greatly outnumbered the churches. While Adelaide still retains aspects of an English town, (many of the street names hark back to the old continent) the waves of immigrants have given the city a cosmopolitan feel. One way in which it has not changed—171 years after it was planned as a city surrounded by green, it retains almost all of its original 1,729 acres of parkland.