Siena and its Crazy Horse Race
Il Campo, the main square of Florence's next-door-neighbor, is urban living at its best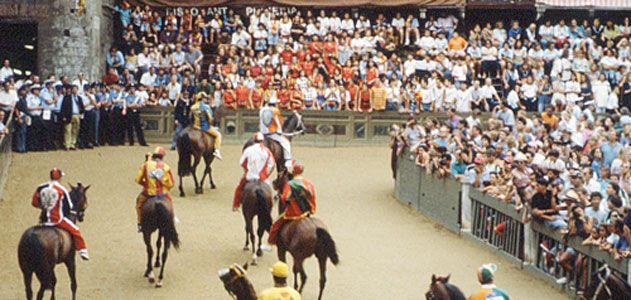 Siena, Florence's next-door neighbor, seems to be every Italy connoisseur's pet town. More than a sum of places to see, Siena itself is the sight. Grab a gelato, join in the evening stroll, and end up at the town's glorious red-brick main square, Il Campo. Lean up against a pillar as the setting sun plays games with the colors of the stone and the sky. At twilight, first time poets savor that magic moment when the sky turns into a rich blue dome no brighter than the medieval tower that holds it high.
Seven hundred years ago, Siena was a major military power in a class with Florence, Venice, and Genoa. With a population of 60,000, it was even bigger than Paris.
To say that Siena and Florence have always been competitive is an understatement. In medieval times, a statue of Venus stood on Il Campo. After the plague hit Siena in the 14th century, the monks blamed the pagan statue. The people cut it to pieces and buried it along the walls of Florence. The dirty trick didn't work and the plague was disastrous for the town. Siena's loss became our sightseeing gain, as its political and economic irrelevance pickled it Gothic.
Today, Siena's thriving historic center, with traffic free red brick lanes cascading every which way, offers Italy's best Gothic city experience. Most people visit Siena, just 30 miles south of Florence, as a day trip, but it's best experienced after dark. While Florence has the blockbuster museums, Siena has an easy to enjoy soul: courtyards sport flower decked wells and alleys dead end at red-tiled rooftop views.
For those who dream of a Fiat free Italy, this is it. Sit at a café on Il Campo. Take time to savor the first European city to eliminate automobile traffic from its main square (1966), and then, just to be silly, wonder what would happen if they did it in your city.
This great central piazza is urban harmony at its best. Like a people friendly stage set, its gently tilted floor fans out from the tower and city hall backdrop. It's the perfect invitation to loiter. Think of it as a trip to the beach without sand or water. Don't miss the Fountain of Joy at the square's high point, with its pigeons politely waiting their turn to gingerly tightrope down slippery snouts to slurp a drink.
Siena's Campo gathers around its city hall, not its church. It was a proud republic and its "declaration of independence" is the tallest secular medieval tower in Italy, the 100 yard tall Torre del Mangia. (It was named after a hedonistic watchman who consumed his earnings like a glutton consumes food; his statue is in the courtyard.) The steps get pretty skinny at the top, but the reward is one of Italy's best views.
And if you are atop that tower on July 2 or August 16, you'll see a vast square jammed with people as the city hosts Europe's most famous and frantic horse race, the Palio.
During each Palio, ten of the 17 neighborhoods compete (chosen by rotation and lot), hurling themselves with medieval abandon into several days of trial races and traditional revelry. Jockeys are considered hired guns...paid mercenaries. But on the big day, the horses are taken into their neighborhood church to be blessed. "Go and return victorious," says the priest. (It's considered a sign of luck if a horse leaves droppings in the church.)
On the big day, Il Campo is stuffed to the brim with locals and tourists, as the horses charge wildly around the square in this literally no-holds-barred race. A horse can win even if its rider has fallen off. After the winner crosses the line, 1/17th of Siena goes berserk for the next 365 days.
In the Palio, the feisty spirit of Siena's 17 neighborhoods lives on. They celebrate, worship, and compete together. Each has its own parish church, well, or fountain, and even its own historical museum. Neighborhood pride is evident any time of year in the parades and colorful banners, lamps, and wall plaques. (If you hear distant drumming, run to it for some medieval action, often featuring flag-throwers.)
While the actual Palio packs the city, you could day-trip in from Florence to see horse-race trials each of the three days before the main event (for details, visit www.ilpalio.org).
The Palio is not some folkloristic event kept alive for tour groups. It's a real medieval moment. When I considered filming it for my public-television show, local authorities said they'd rather not publicize it. If you're there for the race—packed onto the square with 60,000 people, all hungry for victory—you won't see much, but you will feel the spirit of Siena.
Rick Steves (www.ricksteves.com) writes European travel guidebooks and hosts travel shows on public television and public radio. E-mail him at [email protected], or write to him c/o P.O. Box 2009, Edmonds, WA 98020.
© 2010 Rick Steves