Looking for Delicious, Authentic Cooking in India? Head to a Truck Stop
Known as dhabas, these roadside eateries serving classic meals offer a glimpse into India's culture and customs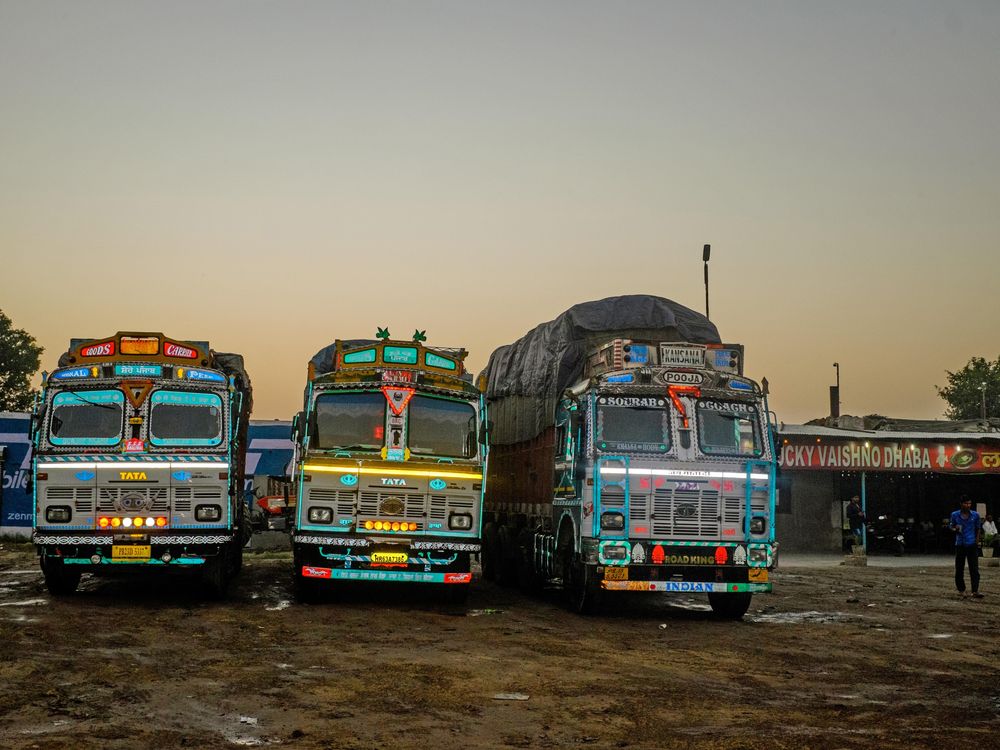 When I was 17, I left home in search of adventure, without telling my hardworking parents. I wanted to be like Huck Finn, free and spunky, creating my own path. The journey began with a short walk from our modest, rented house about 140 miles (225 kilometers) west of Kolkata (Calcutta) to the centuries-old, two-lane Grand Trunk Road, stretching from eastern India all the way to Kabul in Afghanistan.
With only a few rupees in my pocket, I hitched a ride on a coal truck, driven by a kindly middle-aged man traveling west. From the passenger seat I looked out onto the opencast mines and smoke-billowing factories that dotted the area. Trucks plied this main artery around the clock. There were hardly any cars then. As darkness descended, we pulled up next to a dimly lit shack for dinner. Several other trucks were parked in the shadows. A big, leafy tree stood silently under a starry sky, overhanging a tire-repair shanty.
The driver and his assistant invited me to join them. I was famished, and already missing home. We sat on a rope cot called a charpoi, surrounded by similar cots occupied by soot-covered drivers. Before we knew it, we were served hot tandoori roti (handmade flatbread made of unleavened wheat flour baked in a coal-fired oven called a tandoor) and steaming hot spicy dal (lentils) on steel plates that were set on a wooden plank across the cot. Another plate of raw diced onions and whole green chilies was placed in the middle. We ate silently, intermittently licking the thick dal off our fingers. After paying for the dinner, the driver, perhaps detecting my nervousness, took pity on me. "Go back home," he said. "Your parents might be worried. And study. Or else you'll end up being a useless, illiterate driver like me, living and dying on the road." Huck Finn faded in my imagination. The driver asked a fellow trucker to give me a ride back. I accepted.
That was more than 45 years ago. Whenever I remember the kindness and wisdom of that anonymous driver, I also recollect something else: the otherworldly taste of that simple, delicious meal of dal and roti served in a truck-stop hut of bamboo and thatch, one of countless such roadside restaurants known in India as dhabas.
As India has progressed, especially since the economic reforms of the early 1990s, dhabas have changed too. What were once just dusty joints for sleepy truckers have become throbbing highway destinations, some with air-conditioned dining areas, clean washrooms and an array of food choices, including of course dal and roti. The transformation reflects the changing food habits, mores and middle-class preferences of 21st-century Indians. "Dhabas remain a window into our culture and customs," says Mayur Sharma, a popular author and television host for food shows. "They are the closest to what you get at Indian homes, where great recipes are handed down through generations." 
Yet dhabas are not simply convenient restaurants for a tasty bite. At their best, they are places to catch a breath and process the kaleidoscopic images that assault the traveler on the Indian highway. A dizzying reel of life passes through a car window here: It's quite common to happen across horrifying head-on collisions, or trucks lying belly-up, or crushed animals in the middle of the road. A merry wedding procession may block a thoroughfare at one place, while children play cricket dangerously close to speeding vehicles at another. Villagers will sometimes use the asphalt as a place to dry their grains, with little recognition of the many tons of steel and rubber whizzing by.
In the midst of this relentless flow, dhabas can be a kind of sanctuary. Weary road warriors can rest, relax, perhaps even reflect on an insightful comment or two from a smiling waiter or an unlettered cook behind the hot tandoor. Naturally, the tumult of life can't always be blocked out. Some highway dhabas now even provide a carnival-like atmosphere of their own. Bollywood songs blare from loudspeakers. Toy sellers try to entice children (or their parents) to make a purchase. Itinerant acrobats perform in the parking lot to earn a few rupees. Most are open 24 hours. 
**********
The historical Grand Trunk Road of my youth is now a multi-lane national highway; two stretches of it have been renamed NH 1 and NH 2. The NH 1, which runs northwest from Delhi to the border with Pakistan, showcases the most dramatic transformation in the style and appearance of dhabas, mirroring other changes in this relatively prosperous region of India. It's also an exciting smorgasbord for foodies. 
Nearly 40 miles (64 kilometers) north of Delhi on NH 1 is the hugely popular dhaba complex of Murthal village. Although there are about 15 big and small dhabas in the village, the all-vegetarian Gulshan Dhaba is probably the most well known. Gone are the trucks in the parking lot. Instead, it's full of foreign-brand cars—Suzukis, Toyotas, Hyundais, and even Mercedes, Audis and BMWs. And each table now boasts a menu (though few Indian customers bother to look at it). The popular dal and roti find mention alongside sandwiches, pizza and veggie burgers. 
The big hit here, however, is the paratha. It's made with roti dough but stuffed with a choice of fillings: paneer (cottage cheese); boiled potatoes, onions and green chilies; or vegetables like radishes and cauliflower. After the cook stuffs it, flattens the dough with clapping palms and roasts it in a tandoor, he puts a huge dollop of unsalted, homemade butter on it. Paratha can be eaten with hot spicy pickles, yogurt, or equally inviting kali dal (black lentils) fried with spices and chopped green chilies in butter. Diners can also order a side dish of mixed vegetables with cumin and coriander, or kidney beans cooked in garlic-ginger paste and chopped tomatoes. Sipping sugary, milky tea completes the meal. "I start my day with a paratha washed down with lassi followed by tea," says Manoj Kumar, whose grandfather, a Hindu refugee from Pakistan, started the original Gulshan Dhaba in 1950 about a quarter mile (a half kilometer) from the current spot. 
Kumar, who is 46, has no recollection of his grandfather, but he clearly remembers his father, Kishan Chand, cooking and serving dal and roti from the original shack in the 1980s. His main clientele was truck drivers who would pay only for the roti, because the dal was free and unlimited. No charge for onions and chilies either. Hard work and dedication gradually helped Chand expand his business to newer and bigger locations down the highway. Local villagers sold milk and vegetables to him, as they still do. Yogurt and butter are made in-house. 
As Kumar talks about the growth of Gulshan Dhaba, his frail-looking father slowly walks up to the till, and Kumar promptly stands up and bows in respect. "My father is not very happy with all the changes that are sweeping this country," says Kumar ruefully. "Some customers in fancy cars ask for pizza and burgers, so we keep them in the menu. My 18-year-old son also doesn't like parathas all that much." Several fast-food outlets, including McDonald's, Kentucky Fried Chicken and Domino's Pizza, have cropped up on NH 1 and are drawing younger crowds. Although no-frills truckers' joints are becoming rarer on the highway, a hearty vegetarian meal can still be had sitting on a charpoi.
**********
Those who love to eat meat need not despair. Just skip the big dhabas like Gulshan and head 93 miles (150 kilometers) farther north to the nondescript Puran Singh ka Vishal Dhaba in Ambala for a more fleshy, lip-smacking lunch. For nearly 30 years, a Punjabi refugee from Pakistan named Puran Singh cooked mutton and chicken curries in a shack opposite the Ambala train station, selling his food mainly to truckers, rickshaw pullers and pushcart vendors. He would buy all of his own ingredients: mutton, chicken, coriander seeds, cumin seeds, cardamom, black pepper, red chilies, fresh ginger, garlic and onions. Then he'd pound the spices at home, and slow-cook an aromatic curry for two to three hours every morning. By three in the afternoon, his food would be sold out. 
Around 20 years ago, this legendary street cook sold his shop to his meat supplier, Vijender Nagar, who thought it sensible to retain the Puran Singh name—as well as a few of Singh's secret recipes. Even though the menu now advertises other meat and chicken dishes, it's not unusual for devoted customers to drive three hours just to eat the mutton curry (for $3.50 a plate) and roti (15 cents apiece). Cashing in on the popularity of the name Puran Singh, at least five other dhabas have sprung up around this one claiming to be the authentic Puran Singh dhaba. (Look for "Vishal" in the name of the dhaba to identify the real one.)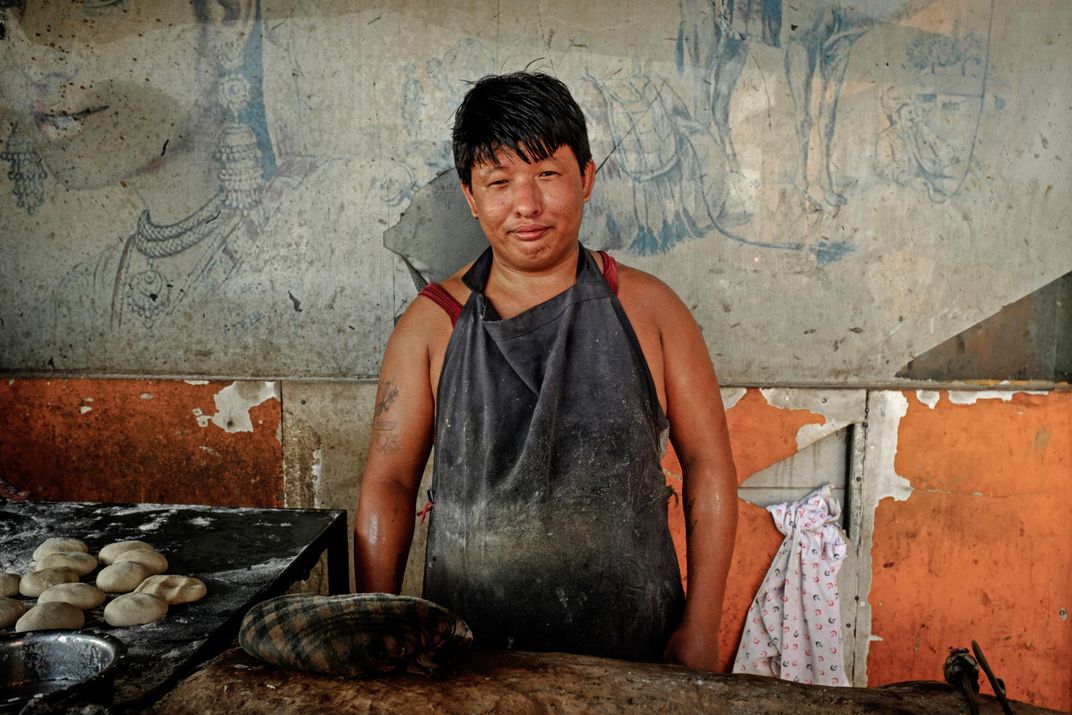 Similar devotion to a unique, personalized style of cooking has made Giani da Dhaba in the Himalayan town of Dharampur a popular destination. Along a two-lane highway that wends its way through hairpin bends to the border with Tibet, this dhaba has become a compulsory stop for travelers heading to the Himalaya from the plains of Punjab and Haryana. For nearly 50 years, Kuldeep Singh Bhatia, fondly called Giani by his customers, has made sure he serves food prepared from fresh local produce, as well as meat from lean goats raised on nearby mountain slopes. 
Bhatia, now 75, can still be seen in the kitchen peeling garlic, stirring a pot, or instructing his five assistant cooks. He makes a delicious lemon-ginger chicken (cooked with crushed garlic and ginger paste in freshly squeezed lemon juice) and a potato-cauliflower dish with turmeric, cumin seeds and freshly chopped coriander. His mutton korma in thick, lightly spiced gravy is a specialty. Although his wife and son help him run the dhaba, Bhatia, a turbaned Sikh refugee from Pakistan, says being hands-on is important. "It is God's grace that has turned a little hole in the mountain wall into a favorite dhaba," he says with his palms held together in obeisance to a higher authority.
Freshness is a hallmark of dhaba cooking, but in the southern states you'll note an added emphasis on cleanliness. (Foreign visitors to India, no matter where they eat, are advised to avoid uncooked vegetables and tap water. Even bottled water can be suspect, so stick to well-known brands like Himalayan, Aquafina and Kinley.) Instead of soiled rope cots or dusty benches, you may find plastic chairs and laminated tables. A seemingly endless variety of food is served in sparkling-clean steel plates and bowls, and sometimes on banana leaves. 
A thali—a rimmed plate offering different foods in small bowls—is the easiest choice. For a vegetarian, a thali might consist of steamed rice, papadum (a crispy fried lentil-based pancake), sambhar (a thin, tangy, soup-like dish with chopped vegetables), rasam (a tamarind-based hot and spicy watery soup), at least two types of vegetables, one dry potato dish, yogurt, raw mango pickles and a dessert. "You can never go wrong with a thali because there are so many varieties of food in it that you are not stuck with one unlikable dish," says Shibasish Chakraborty, a Kolkata schoolteacher who has driven through all the southern states. "And you'll never get a dhaba's warmth and eagerness to please in an impersonal self-service McDonald's or Domino's."
That's one of several reasons TV star Sharma doesn't think fast-food chains pose a major threat to dhabas. Along with his childhood friend and fellow foodie Rocky Singh, Sharma has traveled more than 75,000 miles (120,700 kilometers) on India's major roads as part of a hugely popular television show called Highway on My Plate. "People thought Indian food just meant butter chicken, tandoori chicken, or curry," says Sharma. "We found in Arunachal Pradesh [bordering Tibet] women selling different types of vegetables that we hadn't even seen or heard about. Organic local farming, slow cooking and respect for food are all part of our tradition and culture." If that's something you're looking for, then dhabas are a compulsory stop to experience an authentic—and delicious—taste of life in India. 
Favorites from India's four corners
A huge variety of Indian specialties, many of which can be eaten either as a quick snack or as a main course, are available at roadside eateries across the country. Here is a regional sampling:
————— East —————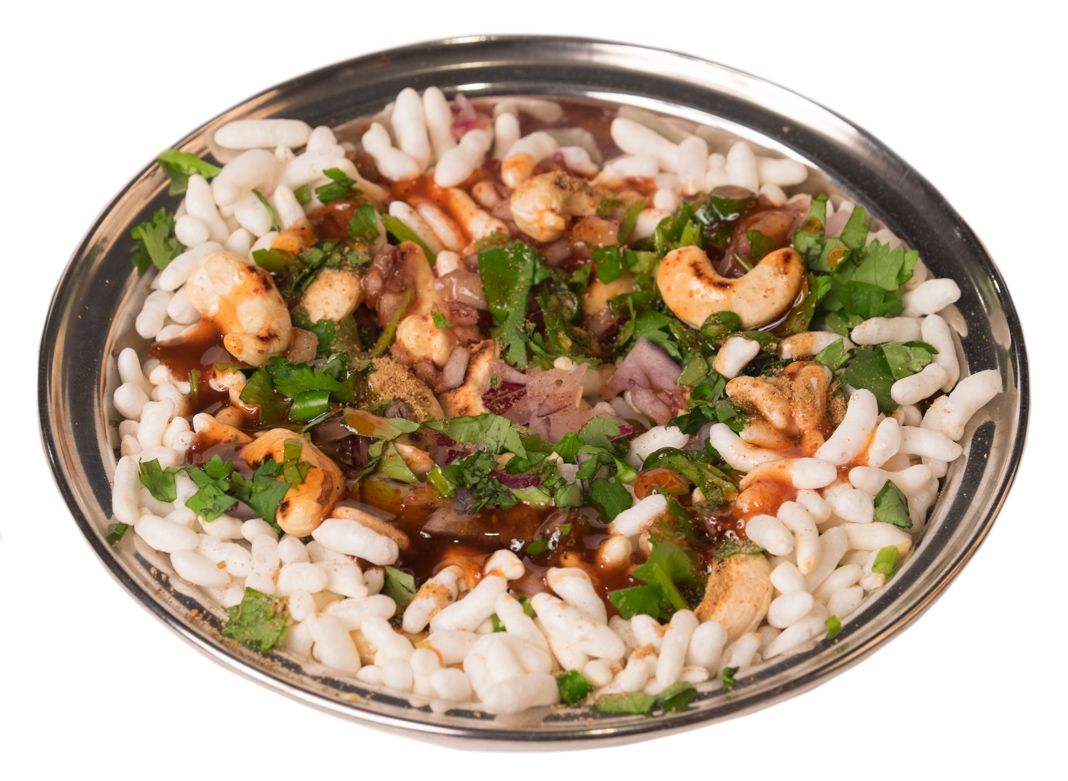 Singara: A delicious stuffed pastry, singara (often called samosa) probably originated in the Middle East, from where it was brought to India by Central Asian traders in the 13th or 14th century. Muslim travelers and poets described a pie filled with minced meat, pistachios, almonds, spices and ghee. In eastern India, singara is cooked with a number of savory fillings, including potatoes, green peas, cauliflower, coconut and roasted peanuts. 
Ghugni: This lightly spiced snack served in a thick gravy is generally made of dried yellow peas, white peas, or black gram. In West Bengal, ghugni with chopped coconut or minced meat is often eaten with luchi, a round, flat bread deep-fried in ghee.
Jhalmuri: An evening snack of great popularity, jhalmuri is a mixture of puffed rice (muri), roasted peanut, soaked black gram, thinly chopped onion and green chilies sprinkled with black salt and roasted cumin-seed powder, blended with a few drops of pungent, raw mustard oil. It is served with hot and spicy accompaniments (jhal).
Rosogolla: A ping-pong ball lookalike, rosogolla is made of cottage cheese, and cooked in a light syrup of sugar until it becomes spongy. These days rosogollas are also made with aromatic date-palm jaggery, giving them a brownish look. 
—————  West  —————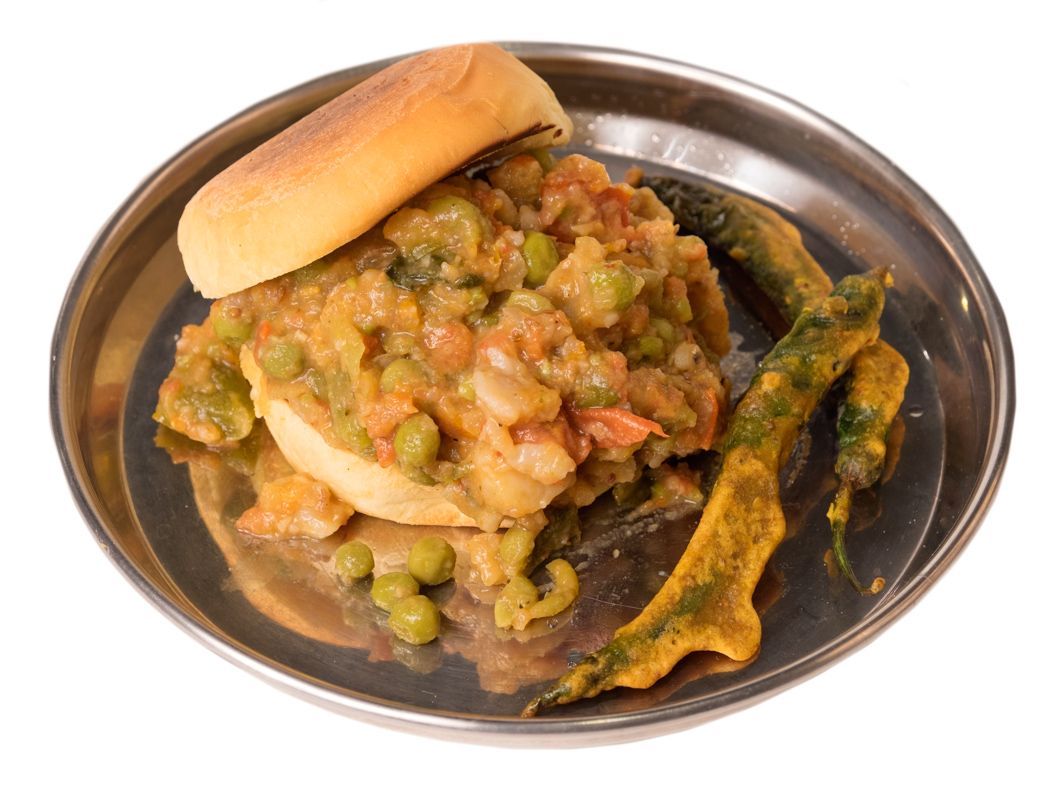 Dhokla: With origins in predominantly vegetarian Gujarat, dhokla is made from a batter of rice and chickpea or lentil flour soaked overnight and then fermented four to five hours. Ginger, coriander, chilies and baking soda are added to the batter, which is steamed in a flat dish, then seasoned in hot oil with mustard seeds, asafetida and green chilies. Often served with fresh coriander chutney.
Pav Bhaji: This combination of soft bread rolls and thick, potato-based vegetable gravy is a popular comfort food in Maharashtra. The bhaji is formed from mixed vegetables, mashed and cooked with tomatoes and spices in a griddle. Different regions add distinct ingredients, like cottage cheese, mushrooms, or dried fruits.
Khandvi: A bite-size snack from Gujarat that's now popular across India's big cities, khandvi is prepared with chickpea flour and yogurt seasoned with turmeric, water, salt and green chilies. The mixture is cooked until it forms a thick paste, which is spread thinly and then rolled into small pieces. Eaten either hot or cold with chutney.
Shrikhand: A deliciously soothing dessert of Gujarat and Maharashtra made of strained yogurt mixed with sugar, cardamom, or saffron (according to taste) and cooled for a few hours. In Maharashtra, mango pulp is sometimes added to give the strained yogurt more flavor and sweetness.
—————  South  —————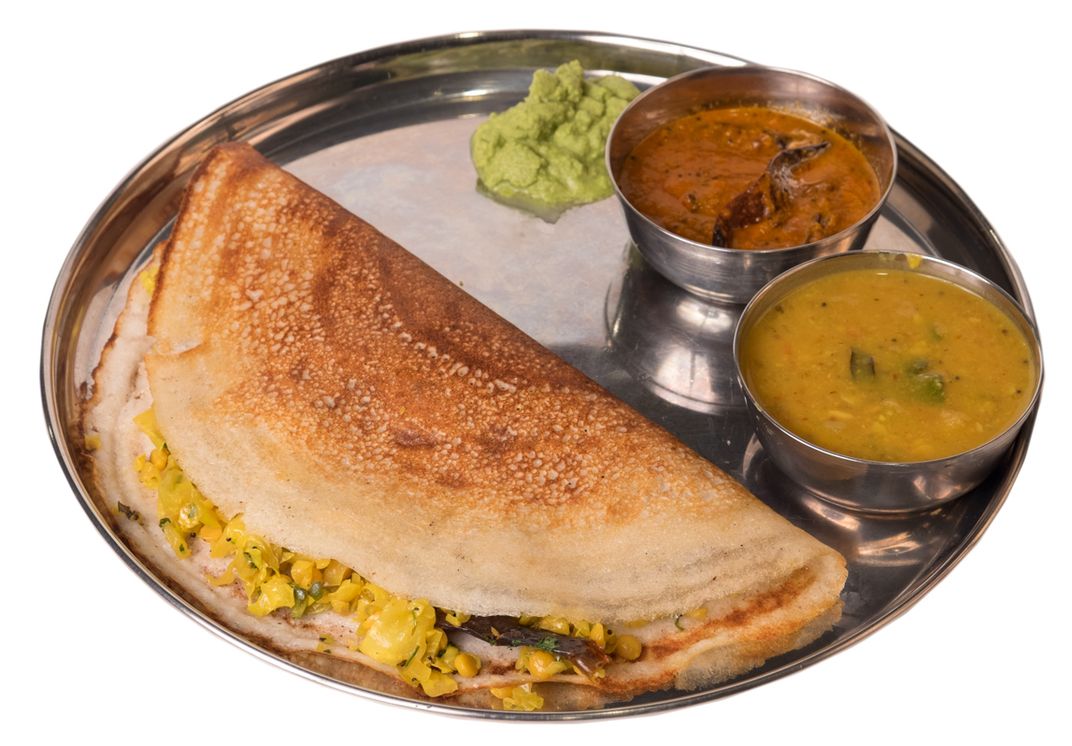 Bonda: In the southern states of India, bonda comes in different varieties, but all are tasty. They are generally made from a boiled and mashed ball of spicy potato dipped in a gram-flour batter and then deep-fried. 
Dosa: A fermented crepe made from rice and split black-gram lentils, dosa is a staple comfort food in south India and popular across the country. Rice and lentils are soaked overnight with fenugreek seeds and formed into a coarse batter, then fermented for five to six hours. The batter is thinly spread over a lightly oiled griddle and made into a pancake. 
Idli: Another popular southern food with nationwide appeal. Two parts rice and one part husked black lentils are soaked separately, then mixed and fermented. The batter is put into lightly oiled molds and steamed. Idlis can be eaten with coconut-based chutneys or sambhar, a tangy vegetable-lentil soup.
Vada: A southern India highway breakfast is incomplete without this fritter-like snack made from a batter of soaked, split black lentils, green chilies, peppercorn, curry leaves and chopped ginger. The thick mixture is molded by hand into a round cake with a hole in the middle, then deep-fried until crispy golden brown. It is eaten hot with sambhar or coconut chutney. 
  —————  North  —————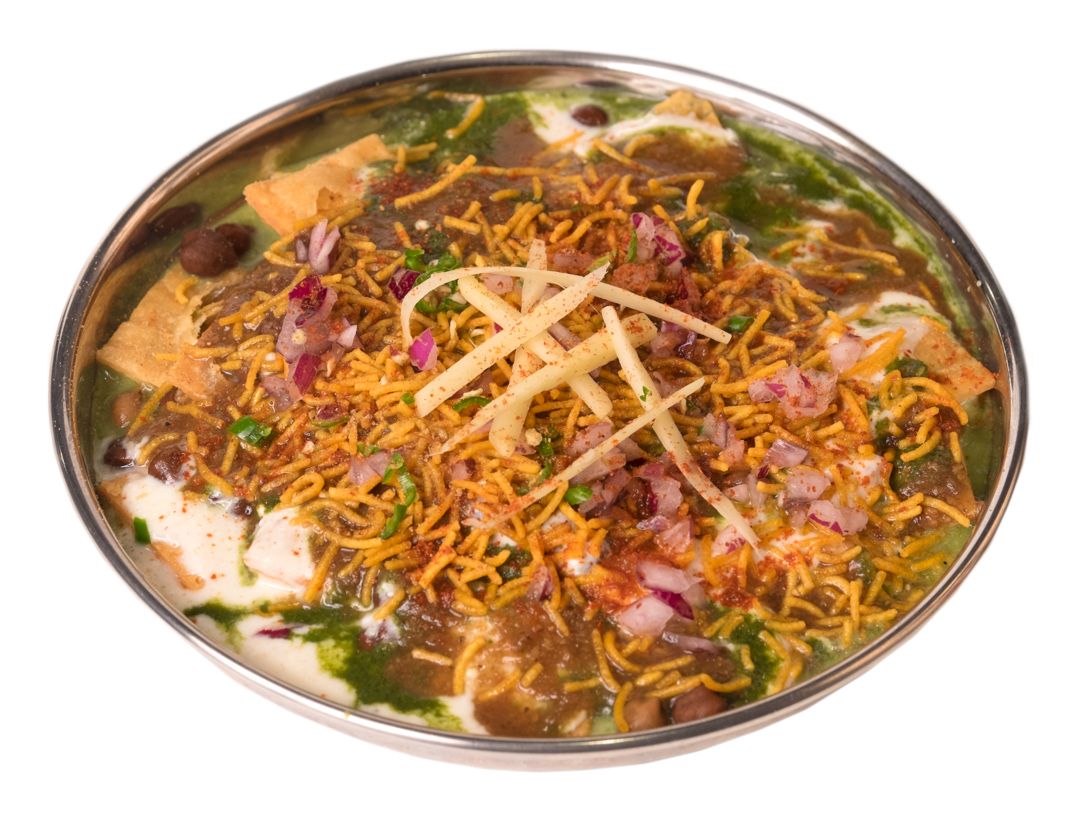 Chaat: This term is used to describe many types of savory treats sold from roadside stalls or pushcart vendors. One popular variety is papri chaat, a mixture of crisp-fried wheat wafers, boiled and chopped potatoes, and boiled chickpeas. All the ingredients are tossed in whisked yogurt and sprinkled with a chaat masala of dried mango powder, ginger powder, cumin, coriander, salt, black pepper, roasted cumin powder and black salt, then topped with chutney.
Chole Bhature: A bowl of chole (spicy chickpeas) and a couple of bhatures (deep-fried wheat-flour flat bread) makes for a sumptuous meal. The chickpeas are soaked overnight and then cooked in a thick gravy of mixed spices and chopped tomatoes. Sometimes the bhature can be stuffed with cottage cheese. This delicious combination goes well with mango pickles and coriander-mint chutney.
Pakora: A comfort food that hardly anyone can resist on a rainy day, pakora is made from assorted vegetables: potato, onion, eggplant, spinach, cottage cheese, cauliflower and chili pepper. Vegetable slices are dipped in a chickpea-flour batter and deep-fried until golden brown.
Gulab Jamun: This dessert is popular across the Indian subcontinent. In north India, gulab jamun is prepared by mixing milk solids called khoya with flour or semolina, which are made into small balls and deep-fried on low heat until they turn brown. The balls are then soaked in sugar syrup flavored with cardamom, rose water, or saffron.