Questing for Calories in New Zealand's High Country
There is something liberating in running out of food. Concerns about rationing are out the window and the world is simplified into a foraging playground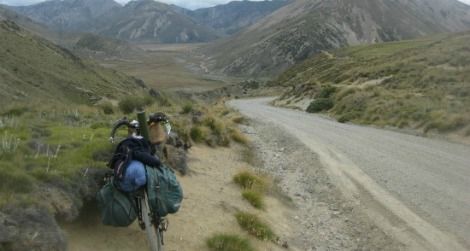 I wrote previously that New Zealand is a bit too clean and tame for one to have real adventures—and in the Teletubby-tidy lowlands and well-worn beaten tracks, it's true. Here, one encounters scant risk, almost nothing dangerous and little that one hasn't seen before (I'll take that back if I ever see a kiwi).
But I've just rediscovered an old trick for maximizing the excitement of traveling: Ride a bicycle into the backcountry without enough food. I didn't mean to do it, but sometimes miscalculations are made in the grocery store while we're wandering the globe in search of experience. I was in St. Arnaud, Tasman, where the town's general store robbed me of $12 for four apples, a few raisins and 20 slices of bread. The cheapest wine on the shelf more than doubled the bill, and thusly provisioned, I turned south off of Highway 63 onto the Rainbow Station-Hanmer Springs road, a private track through the wild, windswept cattle country of Molesworth Station, the largest farm in the country, and one generously shared with the public. Though as many as 10,000 cows at a time may trample the region and leave their pies by the countless thousands in meadows and on riverbanks, the land still amounts to almost untainted wilderness. One can even drink straight from the streams here, as all the locals recommend (though the Department of Conservation, which co-operates parts of the region, advises boiling it for three minutes to cover their behinds in case Giardia should ever infect a tourist).
I stopped about 20 bumpy kilometers in to fish on the upper Wairau River. On my first glance at the stream, I saw basking in the shallows a four-pound trout. The sullen beast refused to take a fly. Upriver a few kilometers, I worked a series of shallow pools studded with boulders like stepping stones across the river. In a chute of fast water, I saw in the sunlight the passing flank of a trout fully two feet long. Further upstream still, I looked off the road into a deep blue pool below and saw three lumbering browns, all more than 20 inches, swimming circles in a slow backwater. Only in New Zealand.
At the gates of the Old Rainbow homestead, owned by the lucky family that has inherited this place, a young woman hurried out the door to let me through and take my $2 road toll. (Cars must pay $25 here and motorcycles $15.) I offered an extra dollar for a pair of chicken eggs; she gave me four–eggs with yolks as golden as Jupiter. Famished by evening and frustrated by the poor fishing, I made my camp at the Coldwater Creek campsite, a patch of sweet green grass amidst some trees. At dawn I continued into the heightening wilderness, opening and closing cattle gates as I found them while, above, the stony crowned peaks grew higher. At one of the cattle gates was a placard describing the region, and its writer—perhaps some anonymous freelancer now lost in an urban hive but who clearly had a heart like John Muir's—couldn't have said it better: Molesworth Station farm "encompasses all the beauty, heartbreak and challenge of New Zealand's high country frontier." Amen. The cold wind screams over the desolate plains and through the valleys, where ribbons of trout stream wind their way seaward. Granite-gray mountain peaks glower at travelers, who gape in helpless awe at the land's stone-cold beauty. It's a treeless place to love or hate.
I made several casts with a beadhead nymph into a promising sapphire pool. I released a small brown before, on my next cast, my line seized up at the weight of a fat two-pounder – my dinner fish. I rode on and reached the Fowlers Camp hut as the weather deteriorated. Icy rain and gusts of 50 miles per hour chased me inside to share the cabin with a team of government botanists in the midst of a plant survey. Mandated by some fine point of the Kyoto Protocol, their project amounted to crawling about on hands and knees to quantify just how much carbon the vegetation of New Zealand is sequestering from our polluted atmosphere. One of the men told me as we sipped whiskey, "It's nonsense, like buying carbon credits. Basically, other nations are paying us to take up carbon so they can pollute." I ate my last slice of bread, saving a dozen raisins for breakfast, and crawled off to bed, stomach growling, still another half-day away from Jack's Pass and, on the other side, the well-fed tourist town of Hanmer Springs.
Oh, the hardship! And to think that just three days before I was among the finely heeled, sampling complicated wines from elegant stemware and trying my tongue at such topics as body, balance, tannins and precisely just what dish one must pair with this or that beverage. That was in the vineyard country of Marlborough, origin of some of New Zealand's most esteemed Sauvignon Blanc and Pinot Noir. At Cloudy Bay Vineyards, staff ran me through their lineup—two free tastes, plus four more for $5, including a slightly funky barrel-aged Sauvignon Blanc and a 2006 vintage bubbly that was layered, rich and memorable. Then I needed a beer, and I stepped next door to the Moa Brewing Company, home of some of the brawniest, strongest beers in the nation. I had the imperial stout, with 10.2 percent alcohol, and on the out, I noticed the sign at the gate on Jacksons Road: "Finally, something drinkable from Marlborough."
But all that was a distant memory now as I prowled over the cold landscape. The biting chill was so harsh that I'd had to pull socks over my fingers, then pull them off again when I found a discarded half apple. With my pocket knife, I carved out the remaining clean bits. It was the best apple core I've ever eaten. From a high point on the road I peered through my polarized sunglasses into a pool on a small river below. A big trout surfaced as though on cue. I watched to see where it settled, then assembled my rod, scrambled down the bank and placed a fly just upstream of the fish. Whammo! A two-pounder erupted from the water, somersaulted twice and quickly surrendered itself. I gave the fish my thanks, clunked it cold with a rock and cooked it on my butane stove at the historic St. James homestead. But a trout hardly fills one up, and I rolled forward, feeling hungrier than before—yet strangely elated.
For there is something extremely liberating in running out of food. Concerns about rationing what's left are out the window because one has absolutely nothing to eat. The world is simplified into a venue of potential meals, a playground for foraging up something—anything—containing calories, and by stripping it of everything indulgent and flavorful, life has, at last, assumed a clear and satisfying purpose.