Seven of the Most Unusual McDonald's Around the World
From Roswell to Norway, the quirkiest spots to get a Big Mac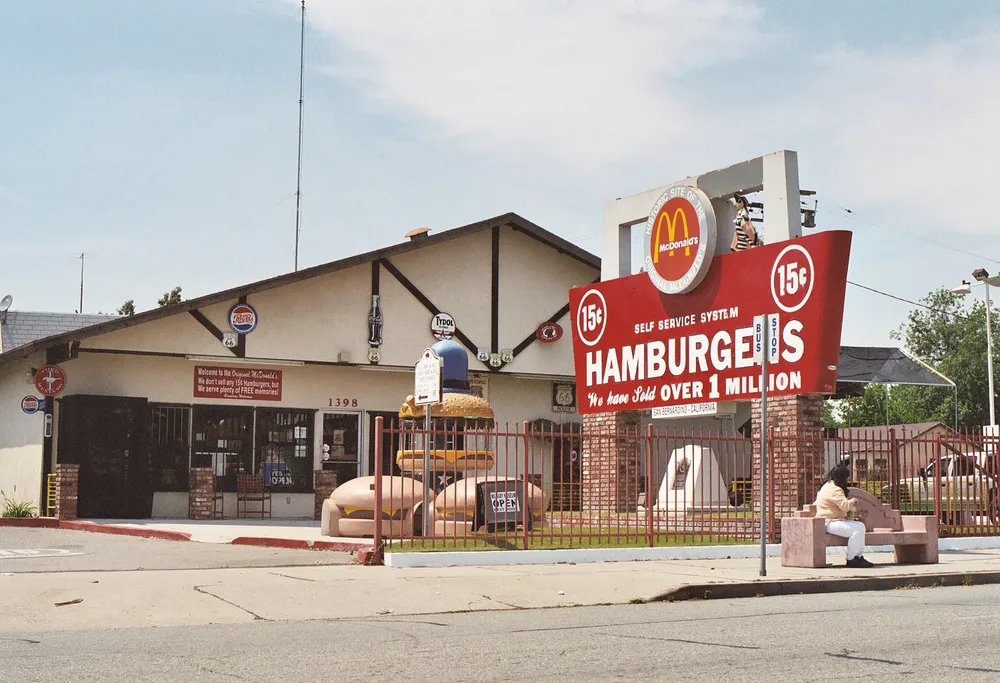 On May 5, 1940, brothers Maurice and Richard McDonald opened a drive-in barbeque joint at 14th and E streets in San Bernardino, California, along Route 66. They called their first restaurant "McDonald's Famous Bar-B-Q." Customers could get a barbeque beef, ham or pork sandwich with french fries for 35 cents. Also on the menu: peanut butter and jelly sandwiches and, of course, hamburgers.
Seventy-five years later, the site of the original McDonald's still stands in the Southern California sun. Today, the building serves two functions—as an unofficial McDonald's Museum (the official museum is in Des Plaines, Illinois) and as corporate offices for another fast food chain, Juan Pollo Chicken. The latter role was born in 1998, when the building went up for sale and Juan Pollo founder and CEO Albert Okura bought it for a little over $400,000. Not needing the whole building for his corporate offices, and being a big fan of McDonald's, Okura thought a shrine to the restaurant chain in the place it was born seemed appropriate.
Outside the modest building, a familiar red sign touts the "self-service system" and 15-cent hamburgers (the sign was there when Okura purchased the place.) In front of the sign sits a popular McDonald's playground toy, an "Officer Big Mac" jail, with most of its bars still intact. Below the sign, a plaque commemorates the site as the world's first McDonald's. Inside the building, there's a sprawling collection of McDonald's memorabilia: overflowing display cases and walls of glass shelves filled with Ronald McDonald dolls, golden arches pins, an old purple costume for Grimace (one of the company's mascots), a small coin-operated carousel, fry-shaped drinking straws, big fiberglass burgers from an old McDonald's indoor playground and much more. Okura says he's received so many donations of McDonald's-related items, he doesn't know how many are in the collection. And there, sitting right by the front door, is the original 1940 McDonald's Bar-B-Q menu, yellowed but still legible. While this former McDonald's location plays a special role in the company's history, it's no longer serving up burgers and fries.
Today, most McDonald's stick to uniformity—the same food, the same iconic golden arches, the same red-and-yellow color scheme. However, there are a few locations that break the mold. From New Zealand to Dallas, here are seven of the most interesting and unusual McDonald's around the world where you can still get a Big Mac or a Happy Meal.