Ireland's Blasket Islands
On these six islands off the tip of the Dingle Peninsula, traditions of ancient Gaelic culture still survive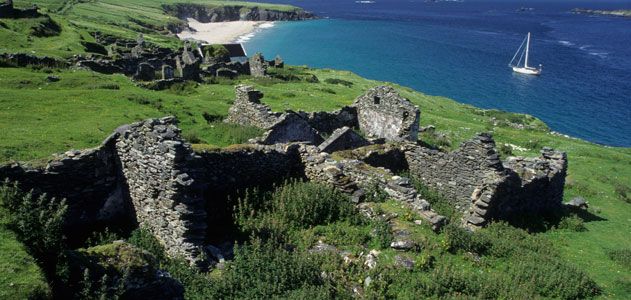 If you're touring the Dingle Peninsula, visit the Blasket Islands if you have time and an interest in Irish heritage. Start by visiting the Great Blasket Centre, then take a boat to the islands.
Great Blasket Centre
This center, on the mainland facing the islands, is an essential stop before visiting the islands—or a good place to learn about them without making the crossing.
This state-of-the-art Blascaod and Gaelic heritage center gives visitors the best look possible at the language, literature, and way of life of Blasket Islanders. The building's award-winning design mixes interpretation and the surrounding countryside. Its spine, a sloping village lane, leads to an almost sacred view of the actual island. Don't miss the exceptional 20-minute video (shows on the half hour), then hear the sounds, read the poems, browse through old photos, and gaze out the big windows at those rugged islands...and imagine. Even if you never got past limericks, you'll appreciate the poetry of these people—so pure and close to each other and nature (€4, covered by Heritage Card, Easter–Oct daily 10:00–18:00, closed Nov–Easter, fine cafeteria, well signposted on the Slea Head Drive near Dunquin/Dun Chaoin, tel. 066/915-6444).
The Blasket Islands
This rugged group of six islands (Na Blascaodai) off the tip of Dingle Peninsula seems particularly close to the soul of Ireland. The population of Great Blasket Island (An Blascaod Mór), home to as many as 160 people, dwindled until the government moved the last handful of residents to the mainland in 1953. Life here was hard. Each family had a cow, a few sheep, and a plot of potatoes. They cut their peat from the high ridge and harvested fish from the sea. There was no priest, pub, or doctor. Because they were not entirely dependent upon the potato, they survived the famine relatively unscathed. These people formed the most traditional Irish community of the 20th century—the symbol of ancient Gaelic culture.
A special closeness to an island—combined with a knack for vivid storytelling—is inspirational. From this primitive but proud fishing/farming community came three writers of international repute whose Gaelic work—basically tales of life on Great Blasket Island—is translated into many languages. You'll find Peig (by Peig Sayers), Twenty Years a-Growing (Maurice O'Sullivan), and The Islander (Thomas O'Crohan) in shops everywhere.
The island's café and hostel have closed down, and today Great Blasket is little more than a ghost town overrun with rabbits on a peaceful, grassy, three-mile-long poem.
Getting to the Blasket Islands
From Dunquin: The 40-passenger Blasket Islands ferry runs hourly from Dunquin, at the tip of Dingle Peninsula; in summer, it goes every hour between 10:30 and 14:30, depending on weather and demand (€25 round-trip, April–Sept, no boats Oct–March, ferry tel. 066/915-6422, 066/915-4864, or 087/231-6131, www.blasketislands.ie). There's also a scenic two-hour Blasket Island Eco Tour circuit cruise from Dunquin Harbor, which departs at 12:00 and 14:30 (€35, April–Sept only, same phone numbers). Or you can combine the Eco Tour with a stop for time on the island (€40, call for schedule). Dunquin has a fine hostel (tel. 066/915-6121).
From Dingle Town: In summer, a fast little catamaran runs between Dingle town and the Blasket Islands. The ride (which may include a quick look at Fungie the dolphin) traces the spectacular coastline all the way to Slea Head, in a boat designed to slice expertly through the ocean chop. A larger boat, the 70-seat Lady Breda, offers a similar service from Dingle town and operates when there's enough demand. These boats also do three-hour eco-tours for those interested in puffins, dolphins, and seals. The tricky landing at Great Blasket Island's primitive little boat ramp makes getting off a challenge, and landing virtually impossible in a storm (€35 same-day round-trip; departs from the marina pier in Dingle at 11:00, 13:00, and 15:00; includes 35-min ride with free time to explore island, call Mary to confirm sailing times of either boat—or for more details on the eco-tours—at tel. 066/915-1344 or mobile 087-672-6100). 
Rick Steves (www.ricksteves.com) writes European travel guidebooks and hosts travel shows on public television and public radio. E-mail him at [email protected], or write to him c/o P.O. Box 2009, Edmonds, WA 98020.
© 2010 Rick Steves