Hydra's History
The small island has served an integral role in modern Greece history as a naval stronghold and hotspot for celebrities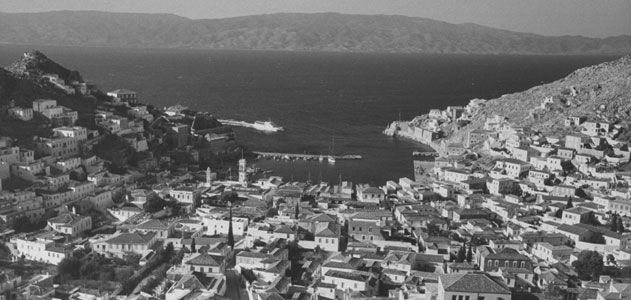 While it seems tiny and low-key, overachieving Hydra holds a privileged place in Greek history. The fate of Hydriots has always been tied to the sea, which locals have harnessed to their advantage time after time.
Many Hydriot merchants became wealthy running the British blockade of French ports during the Napoleonic Wars. Hydra enjoyed its glory days in the late 18th and early 19th centuries, when the island was famous for its shipbuilders. Hydra's prosperity earned it the nickname "Little England." As rebellion swept Greece, the island flourished as a safe haven for those fleeing Ottoman oppression.
When the Greeks launched their War of Independence in 1821, Hydra emerged as a leading naval power. The harbor, with its twin forts and plenty of cannon, housed and protected the fleet of 130 ships. Hydriots of note from this period include the naval officer Andreas Miaoulis, who led the "firebrands" and their deadly "fireships," which succeeded in decimating the Ottoman navy; and Lazaros Kountouriotis, a wealthy shipping magnate who donated his fleet to the cause.
Greece won its independence, but at a great cost to Hydra, which lost many of its merchant-turned-military ships to the fighting...sending the island into a deep economic funk. During those lean post-war years, Hydriots again found salvation in the sea, farming the sponges that lived below the surface (sponge-divers here pioneered the use of diving suits). Gathering sponges kick-started the local economy and kept Hydra afloat.
In 1956, Sophia Loren came here to play an Hydriot sponge-diver in the film Boy on a Dolphin, propelling the little island onto an international stage. And the movie's plot—in which a precious ancient sculpture is at risk of falling into the hands of a greedy art collector instead of being returned to the Greek government—still resonates with today's Greeks, who want to reclaim their heritage for the Acropolis Museum.
Thanks largely to the film, by the 1960s Hydra had become a favorite retreat for celebrities, well-heeled tourists, and artists and writers, who still draw inspiration from the idyllic surroundings. Canadian songwriter Leonard Cohen lived here for a time—and was inspired to compose his beloved song "Bird on the Wire" after observing just that here on Hydra. Today visitors only have to count the yachts to figure out that Hydra's economy is still based on the sea.
Rick Steves (www.ricksteves.com) writes European travel guidebooks and hosts travel shows on public television and public radio. Email him at [email protected], or write to him c/o P.O. Box 2009, Edmonds, WA 98020.
© 2010 Rick Steves