How to Tour Louis Armstrong's New Orleans
Jazz is synonymous with the Big Easy, and there's no bigger name in the history of the genre than Satchmo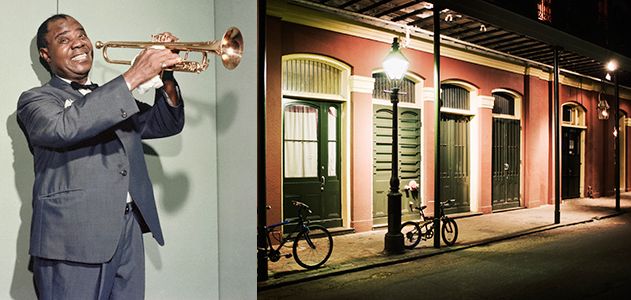 It would be difficult to find a better embodiment of the American dream than Louis Armstrong, who was born in 1901 to a single mother in the rough, poverty-stricken Back O' Town neighborhood near what is today the Mercedes-Benz Superdome. Though he sang on street corners and taught himself the cornet, there was little to suggest that a boy with scant education or formal musical training would become one of the defining musicians of his age.
"The key to Armstrong's success is the discipline he brought to bear," says Bruce Boyd Raeburn, curator of the Hogan Jazz Archive at Tulane University. "Armstrong was a hard worker and was extremely curious as a child. He did the work necessary and paid attention to everything going on around him."
What was going on, in many of the neighborhoods where Armstrong found himself, was jazz. Back O' Town, Storyville and other areas were musical melting pots in the early 1900s, where blues and ragtime mixed with the city's prevalent opera and chamber music traditions. Musicians such as Jelly Roll Morton, Buddy Bolden and Joe "King" Oliver, who later became Armstrong's mentor, were helping to define the new genre, making names for themselves in the smoky din of New Orleans' dance halls, saloons and honky tonks.
Armstrong's own musical education was anything but conventional. His most basic instruction came while he was incarcerated for 18 months (for firing a gun into the air) at the Colored Waif's Home for Boys. The young cornet player would later hone his craft on the Mississippi River, playing aboard the paddle steamer Sidney. "It was a safe way to test greener pastures elsewhere, but with a round trip ticket, because he could always come back to New Orleans," says Raeburn.
When Armstrong did leave the city in 1922 to join Joe Oliver's band in Chicago, it would mostly be for good. The entertainer would spend much of the Prohibition era back and forth between Chicago and New York during one of his most productive periods, as a sideman and later as the leader of his Hot Five and Hot Seven bands. Armstrong, who would soon become known to his audiences as "Satchmo" and "Pops," would find that the world beyond New Orleans would not tire of his infectious smile, gravelly voice and remarkable ability to convey a landslide of emotion in the singular note of a trumpet—a talent evident on tracks such as "West End Blues" and "Potato Head Blues."
Sadly, Armstrong's birthplace was demolished decades ago, as was the Colored Waif's Home where he learned to play. And though the city has made strides to commemorate him—with its airport, a downtown park and an annual "Satchmo" summer festival—the struggle to preserve New Orleans' early jazz sites continues. Those in the know, however, can still pick up the trail of the Crescent City's greatest musical treasure at these five spots—and of course, hear some swingin' good jazz along the way.
Louis Armstrong Park and Congo Square
A modest brown sign commemorates Congo Square, a spot in Louis Armstrong Park now paved and lined with trees around its perimeter, where, from the mid-1700s to the 1840s, local slaves would congregate to play music on Sunday evenings. The pastime helped to preserve African rhythms and music traditions that would work their way into jazz, less than a century later. Located just steps from the French Quarter, the 32-acre Louis Armstrong Park was founded in 1980 in honor of NOLA's favorite son, and contains Perseverance Hall—a Masonic lodge and later a dance hall where jazz musicians, early on, played for black and white audiences alike—and a larger-than-life, bronze statue of Armstrong by sculptor Elizabeth Catlett.
New Orleans Jazz History Tour by John McCusker
 As a child, Armstrong worked a series of odd jobs, from hawking newspapers and cleaning graves to picking vegetables from the trash and selling them to neighborhood restaurants. At the young age of four or five, he went to work for a local Jewish family, the Karnofskys, selling junk from the family's wagon by day and buckets of coal by night to prostitutes.
"After a day's work in the Hot Sun… that evening we would finish up—unhitch the horse and wagon… have a good Jewish meal—relax for the night Route through the Red Light District selling Stone Coal a Nickel a Water Bucket," Armstrong writes in Louis Armstrong in His Own Words.
John McCusker, a veteran Times-Picayune photojournalist and the author of Creole Trombone: Kid Ory and the Early Years of Jazz, offers history tours with stops at the Karnofsky family's tailor shop and other key sites, including the former Iroquois Theater, where Armstrong once won a talent competition in "white face," and the Eagle Saloon, a popular watering hole where Armstrong likely drank and listened to other Back O' Town artists.  
*Tours can be arranged through the contact form on McCusker's Web site (www.johnmccuskermedia.com) and by phone: (504) 232-5421. $30 per person.
 The recently reopened Little Gem Saloon is one of the few success stories among the small cluster of dilapidated jazz relics on the 400 block of South Rampart Street. When it opened in 1903, the Little Gem was as a hangout for early jazz legends such as Buddy Bolden and Jelly Roll Morton. And it was outside its doors, on New Year's Eve in 1912, that Armstrong celebrated by firing a pistol into the air—an event that led to his arrest and confinement in the Colored Waif's Home for Boys. Today, the Little Gem Saloon's early 1900s-inspired interior and daily live music harkens back to the club's heyday, and its Sunday jazz brunch features a historic Creole menu by Chef Robert Bruce, with dishes such as oxtail soup, pickled oysters and molasses pie.
Steamboat Natchez Dinner Jazz Cruise
At 17, Armstrong accepted a job with John Streckfus and his bandleader Fate C. Marable aboard the Sidney, a New Orleans paddle wheeler, performing along the Mississippi, Missouri and Ohio rivers. Armstrong's time on the riverboats was his first exposure to musical literacy, and the by-ear musician—who until that point would memorize his parts—was forced to sight-read. It was also the place where he fine-tuned the improvisational techniques that would become his signature. NOLA travelers can get a feel for Armstrong's time on the river on the last of the city's authentic paddle wheels, the Steamboat Natchez riverboat, which offers nightly dinner jazz tours, featuring the Grammy-nominated Dukes of Dixieland, on its 15-mile roundtrip route on the Mississippi.
Old U.S. Mint, Louisiana State Museum
Built in 1835, this Greek Revival structure just blocks from the river is the only mint to have produced both American and Confederate coinage. Though it retired from printing in 1909, the Old Mint now serves as part of the state museum, featuring live jazz twice a week in its state-of-the-art performance hall and a world-famous jazz collection that includes Louis Armstrong's first cornet, his iconic handkerchief (he always used a hankie to wipe the sweat from his brow when he performed) and hundreds of letters and recordings. When Armstrong returned to New Orleans for a visit in 1965, he identified the museum's cornet as his own after recognizing the grooves in the mouthpiece, which he filed himself in order to improve the fit on his lips.
Five Essential Louis Armstrong Tunes to Listen to Before You Go
Selected by Joann Stevens, program manager of the Smithsonian Institution's Jazz Appreciation Month
Dipper Mouth Blues – This early composition by Louis Armstrong and his mentor, the legendary New Orleans cornet player Joseph "King" Oliver, was a featured piece of King Oliver's Creole Jazz Band. 
West End Blues - This King Oliver composition was popularized by Louis Armstrong and His Hot Five.  The 1928 recording was inducted into the Grammy Hall of Fame in 1974.     
Weatherbird Rag - This improvisational conversation between Armstrong and pianist Earl Hines has been called the most celebrated duet recording in the history of jazz.
Satchmo at the National Press Club: Red Beans and – Rice-ly Yours - Five months before his death, Armstrong transformed a National Press Club awards ceremony into a music celebration.  This Smithsonian Folkways Records recording, produced with The National Press Club and The Louis Armstrong Educational Foundation, captures history.  
What a Wonderful World – Armstrong made this tune by Bob Thiele and George David Weiss a global anthem of unity and optimism that joined Grammy Hall of Fame favorites in 1999.