How to Tour Jane Austen's English Countryside
Follow in the footsteps of Mr. Darcy and the Bennet sisters and take in the manors and gardens of rural England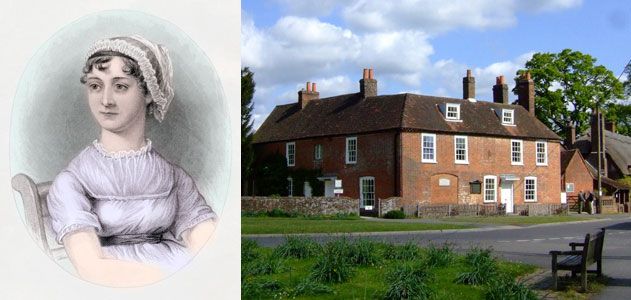 It's only fitting that marriage was on Jane Austen's mind from a young age. As a child, she would inscribe her name alongside that of her "future husband" among the marriage entries in her father's parish register. Her father, George Austen, was a country clergyman. At that time, Austen imagined herself to have three spouses: Henry Frederic Howard Fitzwilliam of London, Edmund Arthur William Mortimer of Liverpool and further down on the page, and somewhat less grandly, Jack Smith of God knows where.
Alas, love and marriage were not in the cards for Jane Austen of Hampshire. Instead, the witty, full-cheeked 21-year-old—who loved to dance and flirt at assembly room balls and often peppered letters to her sister with scathing commentary about family acquaintances—wrote one of history's most celebrated novels.
Pride and Prejudice, initially submitted under the title, "First Impressions," was rejected on its first attempt at publication in 1797. It would take 16 more years before the romance-starved world would be introduced to wise Elizabeth Bennet, the baffling Mr. Darcy and the four Bennet sisters on their quest to find genteel husbands in the English countryside. Since that time, the novel's popularity has continued to snowball, engendering modern adaptations including the films Bridget Jones's Diary (2001) and Bollywood's Bride and Prejudice (2004), and of course, the Quirk Books spin-off, Pride and Prejudice and Zombies (2009). This month, Pride and Prejudice celebrates its 200th anniversary.
So, how does one explain the novel's long-standing appeal?
"It's not just a love story," says Louise West, curator of Jane Austen's House Museum in Chawton, England. Soldiers returning from WWI were given the novel for its soothing abilities, West says, to help calm shell-shocked nerves. And it was a frequent crutch for Prime Minister Winston Churchill, who cracked the book in times of stress.
"Although society has changed, people haven't," says Iris Lutz, president of the Jane Austen Society of North America. "Austen's heroine [Elizabeth Bennet] seems modern; she's an independent thinker. The novels are timeless because Austen creates memorable characters, and she's a good storyteller."
And, of course, there's the romance. "Principally, it has to be because of those two wonderful characters [Elizabeth and Darcy] and the nature of their relationship," West says. "People would aspire to it even if they haven't experienced it themselves."
Whether or not Austen ever experienced true love, however, is a matter of some discrepancy. The author's sister Cassandra burned much of the writer's most telling correspondence after Jane's death. But that's only half of the problem. "She was by nature a secretive person," says West. "The reason we don't know about her is that Jane Austen preserved her identity very carefully."
While writing at her home in Chawton in 1809, Austen intentionally preserved a squeaky hinge on her door so she could hide her pages before interlopers could announce themselves. She was equally discreet when publishing her early novels, choosing to use "By a Lady" for the title page of Sense and Sensibility in 1811, and "By the Author of Sense and Sensibility" for Pride and Prejudice in 1813.
From grand aristocratic estates to rustic local farm shops, there's no better way to discover the mysterious Austen and the bucolic inspirations behind Pride and Prejudice than to visit the small cluster of English counties she called home.
St. Nicholas Church
Steventon, Hampshire
Every good Austen novel ends with a wedding, and it's not hard to imagine the quaint country affairs that captivated the author taking place at the mottled stone church of St. Nicholas in Steventon. Constructed around 1200, the secluded Norman structure, with its three-feet-thick walls and medieval paintings, was a familiar sight for Austen, whose family inhabited the nearby rectory and attended mass at the church. Austen lived in Steventon for her first 25 years, during which time she wrote the majority of Pride and Prejudice, Sense and Sensibility and Northanger Abbey. The rectory was demolished shortly after her death in 1817—a lime tree planted by Jane's elder brother James still marks the spot where it stood—but St. Nicholas remains unchanged.
Chatsworth House
Derbyshire
Before "Downton Abbey" there was Mr. Darcy's Pemberley, and even a chagrinned Elizabeth Bennet could not deny the house's charms. "She had never seen a place for which nature had done more," writes Austen. "At that moment she felt that to be mistress of Pemberley might be something!" Some scholars credit the palatial Chatsworth House—home of the Duke and Duchess of Cavendish for 16 generations—as Austen's inspiration behind the fictional estate. In fact, the 2005 film version of Pride & Prejudice, starring Keira Knightley, cast Chatsworth in the role. Visitors can peruse the house's 30 rooms, stroll the 105-acre garden or take in the extensive private art collection­—including the dramatic sculpture gallery featured in the Hollywood film.
Manydown Farm Shop
Basingstoke, Hampshire
Located near the town of Basingstoke, Manydown Park was the house where a teenage Austen first danced with Tom Lefroy, an impetuous suitor who later became Lord Chief Justice of Ireland.  "Imagine to yourself everything most profligate and shocking in the way of dancing and sitting down together," Austen wrote to her sister Cassandra in 1796. Sadly, Lefroy was shipped home to the Emerald Isle to curb the budding romance.  Six years later, Austen was again embroiled in a romantic intrigue at Manydown after receiving a proposal from the wealthy, younger Harris Bigg-Wither, whose family owned the house. Although she initially accepted, Austen scandalously reneged just hours later, then fled the scene. Manydown Park was destroyed in the 1960s, but Manydown Farm Shop, located on the estate, offers an authentic slice of the Hampshire countryside—complete with homemade meat pies, local Loosehanger cheese and lamb raised on Manydown's 200-acre farm.  
Godmersham Park Walk and Heritage Centre
Kent
"To sit in idleness over a good fire in a well-proportioned room is a luxurious sensation," said Austen in 1800. Her appreciation for life's finer things—despite a humble upbringing—made the writer a fervent admirer of Godmersham Park­, the sprawling brick mansion inherited by her brother, Edward, who was adopted by Thomas Knight, a wealthy cousin of George Austen's, and became heir of his estate. Jane was a frequent guest at the house, where she spent time playing with her favorite nephew, George; sitting in the library; and revising Sense and Sensibility. Today, travelers can follow a footpath—which offers views of Godmersham Park—from Village Hall to St. Lawrence the Martyr church, where Edward Austen is commemorated, and the Godmersham Park Heritage Centre, with its small collection of Austen-related artifacts, including the diary of Jane's niece, Fanny Knight.
 Jane Austen Centre
Bath, Somerset
Jane Austen was not thrilled when her father retired from his ministry and moved the family from the quiet safety of Steventon to Bath. The five unsettled years she lived in the city (1801-1805) were indeed marred with hardship, including the death of her father. Professionally, however, Austen was inspired. Bath is the setting for two of her six novels, Northanger Abbey and Persuasion. The city's Jane Austen Centre offers Georgian-era walking tours with stops at venues Jane would have been familiar with, including the chandelier-adorned Assembly Rooms and the Bath Circus, a UNESCO World Heritage Site. The Centre's Regency Tea Room is the perfect place to enjoy finger sandwiches, clotted cream and 15 varieties of loose leaf tea, named for some of the writer's most famous characters (think: Lady Catherine's Proper Cream Tea).
Jane Austen's House Museum
Chawton, Hampshire
Austen's house in Chawton—where she lived the last eight years of her life—looks much the same as she might have left it, when she died from Addison's disease at age 41. The museum contains a rare collection of Austen artifacts, including her writing table; a patchwork quilt made by Jane, Cassandra and their mother; and a pair of topaz crosses belonging to the sisters which were a gift from their brother, Charles—paid for with prize money he collected after capturing an enemy ship while in the Royal Navy. Throughout 2013, the museum will celebrate 200 years of Pride and Prejudice with an exhibition that explores the story of the novel and the history of its writing. The museum is displaying a letter Jane wrote to her sister Cassandra when she received her first copy of the book, costumes from the 1995 BBC television production and a contemporary art exhibition inspired by the novel.