Switzerland's Verzasca Valley, in the Italian-speaking canton of Ticino, is renowned for its emerald-green river flowing past miles of winding canyons, lofty peaks and forests as dense as broccoli. Corippo, a tiny 800-year-old hamlet of handcrafted stone homes, rises nearly 2,000 feet above the valley floor. The tightly stacked dwellings are so close together they appear two-dimensional.
In June 2022, Corippo became the home of Switzerland's first certified albergo diffuso. Directly translated as "widespread hotel" or "scattered hotel," the lodging is part of a multiyear plan to preserve and revitalize the medieval village hit hard by depopulation––its inhabitants emigrating to other parts of the world in search of a better life.
"Records for Corippo date back to the 1200s," says Marco Molinari, president of the Corippo Foundation 1975, the preservation organization responsible for creating Corippo Albergo Diffuso. "At its peak in the 1850s, 315 poor farmers and their families" traversed its narrow stone pathways. "Today, there are only ten full-time residents."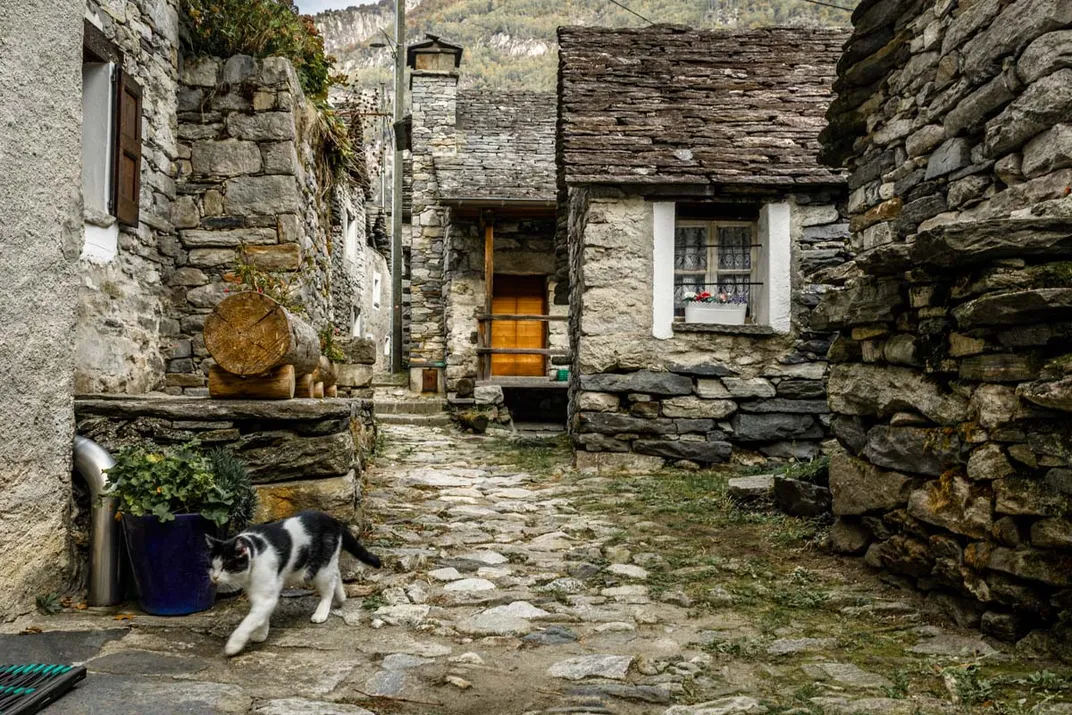 Corippo's new albergo diffuso consists of ten cozy rooms spanning five restored residences. Adjacent to the main piazza is a terraced osteria (restaurant) with sweeping canyon views that doubles as a lobby. Distinctive architectural details, such as original exteriors and dimensions, were preserved using local materials.
Beyond Corippo's historical significance and ideal landscape for outdoor activities, its appeal is its sense of solitude. Locarno's promenade of boutiques and cafes and Lugano's art museums and galleries are less than an hour away, but the hamlet is peaceful.
"We hope that our guests take advantage of the deep calm that reigns here," says Désirée Voitle, who manages Corippo Albergo Diffuso's operations. Her husband, Jeremy Gehring, oversees the kitchen and is the osteria's chef, serving fresh gourmet cuisine from south of the Alps.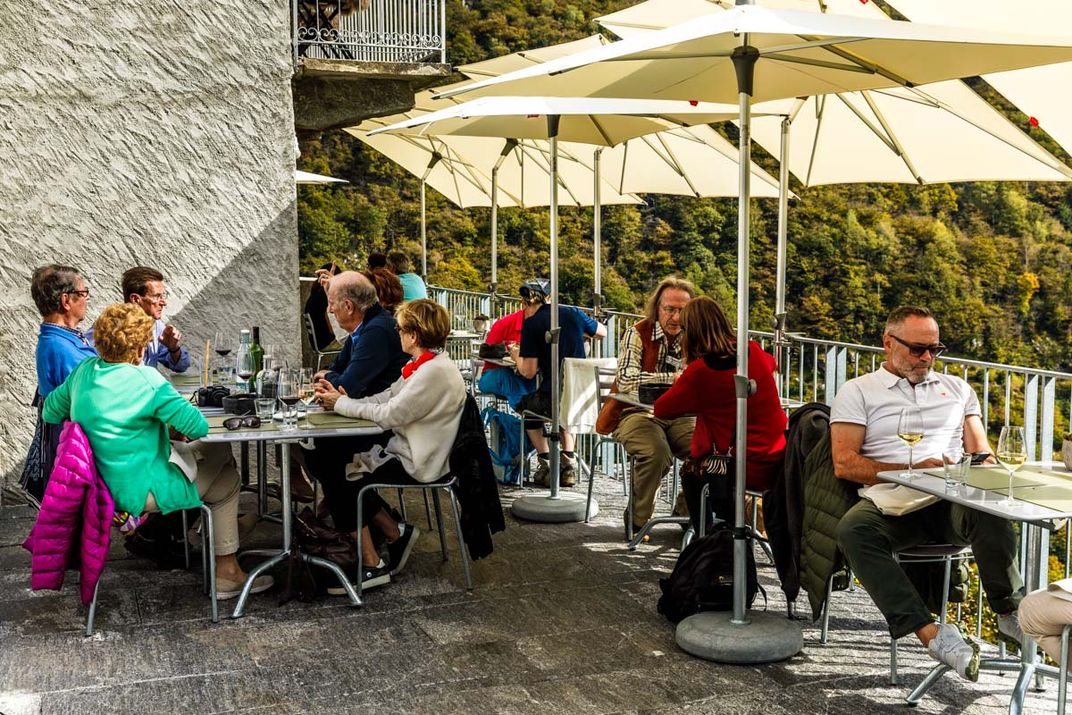 New to Switzerland, the albergo diffuso style of accommodation originated in Italy, inspiring offshoots throughout Europe. Giancarlo Dall'Ara is president of the Alberghi Diffusi National Association and the concept's mastermind. "Albergo diffuso is an Italian hospitality model that is 50 percent hotel and 50 percent small-village development," the Rimini native explains. The approach restores a network of abandoned dwellings as guest accommodations, providing the immersive cultural experience of a bed and breakfast combined with a modern hotel's reliability, quality and services. Alleyways become metaphorical hallways, and piazzas become living rooms.
The seeds of his vision originated on a trip to Carnia, an alpine setting with seven centuries-old valley communities in the Friuli Venezia Giulia region of northeastern Italy. It was 1982, six years after an earthquake practically leveled dozens of villages, and Dall'Ara, a fresh-faced hospitality-marketing consultant, was there to develop a tourism strategy. "It was a big surprise to see small villages with so few people," Dall'Ara recalls. "All the houses were restored very well, but they were empty. Most of the inhabitants had moved away." Building new hotels in tiny hamlets didn't make sense. He knew the abandoned dwellings were key, but how best to use them was the question.
"Nature and the landscape were the most important attractions," says Dall'Ara, so he first considered agriturismo, often called "farm stays"––privately owned properties offering beautiful views, local fare and hands-on experiences showcasing how and what the farm produces. But it was António Ferro's pousadas of Portugal that intrigued him most.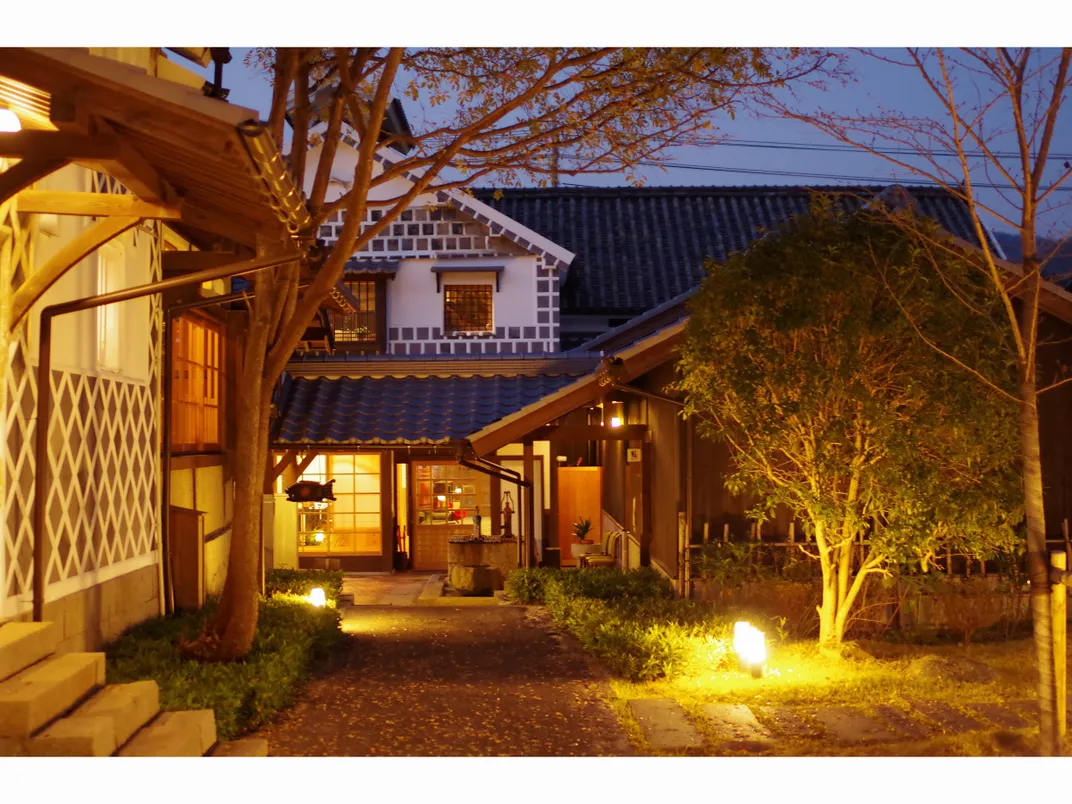 In the 1940s, Ferro, Portugal's chief propagandist, established a string of government-owned pousadas or inns. (Paradores in Spain and Puerto Rico are similar.) Ferro emphasized Portuguese culture in contrast to modern hotels of the day. Each inn reflected its location and heritage with traditional decor, cuisine and amenities, often occupying storied buildings like palaces or castles.
Ferro "understood that if you want to promote an area, you must have something original," says Dall'Ara. "Visitors must know that they have only one place to go if they want to have that particular experience." Pousadas became an internationally recognized Portuguese brand attracting travelers worldwide.
Dall'Ara believed Italy's struggling communities and tourism industry needed an Italian interpretation.
The broad strokes of an albergo diffuso are simple. There's no new construction. Recycling a network of vacant properties is historically relevant and responsible. Other conditions require one of the buildings to be a reception area or restaurant in the town center to encourage visitors to connect with the community. Guest quarters should be within 650 feet of the lobby for easy access. A single entity needs to manage the property to deliver consistent operations and concierge support, and if additional services are needed, the organization has to work with locals to develop those opportunities. For example, the managers of Corippo Albergo Diffuso hired a local artisan to make shampoo and conditioner for guest use, which they also sell.
Dall'Ara presented the idea at numerous conferences and to several municipalities for whom he consulted. The industry responded enthusiastically, but it would take years to realize. "Albergo diffuso was always a beautiful idea to suggest, but when someone in the industry asked, 'Can I visit one?' I'd say, 'You must open it first,'" he recalls.
It was Guglielmo Macchiavello, an architect specializing in restoring historical centers, who took on the project. Based in Bosa, Sardinia, Macchiavello takes pride in "restoring and recovering old houses steeped in traditional values," he says. But a "second crucial element" inspired the architect. "Through this form of hospitality, it is possible to entertain guests by telling the stories of the houses, the stories of the town … communicating how many ancient flavors can be found in the traditional dishes … and in the wines that will accompany them," he says. "The albergo diffuso is like our home when we invite and welcome friends."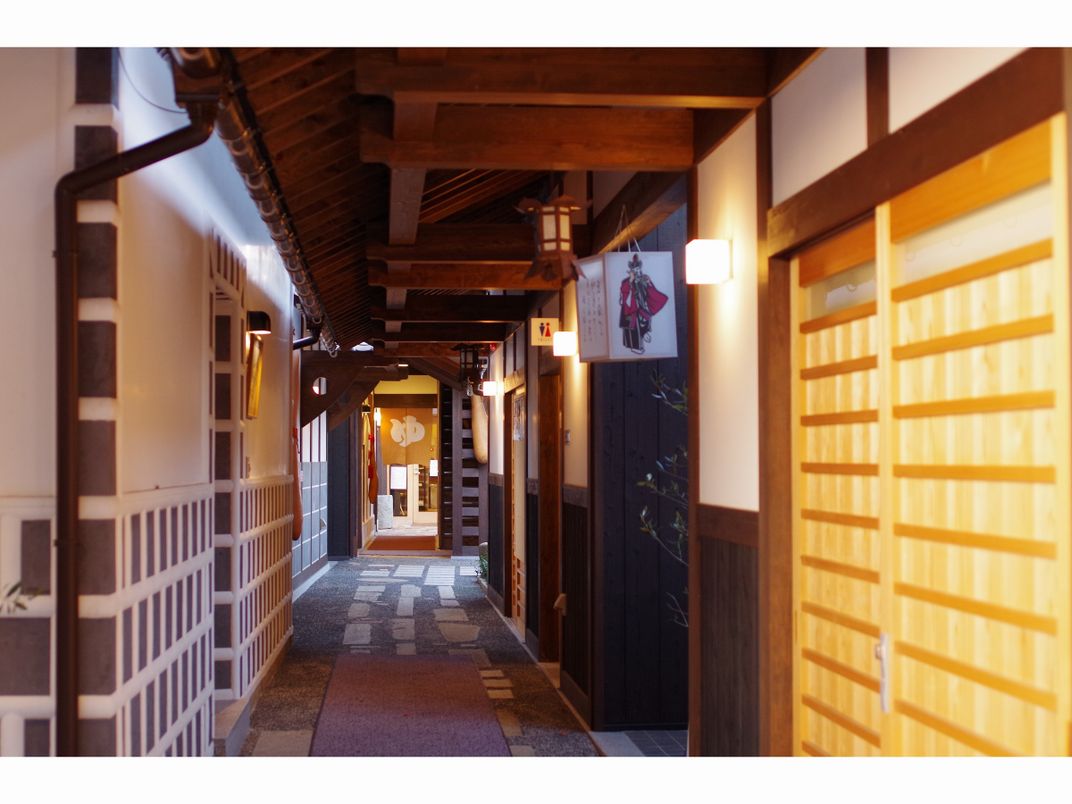 However, there was a catch. Before Macchiavello could move forward, the regional government needed to draft a legal classification recognizing the model's operating structure. Macchiavello and Dall'Ara lobbied together, passing the classification in 1998. In 2002, Macchiavello's Corte Fiorita became Italy's first albergo diffuso. Now under new management, the Bosa hotel has beautifully appointed rooms with soaring ceilings in five pastel-colored residences built in the 1600s. In 2008, Macchiavello opened Villa Asfodeli in Tresnuraghes, roughly 6.5 miles south of Bosa. The restored 1920s Art Nouveau villa and two homes from the early 1800s feature 28 spacious rooms with views of the old city, tranquil gardens and a swimming pool overlooking the sea.
Italy's interest in alberghi diffusi soared, resulting in scores of hotels following Corte Fiorita's lead.
"Regions have full autonomy in terms of lawmaking and financing," says Maria Elena Rossi, marketing and promotion director for the Italian National Tourist Board. Regarding tourism, "there are 21 regions … each with different legislation and quality standards."
That means hotels calling themselves albergo diffuso may not adhere to Dall'Ara's criteria. According to the International Alberghi Diffusi Association, only 150 are certified. For Dall'Ara, the critical characteristic of a "true" albergo diffuso is the combination of accommodation and small-town development. For this reason, many alberghi diffusi work in concert with government programs or preservation initiatives.
"I think this is one of the great achievements of the association [of alberghi diffusi]," says Rossi. "That [the albergo diffuso model] is recognized as a hospitality model provides opportunities for [government] funding for infrastructural refurbishment, improvement and building services."
In recent years, countries around the world have introduced alberghi diffusi. In 2015, Yakage-ya Inn and Suites debuted in Yakage, in Japan's Okayama prefecture, a common stopover point for feudal lords and their coterie along Sanyo Road in the Edo period (1603-1868). The inn features several restored structures of a private residence more than 200 years old. Germany's Franconia wine district welcomed Albergo Diffuso Mainbernheim in 2020. Behind the town of Mainbernheim's medieval walls, rooms occupy a 1900s farmhouse, a 1500s historic inn, a 1400s abode of a military governor and a 1700s home of a wine merchant.
Kruja Albergo Diffuso, the first in Albania, opens in May 2023 within the confines of Kruja Castle, overlooking the city of Kruja, 22 miles from Tirana. The fortress, built in the fifth and sixth centuries, includes roughly 30 traditional homes––many occupied for generations. Thirteen guest rooms will occupy three restored buildings rebuilt in the early 1900s. Nine guest quarters are housed in the same location as the hotel's reception and restaurant. Two to three more properties featuring ten additional rooms, a museum and an open-air bar will follow by year's end. The hotel will also manage Albania's oldest hammam, or public bath, from the 15th century.
Kruja Albergo Diffuso's owner, Olsi Pengili, says visitors will be immersed in local arts and culture. "There's an Indigenous population with inherited traditions and customs inhabiting the city," he says. "Some ladies practice crafts near their homes, like carpet-making or traditional embroidery." Cultural monuments such as the National Historical Museum, a medieval church and the Fatih Mosque are nearby.
Guests stay in "structures designed for residents," Dall'Ara says, next to other homeowners "to live the lifestyle of a place, not as a tourist but as if they are temporary residents."
Mario Demartino and his wife, Simona Tavassi, who live in northern Sardinia, echo Dall'Ara's point. The couple has returned to Villa Asfodeli four times and found the albergo diffuso served as a bridge connecting them to the community. "If you go in the restaurant there, it's a family that runs the place, it's not impersonal," says Demartino. "They welcome you. They look after you in a different way because they realize that you are foreigners––a more helpful, warmer way. It's very fun. It's beautiful."
Google "albergo diffuso" or "scattered hotel" and you will find results in Croatia, Spain, France, Sri Lanka and beyond. Are they all the real deal, technically speaking? It's hard to say. There is no trademark to enforce.
"I accept this situation," Dall'Ara acknowledges. "I say we gave them the Italian experience, something that can help with their situation a little bit." The success of the model is primarily anecdotal.
Though it's a fledgling business, Corippo Albergo Diffuso shows promise. Bookings are strong in season, from now through October, and the osteria enjoys a local following. Lunch is particularly busy, catering to travelers exploring the valley, and the town is growing. Jeremy, Désirée and their toddler, Ernesto, are new residents. Their son is the first child to live in Corippo in over 50 years.