This Hiker Is Trying to Make It from Mexico to Canada in Just 59 Days
Hikers and runners are trying to cover the country's longest, most iconic trails, faster than anyone ever has before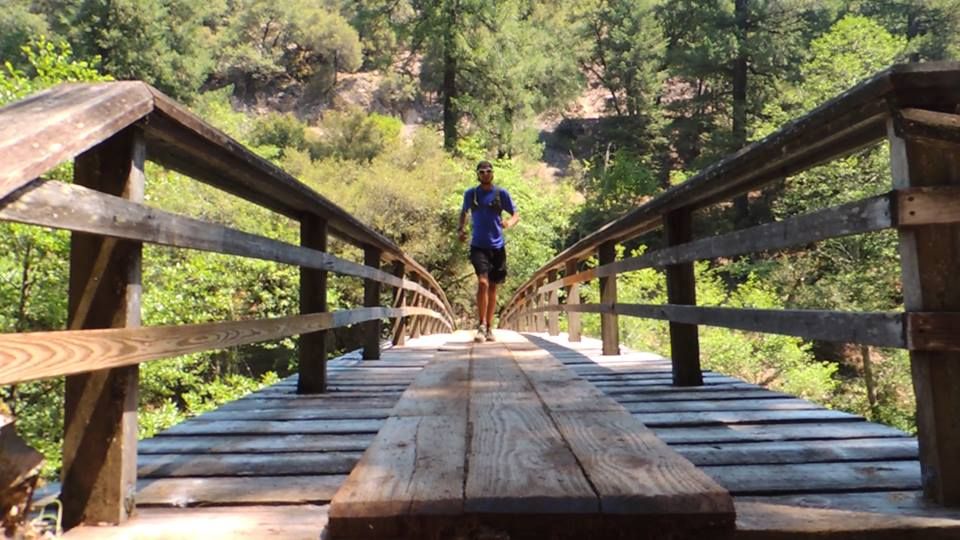 At the end of June, outside the tiny California town of Warner Springs, Joe McConaughy took his first shower in days. The state might be suffering from a severe drought, but on the baseball diamond, the sprinklers were going. He wanted to jump in. He had been on the storied Pacific Crest Trail for just three days, but he had already covered more than 100 miles in the desert heat. He watched the sprinklers. Then he went for it.
At the beginning, at least, that was his best moment on the trail, he told his support crew. But it was still early. He had some 2,500 more miles to cover in order to reach Canada—and only 56 more days in which to do it.
This summer, at least six different people set out from the southern terminus of the Pacific Crest Trail, all with the same ambitious goal—to set a new record for tracing the trail's 2,650 or so miles from one U.S. border to the other. As of 2013, the overall record—the fastest known time in which a human being has completed the trail—is 59 days, 8 hours and 14 minutes.
To break that record means hiking or running an average of 45 miles per day, every day, for almost two months.
At the end, there's no trophy. There's not even an official record book, or a set of hard-and-fast rules that govern these hikes. There's the just the knowledge that you've accomplished what you've set out to do and the recognition of a small community of people who know and care about these incredible athletic achievements.
But that community is growing, as more hikers and ultra-runners learn about the records and decide to try to set their own. It's only in the past decade or so that these records have been regularly tested, to begin with, and even then, a new record often stood for a good few years. Now, almost as soon as a hiker breaks a record, someone else is on the trail trying to beat the new one.
Moving that many miles, though, is incredibly hard, and even people who can accomplish feats that seem super-human—hiking 40, 50 miles in one day—can be defeated by the challenge of doing it day after day. Of the six hikers who aimed to set PCT records this summer, only two are still on the trail. After his first, 42-mile day on the trail, one hiker had to acknowledge the danger of an old IT band complaint; two went 100 miles in two to three days before dropping out; and a fourth went 400 miles in just nine days before deciding the heat and the mental toll were too much.
But McConaughy—who is hiking to raise money for medical research in memory of a cousin who died of cancer at age 2—is about six weeks in and still on track to break the supported record. He's already crossed all of California, in just 35 days, 21 hours and 21 minutes, and is on his way through Oregon. If he can keep up his pace, he could beat the current record by mid-August.
So far, on his highest mileage day, he covered 61 miles. On his lowest, he covered 38—almost a marathon-and-a-half's worth of distance.
"This kid is amazing," says Jack Murphy, one of the members of his support crew, made up of college friends and friends-of-friends. "I don't know how he does what he does. We'll do a five-mile hike to meet him, and we'll be tired and complaining. He'll come in from a 15-mile run and tell us all the songs he made up on the trail. Every time he rolls into camp, I expect him to be quiet and exhausted, but he's still cracking jokes."
There's no guarantee, though. In 2012, one hiker made it through California in record time, only to hit a dangerous amount of snow in Oregon's Cascades and leave the trail. Earlier this summer, on the Appalachian Trail, another hiker was on track to set a new record on that path, until he hurt his foot and decided to take a few days' rest. And the true challenge of these endeavors—more than the weather or risk of injury—is mental.
"A speed hike is absolutely the same as any hike, except it's intensified," says Heather Anderson, who goes by Anish on the trail. "The mileage is intensified, the lack of sleeping is intensified, the calorie deficit is intensified."
In the summer of 2013, before she set out to hike the 2,650 miles of the Pacific Crest Trail (PCT) faster than anyone ever had before, Anderson announced her intentions on the Fastest Known Time forums, the closest thing there is to an official record-keeping body for hiking. "Let me begin by saying that I got on this adventure to challenge myself—to push beyond my perceived limits," she wrote. She had in mind, she wrote, to meet or beat the existing men's record—64 days, to make it from one border of the United States to the other. (There was no women's record.)
Anderson's first long hike was in 2003, on the Appalachian Trail (AT). She didn't know then about America's other long, iconic trails—the PCT, the Continental Divide Trail. But by 2005, when she was on the PCT, she ran into David Horton. An ultra-runner, Horton had first set an AT record in 1991 and was now speeding down the PCT with the same goal. "That was the first time I had heard of anyone trying to complete the trail for speed, not just to complete it," Anderson says. "The more you're out there, the more you become aware that other ways to use the trail exist."
She knew she was a strong hiker and that she liked long distances. After she had hiked the PCT and the Continental Divide Trail, completing the Triple Crown, she started running ultra-marathons, too. In 2013, she started out from the U.S.-Mexico border. It took her 60 days, 17 hours and 12 minutes to reach Canada. A new record—the fastest hike any man or woman had completed from one end of the trail to the other.
Just after she finished the trail, Josh Garrett, who, like Joe McConaughy, traveled with a support crew, set a new overall record—59 days, 8 hours and 14 minutes. Anderson holds the women's record and the "self-supported" record.
On long trails like the PCT and the AT, there are two main types of records—supported and self-supported. Supported hikers have a dedicated team—often of friends, family or other hikers who know the trail well—that meets them at pre-arranged points and provides food, supplies, comfort and companionship. Sometimes these teams have sponsors, as well: Garrett was backed by John Mackey, the CEO of Whole Foods, and had sponsorships from gear and food companies, as well. 
Self-supported hikers might have sponsors who pitch in gear or funding (although it's less common). But once they're on the trail, they are on their own. They travel incredibly light: they minimize the base weight of their packs—their sleeping gear, clothes, headlamp, water bottles and other essential gear—to nine, eight, six pounds. On the PCT, before self-supported hikers set out, they often locate post offices as close to the trail as possible and mail themselves resupply boxes of calorie-dense food (almond butter, Nutella, tortillas, ramen, dehydrated beans, energy bars) and gear like batteries and new shoes. (Walking so many miles, they wear out pairs of shoes in a matter of weeks.) When they camp for the night, it's a simple affair—often they'll set-up camp after it's dark, just off the trail, or even on it.
"I like to feel like I'm responsible for everything," Anderson says. "It's me vs. nature vs. myself. I want to do it just for myself, and by myself to see what I personally do."
The intricacies of these distinctions, though, are subject to much debate. "It's very much an amateur pursuit," says Jennifer Pharr Davis, who set the overall record for the Appalachian Trail in 2011—she took 46 days, 11 hours and 10 minutes to get from the trail's northern-most point in Maine to its southern-most point in Georgia. "The rules are undefined and confusing." For instance, if you're attempting to break a record, do you inform the current record holder of your attempt? If part of the trail is closed, does following the alternate route still count? If fans who are following your hike determine your location and bring you food, does that count as support? If you eat that food, are you disqualified from that record?
To the extent that these rules are agreed upon, it's by community consensus and by respecting the example of earlier record-setters. When Anderson set out on her 2013 hike, for instance, one of her goals was to establish a PCT women's record "in the same style as Scott Williamson's." Williamson is a trail legend—one hiker described him as "the Michael Jordan of the PCT." In 2004, he was the first person to "yo-yo" the trail, hiking it one way, then turning around and hiking back the other way, and in 2008, 2009 and 2011, he broke trail speed records. He still holds the men's self-supported record.
For Williamson, "self-supported" means a few things. It means carrying your own food, equipment and water. It means walking into towns to resupply and never getting into any vehicle during the duration of the record attempt. It means following the official PCT route, without deviations. It means not having pre-arranged support from other people.
Like Anderson, Matt Kirk, who holds the unsupported record on the Appalachian Trail (58 days, 9 hours and 40 minutes), looked to Williamson's example to set the rules for his own record attempt. "I feel like ultimately whoever participates in this plays a really important role in shaping the future of it," he says. The whole endeavor of setting trail records, Kirk points out, "is very new and still taking shape."
Williamson's approach derives from these trails' thru-hiker traditions, which have a sometimes uneasy relationship with record attempts, especially when the hiker comes from the ultra-running world. One main criticism: How can anyone really experience and enjoy the trail when they're moving along it so quickly?
Speed hikers (or, as Pharr Davis prefers, endurance hikers) say, though, that hiking fast is almost exactly like slower hiking—it's just more intense. In Kirk's experience, his perception of the landscape sharpened: Maine seemed foggier, the White Mountains gnarlier with rocks and roots. "I definitely felt more respect for the ruggedness of the terrain," he says. Hiking such long days also means starting early and often hiking through twilight—the times of the day when animals are out, too. "It's a wonderful time to be out," says Kirk. "That's why the animals are out. There's this really beautiful light, too. It does not lend itself well to photography; you have to experience it. You feel as though—this is something really special."
And, these hikers say, standing at an overlook and looking back at the ground you've covered never gets old. "When you do lots and lots of miles in day, you get to the top of the climb and see where you were this morning, and if it's a really long ways away, there's something really incredible about that," says Anderson. "You start tabulating the numbers. It's really mind boggling, but it makes you feel pretty bad ass about yourself."
"A lot of people go out and they're really, really fast, and they're really, really strong," says Jennifer Pharr Davis. But setting a record isn't necessarily about going fast; many of these record-setting hikes spool out at a pace of three or four miles per hours. The hikers simply keep moving for many more hours than most hikers do—and take only short, limited breaks. They start hiking early in the morning, around 5 or 6 a.m., and often they continue until after dark.
"It's this modern day parable of the tortoise and the hare," says Pharr Davis. "The stronger and faster person doesn't always win; the person who wins is smarter and more strategic, with the better support crew."
It's rare, too, for a hiker to set one of these records without having thru-hiked the trail before. Pharr Davis first hiked the AT as a 21-year-old and found, once she had finished and started working "a normal job," that all she could think about was the trail. She fell into a routine of working and then taking time off to hike some of the longest trails in the world, both here and abroad. Even before setting her 2011 record, she had made hiking her business: she runs a company in Asheville, North Carolina, that organizes hikes, long and short, and has written two books about hiking the AT.
Deciding to try to break the overall record, then, wasn't about zooming through a trail she'd never hiked before, but challenging herself on a route she already knew and loved. "I wanted to experience the trail in different way," she says. "I'm glad there's no trophy at the end. You have to do it for a love of it."
But even without a trophy and without the promise of financial reward that some sports offer, trying to set a record does bring hikers recognition. During their hikes, they might become "trail celebrities," the recipients of (not always welcome) attention from others on the trail, and once they've completed their goal, they're often asked to tell their stories, in talks or in books.
And these records inspire other endurance athletes to try to break them. The endurance runner Karl Meltzer, who has won more 100-mile races than anyone else, is now trying for the second time to break the Appalachian Trail record. His first attempt, in 2008, was highly publicized; this time, he'd like to head out quietly and see what happens.
"Jen's record is tough," he says. "I'm going to try to break it."
But whether they started out as hikers or runners, whether they go fast or slow, he argues, record attempters and thru-hikers have more in common than not. "We're all in the woods for the same reason," he says. "Because we like being in the woods."
These days, though, being out in nature doesn't necessarily mean disconnecting from the world. (This is, after all, an age in which you might get better cell phone reception on a mountain top than at a trailhead.) Hikers—even fast ones—keep blogs and update Facebook pages. Fans (and critics) follow along in forums. McConaughy's crew, which is making a documentary of his run, regularly posts videos, Facebook updates, photos and videos. If all goes well, they'll be on the trail for another three weeks, each day a few dozen miles closer to Canada.