Dine 21 Stories Underground in This 345-Million-Year-Old Cavern
Cavern Grotto, a new restaurant in Arizona, opens inside the largest dry cavern system in the country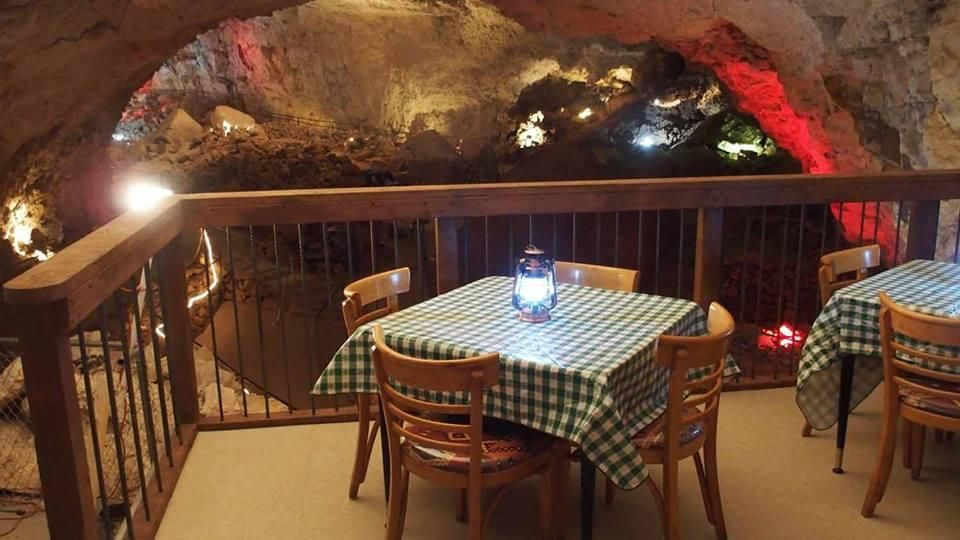 A meal at Cavern Grotto begins with an elevator ride 21 stories beneath the Earth's surface. The restaurant, which opens for business today, August 15, is located inside a vast network of caverns running beneath the area near Peach Springs, Arizona, a small community about 140 miles southwest of the Grand Canyon's South Rim.
Cavern Grotto is one of only a handful of restaurants around the world located inside a cavern, and is the only one to hold such a distinction in Arizona. In a nod to the area's roots, miners' buckets and gold prospecting pans are used to lower food from the aboveground kitchen to the dining room below using an elevator and a pulley system.
The restaurant is part of Grand Canyon Caverns, a local inn with guest rooms located both above and below the surface. The inn also offers tours of the vast caverns—considered to be the largest dry cavern system in the country—including hard-hat tours that involve scrambling through some of the network's deepest crevices. (For context, dry caverns are different from wet caves in that water is no longer actively running through them and, therefore, they are less likely to contain newly growing formations, like stalagmites and stalactites.)
It was on one of these tours that John McEnulty, the owner of Grand Canyon Caverns, came up with the idea to build a restaurant underground. And he knew just the spot to put it: perched above a massive room a short walk from where the elevator opens up 200 feet below the surface.
"During our tours, there's not much time to linger in just one spot, since there's so much to see," McEnulty tells Smithsonian.com. "With Cavern Grotto, people will be able to soak up the cavern and feel like they're a part of it."
But before he could make the restaurant a reality, McEnulty consulted a team of local professional cavers to ensure that building a wooden platform overlooking the room wouldn't damage the cavern, which is estimated to have formed approximately 345 million years ago when this part of the country was covered by an ancient sea.
"Every couple of months, this group of cavers visits the caverns," McEnulty says. "We're constantly maintaining, restoring and advancing into new caverns."
And the commitment has paid off. Recently, the cavers came across a new room covered in quartz and giant sheets of microbes, the samples of which were sent to Arizona State University and the University of Arizona for identification.
The caverns were initially discovered in 1927 when a local man named Walter Peck stumbled and almost fell into an opening that had become exposed after a thunderstorm. And over the years, they have revealed a number of interesting findings. One item that McEnulty is particularly proud of is the skeletal remains of an extinct giant ground sloth, which walked the Earth during the Pleistocene Epoch, the same period as saber-toothed tigers and mastodons. A 15-foot-tall reproduction of the sloth, lovingly named Gertie, stands near the cavern's underground entrance.  
"Every time I'm down there, I see something new," McEnulty says. "While enjoying a meal, guests can also enjoy the majestic surroundings."
Cavern Grotto is open for both lunch and dinner and can accommodate up to 20 people at a time. And if dining doesn't give you enough time underground, true cave lovers can book the Grand Canyon Caverns' Cave Suite, a hotel room located 220 feet below the surface that's billed as "the largest, deepest, darkest, oldest, quietest motel room in the world."