Fun Sights in the Cotswolds
Three spots you might miss but shouldn't on a visit to the Cotswolds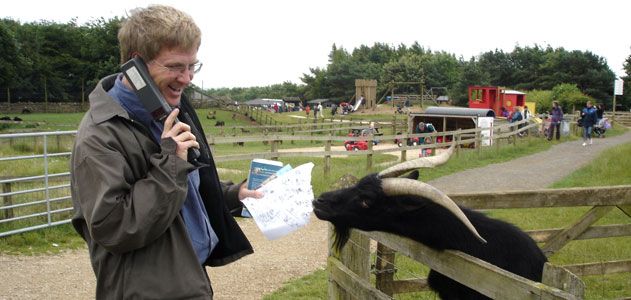 When you're out and about in the Cotswolds, here are some delightful places to visit.
Keith Harding's World of Mechanical Music—In 1962, Keith Harding, tired of giving ad-lib "living room tours," opened this delightful little one-room place. It offers a unique opportunity to listen to 300 years of amazing self-playing musical instruments. It's run by people who are passionate about the restoration work they do on these musical marvels. The curators delight in demonstrating about 20 of the museum's machines with each hour-long tour. You'll hear Victorian music boxes and the earliest polyphones (record players) playing cylinders and then discs—all from an age when music was made mechanically, without the help of electricity. The admission fee includes an essential hour-long tour (£8, daily 10:00–17:00, last entry at 15:45, tours go constantly—join one in progress, High Street, Northleach, tel. 01451/860-181, www.mechanicalmusic.co.uk).
Hidcote Manor Garden—If you like gardens, the grounds around this manor house (which has only a few rooms open to the public) are worth a look. Located northeast of Chipping Campden, Hidcote is where garden designers pioneered the notion of creating a series of outdoor "rooms," each with a unique theme (e.g., maple room, red room, and so on) and separated by a yew-tree hedge. Follow your nose through a clever series of small gardens that lead delightfully from one to the next. Among the best in England, Hidcote Gardens are at their fragrant peak from May through July (£9; July–Aug daily 10:00–18:00; mid-March–June and Sept Sat–Wed 10:00–18:00, closed Thu–Fri; Oct Sat–Wed 10:00–17:00, closed Thu–Fri; last entry one hour before closing; closed Nov–mid-March; tearoom, 4 miles northeast of Chipping Campden on B4035, tel. 01386/438-333, www.nationaltrust.org.uk/hidcote).
Cotswold Farm Park—Here's a delight for young and old alike. This park is the private venture of the Henson family, who are passionate about preserving rare and endangered breeds of local animals. While it feels like a kids' zone (with all the family-friendly facilities you can imagine), it's actually a fascinating chance for anyone to get up close and (very) personal with piles of mostly cute animals, including the sheep that made this region famous—the big and woolly Cotswold Lion. A busy schedule of demonstrations gives you a look at local farm life. Take full advantage of the excellent (and included) audioguide, narrated by founder Joe Henson and filled with his passion for the farm's mission. Buy a bag of seed (50p) upon arrival, or have your map eaten by munchy goats as I did. Check the events board as you enter for times for the milking, shearing, or well-done "sheep show." Tykes love the little tractor rides, maze, and zip line, but the "touch barn" is where it's at for little kids (£6.75, kids-£5.50, daily mid-March–early Sept 10:30–17:00, last entry 30 min before closing, closed off-season, good £2 guidebook, decent cafeteria, tel. 01451/850-307, www.cotswoldfarmpark.co.uk, well-signposted 15 minutes from Stow just off the Tewkesbury road—B4077).
Rick Steves (www.ricksteves.com) writes European travel guidebooks and hosts travel shows on public television and public radio. E-mail him at [email protected], or write to him c/o P.O. Box 2009, Edmonds, WA 98020.
© 2010 Rick Steves