The Best Night Markets for Midnight Snacking in Taipei
Go light on dinner, these magnificent markets add rich flavor to Taipei's nightlife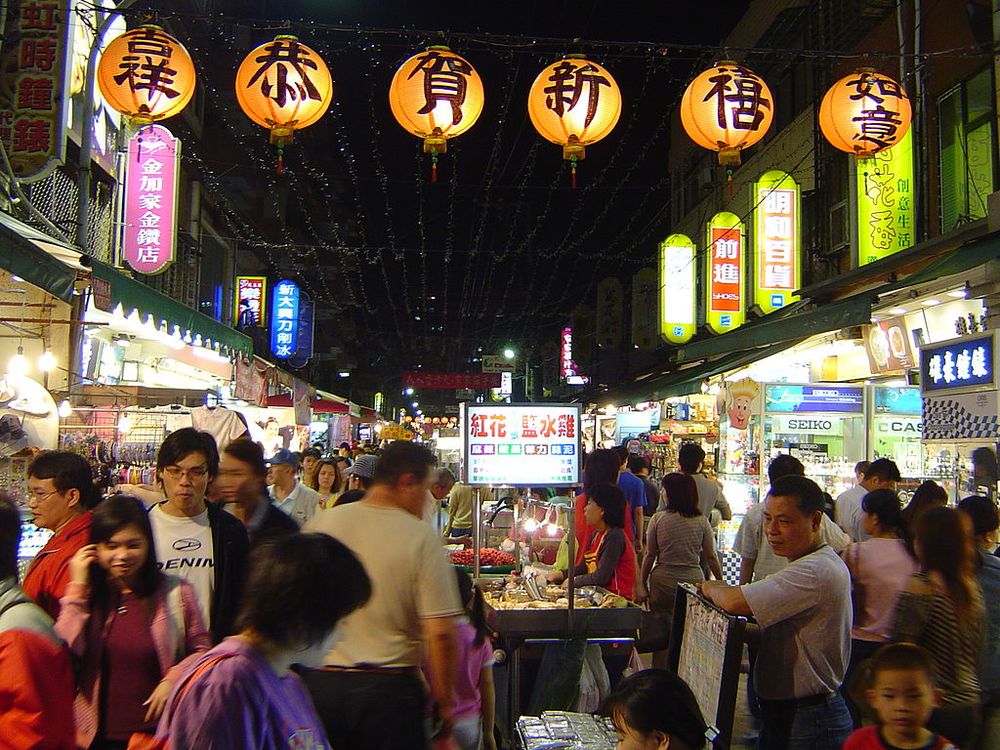 Forget clubs and bars—in Taiwan, the best nightlife is found at food markets. The country has a penchant for snacking and a desire to eat with friends all night long.
"Students or white-collar employees [view] night snacking as a social event or an activity to relax," Katherine Cheng, a spokesperson for Taiwan's tourism board, told Smithsonian.com. "In Taiwan, there are a lot of stores that open only from late night until morning, or some 24-hour stores that you can feed your stomach whenever you want."
Although night markets are traditionally a Chinese phenomenon, Taiwan's scene has grown to be considered one of the best in the world. Taiwan's night markets initially began as informal vendor meetings, where merchants would get together and sell their wares. These groupings eventually turned into more formal night markets. Now, visitors will find great Chinese food mixed with Taiwanese food, and that's because of history—at the end of the Chinese Civil War in 1950, general Chiang Kai-Shek retreated to Taiwan, bringing along more than two million people and some of mainland China's best chefs.
To get a real Taiwanese experience, skip the convenience stores and head out on the town for a night market snacking excursion. You may never think of midnight snacks the same way after checking out these five must-visit night spots in Taipei:
Shilin Night Market
According to Cheng, Shilin Night Market is Taiwan's most famous. The area used to be a trading spot where agricultural products were exported to other port cities like Banka or Dadaocheng. Though trading predates the market's establishment, Shilin has been in operation since 1909. It has since become a must-visit munchy destination that brings color and flavor to Taipei's nightlife.
The market has a main food hall, but also spills out into streets surrounding the area, encompassing more than 500 stores. It's a great place to try the local specialty, stinky bean curd—a fermented snack that smells strongly of blue cheese.
Open 11 p.m. until 2 a.m.
Ningxia Night Market
Although sit-down restaurants are abundant here, Ningxia Night Market specializes in Taiwanese snack foods. It was the first night market in the country to separate pedestrian traffic and car traffic and can be found a short 15-minute walk from the nearby Zhongshan MRT train station.
Ningxia is famous for its oyster and egg omelets, but you can also find barbecued squid on a stick, fish rolls, pig kidney and grilled cheesy scallops within its walls.
Open 6 p.m. until midnight.
Huaxi Night Market
When the snakes all left Ireland, it's likely they went to the Huaxi Night Market, where specialties include cooked snake and snake wine. Huaxi is so identified with slithering reptiles that it's also known as the Snake Alley Night Market. This was the first night market in Taiwan built specifically for tourists—it began operations in 1951 with signs in both English and Japanese. Aside from snake, visitors can try squid soup, goose, eel noodle soup and Taiwanese meatballs.
The biggest attraction at Huaxi is the Tainan Tantsumien Seafood Restaurant, a gourmet eatery designed to evoke the splendor of Versailles. The seafood cooked within is so fresh that it's picked—while still alive—from tanks out in front of the restaurant.
Open 4 p.m. until midnight.
Raohe Street Night Market
One of the oldest markets in the city and one of the most traditional, Raohe stretches nearly 2,000 feet and includes more than just food—there's also a robust craft trade here, with chances to buy traditional handmade Taiwanese items. Raohe also has a mascot: an owl with eyes that glow at nighttime.
Stop here in the winter for herb-steamed spare ribs, or try some of the market's other succulent specialties: oyster noodles, pepper meat buns, bubble tea and pork feet noodles.
Open 5 p.m. until midnight.
Linjiang Street Night Market
Eating and shopping go hand-in-hand at Linjiang, where grocery stores and food stalls sit alongside quilt and clothing shops. About 200 stalls sell snack foods throughout the night, though it's in a residential area; neighborhood businesspeople frequent this market for cheap eats after work.
Feeling adventurous? Try one of this market's more unique specialties: peanut-powdered pig's blood rice cakes. Then fill up on oyster noodles, barbecue sausage, sponge cake and Taiwanese-style hamburgers.
Open 6 p.m. until midnight.