Endangered Site: Visoki Decani Monastery, Kosovo
The fate of the 14th-century abbey has been darkened by ethnic violence in the Balkans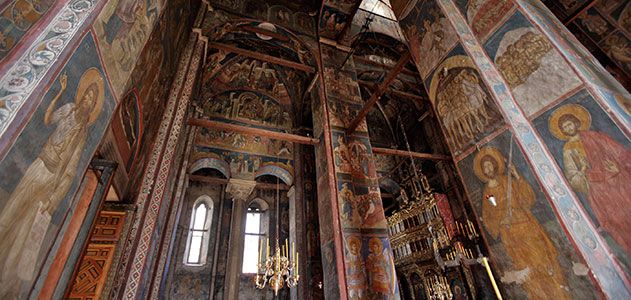 Time stands still within the Visoki Decani Monastery, nestled among chestnut groves at the foot of the Prokletije Mountains in western Kosovo. Declared a World Heritage Site in 2004, Unesco cited the 14th-century abbey as an irreplaceable treasure, a place where "traditions of Romanesque architecture meet artistic patterns of the Byzantine world."
The Serbian Orthodox monastery represents, according to art historian Bratislav Pantelic, author of a book on Decani's architecture, "the largest and best-preserved medieval church in the entire Balkans." Construction of Decani, dedicated to Christ the Pantocrator, or ruler of the universe, commenced in 1327 under King Stefan Uros III Decanski. (The monastery also functions as his mausoleum; the king's coffin rests at the head of the altar.)
The monarch's son, Stefan IV, completed his father's monument and was also responsible for the defining glory of the building's interior: its Byzantine frescoes, several thousand in all. The wall paintings incorporate thousands of individual figures illustrating such themes as the life of Christ, the veneration of the Virgin and the succession of kings in Stefan III's dynasty. Some of the tableaux—the story of Genesis, the Acts of the Apostles and the Proverbs of Solomon—are unique to Byzantine painting. Created over a span of 15 years, the frescoes exist in a state of extraordinary preservation. "When you go in," adds Pantelic, "you see exactly what you would have seen in the mid-1300s. That's what is amazing."
Across the centuries, Pantelic says, the abbey was regarded as "an ancient holy place that transcended religious divisions." In recent years, however, Decani's fate has been darkened by the cycle of ethnic violence that has engulfed the region since the early 1990s. Kosovo's majority ethnic Albanians have long pressed for independence from Serbia. In 1998, then-Yugoslav president Slobodan Milosevic sent armed forces to crush the separatist movement. A campaign of NATO bombing, followed by the introduction of United Nations peacekeepers (a presence continued today), was required to end the bloodshed.
During the fighting, the monks of Decani, following centuries-old tradition, sheltered refugees of all ethnicities. Yet, Decani's symbolic significance as a Serbian Orthodox cultural monument has rendered the abbey vulnerable.
On March 30, 2007, the monastery was attacked with grenades, presumably thrown by ethnic Albanian insurgents. Fortunately, the damage was "negligible," according to Sali Shoshaj, director of the Kosovo office of Cultural Heritage Without Borders, a Swedish organization founded in 1995 to preserve and restore Balkan sites. At least one person, reports Shoshaj, has been arrested. The situation has stabilized to the point that Decani has reopened to visitors, he says. Local guides, fluent in many languages, lead tours into the church.
Today, the abbey is protected by a force of Italian U.N. peacekeepers, who respectfully stand guard outside its cobblestone courtyard. Decani must "remain intact as part of the Balkan heritage," says Pantelic. "It belongs to all of us."