Eight of the Best Spots to Go Freshwater Diving or Snorkeling in the United States
These bucket-list underwater sites offer up megalodon teeth, manatee herds and other unique encounters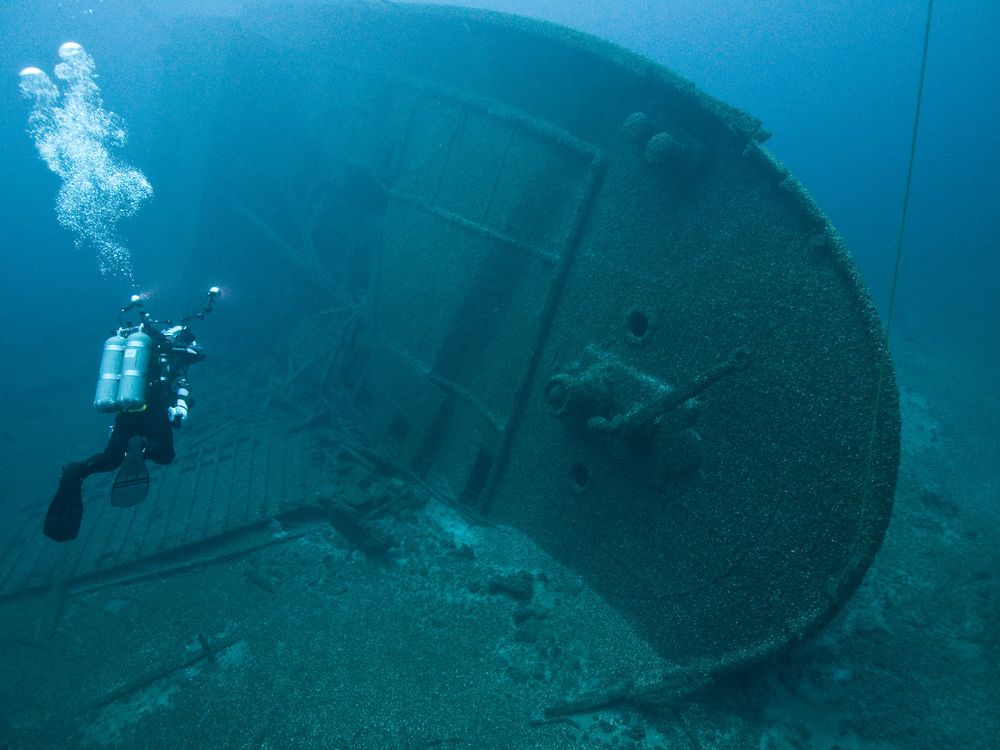 Freshwater diving's most notable characteristic here in the United States is its relative rarity. About 91 million Americans over the age of 16 swim in oceans, lakes and rivers each year, but just 2.9 million went scuba diving in 2022, according to the Sports and Fitness Industry Association's yet-to-be-released 2023 Scuba Diving Report, and most of those outings took place along the coasts. We love the water, but when it comes to our lakes and rivers, we're bobbing along on the surface.
If you want to take the plunge and fall in love with our waterways all over again, these eight destinations will leave you breathless (but there's gear for that).
Lake Tahoe, California
At 1,645 feet deep, Tahoe is the deepest lake in the United States accessible to divers. (Oregon's Crater Lake reaches a depth of 1,949 feet, but equipment that could harm its delicate ecosystem is prohibited there.) The over 122,000 -acre "bottomless lake" is a wonderland of swim-through granite arches and monumental boulder labyrinths, Native American relics, and California's first maritime heritage underwater trail, a series of submerged sites along the shoreline of Emerald Bay State Park that showcases historic sunken watercraft. A research project that involved 58 submersible dives and 33 scuba dives in Tahoe in 2016 found no evidence of Tahoe Tessie, the lake's mythical Loch Ness Monster analog, or the mobster corpses said to have been dumped there in the 1930s, but Tahoe's appeal isn't tabloid-oriented. Divers who know it intimately contend that the surface of the lake as seen from below could be its most unforgettable view. "'Zen diving' is how we explain it," says Kris Kierce, owner of Tahoe Dive Center, where visitors can complete altitude certification courses and join guided dives from Sand Harbor. "It feels like diving under diamonds."
Clear Lake, Oregon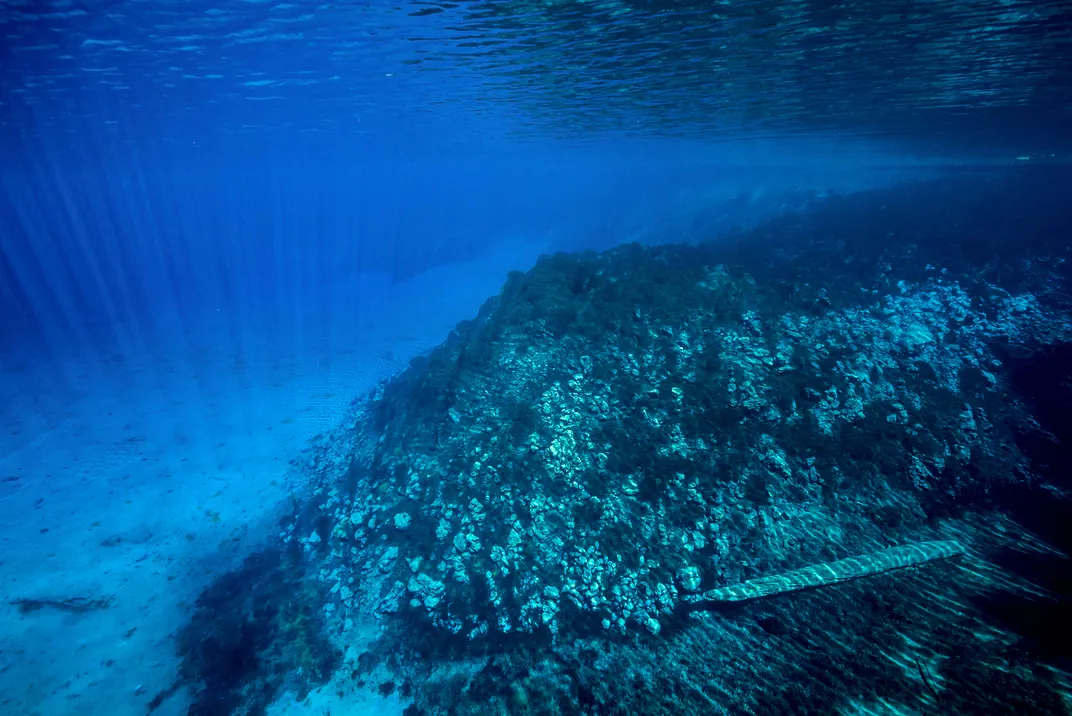 Formed about 3,000 years ago when a volcanic eruption at Sand Mountain spewed lava that blocked and redirected the McKenzie River, central Oregon's snow-fed Clear Lake in Willamette National Forest has a bracing year-round temperature of about 43 degrees Fahrenheit. Though motorized boats aren't allowed on the lake, kayakers, canoers and stand-up paddleboarders are in for a treat: true to its name, Clear Lake's basalt-filtered water allows those on its surface to see an astonishing 200 feet down. It's well worth donning the drysuit and thermal layers recommended to take a scuba dive in the lake, as its frigidity has also preserved a submerged forest. Eighty-foot-tall trunks suspended in time millennia ago now form ghostly columns that punctuate a white bed of volcanic silt; divers who navigate the ethereal silence between them (thanks to that handy ban on high-tech watercraft) report deeply spiritual experiences. Clear Lake has gained a reputation as one of the most wondrous freshwater dive destinations in the country.
Homestead Crater, Utah
If the thought of diving high in the Cascade Range gives you chills, consider a visit to the balmy waters of Utah's Homestead Crater, about an hour southeast of Salt Lake City. Like Clear Lake, the hot spring there owes its existence to ancient volcanic activity: over 10,000 years ago, snowmelt from the Wasatch Mountains seeped two miles underground, where the subterranean heat raised its temperature and sent it upward once more. The minerals it displaced as it rose eventually climbed 55 feet above the surface to create a hollow, beehive-like limestone deposit; that deposit tops an hourglass-shaped, 65-foot-deep geothermal pool of 90- to 96-degree spring water. The dome, once accessed via a precarious drop from the opening at its highest point, now features a tunnel created by the proprietors of the Homestead Resort surrounding it. The crater has been open to the public since 1996, and its custom-built decks accommodate visits from mineral bathers, stand-up paddleboard yoga classes, swimmers and scuba divers.
Blue Hole, New Mexico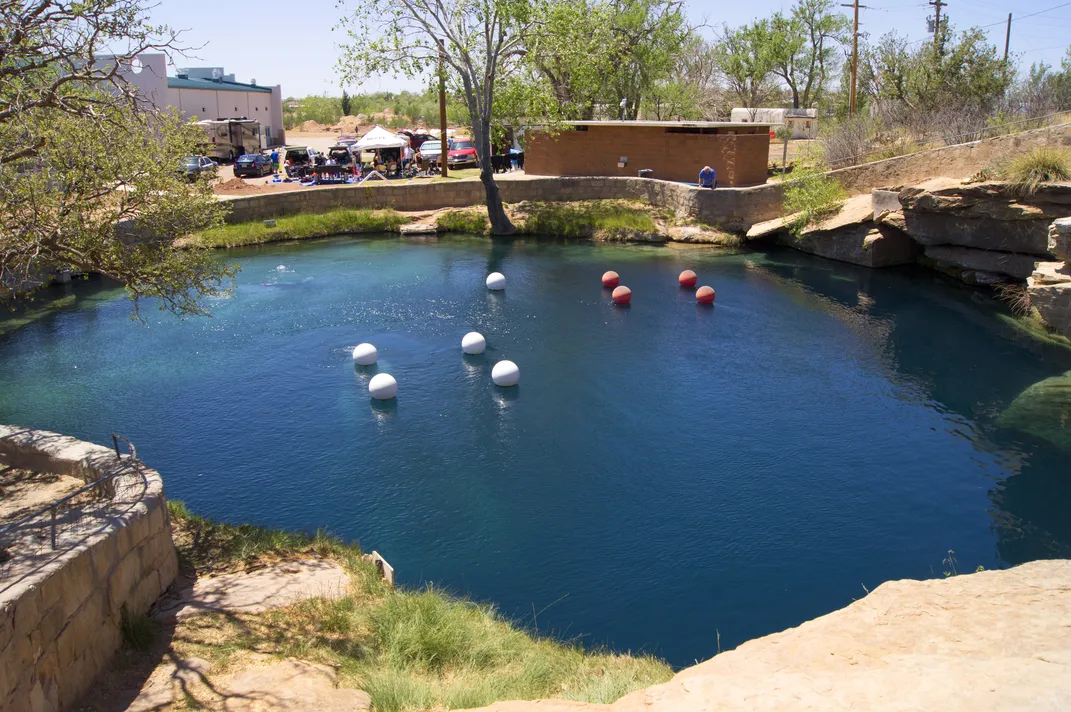 On historic Route 66 between Albuquerque and Amarillo—"in the middle of nowhere," as Denver Divers co-owner and dive instructor Ali Miller notes—the Blue Hole of Santa Rosa, New Mexico, looks like a sapphire in the desert. It's a natural artesian well and part of the Santa Rosa Sink, a six mile in diameter network of interconnected subterranean caverns and lakes created as groundwater dissolves stone; with an inflow of 3,000 gallons per minute, its spring water completely refreshes itself every six hours and maintains a steady year-round temperature of 62 degrees. Once prized as a water source for nomadic tribes and cowboys, the Blue Hole is now both a destination for swimmers and an excellent place for scuba instructors to conduct training courses. "It's crystal clear, not what we experience in Colorado," Miller says. Its depths boast diving lines to guide explorers as they descend and ascend, underwater platforms, standing ledges, and a century's worth of divers' kitschy mementos. Miller has seen shark statuettes, Barbie-sized "mermaid skeletons," and even ceramic masks in the walls that look like faces coming out. "That was a little creepy," she says.
Crystal River, Florida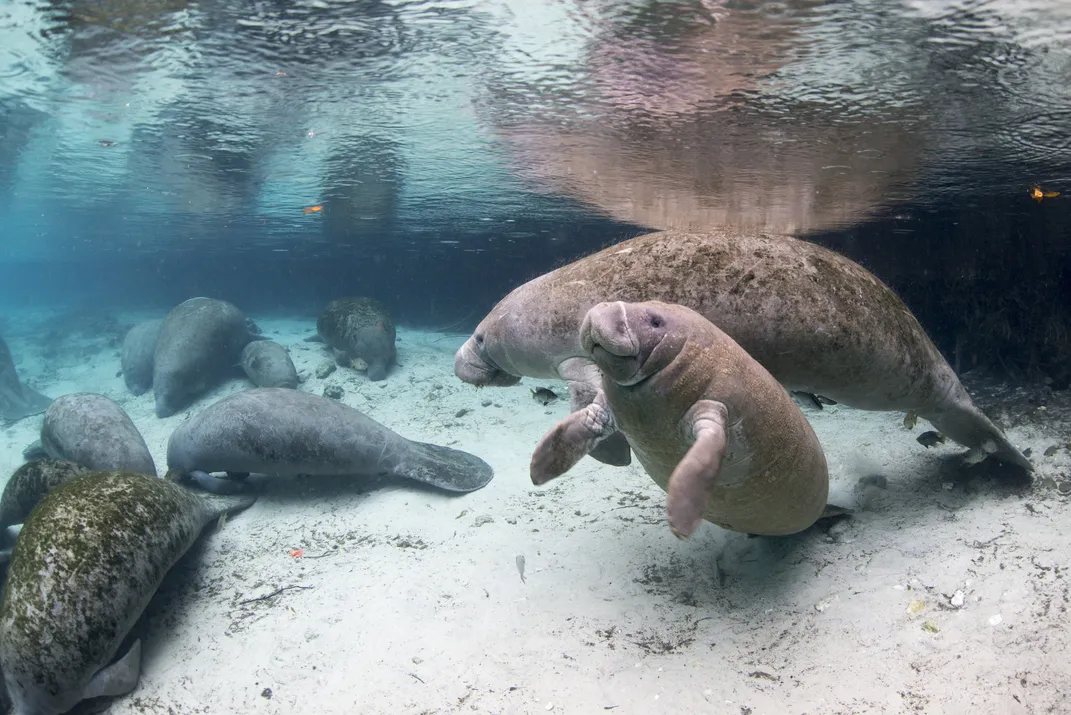 In mid-November, an estimated 800 endangered West Indian manatees migrate inland from the Gulf of Mexico and other coastal areas to the warmer waters of west central Florida's Crystal River National Wildlife Refuge, America's only wildlife refuge created expressly to protect their habitats. Both state and federal laws mandate strict guidelines for how humans can share space with the manatees as they rest and tend to their calves—put simply, if you're at a site that allows in-water activities near them, you can't disturb or pursue them in any way. Located about an hour and a half north of Tampa and known as the "Manatee Capital of the World," Crystal River is also the only part of Florida where swimmers are monitored around manatees—so know that you'll be well-supervised as you move among its magnificent multitude of sea cows. The refuge maintains a list of Special Use Permit Holders with the authorization and expertise to offer tours, rentals and instruction within its boundaries. If you're ready to slip into a pair of fins and encounter manatees for yourself, there's no better place to start.
Cooper River, South Carolina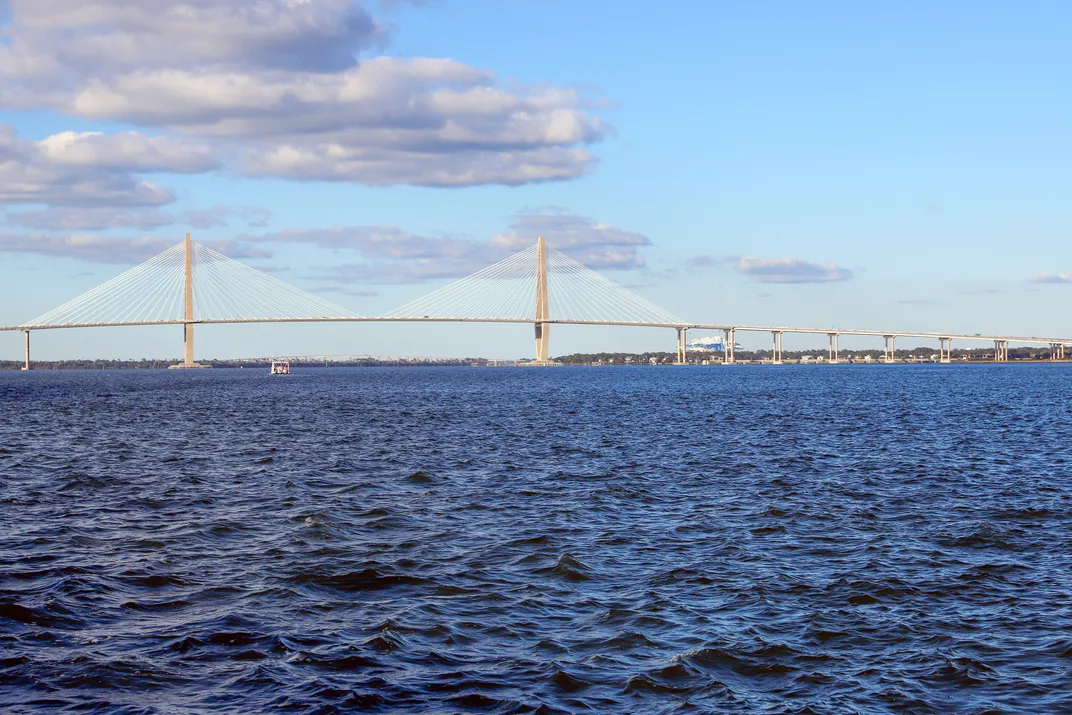 Between 28 million and 1.5 million years ago, the Atlantic Ocean extended about 100 miles west of what's now the South Carolina coast. Massive prehistoric marine creatures like the megalodon, a mackerel shark thought to have been more than 50 feet long, lived and died in what is now the Cooper River, a short, wide river that begins at Lake Moultrie and eventually empties into Charleston Harbor. In the 21st century, the Cooper River's water is chilly, its currents and wildlife are treacherous, and tannins and mud make its always-dubious visibility nonexistent at 20 feet—and yet adventurous divers adore it, as it's legal to hunt for and collect the megalodon teeth and mastodon and whale fossils buried in its murky gravel beds. (Along most Lowcountry waterways, erosion-prevention laws prohibit digging into the banks of rivers and creeks from their shores; the U.S. Bureau of Land Management's Paleontological Resources Preservation Act, in turn, curtails the casual collection of fossils like megalodon teeth on public land.) Fossil quests in the Cooper are not for the faint of heart or casual of certification. In addition to formidable diving skills, weights, a strong flashlight, a screwdriver for anchoring against the current and a collection net, would-be collectors need a South Carolina Hobby License—but the prehistoric rewards for that diligence are undeniably thrilling.
Thunder Bay, Michigan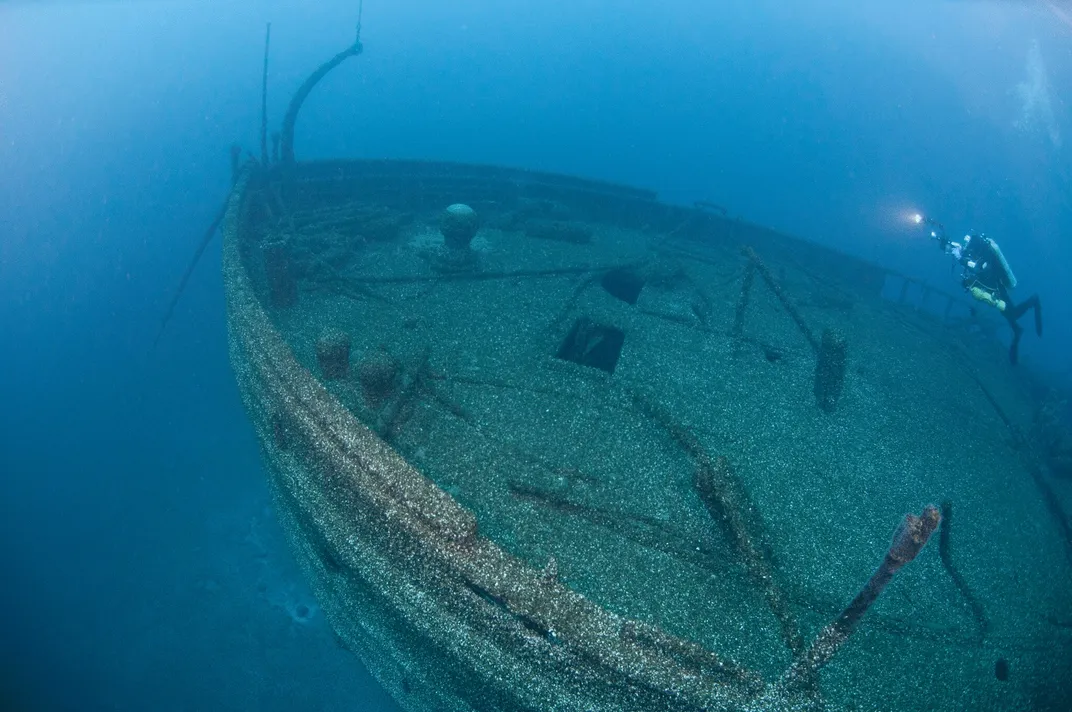 Antiquity enthusiasts with less experience under their dive belts can immerse themselves in more than 200 years of Great Lakes shipping history—and nearly 100 historic shipwrecks—at Thunder Bay National Marine Sanctuary, off the Michigan coast of Lake Huron. "From [depths of] 150 to 200 feet, from Presque Isle Lighthouse to Middle Island Light, we have five wooden schooners, three nearly completely intact," says Joe Sobczak, the owner of Thunder Bay Scuba. A 19th-century wooden steamer disappeared into Thunder Bay full of general-store goods; a steel steamer a dozen miles south of it rests just 100 feet below the surface. "The waters off of Alpena have shipwrecks at all depths from 20 to 130 feet," Sobczak says. "So if you are a snorkeler, a beginning scuba diver or an advanced scuba diver, there are plenty of shipwrecks to visit."
Spring Lake, Texas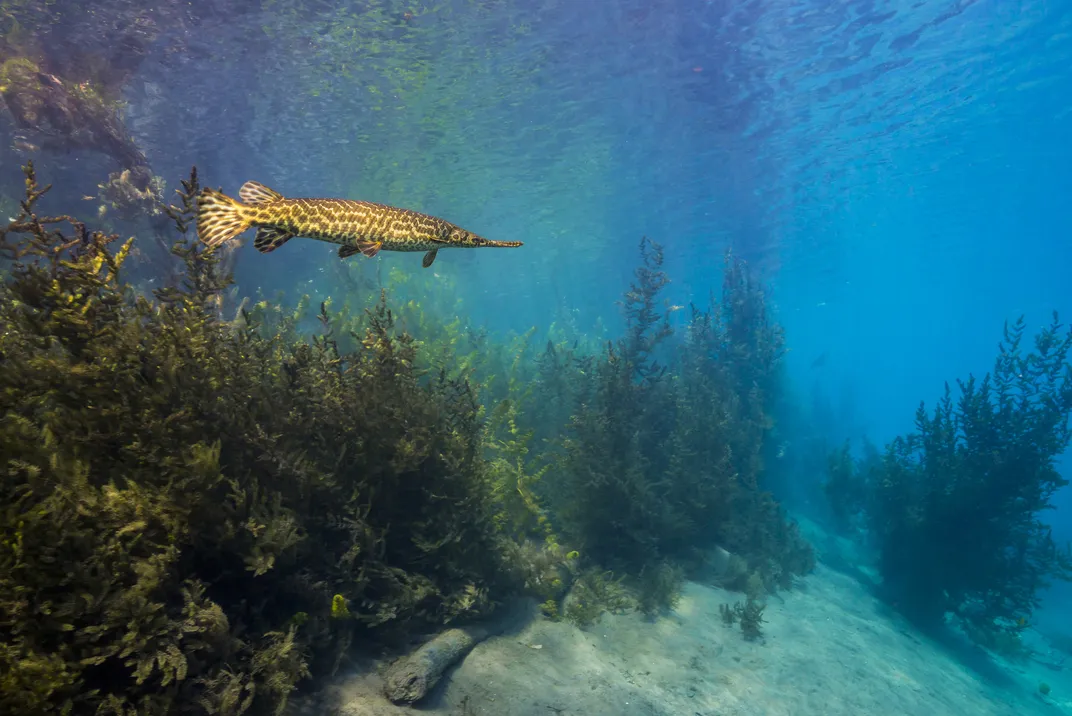 Divers with an active interest in stewardship can join forces with Texas State University's Meadows Center for Water and the Environment to help manage and monitor Spring Lake. Located at the head of the San Marcos River between Austin and San Antonio and formed by more than 200 artesian springs, the pristine lake is one of the oldest continuously inhabited places in North America. "Spring Lake is a federally protected environment, so diving there is a privilege only granted to those who complete the Dive Authorization Course to become volunteer divers," explains Lisa Fields, assistant dive coordinator at the center. "Every time I dive here, I feel incredibly fortunate to not only experience the beauty of Spring Lake's crystal-clear waters and abundant wildlife, but also to lend my hand in maintaining the viable habitat for the protected species that live here." Eight federally listed species call the lake home, and it's thought to have the densest concentration of turtles in the United States. The springs feeding the lake stabilize its water at 72 degrees all year. "This consistent temperature makes Spring Lake the ideal habitat for many of the endemic species that are found here and the ideal Texas dive site during the colder months," Fields says. After more than 11,000 years of habitation, it's still enchanting new generations. "Diving at Spring Lake is one of the most magical things I have ever gotten the opportunity to experience."