Boston's Farm-to-Table Renaissance
These New England restaurants stand out as chefs fill their menus with harvests from local farms and drinks from area distilleries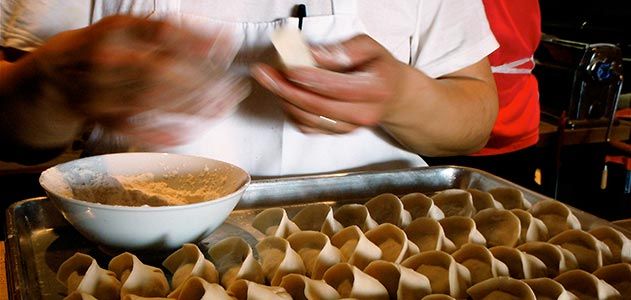 When chef Barry Maiden enters the walk-in fridge of Hungry Mother, the Cambridge restaurant he co-owns, he becomes visibly excited, and not just from the chilly air.
"We got these greens in today," says Maiden, tearing open a bag of mixed cresses from a local farm and popping a few leaves into his mouth. As he munched, Maiden said the same thing as the handwritten label on the bag: "Spicy."
Farm-to-table cooking has swept the United States, and in the Boston area the movement is fueled by a sense of history and a respect for farmers who wrestle crops from a climate that is rarely described as forgiving. It makes sense that the local foods movement was largely born in sunny California, but in Boston the trend has taken root with exceptional fervor, not unlike an overwintered parsnip. Farm-to-table chefs like Maiden tend to print their menus daily as they ride the roller coaster of the region's weather, all within close proximity to one of the sites where American cuisine was born.
The farm-to-table movement is at once hip and historic. Some of the first arrivals to this continent settled not far from Hungry Mother in what is now Plymouth, Massachusetts. They would not have survived without the assistance of Native Americans and their repertoire of edible indigenous plants and animals, but they were intent on familiarizing these new foods by cooking them as they did back home. As Evan Jones writes in his book American Food, "The challenge was to apply English methods to whatever food supplies there might be." Many of the resulting dishes, like corn bread, have become some of our strongest food traditions, and they are proof that local ingredients met with foreign cooking in New England centuries ago. English settlers adopted Native American cornmeal flatbreads to wheat bread recipes from back home, and corn bread as we know it was born. In Boston today, the constraint of cooking with local ingredients and European technique inspires chefs to no end.
Maiden serves his corn bread with a quickly vanishing lump of butter sweetened with sorghum syrup. It crackles and satisfies, it is perhaps the best of its kind, and it is a reminder that today's farm-to-table movement has echoes of the past.
The restaurant Hungry Mother takes its name from a state park near the Virginia town where Maiden is from, and his birthplace has a bigger influence on his cooking than you might expect given the restaurant's latitude. Maiden prepares New England ingredients with French technique and Southern influence. He offers an appetizer of ham and biscuits with pepper jelly; locally grown radishes; homemade butter; and toast topped with chicken livers puréed with apples, brandy and cream.
"I think the movement in the Boston area is really vibrant and exciting in terms of the variety and quality of the food people can eat here," says Melissa Kogut, director of Chefs Collaborative, a Boston-based organization that promotes sustainability through fostering relationships between chefs and farmers. "It's contagious," she says, "in a good way."
Kogut is correct: Boston is an incredibly fun city for restaurant-goers, whether you identify yourself as a foodie, locavore or neither. If you appreciate top-notch ingredients picked at the peak of their season and prepared with serious skill by eclectic chefs, you won't be disappointed, though you'll have a hard time deciding where to start.
Inside the Charles Hotel in Cambridge's Harvard Square you'll find Henrietta's Table, a bright, handsome space presided over by the bearded and ponytailed chef Peter Davis. Davis sports a Boston accent and a commitment to sustainable food that earned him Chefs Collaborative's second annual Sustainer Award for mentorship and modeling within the culinary community. At 17 years of age, Henrietta's Table got its start well before the current farm-to-table movement, though its mission has always been in keeping with its tenets.
On the menu you'll find dishes described by their ingredients' place of origin. Verrill Farm blueberries and Westfield Farm chevre grace the spinach salad, for example. Most menu items say as much about the chef's ethics as they do about the meal itself, as in one entree dubbed "Barbeque Ale Braised Elysian Field Farm's Pulled Lamb Shank, Wilted Greens, Native Beans, Crispy Nitrate Free Smoked Bacon."
The restaurant's devotion to local products extends to liquids as well. The drink list includes the nearby Cambridge Brewing Company's seasonal beer, mead from Green River Ambrosia in central Massachusetts and an entirely New England martini list. It features spirits such as Greylock Gin, named for the tallest mountain in Massachusetts and made in the Berkshires. That gin is used in the Dilly Bean Martini, a riff on the dirty martini using pickled green beans (a Vermont favorite) and their brine in lieu of olives and olive juice. Also on the list are local vodkas made from three "wicked" New England ingredients: apples, potatoes, and maple sap.
Henrietta's Table in Cambridge serves regional comfort food like Yankee pot roast with mashed potatoes and gravy, but other Boston farm-to-table restaurants are inspired from afar. Chef Phillip Tang of East by Northeast prepares local meat, seafood and produce in the Chinese style he learned from his family, which own restaurants in Washington, D.C. As I spoke with Tang, he scarcely looked up from rolling dumplings for that night's dinner at his intimate 25-seat restaurant. A bouncy ball-round scoop of ground Vermont pork mixed with locally grown cabbage, a twist of the fingers, a puff of flour, and he'd be on to another. These were steamed, topped with red cabbage slaw and served with an apple and onion puree, proving that the clever restaurant name isn't the only thing that's delicious.
Because Tang is largely influenced by northern Chinese cooking, his creations are light on rice. Wheat is the preferred starch, making appearances in the chef's own noodles, dumplings and breads. Tang's flavors are delicate, his presentation precise and his noodles toothsome. The hearty wrappers on his shumai, an open-top dumpling, put the defrosted, pre-fab version you find at most restaurants to shame.
He also serves in-house pickled vegetables, the selection varying with the season. A plate in mid-autumn included razor-thin discs of pickled summer squash, bright yellow cauliflower florets pickled with curry powder, snappy whole green beans (escaped from a martini?) and rectangular sticks of slightly sweet rutabaga, all sprinkled with sesame seeds. The dish is colorful, the flavors bright, the vegetables a pleasure to crunch. It also conveys another tenet of the farm-to-table movement: if there's something dedicated chefs can create in-house, they will.
At Craigie on Main in Cambridge, chef Tony Maws makes sure you know where your food comes from. The menu arrives with a roster of the restaurant's local suppliers, about 20 different vegetable and meat farms, orchards, shellfisheries and dairies, plus a smokehouse and a mushroom hunter. Maws has earned a reputation for preparing those ingredients with a few tricks from the molecular gastronomy school of cooking (dusts, foams, gels, etc.) to make the ordinary extraordinary.
To create his legendary hamburger, Maws mixes grass-fed beef with marrow, suet and dehydrated miso for a tender, flavorful patty that tastes more like a hamburger than you thought possible. To cut the richness, the burger is served with red wine pickles and celery root slaw. To enhance the richness, it comes with a tangle of perfect, skinny fries. If you're in the mood for something more complex, try the roasted milk-fed pig's head with Peking pancakes, spicy pumpkin sambal and boudin noir hoison sauce. If you want simpler, there's always fried pigs' tails.
Those crisp pig's tails are available at Craigie's attractive bar, which sits about 40 miles from the site of the original Plymouth Colony. Today's chefs have access to far more ingredients than those early cooks, including imported staples such as olive oil and coffee that even the staunchest farm-to-table restaurants can't seem to part with. Yet there is a celebratory regressive streak in the return to local produce. In supporting local, small food producers, the chefs eschew the industrially produced food that has become the default at other restaurants. Yet these chefs are quick to remind you that they're not necessarily doing something new. As Maws has said, "These are ideas shared by about 90 percent of the world's grandmothers."
For more farm-to-table restaurants, visit the member search at guide.chefscollaborative.org or just ask the folks wearing puffy pants at the farmers markets who they cook for.