'Armenian Pizza' Is the Comfort Food You Didn't Know You Were Missing (Recipe)
What lahmacun may lack in cheese pulls it makes up for with juicy, spicy ground lamb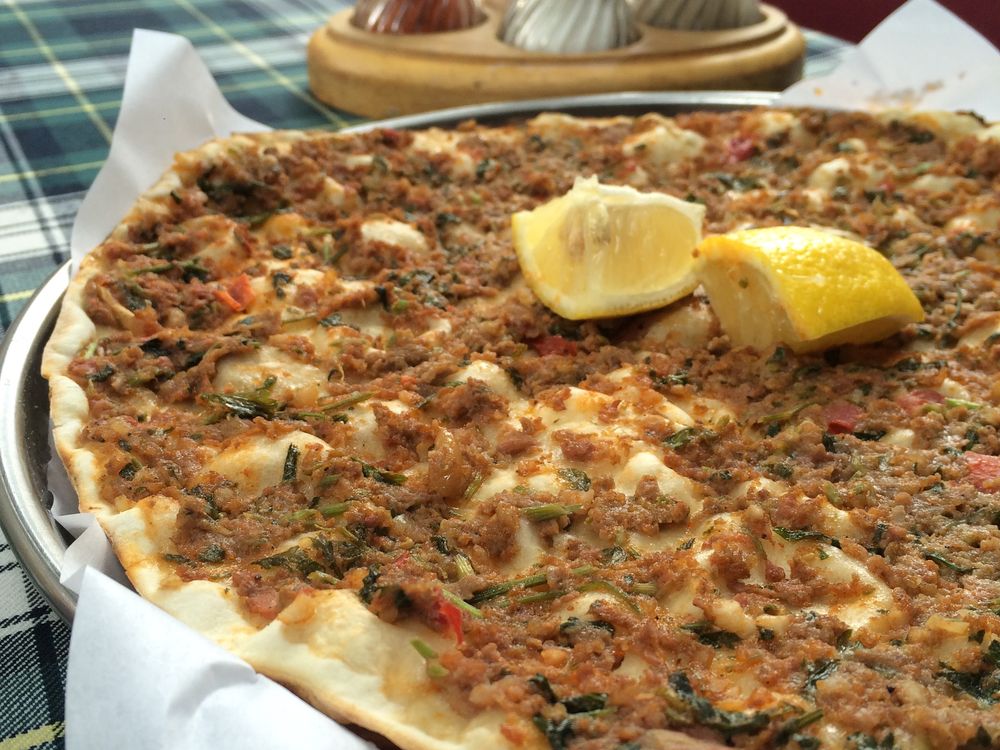 The New Yorker in me always feels at home in Armenia, a country where thin-crust pies reign supreme and everyone folds their slice. Folding is the only mess-free way to eat lahmacun ("lah-ma-joon"), the inhalable, hubcap-sized flatbread spread with spiced meat that's sometimes called Armenian pizza.
Like its Italian counterpart, lahmacun is soul-satisfying desert-island fare, hitting most of the major food groups. Its bubbly, wafer-like crust crackles between your fingers yet remains as soft and bendy as a fresh tortilla. This inevitably droops under the weight of hot, succulent ground meat—usually lamb or beef—laced with spicy Aleppo pepper and enlivened by a flurry of parsley and a squeeze of lemon.  
The whole process, from floured board to screaming-hot oven to warmed plate, takes a mere five minutes—and if you're hungry, so does eating a whole pie. Call it Armenian fast food.
In Yerevan, where lahmacun varieties abound, everyone has their favorite spot. There's always a line out the door at Mer Taghe, where purists indulge in a textbook Armenian style of lahmacun combining beef, lamb, tomatoes, parsley and fresh and dried chiles. Perfectly round and highly Instagrammable, it's no wonder this restaurant off Freedom Square has become a Yerevan institution. Locals who can't fathom "pizza" without the cheese pulls, on the other hand, find solidarity at Ost Bistro, whose gooey oval pies flaunt an unconventional cap of mozzarella. And then there are the Arabic-inflected lahmacun joints, owned by repatriated Diaspora Armenians born in the Middle East, where pomegranate molasses and secret-recipe baharats get folded into the mix.
One such establishment is Lahmajun Gaidz, a bright, inviting bistro presided over by 29-year-old Gaidzak Jabakhtchurian, an ethnic Armenian born in Aleppo whose family has been selling lahmacun for three generations. He's one of thousands of Syrian refugees living in Armenia, part of a growing demographic that's swiftly enriching the country's Russified cuisine with punchy spices and new techniques. "I have many Armenia-born customers who come to my bakery specifically for the Arab-style lahmacun and za'atar breads," Jabakhtchurian said. "It's a huge compliment."
No one knows for certain whether lahmacun's roots lie in Armenia, Turkey, or elsewhere in the Middle East. "The race to find where these ancient foods originated is not fruitful territory," cautioned Naomi Duguid, author of Taste of Persia: A Cook's Travels Through Armenia, Azerbaijan, Georgia, Iran, and Kurdistan. After all, meat-enhanced flatbreads are ubiquitous throughout the region (we're looking at you, Georgian kubdari and Turkish kiymali pide). George Mardikian, the late restaurateur and author of Song of America, wrote that lahmacun was first prepared by the wives of wealthy traders along the Silk Road who cooked the dish over open flames in roadside inns or caravanserais. A far cry from today's low-budget lahmacun culture, he claims the dish was historically a "food of the elite," since it called for meat, a luxury the poor couldn't frequently afford.
According to Barbara Ghazarian, who wrote Simply Armenian, a staple Armenian cookbook, the meat used in the dish goes a long way. One pound of lamb, she explained, makes 12 lahmacun, enough to "feed a small army, Armenian or otherwise."  That small army is quickly becoming an ever-growing horde of international lahmacun fans. "Lahmacun is a story of culinary assimilation," Ghazarian said, "of how one dish invented in or around Armenia has won over diners around the globe, from Yerevan to Beirut to Patterson, New Jersey."
Eager to try your hand at making lahmacun? Use Ghazarian's fail-safe recipe.
***
Lahmacun Recipe
The Dough:
1 package (¼ ounce) active dry yeast
1 cup warm water (about 105 degrees)
1 tablespoon olive oil, plus additional for greasing bowl and baking sheets
½ teaspoon sugar
¼ teaspoon salt
2¼ cups white bread flour, plus additional for rolling
The Topping:
1 pound ground lamb
1 can (14½ ounces) tomatoes, peeled, diced, and drained well
2 tablespoons tomato paste
½ red bell pepper, finely chopped
½ green bell pepper, finely chopped
½ onion, finely chopped
⅓ cup finely chopped fresh flat-leaf parsley
1 teaspoon salt
½ teaspoon ground black pepper
¼ teaspoon crushed red pepper flakes
Pinch of cayenne (optional)
Fresh lemon juice
Special Equipment:
Tabletop mixer with dough hook (optional)
Food processor or blender
Heavy rolling pin
1. To prepare the dough, dissolve the yeast in water in the bowl of the tabletop mixer. Stir in the 1 tablespoon olive oil, sugar, salt, and 1½ cups flour. Mix the dough with a dough hook until smooth, about 3 minutes.
Knead in the remaining flour until the dough is smooth and elastic. This will take about 10 minutes by machine, 20 minutes by hand.
2. Shape the dough into a ball and place in a large bowl greased with olive oil. Turn the ball once to coat it completely with oil. Cover with a clean kitchen towel and let stand in a warm place for about 1½ hours, or until doubled in size.
3. While waiting for the dough to rise, combine all of the topping ingredients together in the bowl of a food processor (or blender) and pulse until just smooth. Set aside.
4. When the dough has doubled in size, turn it out onto a floured work surface and punch it down. Knead the dough into the shape of a log. Cut the log into 12 equal pieces. Then roll each piece out into a 7-inch circle.
5. Preheat the oven to 375 degrees.
6. Lightly grease 2 to 4 baking sheets with olive oil. Arrange the circles on the prepared baking sheets. Allow the dough to rest and rise slightly, about 15 minutes. Then, spread the meat mixture evenly over the entire surface of each round.
7. Bake in the middle of the oven for 25 to 30 minutes. Cool the pizzas on a wire rack.
8. Serve warm with a splash of fresh lemon juice for a quick lunch or snack.