Americans in Prague
A second wave of expatriates is now playing a vital role in the renaissance of the Czech capital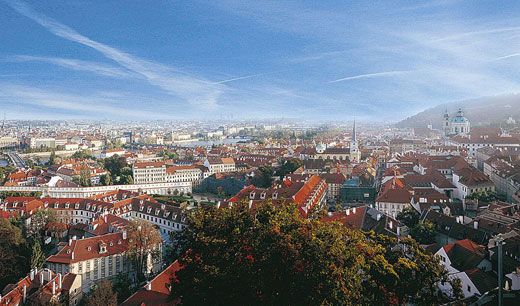 William Lobkowicz moved to Prague in 1990, joining the hordes of young Americans drawn to the beautiful Czech capital in the aftermath of the Velvet Revolution that had peacefully toppled the Communist regime a year earlier. Lobkowicz, then a 29-year-old real estate broker from Boston, lived—like most young foreigners in the city—in a cramped, leaky walk-up apartment. But from his centuries' old townhouse off a cobblestone square, he could gaze up at Prague Castle, rising majestically on the hill across the Charles Bridge spanning the Vltava River. Or he could wander the labyrinthine, medieval alleys that inspired novelist Franz Kafka's vision of a city that ensnared its denizens in a net of mystery and intrigue.
Many Americans in Prague in those heady days aspired to become writers. With its stunning architecture, intellectual ferment and cheap prices, the city evoked bohemian Paris of the 1920s, where Ernest Hemingway and F. Scott Fitzgerald first honed their talents. But Prague produced no great American novels. With prices rising and savings diminishing, most Americans returned home.
Lobkowicz stayed. The grandson of exiled Czech aristocrats, he had come to Prague on what would become a more quixotic quest—to recover the ten castles and palaces that had once belonged to his family. The new, democratic government of President Vaclav Havel had decreed in the early 1990s that properties expropriated by the Communists could be returned to their rightful owners. But the legal morass and huge expenses involved in reclaiming the Lobkowicz estates and their vast cultural treasures were daunting for a young, middle-class American. "Bankers laughed when we suggested putting up broken-down castles as collateral for loans," Lobkowicz recalls.
Even so, giving up was out of the question. "What would I tell my kids and grandchildren—that it was too tough?" asks Lobkowicz—now Prince William—as we sit on a terrace of Lobkowicz Palace taking in a picture-postcard vista of the city's church spires, tiled roofs and meandering river below. Located at the eastern end of Prague Castle (the same landmark that Lobkowicz once viewed from his decrepit apartment), the renovated 16th-century palace was opened to the public in April. With some of the prized Lobkowicz art collections on display—including masterpieces by Pieter Bruegel (the Elder) and Canaletto—and classical concerts performed every afternoon, the palace has become a cultural mecca for foreigners and locals alike. And the former Boston real estate broker has become a major arts patron.
Americans have made remarkable contributions to Prague's post-Communist renaissance. Poland's Warsaw is larger, and Hungary's Budapest is almost as beautiful. But in neither of those capitals have Americans made the same impact as they have in Prague. Lobkowicz may be the most visible American here, but other prominent Yanks include Tonya Graves, an African-American singer linked to Prague's reemergence as a center of popular music; Jack Stack, an Irish-American banker in the vanguard of the city's rebirth as a financial capital; Karen Feldman, a suburban New Yorker who has almost single-handedly restored the tradition of fine, handmade Czech glassware; and David Minkowski, a former Hollywood producer who has led Prague's revival as a world-class film capital.
"The backpackers spread the word back in the United States that this city was a very special place," says Jiri Pehe, director of the New York University branch in Prague. "And the Americans who followed them saw opportunities to do some interesting things for Prague." Among them, only Lobkowicz had previous ties to the city. His family traces its presence back seven centuries or so, to an era before the Vienna-based Hapsburg dynasty, in the 1500s, extended the empire over Czech lands. Lobkowiczes, like other noble clans, settled into palaces that surrounded Prague Castle, the seat of royal power. The German-speaking Hapsburgs were not only foreign rulers; they also led the Catholic Counter-Reformation that crushed Czech Protestant heretics during the Thirty Years' War (1618-48), leaving Prague in ruins.
The Baroque style that dominates the center of Prague can be traced to the reconstruction of the city after that war. Gothic church facades were redone with sumptuous curves and ornamental detail, and inside, effigies of saints and angels were opulently finished in stucco and gild. Secular architecture followed suit. "Catholic aristocrats arriving from Vienna built themselves palaces in the Baroque style," says Simon North, a British art historian living in Prague. Now that extensive renovation efforts have been undertaken, Prague's Baroque flourishes have become more visible than ever. Statues stand like sentinels at the doorways of old townhouses and public buildings, and bas-reliefs decorate their pediments and outer walls.
The Hapsburg dynasty collapsed with the end of World War I in 1918, and Czechoslovakia gained independence. (The country split into the Czech Republic and Slovakia in 1993.) Although the Lobkowiczes had steadfastly supported the Hapsburg monarchy, William's grandfather, Maximilian, became a Czech nationalist after independence. "He took stands that certainly weren't popular with the rest of the family or people in his social circle," says William. Before the Nazi occupation of Czechoslovakia in 1938-39, Maximilian served as a diplomat to the Court of St. James. (He stayed on in London during World War II as Free Czechoslovakia's ambassador.) After the war, he returned to Prague as a supporter of democratic government. But with the Communist takeover in 1948, he was forced to flee again—first to London and then to Boston. "He was one of the richest men in Czechoslovakia and lost it all," says William, who was 7 when his grandfather died at age 79 in 1968.
The Lobkowiczes have recovered four of their castles and palaces, and disposed of the rest to finance repairs and the preservation of their collections, none of which can be sold for export, under Czech law. "We kept what we prized most," says William, 45. He and his wife, Alexandra, manage the Lobkowicz estates and draw salaries from admission fees, social receptions and business conferences. They and their children—William, 12, Ileana, 9, and Sophia, 5—live in a rented three-bedroom apartment. "We never wanted to live in palaces, anyway," says the prince.
If Lobkowicz identifies with the Prague of the Hapsburg era, Karen Feldman, another transplanted American, is drawn to the Prague of the decades between the world wars. "That was a time when the city was at the forefront of glassmaking design," says Feldman, 38. Even before then, Prague was already the industrial hub of the Vienna-based Austro-Hungarian Empire. And after independence, Czechoslovakia became one of the world's most prosperous countries, thanks to booming exports of machinery, cars, shoes, farm products and fine glass. "Prague moved far ahead of Vienna in economic development," says Milada Polisenska, a historian at the New Anglo-American College in Prague. "Independence also unleashed enormous energy in so many fields—art, music, literature, architecture and design."
Much of it was concentrated in Prague's thriving Jewish community, which reached 55,000 inhabitants, or one-fifth of the city's population, on the eve of World War II. Though Jews lived throughout Prague, the community remained especially identified with the original Jewish neighborhood of Josefov, just north of Stare Mesto, or Old Town, a district that dates to the 12th century. Two-thirds of Prague's Jewish population perished during the Holocaust. Currently, only an estimated 5,000 Jews remain in Prague. By 1900, Prague's aristocracy had begun to move into the Josefov area. Today, its Art Nouveau apartment buildings—with their curvilinear facades and painted statues of mythological figures—recall the affluence of the early 20th century.
Feldman finds sources for her glass designs in unexpected nooks and crannies of early 1900s Prague. "Inspiration can come from anything—old postcards, fabrics, children's books and toys from decades ago," she says. Aided by her new guidebook—Prague: Artel Style—visitors can explore some of the venues that most fire her imagination. In Mala Strana, the district at the foot of Prague Castle, a tiny shop, Antiques Ahasver, sells early 20th-century linens, folk costumes and jewelry. For porcelain place settings and figurines, there is Dum Porcelanu, in Vinohrady, a trendy eastern neighborhood named for the vineyards that once grew there. Prague's best hat shop—Druzstvo Model Praha—is on Wenceslas Square, site of the largest political demonstrations of the Velvet Revolution.
Most intriguing of all is the Museum of Czech Cubism at the House of the Black Madonna in Stare Mesto. Though Cubism originated in Paris in the early 1900s, nowhere was the movement more passionately embraced than in Prague—in art, architecture and interior design. The museum itself, considered a masterpiece of Czech Cubist architecture and completed in 1912 by Josef Gocar, specializes in paintings, sculptures, furniture and ceramics of the 1920s and '30s.
Feldman, who is from Scarsdale, New York, moved here in 1994 as a representative for an American shampoo company. But she soon quit. A collector of glass since her student days at Bard College in upstate New York, Feldman became enthralled with fine Czech objects from the pre-war period. Glass artisanship remained at a high level even under the Communists because—unlike literature, painting or sculpture—it was considered ideologically innocuous. "The talent survived, but glassmakers lost a sense of how to reinterpret designs to make them fresh and appealing to markets abroad," says Feldman.
The glass artisans did not readily accept her earliest design suggestions, which included fruit bowls and flower vases whimsically decorated with bubble patterns—bublinka, or Czechified bubbles, as Feldman calls them. Older artisans were even more dubious about her shellfish and sardine motifs. But her designs became bestsellers abroad. At first, Feldman worked out of her apartment in Vinohrady—with the nearest phone three blocks away. But the Czech Republic offered advantages unavailable in Western Europe or the United States. "Here, I could go to a factory or workshop and ask them to make just one sample of a glass object for a hundred dollars or so," says Feldman. "Back in the States, that would have cost me thousands of dollars."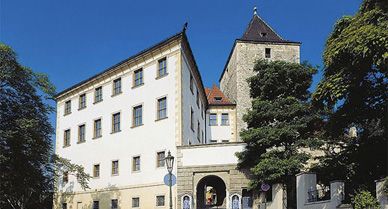 She called her new company Artel, after an early 20th-century cooperative of Czech artisans who rejected assembly lines in favor of well-designed, functional handmade objects. At her first trade show in New York, in 1998, Feldman came away with just 30 orders. Today, Artel sells in 26 countries, with the United States, Great Britain and Japan as the largest markets. One client is Rolls Royce, which buys custom-made Artel glasses and whiskey decanters for the bar in its top-of-the-line Phantom sedan. She also designed a set of tumblers in collaboration with Sol Lewitt, the American minimalist, who died this past April. "The city itself had nothing to do with my moving here," Feldman says. "But in retrospect, we are a great match. I'm a very visual person, and every single day in Prague is a feast for the eyes."
And ears. Despite a population of only 1.2 million, Prague supports three major venues for opera and dance, the Prague State Opera, the National Theater and the Estates Theater, and two major concert halls. There are a dozen or so chamber music performances in Renaissance and Baroque churches every day. Several nights a week, audiences sit on the carpeted, marble stairway of the National Museum and listen to a string quartet.
Mozart loved Prague. In Vienna and other European capitals, his operas were performed for royal and aristocratic audiences. But here, the audiences were mainly merchants, tradesmen, shopkeepers and artisans who reveled in the humorous gibes that Mozart aimed at the nobility in works like Don Giovanni and The Marriage of Figaro. Either or both are likely to be scheduled every week at the Estates Theater, where Mozart himself conducted the 1787 première of Don Giovanni.
But not all of Prague's music is classical. In the 1920s and '30s, the city was the capital of jazz in Central and Eastern Europe. Even in the Communist era, Prague's rock groups exerted a stronger emotional hold on their fans than bands elsewhere in the region. During the harsh repression that followed the Prague Spring of 1968—the brief reform movement headed by Communist party leader Alexander Dubcek whose slogan was "Socialism with a human face"—a band called Plastic People of the Universe became a favorite of dissidents. It was the arrest of its members in 1976 that helped spark the movement that culminated more than a dozen years later in the Velvet Revolution.
Today, Prague is once again a capital of popular music, and at its vortex is an American, Tonya Graves, and her band, Monkey Business. Graves, 37, was born in Peekskill, a New York City suburb. Her father is a Baptist minister and her mother a nurse. In college, she sang some blues and hits by the Grateful Dead. Strictly amateur hour. Her presence in Prague is accidental. Literally. Injured from walking through a restaurant's glass door in New York, she was awarded enough compensation to afford a long vacation in Europe.
On her first day in town, Graves visited a jazz club and congratulated the musicians on their virtuosity. They asked her to sing. "I was from New York, black and too short to play basketball, so they assumed I was a singer," Graves recalls. She complied, got hearty applause and was asked to come back a second night, then a third. Still, she was not ready to declare herself a singer.
In the United States, Graves had worked at shelters for runaway teenagers. "It was draining, but very enjoyable, and I thought I could find something similar in Prague," she says. But she didn't speak Czech. "Singing was the one thing I could do in Prague without a certificate or diploma," she says. Since 2000, she has been one of Monkey Business's two vocalists. The band is a seven-member group with a strong preference for funk music. Her seven CDs have sold widely. Graves (who today has a Czech husband, Marek Gregor, and a 2-year-old son, Sebastian) also sings jazz—Ella Fitzgerald classics, especially—with a big band. "I'm only five feet, but with 15 musicians behind me I feel ten feet tall," she says. At a private party in a cavernous space in Barrandov Studios, the legendary moviemaking center on the city's southern outskirts, the band appears wearing costumes that evoke a playful nod to the group's name—car mechanics' uniforms, worn by "grease monkeys." But within minutes, Graves, sweating profusely, strips off her uniform to reveal a red, strapless dress.
The next day, I return to Barrandov to meet David Minkowski, a Hollywood transplant who, in partnership with Matthew Stillman, has become one of the city's leading film producers. Prague, which has been largely unscathed since the Thirty Years' War almost four centuries ago, has become a prime location for historical period films. "If you want to film Paris or London before the 1800s, the locations [are] in Prague," says Minkowski, 42. "Palaces and townhouses and many streets here haven't changed that much." More modest wages and prices make filming in Prague a lot cheaper than Western Europe or the United States. Prague also has a rich moviemaking tradition.
By the 1920s, quality silent films were being produced here. The Barrandov Studios were built in 1931 for talkies. (Even today, the restored villas of '30s stars and directors cling to the sides of Barrandov Hill.) Prague's film industry was considered so technically advanced that the Nazis, trying to escape the Allied bombing of Germany, relocated their propaganda moviemaking here during World War II. After the Communists took over in 1948, Barrandov started producing insipid features about class struggle and heroic revolutionaries.
Occasionally, quality Barrandov films—even some critical of the authorities—were screened abroad. These included director Jiri Menzel's Closely Watched Trains (1966), about a young train station attendant who becomes an unlikely war hero, and Milos Forman's The Firemen's Ball (1967), about widespread corruption in government. Forman went into exile after the Soviet Army invaded in 1968 to put an end to the Prague Spring. In Hollywood, Forman went on to even greater success with films such as One Flew Over the Cuckoo's Nest (1975) and Amadeus (1984), both winners of multiple Oscars.
Minkowski was aware of all this when he arrived here in 1995. At that point, Prague's film industry was at a low ebb, and the 30-year-old Californian had no desire to stay beyond a single project. It was a low-budget, made-for-cable-television film, Hidden in Silence, about a real teenager in Nazi-occupied Poland who conceals a group of Jews in her tiny attic.
But once production ended, another Hollywood team flew in for a television miniseries and asked Minkowski to help out. That led to a third project. And in 1997, a London producer of commercials asked Minkowski to head up production of feature films for his Barrandov-based company, Stillking Films. "I could have gone back to L.A. and become one of thousands fighting to work on films, or I could stay here and strike out on my own," says Minkowski, who now has a Czech wife, Lenka, and a son, Oliver, 4.
At first, his biggest problem was a thin labor pool. Old-timers, who had been state employees at Barrandov during the Communist era, were reluctant to work the long hours required by Hollywood filmmakers. Minkowski supplemented them with teenagers and twentysomethings—bright, eager, motivated—that he found working in restaurants and hotels. He would strike up conversations to test their English, and if they seemed smart enough to quickly learn a new, demanding job, he would ask if they wanted to work at Stillking. "They always said yes," recalls Minkowski. "I mean who would choose to be a waiter or receptionist instead of doing movies?" Today, most Stillking employees are under 40, and the older film crews are gone.
During my visit, Stillking was producing The Chronicles of Narnia: Prince Caspian. Minkowski guided me through three giant sets: a 30,000-square-foot courtyard enclosed by stone-like ramparts and surrounded by a moat; the great hall of a castle with gargoyles jutting out of its walls; and most impressive of all, an indoor forest of live pine trees, moss and wildflowers. Minkowski wouldn't say how much the film will cost except that it exceeds the $175 million budget for Casino Royale, the James Bond extravaganza also co-produced by Stillking in 2006.
At its peak, over 1,500 locals worked on Narnia, remarkable for a mid-sized city with nine other active Barrandov companies. To service this massive revival of Prague's film industry, scores of small and medium-sized businesses have opened to cater food, supply material for sets and provide trailers for actors between shoots. "The film industry has helped turn Prague into such an entrepreneurial city," Minkowski told me.
"Entrepreneurial" was not an adjective used much when Communism collapsed here. Economists worried that large, formerly state-owned companies would not survive in the new capitalist era, and that not enough small and medium-sized businesses were being created in their place. Yet today, signs of commercial success are everywhere. Clothing boutiques and consumer electronics shops line the major streets and pedestrian malls. Pubs and sidewalk cafés are crammed with clients devouring the standard trio of Czech specialties—sausages, dumplings and cabbage—along with pints of local full-bodied brews such as Pilsner Urquell and Budvar.
Behind the boom is a dramatic reform of Czech banking in which yet another American transplant, Jack Stack, has played a leading role. Like the rest of the banking system during the Communist era, Ceska Sporitelna, a savings institution founded in 1825, had fallen under state control. After the Velvet Revolution, Czech banks were expected to adapt quickly to the new market economy. Instead, corruption and chaos ensued. In the early 1990s, many businesses were privatized by shady promoters, who secretly sold off the most valuable parts of the firms. They then took out bank loans on the companies' money-losing remains, never intending to make repayments. In other cases, politicians pressured banks to make loans to large companies whose managers could deliver their employees' votes in elections. By 1999, almost half of all bank loans had failed. "The Czech economy was in bad shape, and investors were losing interest in the country," says Zdenek Tuma, governor of the Czech National Bank—the equivalent of the Federal Reserve Bank in the United States.
It was then that Stack, a lifelong New Yorker and veteran banker, decided to plunge into Prague's murky financial waters. He had spent more than two decades at Chemical Bank (now part of JP Morgan Chase) in a variety of management positions. "But I always wanted to run a bank, and I wasn't getting any further up the managerial ladder," says Stack.
Through a headhunting agency, Stack had been contacted in 1999 by Austria's Erste Bank, which was negotiating to purchase Ceska Sporitelna and was looking for a chief executive officer, a daunting assignment. According to a 2000 survey by international management consulting firm Accenture, Ceska Sporitelna ranked dead last among local banks in customer satisfaction. Though it was the most overstaffed bank in the country, its employees were the most poorly paid—and among the surliest, according to client complaints. Investments in technology were so low its ATMs failed to operate at times of greatest demand. Stack talked it over with his wife, Patricia. "She pointed out the bank was in such bad shape that I could only improve it—and the adventure began," Stack recalls.
Once installed, he decided to draw on measures that had worked well at Chemical Bank. He slowly reduced the bloated staff by a third. He offered the 10,000 who remained bonuses based on the number of new accounts they opened and the old ones they induced to stay. The interior design of branches was altered from state-era stodginess to a more relaxed free-market style. Gone are the long counters attended by clerks whose subliminal message to customers appeared to be: "Wait to be called by the authorities." In their place are curved desks set in small, open, individual spaces. Investments in new technology vastly improved the performance of ATMs, and Ceska Sporitelna's appalling 45 percent bad-loan rate has been brought down to less than 2 percent, thanks to risk-management policies that value clients' creditworthiness more than who they know in high places.
The same sorts of reforms have since spread throughout Prague's banking system. "Jack Stack played a very important role in this process," says Tuma, the Czech National Bank governor. "The turnaround he led at Ceska Sporitelna was a key milestone in the transformation of our banking system." For Stack, the secret of Czech banking's recent success has been to tap consumer demand that had been pent up for decades. Mortgages in Prague are growing at over 40 percent a year, and bank loans to small and medium-sized businesses are up by 20 percent a year. "Czechs want to make up for having lost so much time during the Communist era," says Stack. "People here and throughout Central Europe will become the engine of growth for all of Europe because they are more ambitious, harder working and are developing a real entrepreneurial spirit."
Stack won't be around to see Prague return to the lofty living standards of Paris and Vienna. At 61, he is moving back to New York this year to take some time off and catch up with old friends and family. "I'm very reluctant to leave Prague because I will miss it," he says. "But I'm also very sure it's time for somebody else to take over the bank."
For the other Americans, Prague has become home. With direct flights now available, Feldman returns to New York several times a year. "I don't have to make choices anymore about where I should live permanently," she says. Graves' and Minkowski's Prague-born children have doting Czech grandparents who won't allow them to wander too far away for too long. And Prince William's son, William, wants Lobkowicz Palace to be more kid-friendly. He's helped create a kids' menu for the palace restaurant, featuring peanut-butter sandwiches and tuna melts. He has also created another diversion, a handout sheet containing a castle maze game—with three levels of difficulty—allowing diners of various ages to doodle away while awaiting their food. "Not a bad idea from a 12-year-old," says his dad.
Writer Jonathan Kandell is based in New York City. Photographer Tomas Van Houtryve works from Paris.