A Window into the World of Diane Arbus
Photographs from the portfolio, "A box of ten," reveal some of the photographer's secrets
Diane Arbus is known for her unsettling photographic portraits of people on the outskirts of society. She also was one of the first photographers to successfully leap from the commercial sphere to the art world, at a time when critics and curators by and large did not consider photography to be an art form. She did so in part based on the strength of a portfolio she began putting together in 1969 to try to create some financial independence and to establish her artistic identity.
That portfolio, A box of ten photographs, is on display at the Smithsonian American Art Museum until January 2019. The museum is the only venue for the portfolio, one of just four complete editions that Arbus printed and annotated. The three other editions—the artist never executed her plan to make 50—are held privately.
The Smithsonian edition was made for Bea Feitler, an art director who both employed and befriended Arbus. It includes an 11th photo, Mrs. Gladys "Mitzi" Ulrich with the baby, Sam a stump-tailed macaque monkey. After Feitler's death, Baltimore collector G.H. Dalsheimer bought her portfolio from Sotheby's in 1982 for $42,900. The American Art Museum then bought it from Dalsheimer in 1986. The portfolio was put away in the museum's collection, until now.
Arbus was transparent in many ways, but mysterious in so many others, starting with how she decided on the ten photos included in the portfolio. "She has left virtually no information about that," says John Jacob, the museum's curator of photography. Jacob ventures that those photos are "how she saw herself, how she created her self-image," he says. "It also becomes how we know her today."
Equally unknown: why she took her own life in 1971, swallowing a handful of barbiturates and slitting her wrists, just as she seemed to be reaching the pinnacle of her career.
"Considered in relation to the portfolio, the odyssey of Diane Arbus is the odyssey of photography itself," says Jacob. Writing in the exhibition catalog, Jacob says, "At the time of her death, Diane Arbus was already a growing influence on the field of photography but not widely known to the larger public."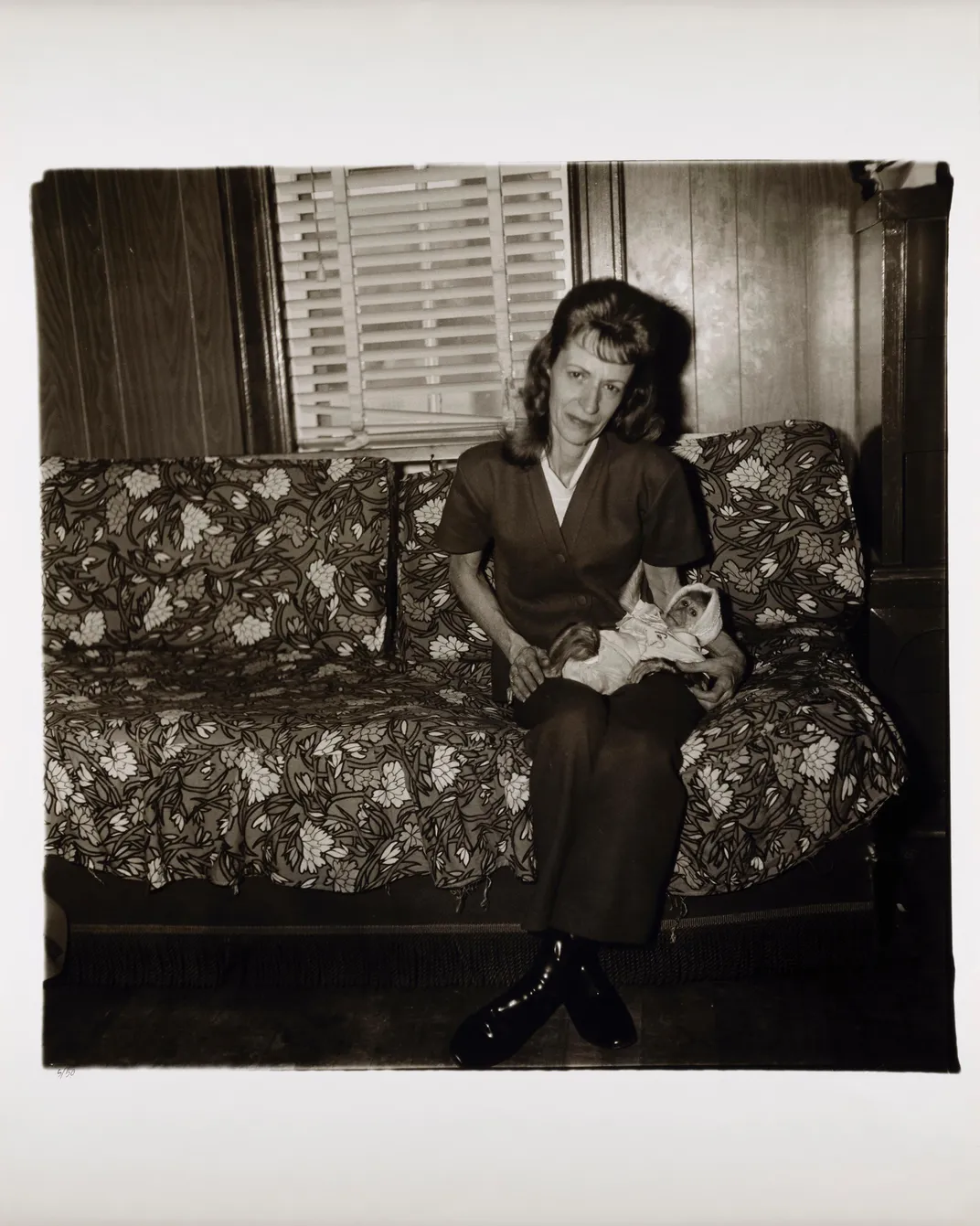 A box of ten "initiated the transition, connecting Arbus's past as a magazine photographer with her emergence as a serious artist, and bridging a lifetime of modest recognition with a posthumous career of extraordinary acclaim," he writes.
A big breakthrough occurred when Philip Leider, editor of the art world's pre-eminent publication—Artforum—published the portfolio's Patriotic boy with straw hat, buttons and flag on the cover and five other portfolio images inside the May 1971 issue, breaking his long-held tradition of ignoring the field. "With Diane Arbus, one could find oneself interested in photography or not, but one could no longer. . . deny its status as art. . . . What changed everything was the portfolio itself," Leider wrote.
A few years earlier—in 1967—Arbus's work had caused a stir at New Documents, a show at New York's Museum of Modern Art (MoMA). John Szarkowski, the MoMA's curator of photography from 1962 to 1991, and a huge believer in Arbus, had chosen 30 of her portraits to display, including many of those included in A box of ten.
Jacob says that Leider's enthusiasm, along with the portfolio's selection for the 1972 Venice Biennale international art show—making her the first American photographer to be represented there—and a full layout of seven of the portfolio images in the October 1972 issue of Ms. magazine, "were the first steps toward the almost mythical status of Diane Arbus today."
Carving Out Her Own Direction
Arbus had her own ideas of who she was and what her work was about. She was always defying convention—from the rejection of her privileged Manhattan childhood to her unorthodox marriage to her eventual choice of photographic subjects. Beginning in high school, Arbus was itching to go to the places where she wasn't allowed or expected, or maybe even wanted.
She intended to live her life as she chose, and that included marrying at the age of 18, instead of going to college, and following her husband—Allan Arbus—into photography.
They started out working together on fashion spreads in the post-World War II period for Seventeen, Glamour and Vogue. He was the technical savant; she was the artiste, who came up with the vision for their work. But neither Allan nor Diane saw a future in what was then a relatively risk-free milieu. Allan wanted to be an actor—he would go on to an off-Broadway and a long television and movie career that included a ten-year run as the psychiatrist Sidney Freedman on the 1970s smash-hit M.A.S.H.
Diane, meanwhile, was absorbing everything she could about photography and the New York art world, studying at the New School for Social Research under Berenice Abbott—a photographer who had evolved out of the Parisian avant garde of the 1920s to become a documentarian. Arbus then went on to study in 1956 with Lisette Model, also at the New School. It was Model, a French-Austrian known for her massive 16 x 20 photographic portraits of the extremes of society—rich and poor, beautiful and ugly—who was considered to have the most influence on Arbus, outside of her husband.
Arbus also developed long-lasting and important relationships with Marvin Israel, an art director she'd first met at Seventeen, who went on to be one of her biggest patrons through his art direction at Harper's Bazaar. It was Israel who suggested that she create a portfolio, and he came up with the translucent plastic box that contained the ten photographs. Walker Evans, an exquisite documentarian of the Depression and American life became a close friend and adviser, helping her land a John Simon Guggenheim Foundation fellowship in photography in 1963. And fellow New Yorker and peer Richard Avedon—who also worked for Harper's Bazaar and became known for his equally startling portraits—was an important lifeline during her rising art career.
Secrets and Adventures
Model instilled in Arbus the idea that photography could reveal secrets. Arbus imbued it with her own philosophy. "A photograph is a secret about a secret. The more it tells, the less you know," said Arbus in 1971.
What seemed transparent in her motive and her work was really just a surface observation. Sometimes the riddle could not be solved.
She did, however, make it clear to anyone who wanted to know that photography gave her a way to step outside of herself and have an adventure. "My favorite thing is to go where I've never been," she said, in a 1970 slide show for a group of magazine editors that was organized by Cornell Capa, a photojournalist who was trying to generate interest in his idea for a photo museum that later became the International Center of Photography.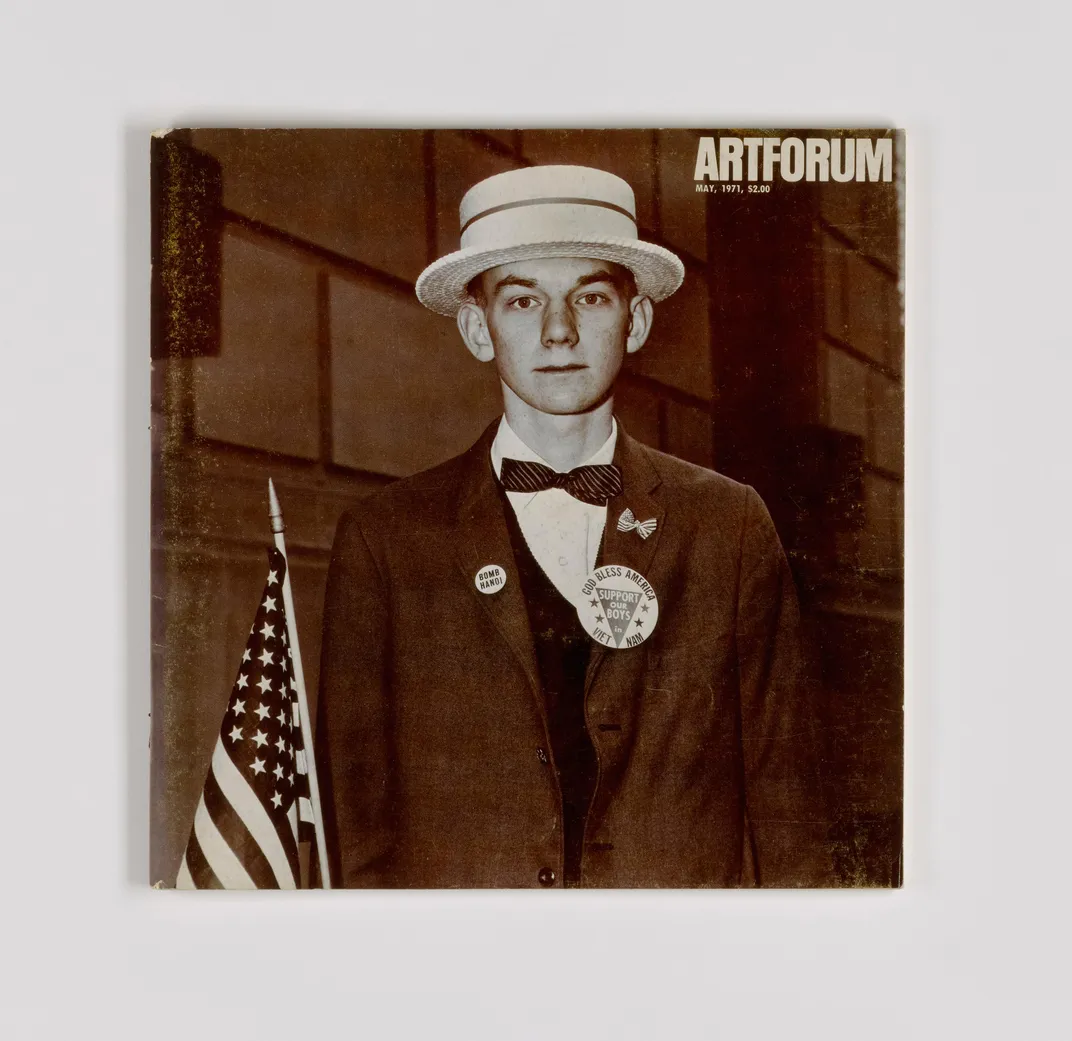 From 1962 to 1967, Arbus journeyed to nudist camps around New Jersey. She found them astounding, funny, shabby and full of paradoxes. "It was a naughty thing to do and it was terrific," she said during that 1970 talk. Arbus couldn't just go, fully clothed, and tromp around the camps. To gain the residents' trust, she stripped down, wearing only a camera around her neck and a hat on her head. The nudists told Arbus they were morally superior—because without clothing, there was no longer a sexual obsession. Meanwhile, "they have dirty magazines and they're really playing footsy all the time," said Arbus.
One of the shots in A box of ten—Retired man and his wife at home in a nudist camp in N.J. one morning, from 1963—drops into the living room of an older couple, as if the viewer were sitting in the corner, having coffee and chatting. They smile amiably. He wears slippers and she's got on a pair of flip flops; both are otherwise entirely nude. Arbus found it hilarious that they had two framed portrait photos of themselves on top of the TV, both in the buff.
She was known to ride her bike all over New York, hunting for subjects. The subway also provided rich fodder. On the underground trains, Arbus encountered a woman who looked like Elizabeth Taylor. She followed her and begged for her picture. Thus came, A young family in Brooklyn on a Sunday outing (1966), which depicted the wife, husband, baby daughter, and, in Arbus' own words, a "retarded" child.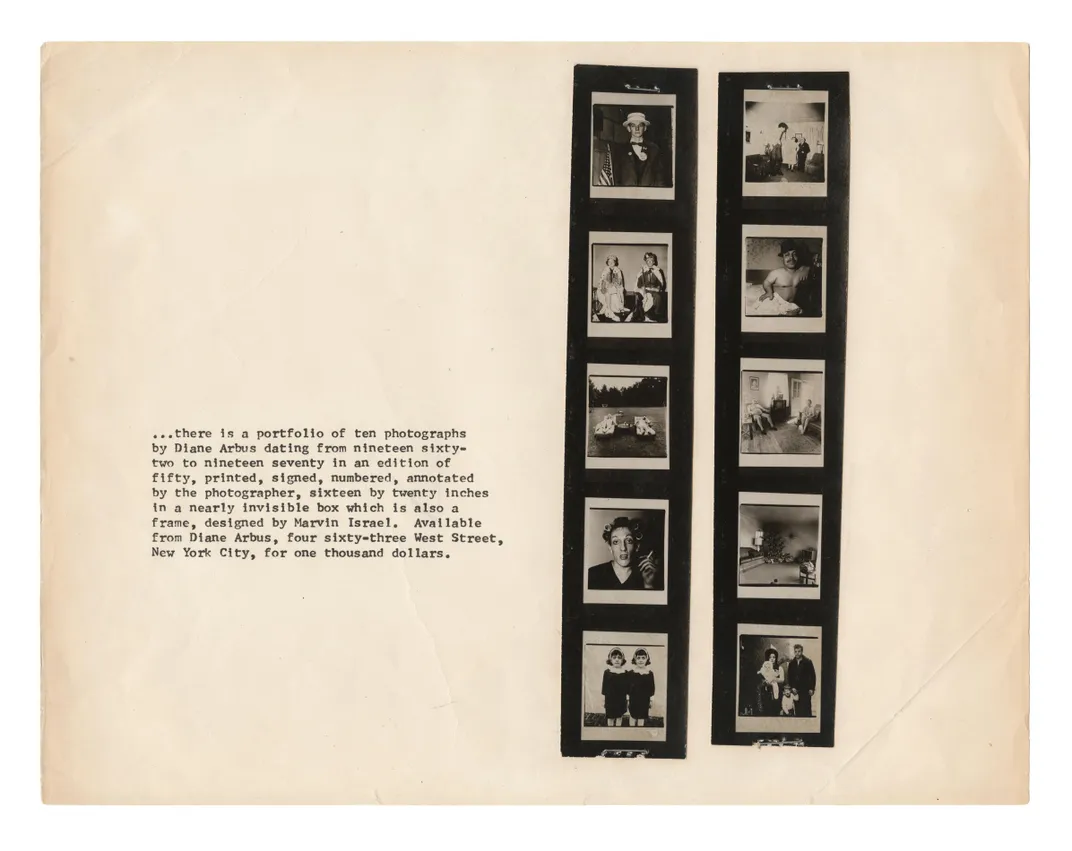 Arbus also habituated Hubert's Freak Museum in Times Square, especially a favorite after she saw—and then obsessively watched again and again—Tod Browning's 1932 film Freaks. One of her subjects from the various carnival shows she attended was Lauro Morales, a person with dwarfism who she photographed for a decade. In the 1970 photo she included in A box of ten, Morales sits half-naked in ruffled sheets, fedora jauntily perched on his head, pencil-thin mustache outlining full lips. He placidly stares directly at the camera. It's an extremely intimate portrait, as if Arbus just had sex with him.
She also turned that intimate gaze onto personal spaces. Xmas tree in a living room in Levittown, Long Is., N.Y. from 1962 puts the viewer right in the room. Two just-visible chair arms jut from the bottom of the frame. As it turns out, Arbus went to Levittown—home of the nation's first planned suburb—to spy. She caught this image by looking through a window. The presents under the tree "had this incredible Christmas wrapping," she said in 1970.
After seeing the Arbus portraits at the 1967 MoMA show, critic Marion Magid Hoagland wrote in Arts magazine that her works create a sort of transaction between the photograph and the viewer. "In a kind of healing process, we are cured of our criminal urgency by having dared to look," wrote Hoagland. "The picture forgives us, as it were, for looking. In the end, the great humanity of Diane Arbus' art is to sanctify that privacy which she seemed at first to have violated."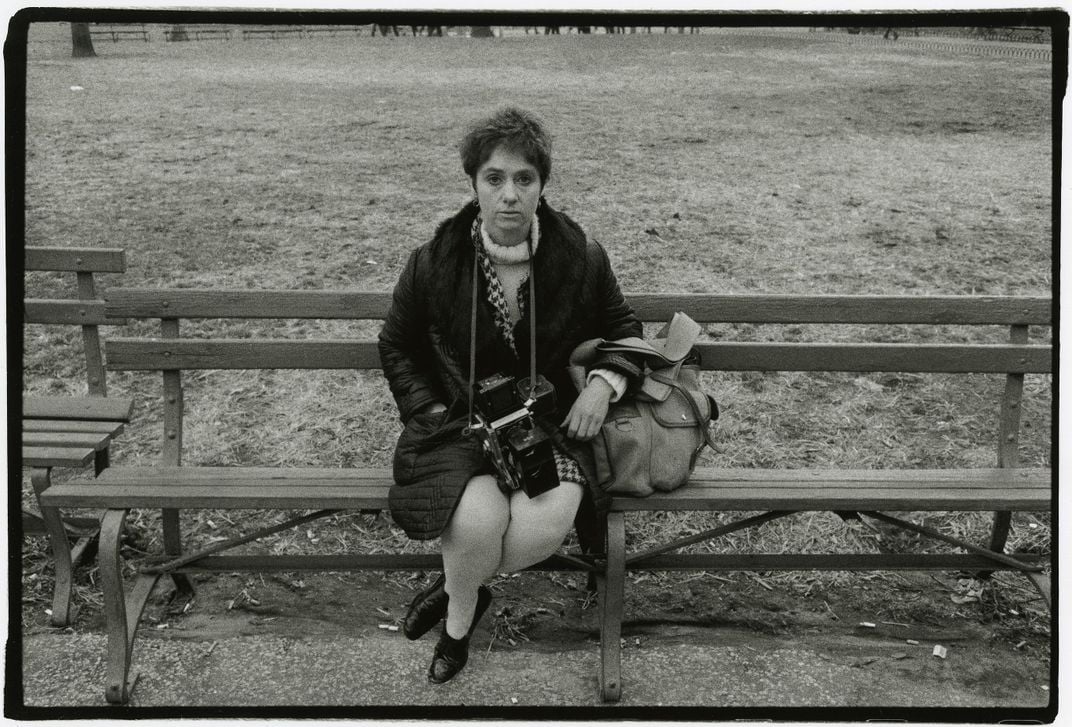 The struggle
While Arbus had some critical and curatorial recognition in the late 1960s—and the admiration of many of her colleagues in the photo world—her commercial work was declining. Arbus and her husband Allan separated in 1960, and finally divorced in 1969. For years, she struggled not just as an artist trying to make a living, but as a single mother with two daughters.
She was skeptical of the museum world—despite her growing acclaim—and often of her own abilities. Sometimes she said she took "rotten pictures."
And yet, Arbus "saw print sales as a potential source of income," says Jacob, the show's curator, even though purchasing prints as art was not yet common.
It was rough going. In 1969, MoMA bought two prints for $75 each. The same year, the Smithsonian Institution bought five prints for just $125. And after almost a year of protracted negotiation, in 1970, the Bibliotheque nationale de France received some 20 prints from her at about $20 to $30 each.
When she began putting A box of ten together, it was in the hopes of getting $100 each, or $1,000 total. Portfolios "were a labor of love," for Arbus and other artists, says Jeffrey Fraenkel, owner of the Fraenkel Gallery in San Francisco, which has exhibited many of Arbus's photos. "They didn't really make anybody any money. At best they established some sort of a stable stylistic identify that was disbursed into the world," he said.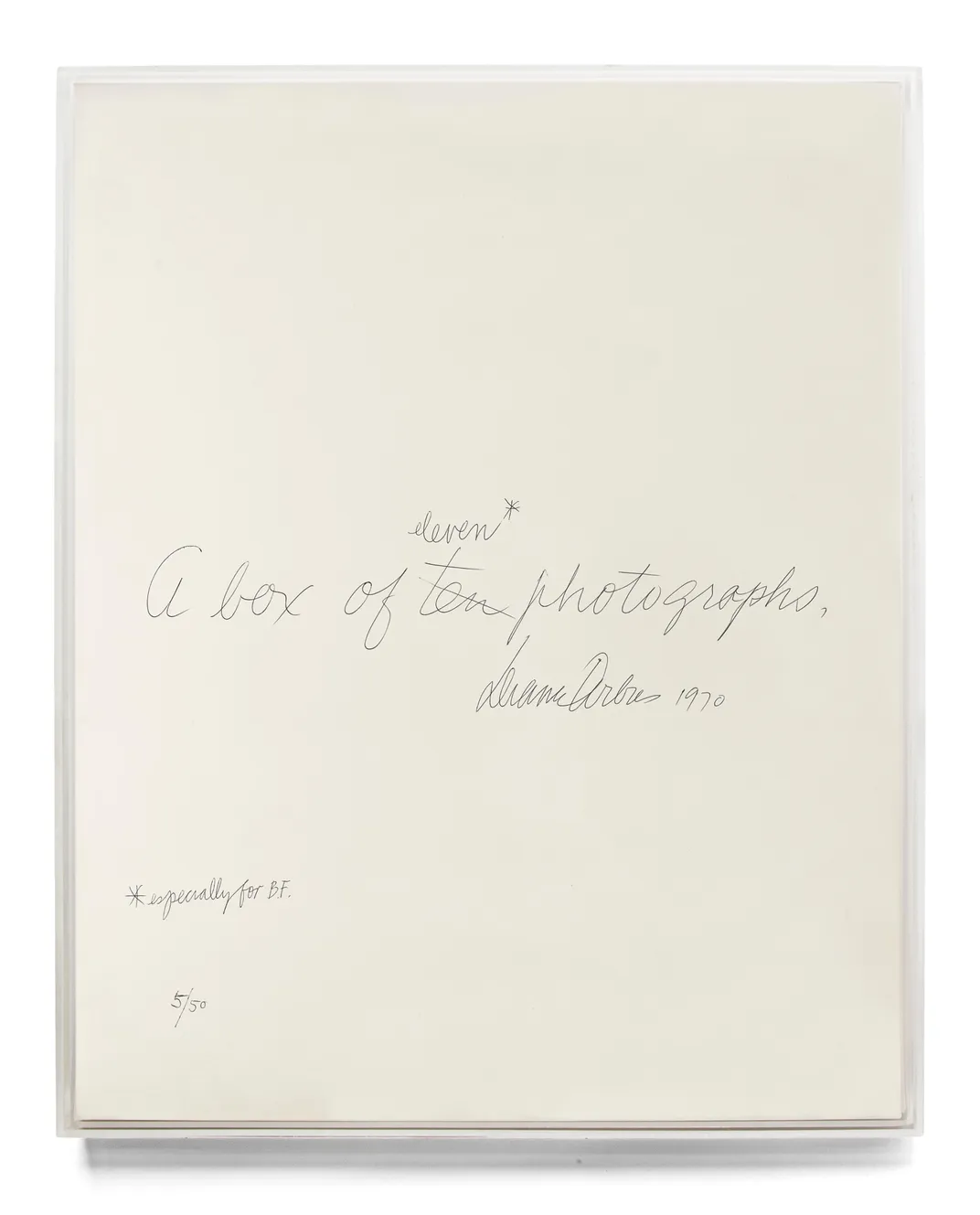 The portfolio itself—ten prints, each with an overlaid vellum paper in which she handwrote the captions—was housed in a completely clear plastic box, which "served both as the storage container and the exhibition frame," says Jeff L. Rosenheim, curator in charge at the photography department at the Metropolitan Museum of Art. The Met owns the entire Arbus archives. Instead of the photos being fixed statically on the wall, the owner of the portfolio "could rotate your pictures through and delight yourself, and I think she just must have loved that idea," says Rosenheim.
When Arbus sold a portfolio to artist Jasper Johns, she wrote to her ex-husband in late April 1971, "First one who doesn't know me," adding, "four are sold, two-and-a-half paid for. The owners are out of who's who. My confidence is absurdly on a roller coaster."
Arbus never knew how famous she was to become. After her suicide, her daughters Doon and Amy, decided to complete the edition of 50, as had been planned. Neil Selkirk, an Arbus student, printed the remainder. It was a difficult task, not least because Arbus had perfected her own idiosyncratic printing technique. Although she proclaimed that the taking of the photo was the most important aspect of her work, "no one was more bananas than her about the print," says Selkirk.
Many of those posthumous editions have been broken up for sale, having appeared at various auction houses. And, some of the complete posthumous editions have been sold, the most recently by Christie's in April 2018—for $792,500. Other posthumous complete sets are being held in museum collections around the United States, London, Amsterdam and Hannover, Germany. Three sets printed by Arbus, labeled "artist's proofs" because they do not have the vellum overlays, are held by the Tate London/National Gallery of Scotland, the Harvard Art Museums, and Pier 24 Photography in San Francisco.
But, as Arbus said in her 1970 talk, "Your images mean more to you than to anybody else."
"Diane Arbus: A box of ten photographs" is on view at the Smithsonian American Art Museum in Washington, D.C. through January 21, 2019.
A Note to our Readers
Smithsonian magazine participates in affiliate link advertising programs. If you purchase an item through these links, we receive a commission.