Why Making a Portrait of a Black Woman Was a Form of Protest
For Emma Amos, an African-American artist working in the 1970s, the personal was often political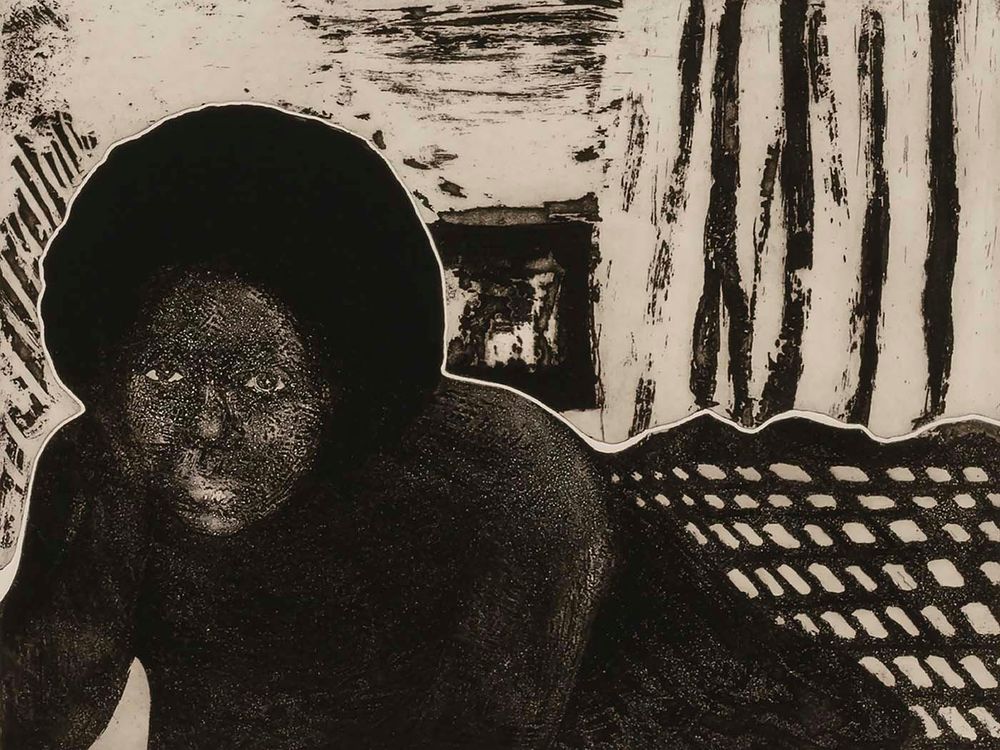 From a description of the print now, in 2017, it sounds perfectly traditional. A black-and-white etching on paper, an art form that has been around for 500 years. A portrait of a woman. In the background, probably some kind of domestic interior. A simple title, American Girl.
But in 1974, when artist Emma Amos made American Girl, now in the collections of the Smithsonian American Art Museum, the country was roiling with social protest movements—for women's liberation, for Black Power, for LGBT rights, for Native American rights. Once-silenced groups demanded to be seen and heard. Artists supported these protests not just by marching and writing but through visual arts. Black artists discussed whether particular mediums or styles advanced racial justice.
Romare Bearden, for example, had worked for years in collage, partly as a way to give prominence to images of real black individuals. Debate simmered over whether it was acceptable to be an abstract painter, or whether black artists' work "needed to be about the black experience in some way," most likely by depicting black people, says Alex Mann, the museum's curator of prints and drawings. Some artists at the time looked to Africa for inspiration and sought to create art for and about African people the world over. Others made work that was overtly political or radical, ranging from sculpture in the form of a Molotov cocktail aimed at Aunt Jemima to prints and posters calling for action.
American Girl is a quieter and more personal work than many of its time. Still, there are myriad ways for an artist to make a social statement. Amos herself would go on to make more openly political work. Says Mann, "Sometimes you speak in short sentences, and sometimes you use poetry."
Amos was attuned to both the civil rights movement and the burgeoning women's movement. Born in 1938, she grew up in Martin Luther King Jr.'s hometown, segregated Atlanta, where "she would not have been welcome in the museum," says Mary Ryan, co-owner of Ryan Lee Gallery in New York, which represents Amos today. (The artist herself is no longer available for interviews, but some of her works from the 1980s to the 2010s are on view at the gallery through mid-December.) Shortly after Amos moved to New York in the early '60s, a group of prominent black artists formed a collective called Spiral, to discuss the best ways their work could support the cause of racial justice. They invited Amos to join them, as the group's youngest member, and only woman.
The feminist art historian Linda Nochlin, who died last month, wrote a groundbreaking article in 1971, "Why Have There Been No Great Women Artists?," about the societal barriers women encountered in becoming artists. As a black woman, Amos faced those obstacles and more. She tried to find jobs teaching art in New York but was turned down repeatedly because, Mann says, she was "young, female, black." She was aware, he says, "that white artists and especially white male artists were not facing the same challenges." She struggled to make her voice heard, finding that galleries rarely exhibited black artists' paintings. Without a place to show her work, she was tempted to quit painting altogether, telling an interviewer, 'I'm stymied by the fact that I'll be stuck with more paintings. . . I'm making them for no reason. Nobody has ever seen them.'"
By 1974, when she made American Girl, Amos had begun breaking away from the Spiral group, questioning "whether the older male black artists who had supported her were taking her seriously and offering her full opportunity," Mann says. A few years afterward, Amos joined the feminist art collective Heresies, and later on she reportedly became one of the anonymous art-world activists the Guerrilla Girls.
American Girl is part of a portfolio called "Impressions: Our World, Vol. 1," which makes a statement in itself. Made up of prints by seven black artists, both men and women, it was produced at the Printmaking Workshop, run by the African-American artist Robert Blackburn. It was significant that a group of black artists arranged the project themselves. Many at the time had protested museums' failures to include the work of African-Americans, and black artists were seeking "a voice in defining the context in which [their] work [was] shown," says Evelyn Hankins, senior curator at the Smithsonian's Hirshhorn Museum and Sculpture Garden. All the prints in the portfolio are in black and white, the same color scheme that Spiral had chosen, because of its racial connotation, for the group's exhibition in the 1960s.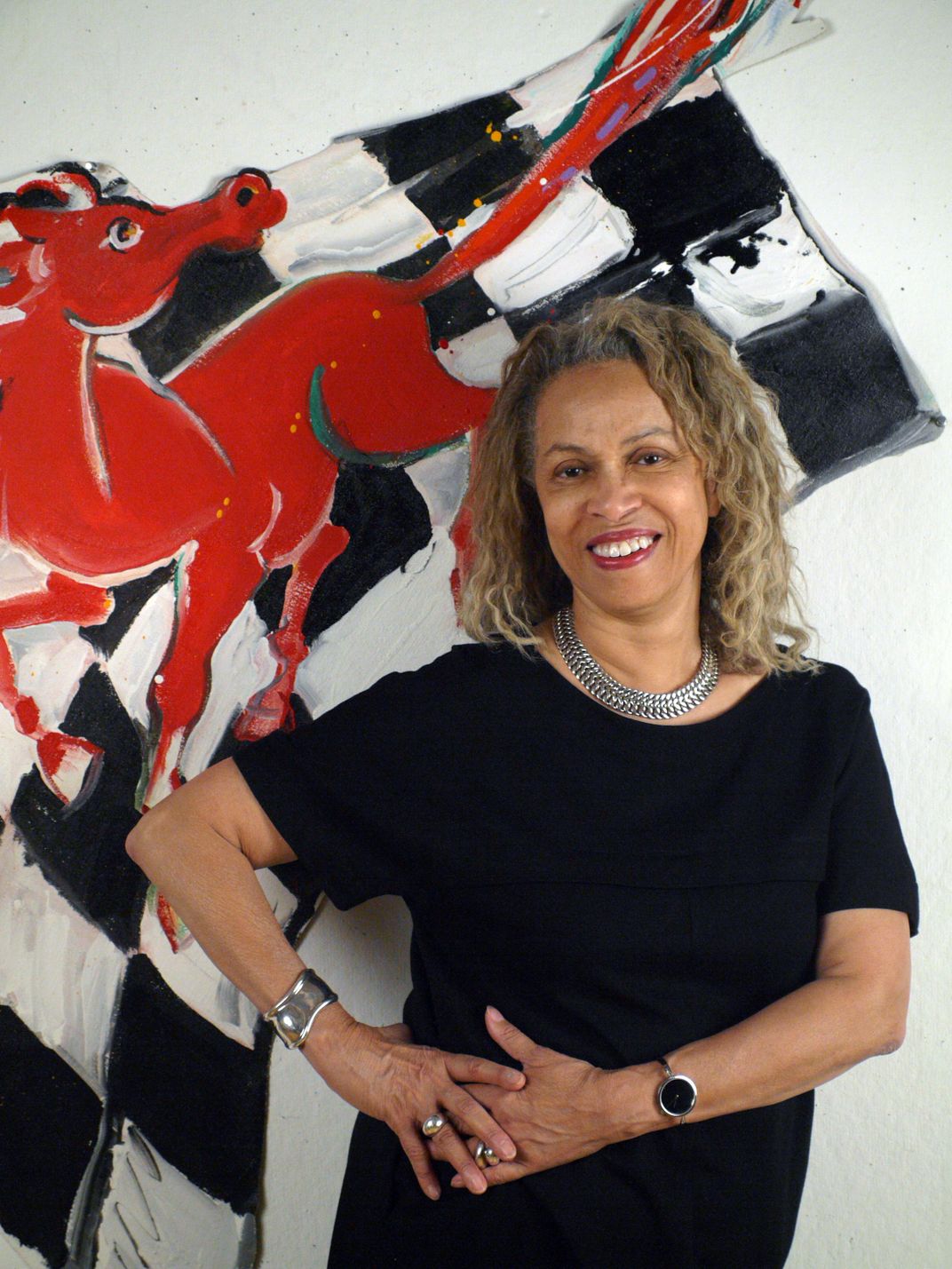 Amos's choices also seem telling. At the time, portraying any black figure, and especially a black woman—a figure almost invisible in the historical European-American canon—could be seen as social commentary. As if to make her fully visible, Amos depicts the woman apparently nude; Ryan says Amos "has always been interested in the beauty of the black body." The varying richness of black ink in the woman's hair, body and face reflect choices also. "Every time I think about color it's a political statement," Amos once said. As artists, "we're always talking about color, but colors are also skin colors, and the term 'colored' itself—it all means something else to me. You have to choose, as a black artist, what color to make your figures. . . butterscotch, brown or really black." The deep tones accentuate the woman's pale, wary eyes and the white line that divides her from her surroundings. To Hankins, she looks "separated or isolated from the world, maybe questioning her place in the world."
The subject of Amos's work may appear personal, even intimate, but in 1974 phrases like "The personal is political" and "Black is beautiful" were the rallying cries of protest movements. It would have been hard to see a work like this without reading in it some message. Kelli Morgan, curatorial fellow at the Pennsylvania Academy of the Fine Arts, who has studied Amos's later works, sees American Girl as "a representation of a black woman as the foundation of American society." She adds, "As a historian, I read it as a sociopolitical statement." As Amos herself would say some years later, "For me, a black woman artist, to walk into the studio, is a political act."
And then there's the title of the work, American Girl.  What does it mean to call this woman a girl? In 1974, women's liberation was in the air, and feminists argued that the word "girl" was demeaning. As for "American," black artists had been deconstructing its meaning for some time. Responding to the violence of the late '60s, Faith Ringgold had painted a flag with the words "Die N*****" concealed in its stars and stripes. In 1964, Lois Mailou Jones had addressed race relations with Challenge—America, a collage depicting black heroes, U.S. presidents, news clippings and the word "America" winding through them like a thread. In Amos's American Girl, Morgan sees echoes of an American flag in the pattern of vertical stripes and white flecks on a dark ground.
Then and now, Hankins says, works like these raise "the question of what it means to be American."
She adds, "It's a question we seem to be struggling with a lot."
American Girl is currently not on view. The  Ryan Lee Gallery's exhibition "Emma Amos: Black Bodies" is on view through December 16, 2017 at 515 West 26th Street, New York, New York.