Weekend events: Latin Jazz, Coral Reef Family Festival, Meet the Artist
Friday, April 15: Latin JazzThe John Santos Sextet will perform jazz from Cuba, Puerto Rico and the United States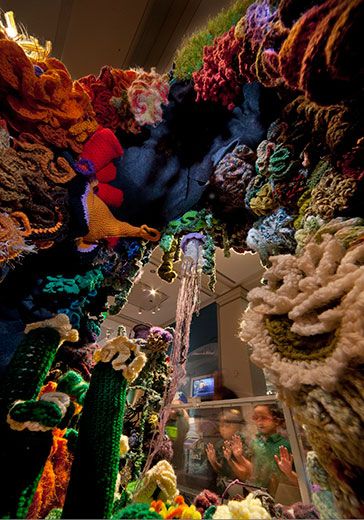 Friday, April 15: Latin Jazz
The John Santos Sextet will perform jazz from Cuba, Puerto Rico and the United States. Santos, a four-time Grammy nominee, is an expert of Afro-Latino music and is known for his innovative use of traditional forms and instruments in combination with contemporary music. He has performed, recorded and studied with some of the masters of Afro-Latin Jazz such as Cachao, Dizzy Gillespie, Tito Puente, Bebo Valdés, Lázaro Ros, Armando Peraza and Eddie Palmieri. Sextet members include Santos, Saul Sierra, Marco Diaz, John Calloway, Melecio Magdaluyo and David Flores. Free. Natural History Museum. 6:30 PM to 8:00 PM.
Saturday, April 16: Celebrating the Crocheted Coral Reef
Families with kids take note. At the crochet coral reef exhibition over at the Natural History museum, a festival of fun is planned. Kids are invited to learn how to crochet, color a coral reef button and meet Sanctuary Sam, the sea lion mascot for Quiksilver. Smithsonian zoologist Stephen Cairns will be answering questions about coral reefs and the creatures who live in and around them. Check out this article about the reef exhibition from Smithsonian. Free. Natural History Museum. Exhibition closes April 24. 11:00 AM to 3:00 PM.
Sunday, April 17: Meet the Artist, Silversmith Ubaldo Vitali
Silversmith Ubaldo Vitali is one of only four artists to be selected for this year's Renwick Craft Invitational. Vitali trained under the guild system in Italy and is the only member of the Roman goldsmith's guild who lives outside Italy. He designs using traditional techniques with a modern flair. The artist be in the gallery Sunday to answer questions about his life and work. ATM blogger Jeff Campagna interviewed Vitali earlier this month. Free. 1:30 PM. Renwick Gallery
​For updates on all exhibitions and events, visit our companion site goSmithsonian.com