Two Hungry Reporters Dig Into the Sweet Home Café at the African American History Museum
We're still digesting the rich narrative—but mostly, the Georgia shrimp and Anson Mills stone ground grits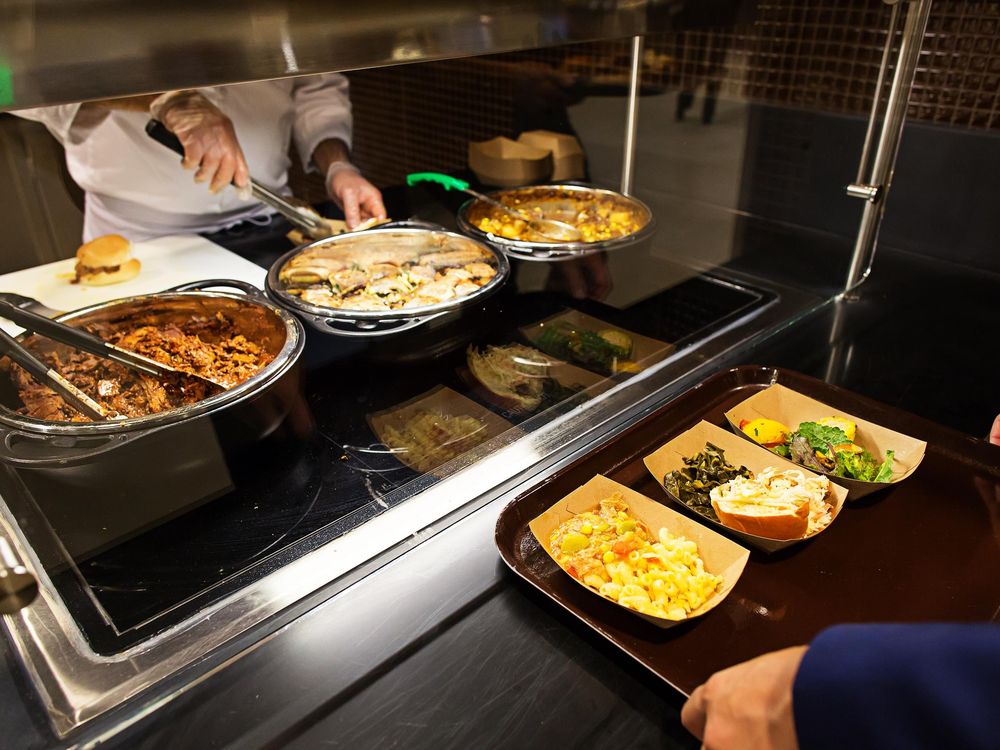 When the National Museum of African American History and Culture hosted a soft opening, we came hungry. The museum, more than 100 years in the making, brimmed with treasures. Untold stories and famous tales burst to life through artifacts in the exhibitions. But we headed straight down the museum's magnificent central staircase to the below-ground Sweet Home Café. We were on assignment to report on the food. And reader, we did.
The 12,000-square foot café is divided into four stations, which honor the geographic regions of African-American culture—the North States, Agricultural South, Creole Coast and Western Range. We sampled from each, stuffing ourselves with the rich offerings, Georgia shrimp and Anson Mills stone ground grits, slow-cooked collards and cornbread sticks, empanadas heaped with black eye peas, golden corn and chanterelles, not to mention Johnston County sweet potato pie. What we couldn't eat, we shamelessly snuck home in our purses—paper napkins lovingly protected a Wild Turkey pecan pie and the remains of a BBQ buffalo brisket sandwich.
To eat the food at the Sweet Home Café is to take a bite out of history—an authenticity of ingredients and culinary skill passed down and reinterpreted by generations of black home cooks and gourmet chefs around the country. This food has been shaped by regional cuisine and distinctive cultures, but also by history, something impossible to be forgotten when you see the counters and stools lining two walls of the 400-seat cafe, recalling the Greensboro sit-ins in North Carolina and the brave civil rights activists that sat down to peacefully protest Woolworth's white's-only lunch counter service in 1960. While we eat, images and quotes from historical and modern black voices are the backdrop, from the towering image of the Greensboro Four to a quote by Michael W. Twitty, who pens the food blog Afroculinaria.
"Our food is our flag...it sits at the intersection of the South, Africa, the Caribbean and Latin America," he writes.
The man behind the Sweet Home Cafe menu is Albert Lukas, supervising chef of Restaurant Associates. Drawing inspiration from the Mitsitam Cafe at the National Museum of the American Indian, Lukas set out to learn about the dynamic range of flavors and cooking styles of black America. He spent the last two years studying and savouring foods across the country, wandering through local markets and chatting with renowned chefs.
"In a professional kitchen," says Lukas, "you have your knife, you have your cutting board, you have your box of vegetables. We have a rhythm of how we process food—you're just hanging your head low and you're chopping away."
But home cooks or semi-professionals make slow and purposeful slices of each piece of fruit or vegetable. "They might not be the most efficient," Says Lukas. But, he adds, "they're much much more connected to the food that they're preparing."
On his journey, Lukas steeped himself in this connectedness with the land and stories from centuries of history, melding oral history tales with explosive flavors. "We're trying here to tell not only a story of the food, but the story of the people through the food we serve," he says.
One of his favorites speaks to the café's Thomas Downing-inspired Oyster Pan Roast. A free African-American from Virginia, Downing moved to New York City where he operated the renowned Downing's Oyster House. At the same time, he and his sons housed escaped slaves in the basement of the restaurant as a stop on the underground railroad.
Lukas came across Downing's story and knew he needed a dish dedicated to his story on the menu. "There's not much that you can take from an oyster house menu and say that it was truly his," he says. "But the Oyster Pan Roast is such an iconic New York dish that we thought it would be a great idea." The dish is made at the café with local oysters caught from the Chesapeake.
Another great meal with a story attached? The Son of a Gun Stew, which, Lukas says the staff "affectionately refer to it as the polite version of the original name." The dish came after the Civil War when many newly emancipated African Americans headed West for a new life. Many became ranchers and Son of a Gun Stew was a traditional ranch-hand lunch that incorporated low-grade meats that wouldn't have been sold at market.
Lukas was intrigued by how these lesser meats were made palatable when mixed with fresh vegetables and other foods found on a chuck wagon. Taking inspiration from that, he created a stew of braised short-ribs with corn, turnips, potatoes, barley and sun-dried tomatoes. 
"Here's a dish telling the story, which is a part of history that many don't know much of at all. Western Range and the migration through the West through food," he says.
Lukas' Gospel Bird is intended to be a shared platter, where guests can purchase a whole, buttermilk fried-chicken, with sides of macaroni and cheese, collard greens and biscuits.  
"Your average grandma chops up the chicken and she cooks it a few minutes." Instead, he says his is a three day process. "We're bringing our chicken in a seasoned brine, and day two, we're soaking it in buttermilk—a seasoned buttermilk bath—and then on day three, we put it a seasoned shower, and then we fry it." 
He's proud of the fact that the cafe has embraced a basic comfort food and prepared it with modern methods. Each recipe on the menu went through extensive taste testing and participants offered feedback. "The chicken was quite popular," says Lukas.
The menu will be far from stagnant, says Lukas. It will evolve overtime in both ingredients and cooking styles, changing along with the seasons. As the leaves turn orange and the air becomes crisp, pumpkin, squash and turnips will creep into dishes. And as the skies become gray, hardy stews will help warm visitors from the inside out.
Visitors during Black History Month can expect a treat. "We have not gotten the menu nailed down yet for that," says Lukas. "But we are looking forward to really making a nice, big statement."
Lukas is ready for the museum's grand opening. "I am excited about serving all of this great food that we are so proud of to the large crowds that come in," he says. "I'm also really nervous about the large crowds that are coming in." Upwards of 20,000 visitors are expected to surge through the museum's doors opening weekend.
The food might not be what your grandmother served, but Lukas hopes to capture the stories and comfort of each region of the country. "It's a style of cooking that has origins that have now spread over into what I would define as easily identifiable comfort food for all of us to enjoy," he says.
Most importantly, he explains, the food touches the hearts of so many—including the Sweet Home Café staff. "The passion that our hourly employees, our cooks, have for opening up a new museum where they have such a strong cultural identification to the project is really inspirational," says Lukas. "It's really great to see the excitement in the eyes of our young cooks."
There's no doubt we will be returning to the Sweet Home Café—stomachs hungry and tupperware ready.