There's a tendency, in the world of arts and culture, to urge people to watch a production or a film or a program with big gusts of immediacy. The hope is that the beautiful thing that's been created won't get lost in competition for an intended audience's attention. Most often, that tactic works—FOMO, if not the actual love and appreciation of experiential learning, is a hell of a ticket-seller. But that's not how the Anacostia Community Museum in southeast Washington, D.C. has approached "The Utopia Project," an immersive exhibition that helps visitors envision a social problem backward, starting with its solution.
 
Swatting away urgency for relevancy, supervisory program manager Asantewa Boakyewa and her team designed the exhibition's series of activities to compel young people and others committed to community problem-solving to mentally digest a series of strategically posed questions posted throughout the gallery. A new age calls for new approaches, the introductory explanation reads, and that means investing time and thought to wholly engage the exhibition's five-part process: feel, dream, gather tools, act and reflect.
Choose an issue, imagine your local community healed of it and then figure out, with the assortment of resources provided, how to make that happen. The goal is to not only amplify the interactivity of the exhibition itself but also to activate the personal investment and involvement of every person who engages it. Essentially, Boakyewa believes we're all keepers of solutions.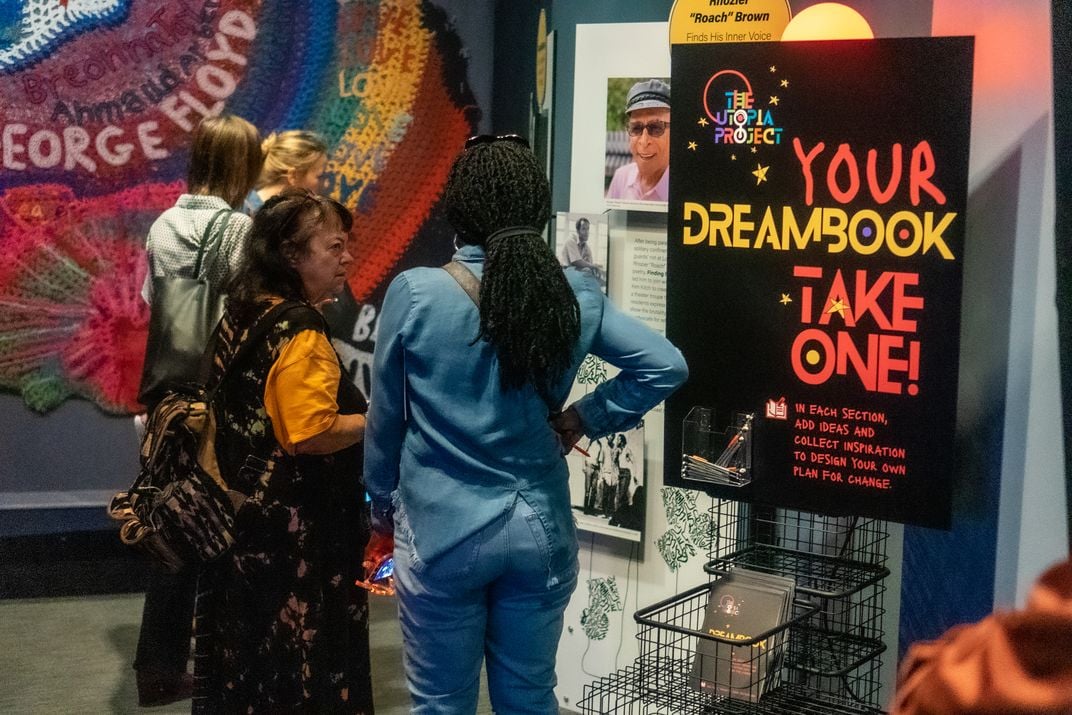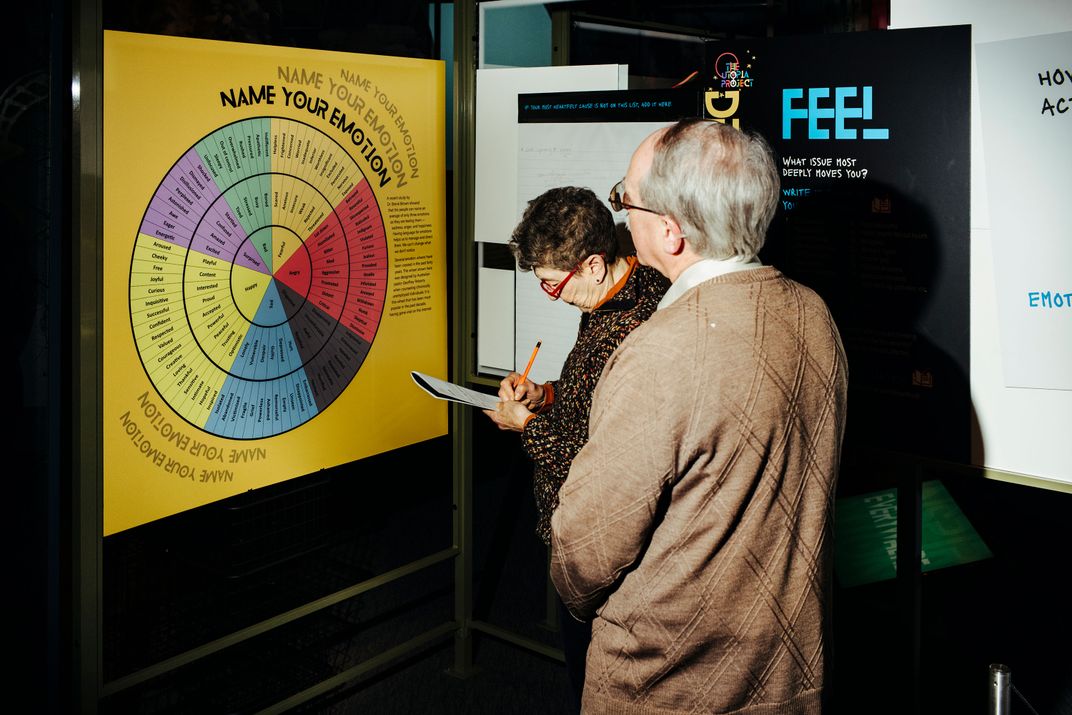 "The experience that we're about to walk through is not a solo topic of focus. It's designed to think about all of these issues holistically, provide a reprieve and a space for reflection, thought and ultimately action for our visitors," she explains at the exhibition's entrance, where a large white archway—called the Power Portal in a nod to Afrofuturism—stands as an ingress to the possibilities ahead. On the other side, visitors are invited to take a Dreambook, a 17-page booklet sectioned to follow the exhibition's trajectory, where they can document their notes, reactions and inspired ideas. Boakyewa doesn't want us to just view the exhibition—she wants us to respond to it.

"Visitors can learn about the history of Washington, D.C., especially Wards 7 and 8, the culture and what's happening today, but also think about how they are active participants in that," Boakyewa says. "How can they advocate for food justice, for example, for themselves—either as an individual, as part of an organization, as a parent, as a student, as a person who lives and breathes air? What role do we, the community, have in not only the present that we experience today, but the future?"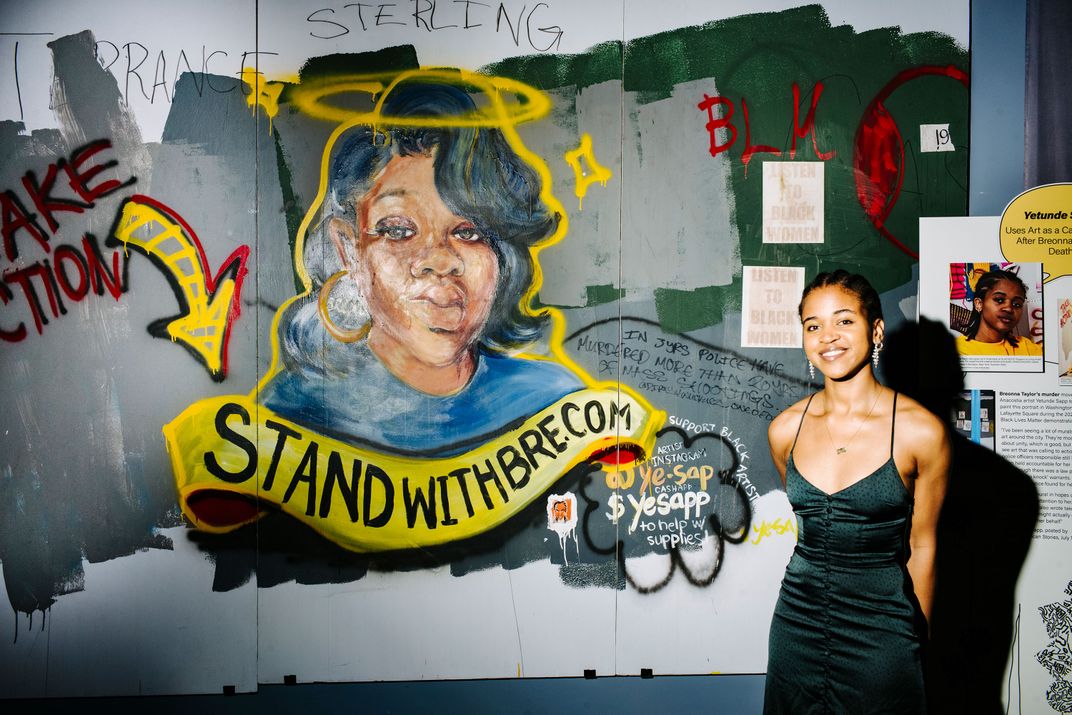 You don't have to know much about Wards 7 and 8 to be familiar with the omnipresent dynamics that press upon the more than 155,000 residents who live there. The area east of the Anacostia River, subdivided from well-resourced parts of the city, has all of the same challenges that exist in other predominantly Black sections of other major cities. Food deserts and housing instability. Underemployment and overpolicing. They contrast starkly with the storied parts of the nation's capital that are so prevalent on postcards and in B-roll footage—the White House, the Capitol, the Washington Monument. Laws and leadership are the local export, but there are thousands of people in those two wards and other parts of the very same city fighting just to equitably participate in the fundamental guarantees of the Constitution.

Throughout the gallery, memorabilia and photos from the Anacostia Community Museum's ever-growing collection are part of that storytelling, providing real-world examples of community members who have lived out their own iterations of activism. Most are average, everyday people who saw a need and stood to address it locally and communally with what they knew and had available to them. As folks on social media and other platforms tussle over ownership of the word "activist" and who is entitled to self-identify as one, the exhibition broadens the linear definition and the conversation around it to include local figures who have done and are doing meaningful work, sometimes quietly, sometimes boldly, but always radically.
Among them is Rhozier "Roach" Brown, who created the Inner Voices theater troupe to help incarcerated men positively express themselves during their time at Lorton Reformatory in Northern Virginia, once one of the most notorious and overcrowded prisons in the country. (It's since been closed and reinvented as a mixed-use retail and residential community.)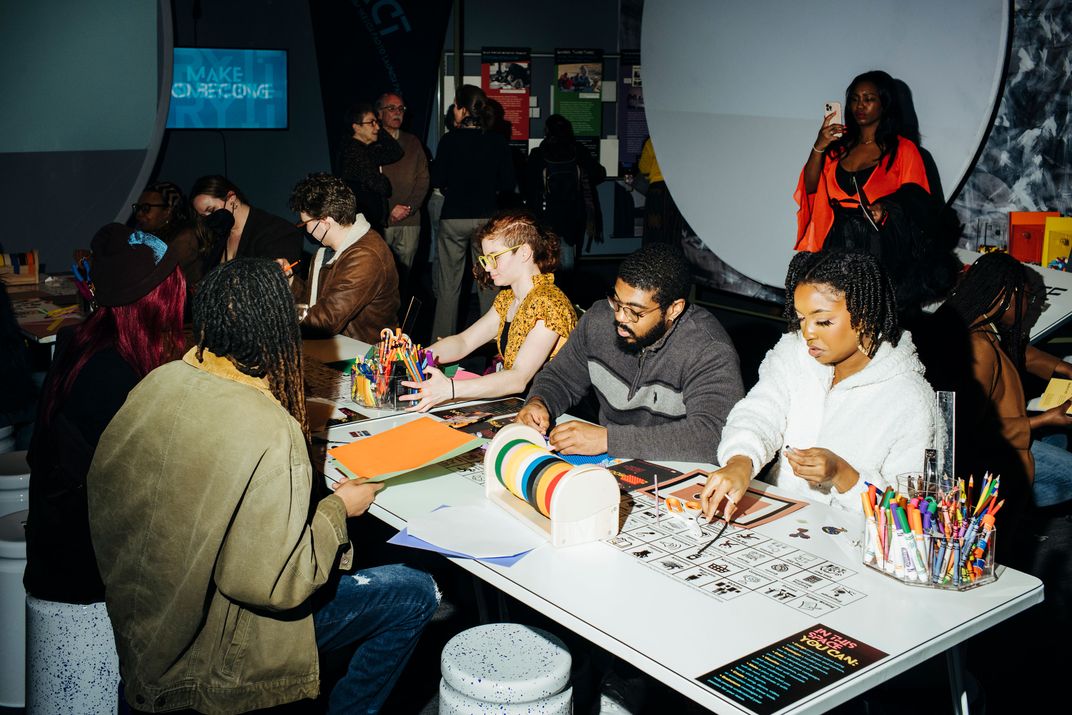 One wall of the exhibition displays two large-scale pieces of art dedicated to George Floyd and Breonna Taylor, the latter acquired by the museum in 2021 directly from artist Yetunde Sapp, an Anacostia native, after she painted it as a mural during the Black Lives Matter protests the year before in Lafayette Square. Visual art can be an expression of participatory activism, an articulation of emotion or thought from the artist that elicits a response from the people who view it. "It's meant to be engagement, not just looked at," Boakyewa says.

It's also meant to be future-forward, and everything from the font choices to the inspiration of George Clinton's Mothership connect to the Afrofuturism that threads through the gallery. What will things be like once you've succeeded in changing the world? one display asks. Describe one new thing or place or experience. There are examples to kick-start readers' visions for the future: Community gardens are everywhere. Public safety is collectively managed by community members without policing. Restorative justice systems replace prisons. Anyone eligible to vote in the United States who wants to vote can. Transgender-friendly spaces are found everywhere. Then, the sign urges, draw or write your own ideas down in your Dreambook.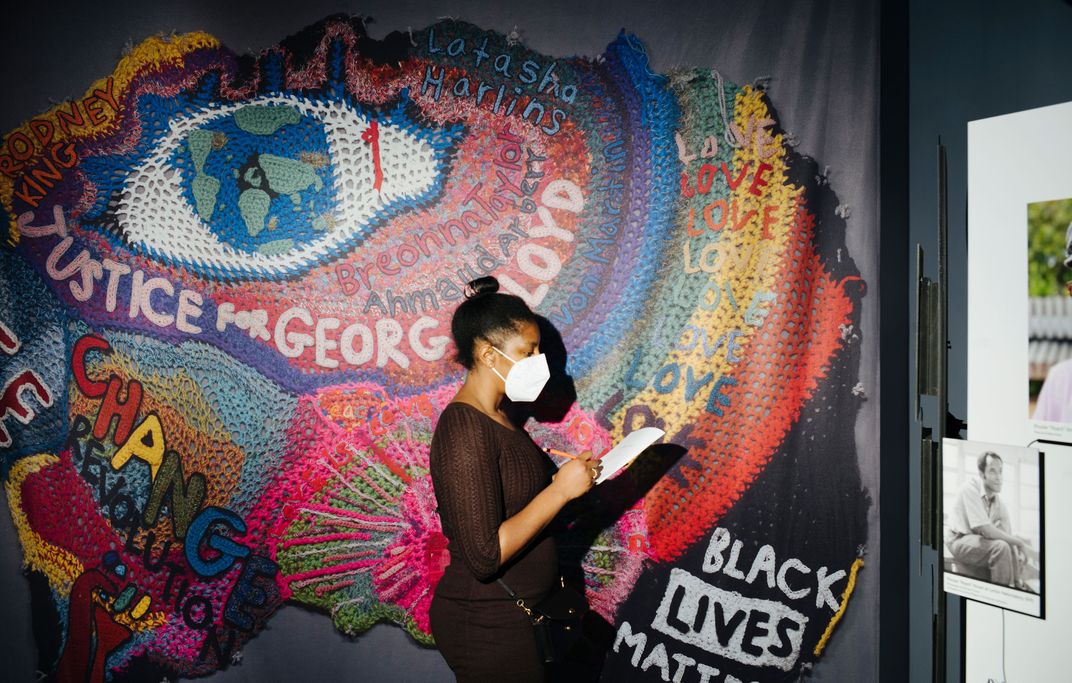 At the end of the exhibition is a "Maker Space" outfitted with paper, cardboard, Legos, crayons, whiteboards, tape, anything visitors need to construct a prototype for their ideas. The hands-on creation of a tangible solution can be time-consuming—there's no limit on how long folks can sit in creative contemplation, though Boakyewa notes that most young people who visit during the week are on the predetermined time constraints of a field trip. Groups are encouraged to schedule time to visit, and museum staff is eager to accommodate classes from nearby schools and other institutions before the exhibition closes on March 1.

"When an individual walks through this experience, they are a part of history, and now they can contribute to the future," says Boakyewa. "We want them to feel that."
"The Utopia Project" is on view through March 1, 2023 at the Smithsonian's Anacostia Community Museum.