Thirteen Books That Informed and Delighted Smithsonian Scholars This Year
With a mission to increase and diffuse knowledge, Smithsonian thought leaders are voracious readers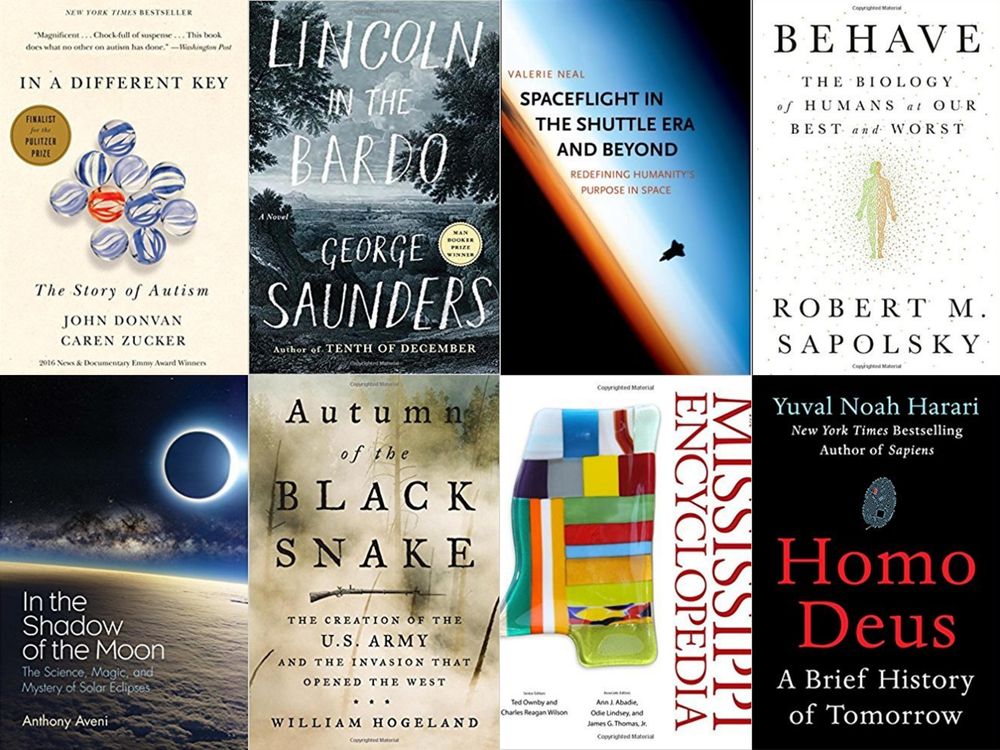 Books, long the wellspring of knowledge and inspiration, play a formative role at the Smithsonian Institution. The organization's thought leaders—a fiercely independent band of outspoken curators, historians, conservationists, educators, field scientists, archivists and researchers—take their books seriously.
At the Smithsonian's nine global research facilities and 19 museums, these men and women craft world-class exhibitions, make scientific discovery, mentor next-gen scholars and produce a vast array of articles and publications.
Smithsonian.com is pleased to host the popular Curators' Corner, where Smithsonian scholars make editorial contributions on topics from popular film criticism to the controversial issues of the day. Where else might you find a folklorist's take on the film Thor: Ragnarok, a marine biologist's disquisition on the Vaquita, an endangered porpoise, an educator's critique of how we teach the Civil War, or a museum director's umbrage over the name of Washington's D.C.'s football team?
We thought you'd be interested to know what informs their work and scholarship, so we asked a handful of curators, historians and scientists to tell us what books they have been reading this year.
Recommended by Kim Sajet, director, National Portrait Gallery
Sheryll Cashin, a professor of law at Georgetown University and member of the National Portrait Gallery's Board of Commissioners since 2008 currently serving as vice-chair, has a relatable style of writing that makes Loving both engrossing and informative. On the 50th anniversary of the Supreme Court's decision to allow the bi-racial couple Richard and Mildred Loving to marry (Loving v. Virginia), Cashin posits the compelling idea that a small but growing number of culturally dexterous citizens will provide a cultural 'tipping point' of inter-racial respect that will result in a more pluralistic and humane America. Especially in urban areas led largely by millennials of whom 54 percent currently have friends of a different race, the increasingly common practice of inter-racial intimacy and marriage will break down the anxieties that have dominated much of American history.
Recommended by James Barber, National Portrait Gallery, curator and historian, "One Life: Babe Ruth"
Stewart, is a master at recreating the world in which Babe Ruth thrived, namely the energy and carefree spirit of the "Roaring Twenties." He also skillfully explores race relations and the social barriers that divided Americans.
Recommended by Peter Manseau, curator of religion, National Museum of American History
It may be unnecessary to recommend a bestselling novel that won this year's Booker Prize, but I'd encourage history-loving readers to pick up George Saunders' Lincoln in the Bardo for a reason I've not seen mentioned. This author's poignant story of Abraham Lincoln's grief at the death of his son Willie, along with his magical realist account of the souls who linger with Willie in the afterlife, provides as unexpected view on aspects of popular religion in the 1860s, a period in which widespread mourning during and after the Civil War contributed to the practice of spiritualism, the belief that the living can communicate with the dead. Lincoln in the Bardo is a moving and, yes, haunting depiction of a man and a nation nearly undone by loss.
Recommended by Christopher Wilson, Director, Experience and Program Design and the Program in African-American History and Culture, National Museum of American History
Between this year's debate over the legacy of slavery and exposure of the prevalence of sexual harassment and abuse, I became more interested in and attuned to hypocrisies between American ideals and practices through history. There is no more conspicuous example of this than the sacredness with which Americans have held marriage between a white man and a white woman and the apathy or downright disdain that has greeted African American marriage through much of our history. In Bound in Wedlock, Princeton Historian (and former Smithsonian fellow), Tera W. Hunter examines the consequences of the sexual economy of slavery that capitalized coerced sex between slaves and slaveholders, the discriminatory legacy of white Christianity on black married couples, and the effects of oppression, racism and brutality on African American marriage in bondage and freedom. While she documents the myriad ways slavery and subjugation disfigured black marriage and families, her work challenges the pervasive notion that they were destroyed by it, which has often been used as a reason to denigrate modern day blacks and their communities as hopeless. As she recounts the many pernicious damages of slavery that seldom enter our national consciousness, her work reminds us that despite that suffering, African Americans were able to create meaningful bonds of wedlock.
Recommended by David DeVorkin, curator of history of astronomy and the space sciences, National Air and Space Museum
I was delighted to be asked to comment on this author's timely book that he prepared for the August 2017 solar eclipse and, indeed, for future eclipses. I wanted to read it anyway, to prepare myself for that incredible event. Tony's relaxed and informative writing style made the read most enjoyable and profitable, describing how eclipses have been predicted in past time, and how different cultures, past and present, reacted to them.
Recommended by Margaret Weitekamp, curator of space history, National Air and Space Museum
At risk of just seeming to tout the Air and Space Museum's own scholars, one of the most exciting new space books this year was written by the chair of the Space History Department. Valerie Neal's new book, Spaceflight in the Shuttle Era and Beyond: Redefining Humanity's Purpose in Space, is one of the very first books to step beyond a mere retelling of the space shuttle story to consider the cultural place of that program in American history. It's a great new look at a recent history that you thought you knew.
Recommended by Lawrence-Minh Bui Davis, curator, Smithsonian Asian Pacific American Center
This special issue of Poetry Magazine, the oldest and widest-circulating English-language poetry periodical, is Poetry's first issue devoted to Asian American poetry. I'm particularly fond of it because it was created in partnership with the Smithsonian Asian Pacific American Center for our July 2017 Asian American Literature Festival, and I served as a guest editor. It features new poetry by such luminaries as Li-Young Lee, Mei-mei Berssenbrugge, Vijay Seshadri, Garrett Hongo, Ocean Vuong, Paisley Rekdal, Aimee Nezhukumatathil, Kimiko Hahn, Arthur Sze and Kazim Ali.
Recommended by Nick Pyenson, curator of fossil marine mammals, National Museum of Natural History
Is bad behavior in our genes or is it something about how our brains get wired by living? Behave is Sapolsky's doorstop-sized opus on these questions; it's also maybe the only book you need on the topic when you realize that an avuncular neurobiologist-cum-primatologist is the best (and funniest) tour guide for the wide-ranging answers.
Recommended by Sylvia Orli, botany digitization manager, National Museum of Natural History
This book explores the history of the autism spectrum disorder, including the first recognized case of autism in the 1940s, the treatments and theories about autism over the last 75 years and the more recent demand for civil rights for people with autism. As a parent of a young man with autism, by reading this book I finally understood the context in which we were thrust in to when my son was born nearly 18 years ago. My husband and I realized that all of the benefits and rights that our son was given in his education and home life were due to the hard fought efforts of so many parents from before us. I thought the book was fantastic, and apparently, so did the Pulitzer Foundation as the book was a finalist for the 2017 Pulitzer Prize in General Nonfiction.
Recommended by Paul Frandsen, research data scientist, Data Science Lab
In a sequel of sorts to his compelling book, Sapiens: A Brief History of Mankind, Yuval Harari presents a plausible scenario for the future of humans and gives provocative insight into what our next challenges may be after we have solved the problems that have plagued humans for millennia (hunger, disease, etc.). While the future that he paints is certainly not guaranteed, given the current acceleration in technologies like artificial intelligence and gene editing along with ever widening inequality, I think the issues that he outlines are extremely important areas for discussion and thought.
Recommended by James Deutsch, curator, Smithsonian Center for Folklife and Cultural Heritage
Mississippi is . . . complicated, as we might say on Facebook. It's a state that has produced authors as renowned as William Faulkner, Eudora Welty and Richard Wright, but it typically ranks at the bottom in national surveys of educational performance. As someone who lived two years in the Mississippi Delta, I am endlessly fascinated by the state, and by many of the 1,600 entries on everything under the (blazing hot) sun in The Mississippi Encyclopedia.
Recommended by Marjorie Hunt, curator of folklife, Smithsonian Center for Folklife and Cultural Heritage
This beautiful, informative and exquisitely produced book features 100 extraordinary traditional artists from across America, each a recipient of the National Endowment for the Arts National Heritage Fellowship—the nation's highest award for excellence in the folk and traditional arts. Folk Masters is a stunning tribute to the great diversity of cultures and artistic traditions that enrich our country.
Recommended by Cécile R. Ganteaume, associate curator, National Museum of the American Indian
Hogeland's riveting account of the formation of the U.S. Army not only dramatically brings to light the violence of the nascent United States' westward expansionism, but also the political and military lives of the powerful individuals determined to: one, both halt and lead the country's expansionism; and, two, create a U.S. Army despite strong skepticism. Noteworthy through it all is Hogeland's ability to create absorbing portraits of Miami and Shawnee war leaders, Little Turtle and Blue Jacket.