There's something sobering about Summer, a photograph from Wendy Red Star's Four Seasons series. It's not the sun-drenched forest or bed of lemon-yellow, cherry-red and ivory blossoms. Neither is it the snow-capped mountains or spindly pines. It's the Apsáalooke (Crow) artist herself, pictured in the foreground, looking at something in the distance with a gaze that startles. The setting, on closer inspection, is artifice: the mountains, a photograph; the florets, mere plastic. She alone is alive, eyes affixed on a world out of frame.
So opens "Many Wests: Artists Shape an American Idea," an enthralling survey of 48 modern and contemporary artists at the Smithsonian American Art Museum in Washington, D.C., the final stop on a two-and-a-half-year tour. By turns serene and harrowing, the West here brims with life. In one canvas, Michael Brophy's Beaver Trade, a sky of muted blues, ashy purples and flamingo pinks is broken by a totem pole scarred with tendril-like footprints. In a photograph, from Christina Fernandez's series Maria's Great Expedition, a woman stands, slumped-shouldered, before a teal wall and rusting stove. Her gaze is unnerving. "I'm here," she seems to say. "I always have been."
"These artists are speaking from a place they know well," says Anne Hyland, curatorial coordinator of the museum's Art Bridges Cohort Program, a five-year exhibition partnership funded by the Art Bridges Foundation. Arrayed on the exhibition's jewel-toned walls is the work of Black, Asian American, Indigenous, LGBTQ+ and Latinx artists, for whom the West is a lived experience, explains Amy Chaloupka, curator at the Whatcom Museum, where the exhibition traveled last year. "It is imbued in who they are," Chaloupka says. Some of the works provoke, others shock, and still more delight. But they are all, uniformly, present: Here is life laid bare. This is not a Wild West but a pulsating one.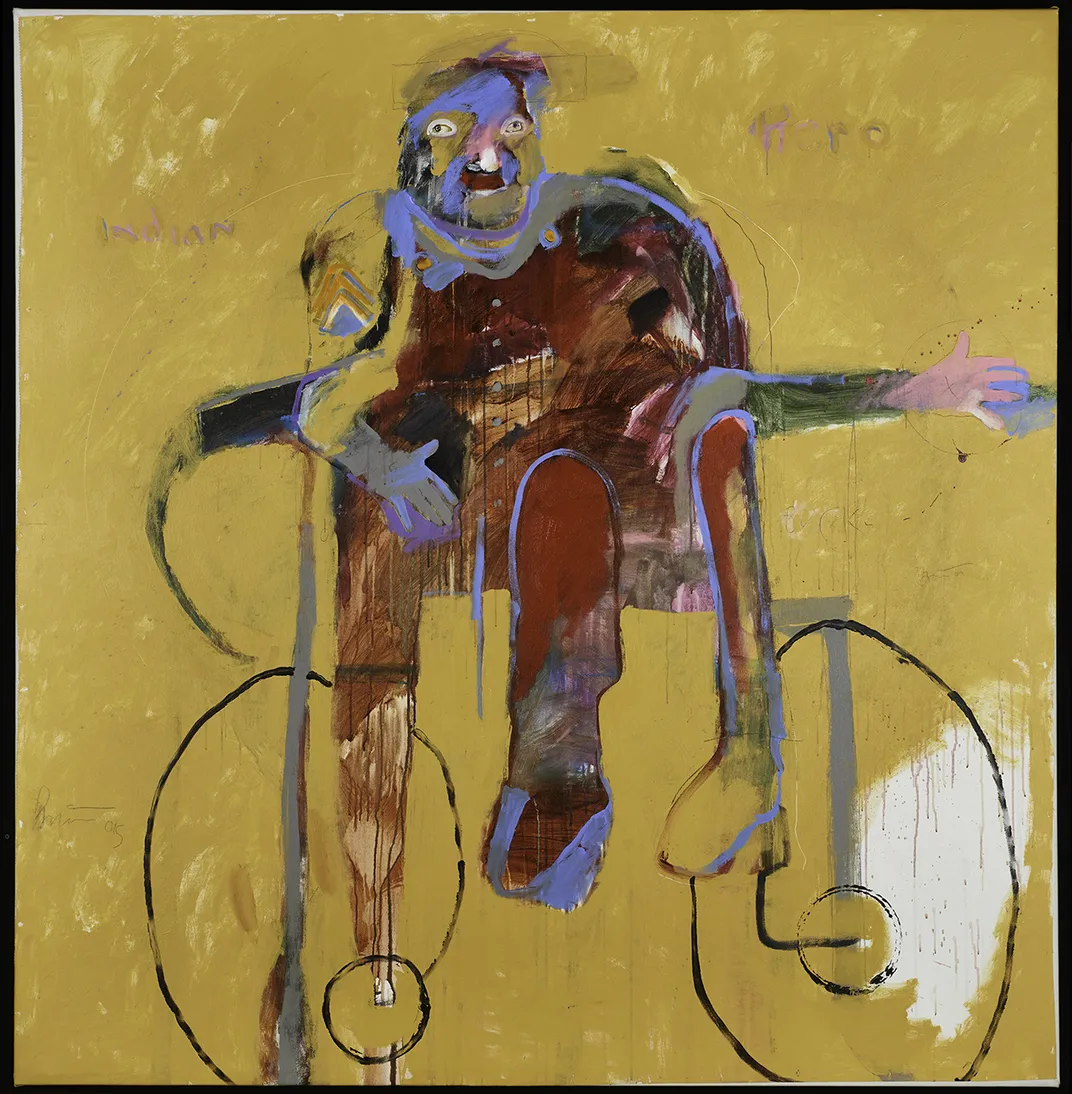 One haunting example is Rick Bartow's Buck. In the grand self-portrait, set against a yellow ochre ground, the artist is on the verge of collapse. His limbs appear tacked on, formless. His hands are out of place, one rendered in periwinkle blue, the other, ballerina pink. The forms seem to break away, even as they coalesce. Bartow, a Vietnam veteran and member of the Wiyot Tribe of Northern California, painted the canvas two years after his second stroke, explains Danielle Knapp, a curator at the University of Oregon's Jordan Schnitzer Museum of Art, where the show toured last fall. In the portrait, Bartow is seated in a wheelchair, but he wasn't using one regularly when he painted the work. He is vulnerable, with intention.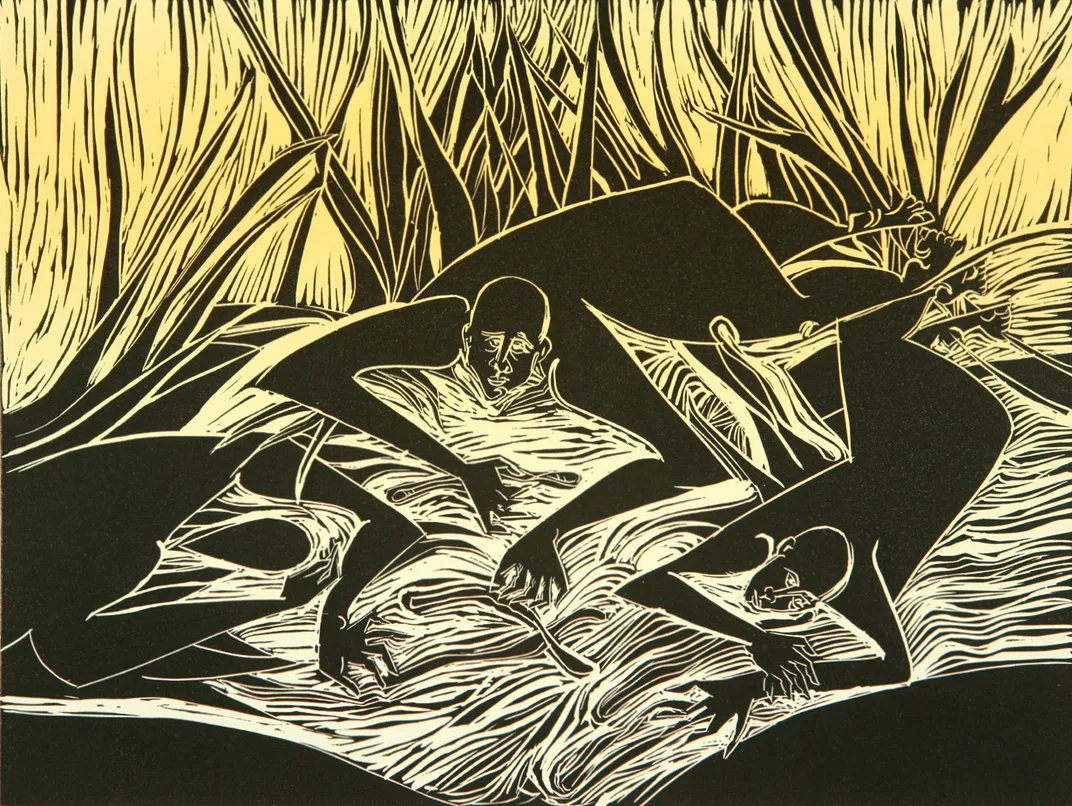 That vulnerability runs through Barbara Earl Thomas' Night Crawlers and Earth Worms. In the small linocut, three fishermen are poised before a rushing stream, set against a deep yellow ground giving way to creamy whites. Crouched, the fishers meld into the fluid scene, as if rocks in the marsh. Here, it seems, is a day like any other. Beyond the brush, in the deep, are people working tirelessly, wordlessly. The print calls to mind the work of 20th-century painter Jacob Lawrence, who taught Thomas, a Seattle-based visual artist, at the University of Washington. In Lawrence's The Builders, completed in 1980 and on view midway through the show, laborers—their saws and wood planks cast in mustard yellows and bubble gum pinks—hammer away at a building taking shape, tools strewn about. The West exists, just behind the scaffold.
So, too, does it linger in Roger Shimomura's American Infamy #2. The sweeping work presents Minidoka, an internment camp in Idaho where the Japanese American artist was incarcerated for two years in the early 1940s. The camp—peopled with a girl on a scooter, a woman in a coral suit and sage-green hat, and a group of men in cool grays—is obscured by heavy, navy-black clouds jutting across the frame. The effect is suffocating, as if the walls are closing in. For a minute, we, too, are trapped in this life lived apart—in the shadows, out of sight.
"It's easy to start being preachy," Shimomura told an interviewer in 2017. If you follow your first tendencies, what you end up with is "propaganda, not painting." In American Infamy #2, viewers see Shimomura walking that line, offering fragments of life like whispers, never veering into protest.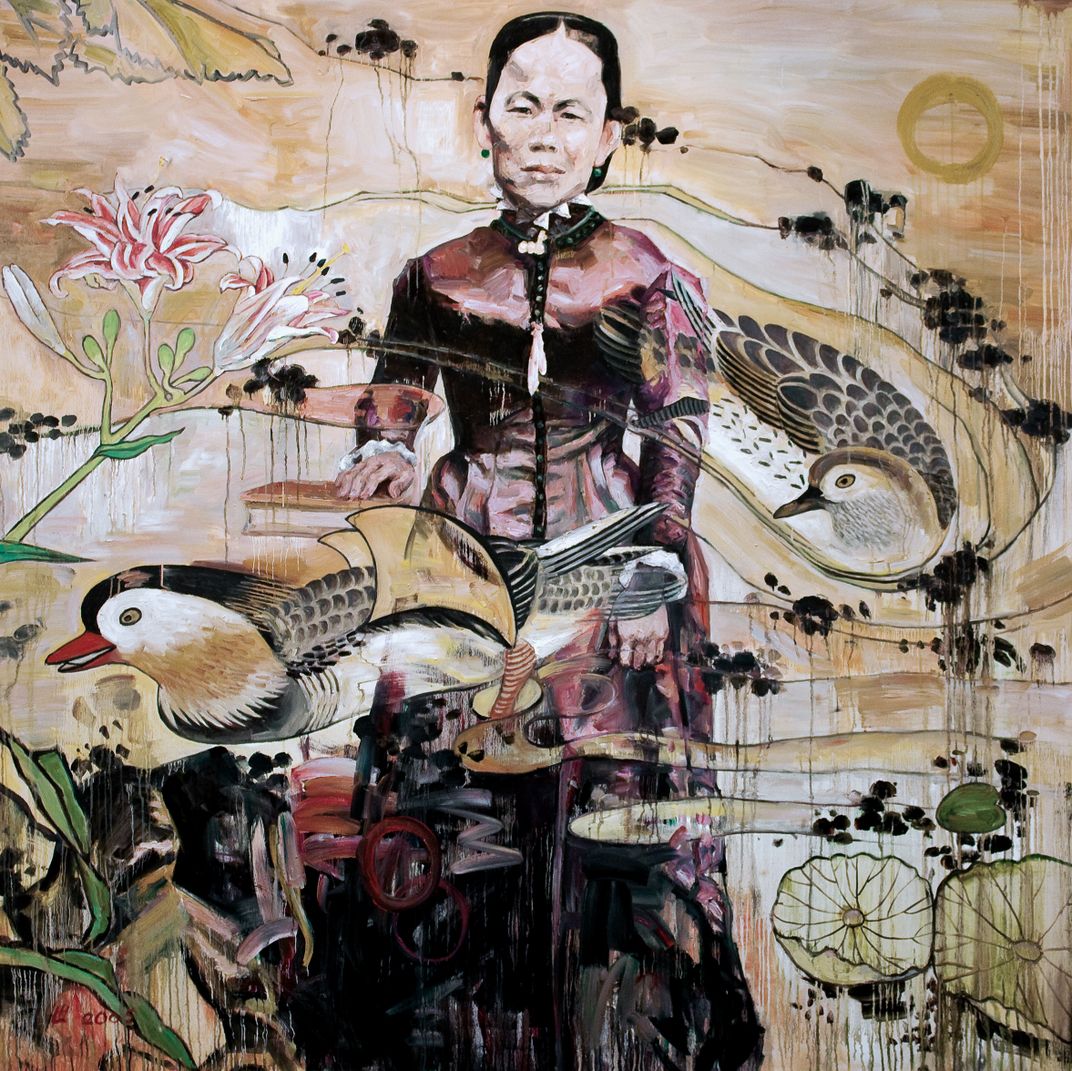 If Shimomura gives us glimmers, the late Chinese-born American painter Hung Liu bathes us in light. In her oil Mandarin Ducks, a woman in a dress of wine-tinged beige is set against a muddied ground, flanked by ducks and powder-pink lilies. Dabs of black paint in the foreground give the work a tentative feel: In a moment, she might vanish. The woman pictured is Polly Bemis, who was sold by her parents in China, in the early 1870s, and smuggled to the United States, where she later escaped deportation, eventually running a saloon and boarding house in Warren, Idaho. Hers "could have been a life of subjugation," says Melanie Fales, executive director and CEO of the Boise Art Museum, where the show opened in 2021. In Liu's hands, it's more complicated. Bemis here is elusive, as if seen through a curtain. What is she thinking? The question hangs in the stale air. Bemis gives nothing away.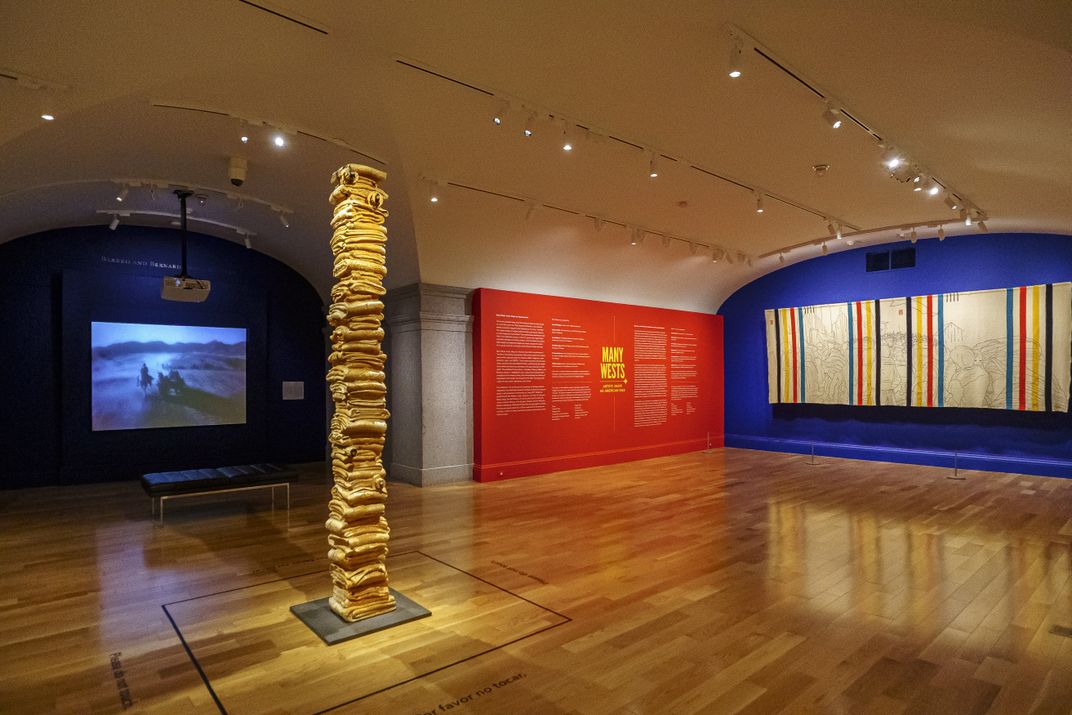 Where "Many Wests" soars is when it gives room to these artists to tell their own stories, in works that marvel. There's an air of empathy, love even, that runs through a show like this one, suggests Alisa McCusker, a senior curator at the Utah Museum of Fine Arts, where the show toured before arriving in Washington, D.C. This artwork, arrayed on jewel-toned walls, presents the West not as it could be but as it is: heartbreaking, gorgeous, real.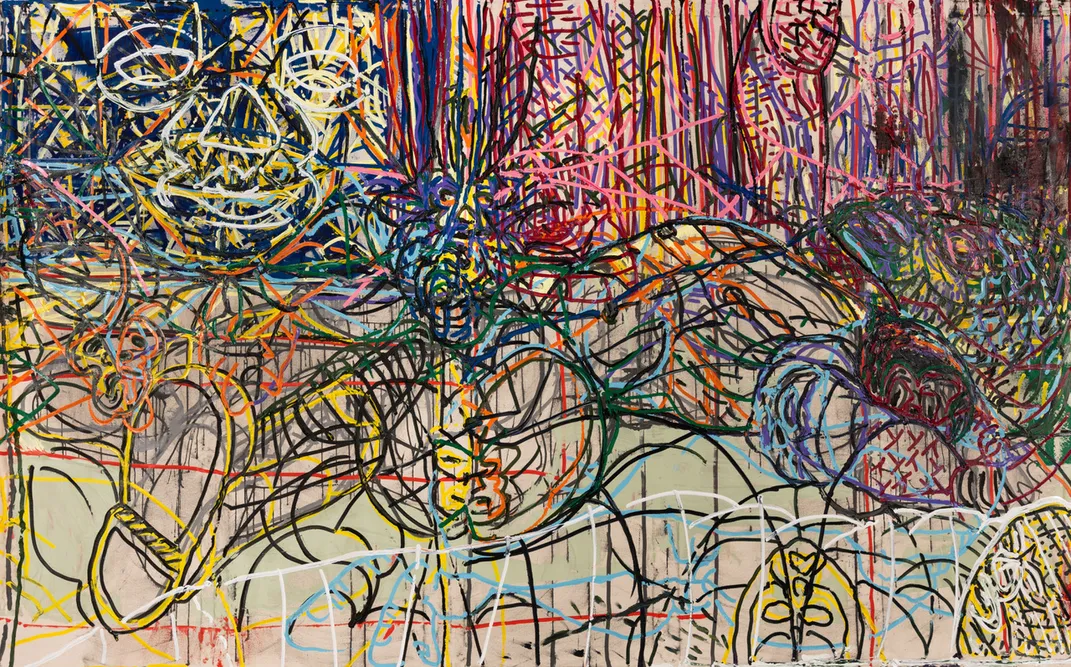 V. Maldonado's The Fallen takes this a step further. The frenzied work of amorphous figures, overlaid with a dense web of psychedelic pinks, blood oranges and sky blues seems impenetrable. Keyed to shock, the abstracted canvas gestures to the multi-tonal masks of Mexican lucha libre wrestlers and the artist's own double consciousness, ever aware of the gaze of others. The veiled forms come forward and recede, as if pangs of pain, swelling to the surface only to fall back again. Maldonado, a Portland, Oregon-based interdisciplinary artist who sets out to "make visible the invisible structures," here triumphs, the work a reminder that art can still jolt us.
Alfredo Arreguín's Bitterns is a subtle rejoinder. The luminous work, of two marsh birds soaring through iridescent skies, waves cresting in the dappled ground, is unlike any other in the show. Born in Morelia, Mexico, Arreguín grew up in Seattle and served in Korea. On a visit to Japan, he was introduced to the ukiyo-e, or woodblock prints, of the master artist Hokusai. The influences of the Japanese artist and Arreguín's native Mexico come through in Bitterns, from the delicate plumage of the herons to the scalloped-edged brushwork and subtle gradations of light. Works like these require a keen eye, an ability to sit and observe until what's before you comes to life. You don't so much look at Bitterns as soar with it, winged, high above East and West.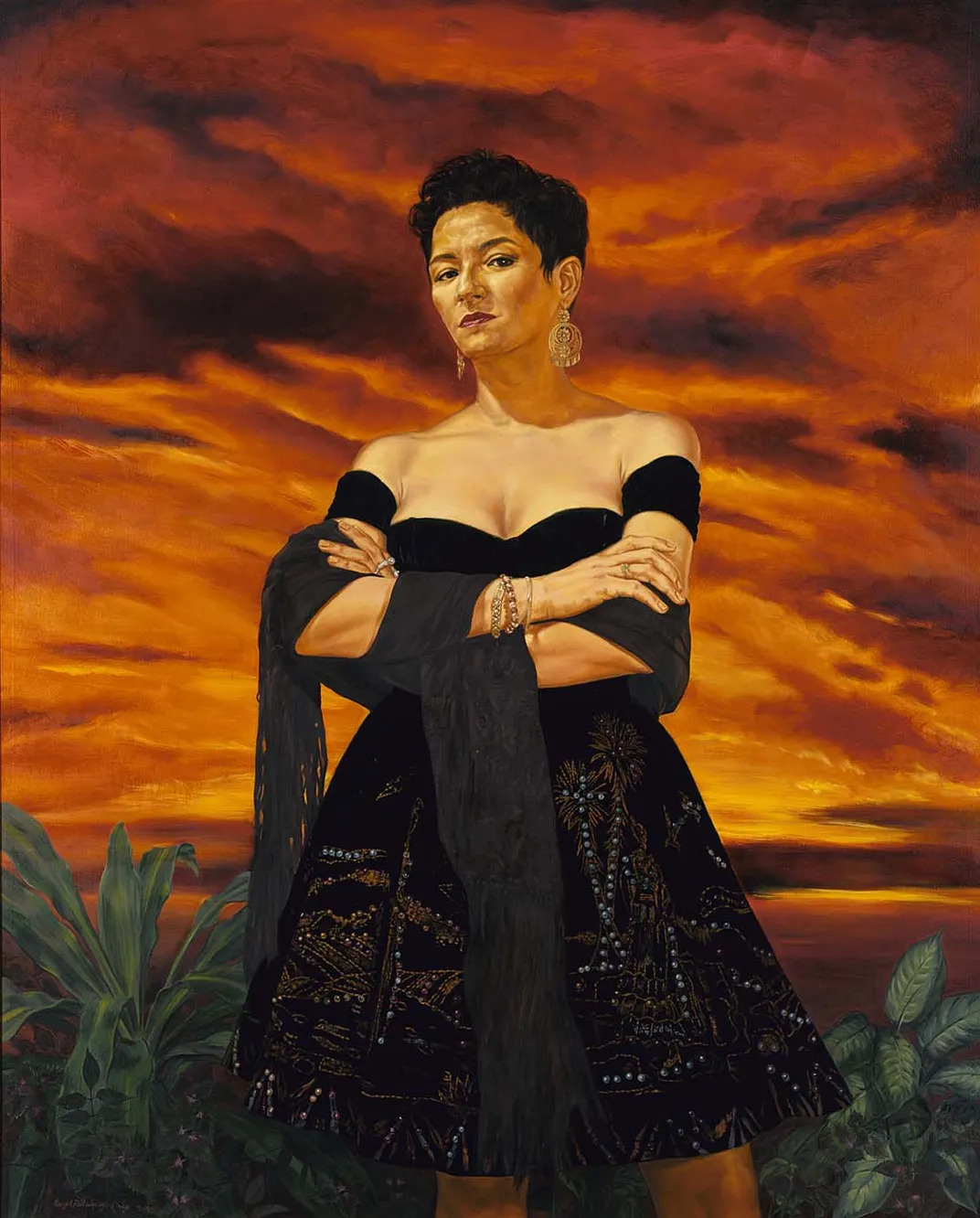 Across the way, the show closes, as it opens, thunderously. Mounted on a deep emerald wall, a blazing oil from the late San Antonio artist Angel Rodríguez-Díaz, The Protagonist of an Endless Story, demands attention. In the towering work, Mexican American novelist Sandra Cisneros stands before a searing sky of impossible reds flecked with fiery yellows and deep maroons. In a velvety black dress, Cisneros is starling-like, her gown embellished with gold embroidery and robin's-egg-blue and ruby pearls. Delicate as her dress is, Sandra is impassive. The strain in her face echoes the molten skies with an air of atonement, as if she's saying, "You will pay for what you've done."
It's difficult to imagine that Cisneros was once fragile and racked with self-doubt. In the introduction to her 1984 novel, The House on Mango Street, she enumerates her anxieties as a young writer: walking home in the dark, falling in love and getting stuck, moving back home because she wasn't "brave enough to live alone." Perhaps it was her fears that ennobled her, forcing the novelist to look life in the eyes and write about what she saw. In her 1991 short story "Woman Hollering Creek," a woman is trapped in a loveless marriage. In her 2002 novel, Caramelo, a family keeps secrets from each other, the truth tamped down until it swells to the surface. Cisneros holds nothing back. It's that woman who looks back at us in Rodríguez-Díaz's painting: a woman at the brink.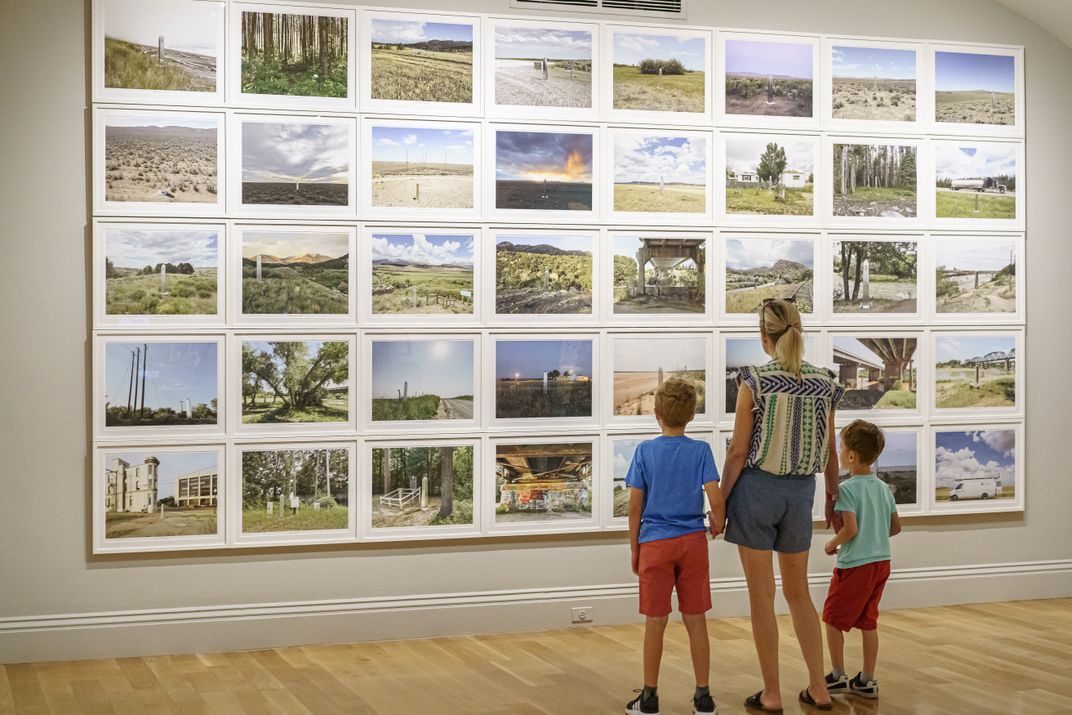 In The House on Mango Street, Cisneros introduces us to Sally, a girl who wears blue paint on her eyelids and whom the other kids call names. At the end of one chapter, the narrator conjures up a better world for Sally: "You could close your eyes and you wouldn't have to worry what people said … nobody could make you sad and nobody would think you're strange because you like to dream and dream."
The artists in "Many Wests" are strange, deliberately so. They present themselves as vulnerable, opaque, a cacophony of annihilating blues and dizzying reds that rivet even as they beguile. They are a reminder that the West isn't a single place, or even a place at all. It is a person, telling her story. It is a person who dreams and dreams.
"Many Wests: Artists Shape an American Idea" runs through January 14, 2024, at the Smithsonian American Art Museum in Washington, D.C.