At This Spectral Subway Platform, Trains Approach But Never Arrive
An otherworldly art installation debuts at the Renwick just in time for Halloween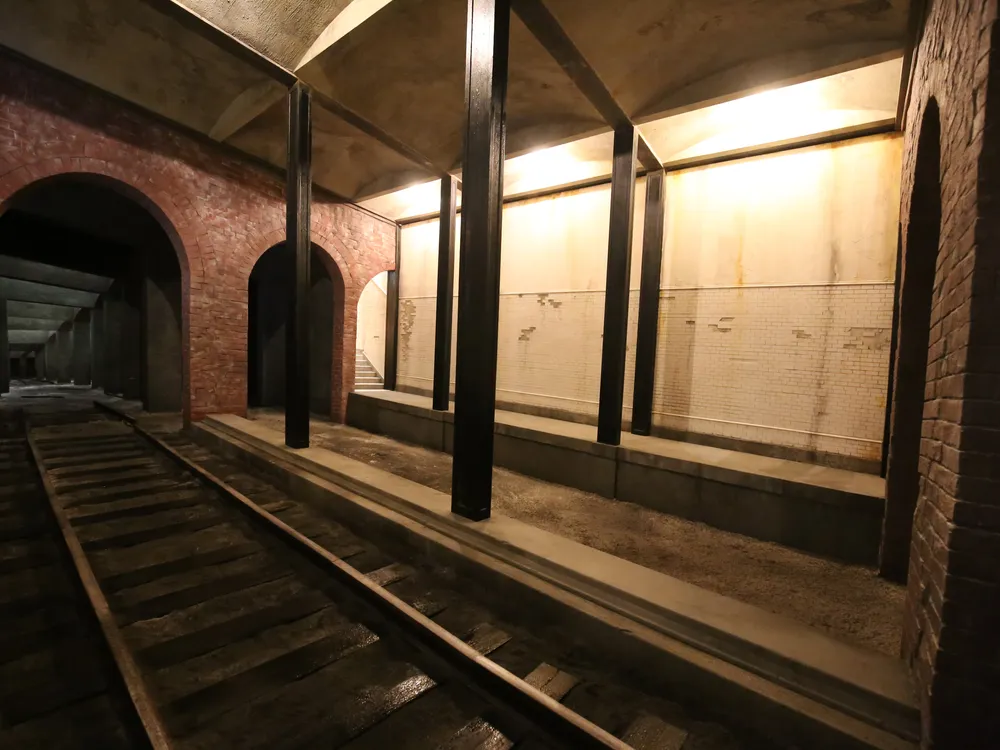 You stand expectantly on the subway platform, a small incandescent bulb suspended above your head. Across the tracks, a drab white wall meets your gaze, its once pristine tiling scarred and smudged, its smooth upper surface sullied by rust stains from an overhanging pipe. In both directions, the curving tunnel you occupy leads off into the unknown. Now and again, you hear the chug and wail of a locomotive, immediate yet somehow far away. Yet, you realize that ghost of a train will never arrive.
This eerie, purgatorial setting is the creation of Seattle-based artist Rick Araluce, a devoted realist who has recently made the transition from fastidiously arranged miniatures to full-scale immersive installations. Titled The Final Stop, Araluce's latest project is now on view at the Renwick Gallery in Washington, D.C., where it will remain through January 28, 2018.
Araluce, who has extensive experience designing sets for the Seattle Opera, is known as a master of illusion—his verisimilar creations are rarely quite what they seem. In The Final Stop, the "brickwork" of the tunnel actually consists of blue insulating Styrofoam dolled up with paint and held together with glue, sand, sawdust and Childers weatherproofing putty. What appear to be corroded metal train tracks are made of much the same materials. Staining and grime on the walls were achieved with paint, a mister, and a roller to control the process. (You "let gravity do its work," Araluce tells me, then just "nurse it along.") And that worn-down tiling? It's simply painted Masonite.
Araluce recalls trucking the entire artwork across the country in broken-down components, unloading his 53-foot flatbed in D.C. under Secret Service supervision, and within one month assembling the otherworldly metro platform in the spacious rear of the Renwick. "It's modular, screwed, glued and hard-attached together," he says. And underlying all of it is the lightest-weight wood that was workable. "But the illusion, of course, is solidity."
Part of what makes Araluce's imagined worlds so convincing—and artistically compelling—is that they seem to hold within their walls the stories of people and objects once present but now absent, and perhaps even those of entities not yet present but soon to be. As with Samuel Beckett's Waiting for Godot, the mere fact that others are not physically manifest at the moment you are viewing the scene does not mean their existence carries no weight in the space.
"I tend to leave clues," Araluce says, "create spaces that have a resonance of people—psychic residue." Though on the surface an empty environment devoid of life, The Final Stop harbors intoxicating secrets. "There's a sense of history, of something having happened," Araluce says. "A narrative."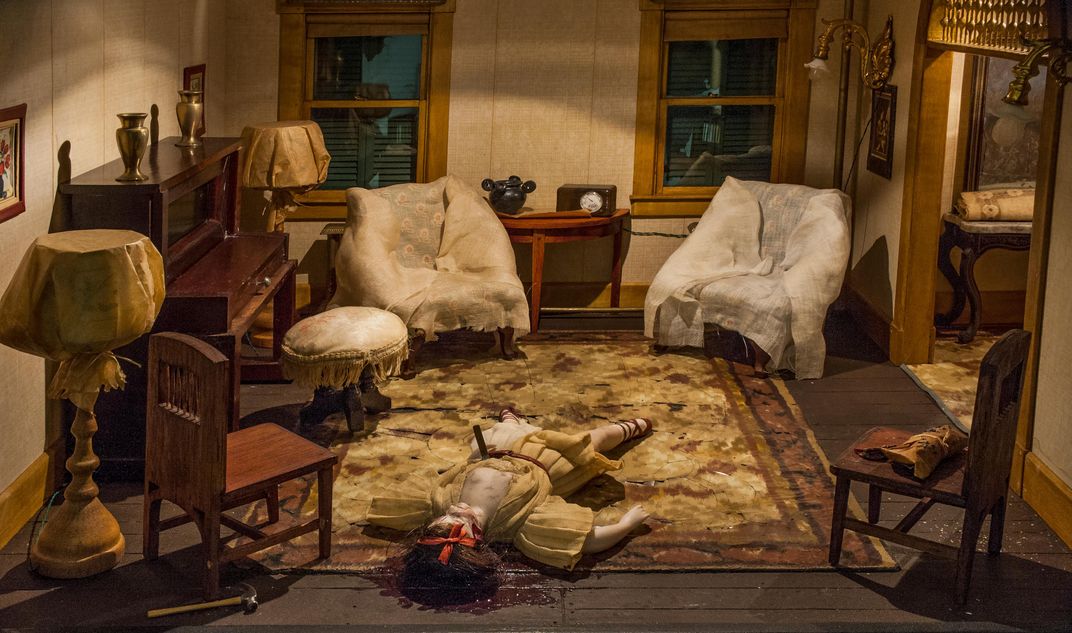 The implication of story within a static scene was achieved with equal mastery by Chicago-born artist and forensics fiend Frances Glessner Lee (1878-1962), whose dollhouse-scale "nutshell" renderings of baffling 1940s crime scenes comprise the "Murder Is Her Hobby" exhibition on view alongside The Final Stop. The first woman to make the rank of captain in a U.S. police force, Glessner Lee was a renegade, one who employed the stereotypically feminine techniques of dollhouse decoration, needlework and small-scale handicraft to produce scenes macabre enough to churn the stomach of any crime scene investigator.
Lee's diminutive showcases of "unexplained death"—used in police detective training programs to this day—are in many ways evocative of Araluce's own miniatures. Plainly, the two artists have in common a passion for realism: a cabin scene by Lee featuring a pair of minute precision-woven snowshoes could easily be mistaken for one of Araluce's detail-rich dioramas, which often focus on material degradation like peeling paint and the yellowing of pages in books.
"We're both plying the same craft," Araluce tells me. "She's a kindred spirit."
Whereas the hints and suggestions Lee provides to her viewers are "clues" in the most literal sense possible, though, the intimations in Araluce's work tend to skew fuzzier and more nebulous, leaving much to the imagination. One does not always know what sort of story to envision when contemplating an Araluce piece, particularly in the case of his larger installations, which he calls "more diffused—open-ended and nonspecific." But the extent of the possibility space—the number of distinct stories that could exist—is what Araluce finds so exciting.
With The Final Stop, Araluce manages to cloud even viewers' perception of place. Frances Glessner Lee's miniature crime scenes all depict real-world locations, but The Final Stop is a strange, Frankenstein-like composite: "It's an amalgamation of the experience of being in a train tunnel," Araluce says, "sort of a mash-up between New York and Europe and Boston and any place that has more antiquated transportation." The result is a space that feels familiar yet slightly off, a location that seems as though it should exist but in fact does not.
As curator Nora Atkinson puts it, Araluce's metro platform provides an uncanny kind of "wonder effect," wordlessly inviting museum-goers to consider all the materials and details that went into contriving a fictional location that somehow feels so real.  
"His work speaks to craft," Atkinson says. "It's all about process, and it's all about materiality, and it's all about this building," beneath which lie "incredible narratives."
"Rick Araluce: The Final Stop" is on view at the Renwick Gallery, on Pennsylvania Avenue at 17th Street NW in Washington, D.C., through January 28, 2018.