How the Smithsonian Hopes to Turn Infants, Toddlers and Young Children Into Museumgoers
The National Museum of American History opens its new "Wonderplace," a space for the youngest members of the family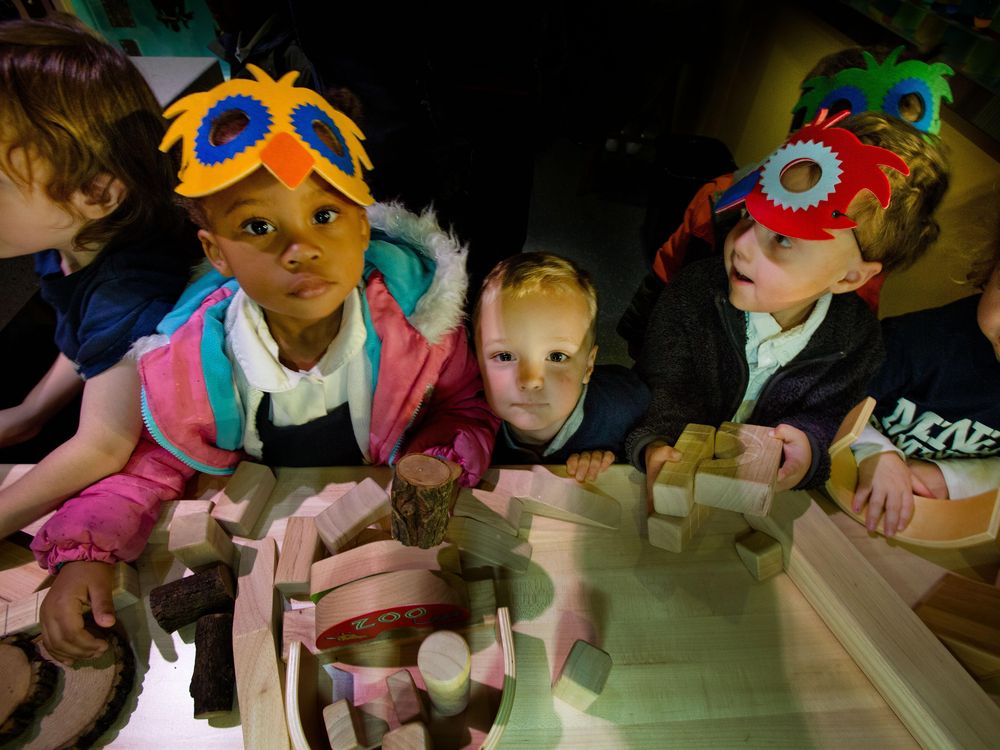 The museum director wore an owl mask, as he addressed the wriggly infants, toddlers and parents that gathered in the National Museum of American History last Wednesday.
"You will see inside this wonderful 'Wonderplace' a tower that is a replica of the castle at the Smithsonian, in which two owls lived, and I have been told, continue to live," said John Gray, director of the Smithsonian's National Museum of American History in Washington, D.C.
Apparently, Secretary S. Dillon Ripley, an ornithologist and the eighth leader to hold sway over the Smithsonian Institution, housed a pair of barn owls in the castle's west tower in the 1970s. He named them "Increase" and "Diffusion," in honor of the Institution's mission to be "an establishment for the increase and diffusion of knowledge."
After sharing this bit of Smithsonian trivia, Gray introduced current secretary David J. Skorton, who, with a few others, clipped the paper chain outside the entrance of the Wegmans Wonderplace, marking its grand opening. The new 1,700-square-foot children's center is the very first on the National Mall intended for infants, toddlers and other children under the age of seven.
My one-and-a-half-year-old daughter (a junior reporter for the day) and I squeaked into the spotless space for a first look with other members of the press, just as a line of strollers heaped with jackets and sippy cups formed outside.
There, inside, is a large climbing structure—the centerpiece of Wonderplace—modeled after the Smithsonian Castle. True to story, there are owls perched on top. Just in front of it is the Thomas E. Moran, a tugboat (based on a ship model in the museum's collections) that kids can captain. A play farm, kitchen, construction site and portrait gallery line the room's perimeter.
"We thought it was very important to show kids that history is the story of kids and not just the story of big important grown-ups," says project director Megan Smith, of the portrait wall, dotted with reproductions of digital prints, tintypes and oil paintings of young faces from the past few centuries.
Wonderplace is a "launching pad," Smith says, where the youngest museum visitors can get acquainted with some of the museum's artifacts. The kitchen, for example, is inspired by Julia Child's home kitchen, which the chef donated to the Smithsonian in 2001. Miniature pots and pans hang from a pegboard, just as Child had hers. Directly above that, there is a photograph of the celebrity cook at work. The subtle touch has a not-so-subtle effect, linking the pretend world these counters and cabinets create with a historical reality.
In much the same way, the construction area with bins of blocks is decorated with black-and-white images of buildings from various times in American history: a sod house, an adobe structure, a log cabin, a brick row house, a skyscraper and a trailer home.
"By adding the actual collection objects, it is not just a play space, it is actually an exhibition," Smith told me.
I noticed my daughter eyeing a retro Fisher Price Family Play Farm and Lassie lunch box in display cases near a play farm stand and chicken coop. Meanwhile, I was gazing at gorgeous weathervanes, all reproductions made from 19th-century molds. In the back of the room, there is a nook where parents resting or feeding their babies can peruse ceramic infant feeders from the 1800s, which look like they'd hold a genie, not milk.
All told, there are more than 100 artifacts in the space. The curatorial staff has plans to refresh all of the collection cases over time, Smith said. However, there isn't a huge need to circulate the artifacts, she added, since children learn from repetition and will age out of the space and move on to enjoy other parts of the museum, including the neighboring Spark!Lab, designed for ages six through 12. (Though parents likely wouldn't mind a refresh.)
"Wegmans Wonderplace provides a really fun and welcoming place to practice observation and museum learning through touch, play and seeing historic objects," said Gray. "We want to help the next generation grow a love of American history, to hone their curiosity and sense of exploration, to question how things happen and why."
Nodir Zakirov, of Arlington, Virginia, brought his three-year-old son to the opening. "It's great, especially when you have older kids or adults coming to enjoy all the exhibits," he said. "It is sometimes hard to bring children without children's entertainment. It's a good way to attract kids."
Zakirov's son and my daughter plucked lemons and oranges from the little farm stand. The farm and kitchen sections of Wonderplace have a natural appeal to toddlers, and complement the museum's collections, but they also fall in line with the interests of Wegmans, the family-owned supermarket chain that gifted $1.5 million to the museum to make the center possible. Wonderplace is the last of 12 exhibitions and learning spaces to open since July in the museum's new 45,000-square-foot Innovation Wing. Wegmans is also supporting the wing's new demonstration kitchen, where programs about food history take place.
As tiny visitors and their adults formed lines in other parts of the Innovation Wing for face painting, balloon animals and caricatures, Mark Makovec, the executive chef of the Wegmans Cooking School, and Angela Volta, the school's manager, led kids in a cooking class in the demo kitchen. Wegmans hosts hour-long "Cooking with Kids" courses, for age four and up, in 65 of its stores. "The idea is get your kids involved in the kitchen and they are more apt to eat their fruits and vegetables," said Makovec. He and Volta taught some eager little chefs how to safely cut strawberries and avocado and then how to make a yogurt fruit dip and guacamole.
Since July, the museum has been hosting "Food Fridays," inviting a guest chef to prepare a recipe while a Smithsonian educator helps to tell the history of the dish and its ingredients. According to Smith, the museum hopes to bring a series of food programs for kids to the stage in 2016.
A couple hours after the doors to Wonderplace opened, there was still a line of young historians waiting to storm the castle, pull rubber carrots from a pretend garden and perhaps prepare a faux hollandaise in a kitchen modeled after a legend's, making me wonder if Julia Child ever chased toddlers around her kitchen while preparing boeuf Bourguignon.
The American History Museum isn't the first in the country to cater to this young of an audience, Smith says, but it certainly will lend visibility to the importance of doing so.
"We think this is important, which hopefully will help other museums justify building spaces like this as well," says Smith.