Smithsonian Curators Reflect on How Barbara Bush Will Be Remembered
As both the First Lady and the mother of a President, Mrs. Bush leaves a legacy of a national grandmother with an iron backbone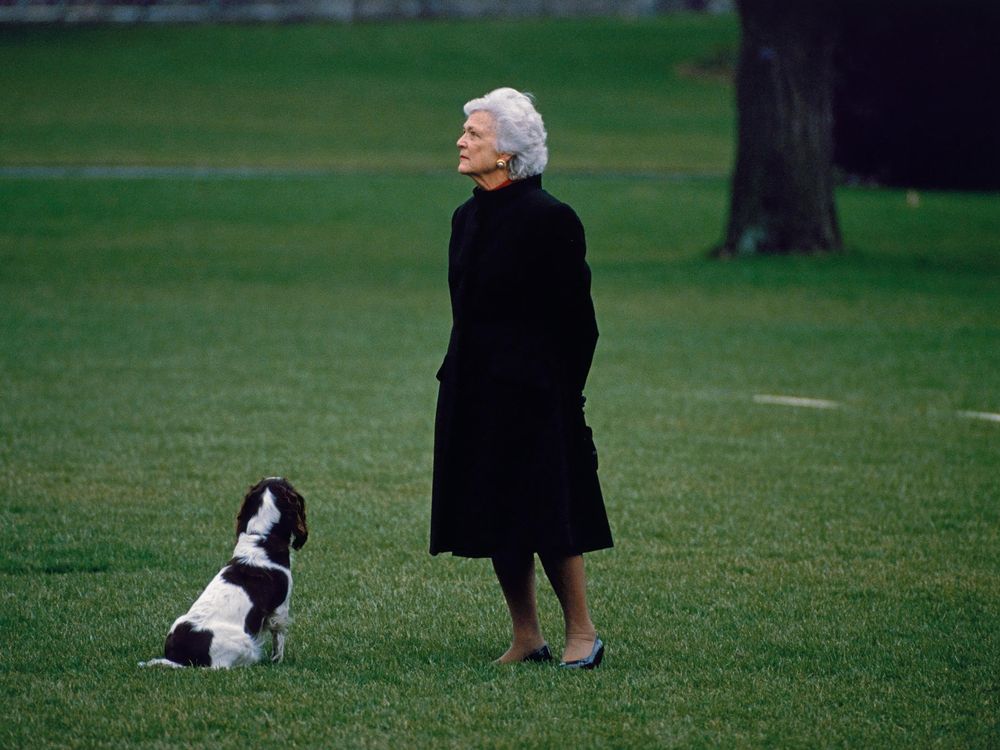 Barbara Bush, who died last night at the age of 92, played a dual role in her family's political dynasty. As First Lady, she cultivated an image of a caring and forthcoming national grandmother, making the White House feel accessible to the body politic and infusing compassion into the public memory of President George H. W. Bush's administration. But beneath her aura of warmth and complaisance lay a stalwart character and a sharp wit, which led her family to nickname her "the enforcer." Far from being duplicitous, this intentional duality earned Mrs. Bush not only massive popularity as First Lady, but also indelible reverence in the public imagination.
"She projected an air of calm and confidence and relatability—if Barbara Bush can do these things, you can do these things. I think that's what made her very popular," says Lisa Kathleen Graddy, the curator of the exhibition "The First Ladies at the Smithsonian" at the Smithsonian's National Museum of American History. "To make it look effortless is hard, and Barbara Bush made it all look effortless."
When her husband assumed the presidency in 1989 following the Reagan years, Barbara Bush inherited a White House that had, as Graddy puts it, "a sheen of Hollywood glamour." Given her own habit of not taking herself too seriously, Mrs. Bush sought to decrease the formality of the White House, infusing it with a more homey and comfortable aura.
"Her White House was still very classic, with appropriate ceremony and formality. But [Mrs. Bush believed] it should be a place where muddy dogs and sticky children were welcome," Graddy says. "She purposefully tried to give the White House more of an air of a family home."
At the Smithsonian's National Portrait Gallery, curator Ann Shumard reflects on Barbara Bush's sharp contrast from her glitzy predecessor.
"Barbara Bush, with her unabashedly matronly look that she did nothing to hide, was certainly a shift from the glamour and Hollywood tinge of the Reagan years," Shumard says. "She realized that simply wasn't who she was—she identified all her life as a wife and mother."
Shumard and her colleagues at the Portrait Gallery have selected a serene image of Barbara Bush with her springer spaniel, Millie, to display this month in memoriam. The choice to include the family dog reinforces the homey, approachable image that Mrs. Bush helped cultivate for herself and her husband's administration—as Shumard puts it, "the dog especially lent a common touch to the first family."
But there's another aspect of Mrs. Bush in the photo that both Shumard and its photographer Diana Walker see: a contemplative, independent woman indulging in a rare free moment of reflection as she prepared to embark on a helicopter journey with the President.
"Most of the time I saw her, she was extremely ebullient, outgoing, and animated. She was funny, and her humor was a little bit biting," says Walker, whose long tenure as White House photographer spanned four administrations. "[When] I looked at her standing there all alone, I thought, 'what a different Barbara Bush that is. She has time for her own thoughts.'"
Mrs. Bush's maintenance of a noncontroversial, politically transcendent public image did not detract from her pursuit of a robust public service agenda. Though she famously decided not to comment in public about a number of political topics, especially if her opinions differed from those of the president, her compassionate initiatives spoke volumes about her personal belief in social equity. By supporting Head Start, working to reduce AIDS stigma and bringing national attention to the needs of homeless families, Graddy says that Barbara Bush "made clear through her actions an idea that everyone, including the government, has a duty toward their fellow man."
Following her husband's inauguration, she established the Barbara Bush Foundation for Family Literacy, a fundraising effort that raised millions of dollars for the cause. Her publication of Millie's Book, ostensibly written by the family pet, but in Mrs. Bush's hallmark style of family-oriented approachability, additionally raised funds and awareness for the country's illiteracy problem.
"Barbara Bush was an activist for literacy for decades," recounts Graddy. "She believed that illiteracy was one of the root causes of the ills in the world, and if this were improved in the United States, everything would look up. Literally, people's lives could be saved and improved."
A fierce loyalty to the President, combined with an incredible strength of her own, led her son Jeb to call her the family's "chief operating officer." She famously stepped in to complete a dinner meeting in Tokyo with Japan's Prime Minister when her husband fell ill and collapsed, expertly diffusing the tension in a situation that could have caused international panic. An ardent advocate of the Gulf War, she made personal appeals to Saddam Hussein to free hostages and flew to Saudi Arabia to visit the troops, wearing a camouflage jacket alongside her usual pearls.
"That, to me, is a wonderful image that sums this woman up," Graddy says. "She's the grandmother in pearls who's also a trooper and a tough campaigner."
Barbara Bush was instrumental in helping both her husband and son weather the difficulties of their presidential careers, from Bush 41's presidential loss in 1992—a campaign on which Barbara worked tirelessly—to the criticism that her son, President George W. Bush, endured for his military actions in Iraq. "The ups and downs of politics are hard to absorb. Sometimes, it's harder to watch that than to be the person to whom it's happening," says Graddy. "But [the Bushes] are a couple who lost their daughter at the age of four. This is a couple who has endured greater hardships than losing the White House."
An unwaveringly supportive family member, a smart and witty speaker, and a public service trailblazer in her own right, Barbara Bush is survived not only by her husband, five children and 17 grandchildren, but also by her own legacy as a champion of political moralism. And though her path to the White House relied on the political success of her husband, she predicted a future with a woman in the Oval Office.
"Somewhere out in this audience may even be someone who will one day follow in my footsteps, and preside over the White House as the President's spouse," Mrs. Bush remarked in her 1990 commencement speech at Wellesley College. "I wish him well!" she concluded, to the laughter and delight of the graduates.
The portrait of Barbara Bush with her dog Millie, a photograph taken by Diana Walker will be on view at the Smithsonian's National Portrait Gallery in honor of the First Lady through April 29. Visitors to the National Museum of American History can view the Barbara Bush inaugural collection, her gown, purse and necklace, from 1989.