Smithsonian Botanist Writes Memoir About Myanmar Travels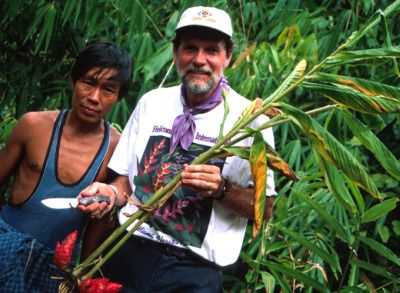 For over thirty years, it has been part of botanist John Kress's job to comb tropical forests for rarely seen plant species. With the National Museum of Natural History as his home base, he's explored the Amazon, the Andes, Madagascar, the South Pacific, tropical Indonesia, Malaysia, New Guinea and, more recently, Myanmar. Next month, his latest endeavor, The Weeping Goldsmith, a first-person account of his travels and discoveries over the course of nine years in Myanmar, is due out in bookstores September 8.
"I knew Myanmar was loaded with gingers," Kress has said, and gingers are his specialty. He was also enticed by the fact that few botanists had been to the isolated, politically-repressive country in the last half-century. His chances of finding many yet undiscovered plants in the biodiversity hotspot were high. Among his many finds, was "the weeping goldsmith," a ginger flower and the namesake of his book. Legend has it that the local goldsmiths were brought to tears by the blossom because their creations paled in comparison to its beauty.
The Weeping Goldsmith contains excerpts from Kress's field journals, narrative on his encounters with the people and culture of the country and some 200 of his own color photographs of exotic plants, landscapes and temples. And Kress hopes that readers come away with an understanding of the front-line work that Smithsonian scientists do and an appreciation of the fact that there are still places in the world in need of exploring.
I recently spent some time with Kress out on Plummers Island in the Potomac River—the closest thing to tropics inside the Beltway. The resulting article, "Cracking the Code," explains another of his projects. He and his colleagues have successfully barcoded all 250 plant species on the island.