Between Worlds is a masterpiece of Chilkat weaving, but it is not fully traditional. The fringed cape-like robe crafted by Alaska Native artist Lily Hope is made from a typical intertwining of cedar bark and mountain goat wool. Its design, however, renders traditional faces and figures abstract. The piece is dedicated to Hope's mother, the renowned Tlingit weaver Clarissa Rizal, who taught her the craft. When Rizal died in 2016, says Hope, it was like an "elbow in the rib cage, of like, you're it, this is your life's work from now till your last breath."
Hope and her sister, Ursala Hudson, are carrying on their mother's legacy in "Sharing Honors and Burdens," the 10th installment of the biennial Renwick Invitational at the Smithsonian American Art Museum's Renwick Gallery. For the exhibition, Native artists were asked to submit works that spoke to both honors and burdens—complex concepts with multiple meanings.
Along with pieces by the two sisters, the exhibition includes works by Joe Feddersen (of the Arrow Lakes/​Okanagan tribes), Erica Lord (Athabaskan/​Iñupiat), Geo Neptune (Passamaquoddy) and Maggie Thompson (Fond du Lac Ojibwe). All of these artists bring their cultural, spiritual and artistic traditions to bear on their crafts, though the works are also thoroughly contemporary.
"The relationship between tradition and innovation has to be much more explicit for Native artists," says guest curator Lara M. Evans, a member of the Cherokee Nation who is the director of the Research Center for Contemporary Native Arts at the Institute of American Indian Arts in Santa Fe, New Mexico. "Makers who are working with acrylic or oils aren't expected to explain in detail the nature of painting or the entire history of painting as a practice the way that Native artists are expected to explain, for example, the history of beadwork or basketry."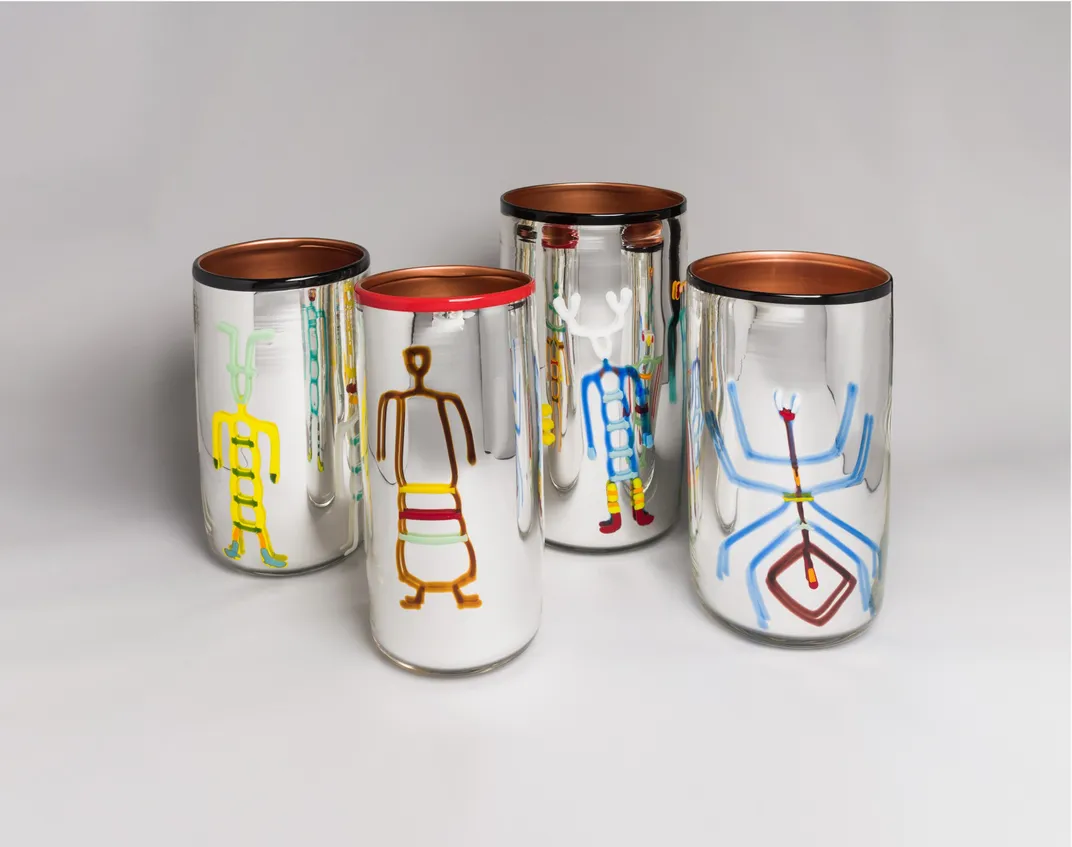 Feddersen makes a similar point in a video that accompanies his work. "It's an honor to represent your people," he says. But, he adds, "Sometimes it's a burden to have to explain your culture to everybody." His installation Social Distancing is a series of tall mirrored glass cylinders that feature traditional pictographs on the exterior. The figures do not touch—they are distant. Like other works in the invitational, it speaks to the Covid-19 pandemic and other diseases and contagions that have disproportionately harmed Indigenous communities. "Like his ancestors and earlier artists, Feddersen is communicating through symbols and signs about lived experiences and current events," writes Anya Montiel, a juror for the invitational and a curator at the Smithsonian's National Museum of the American Indian who is of Mexican/Tohono O'odham descent, in the exhibition catalog.
Along with themes like grief, trauma, community and personal loss, the works in the invitational also explore knowledge and wisdom gained from teachers and ancestors, fusing past with present. For Lord's The Codes We Carry, the Alaskan artist transformed a type of elaborate embroidered blanket that sled dogs once wore in ceremonies. Called "tuppies," these blankets fell out of use in the 1940s, but Lord was struck by them when she viewed them in historical collections. Each dog's blanket is a beaded replica of the actual genetic code for one of seven conditions: diphtheria, smallpox, tuberculosis, diabetes, ovarian cancer and the SARS-CoV-2 virus. To make each blanket, Lord created a pattern board, using four-millimeter-square glass beads to match the color code of the genetic sample.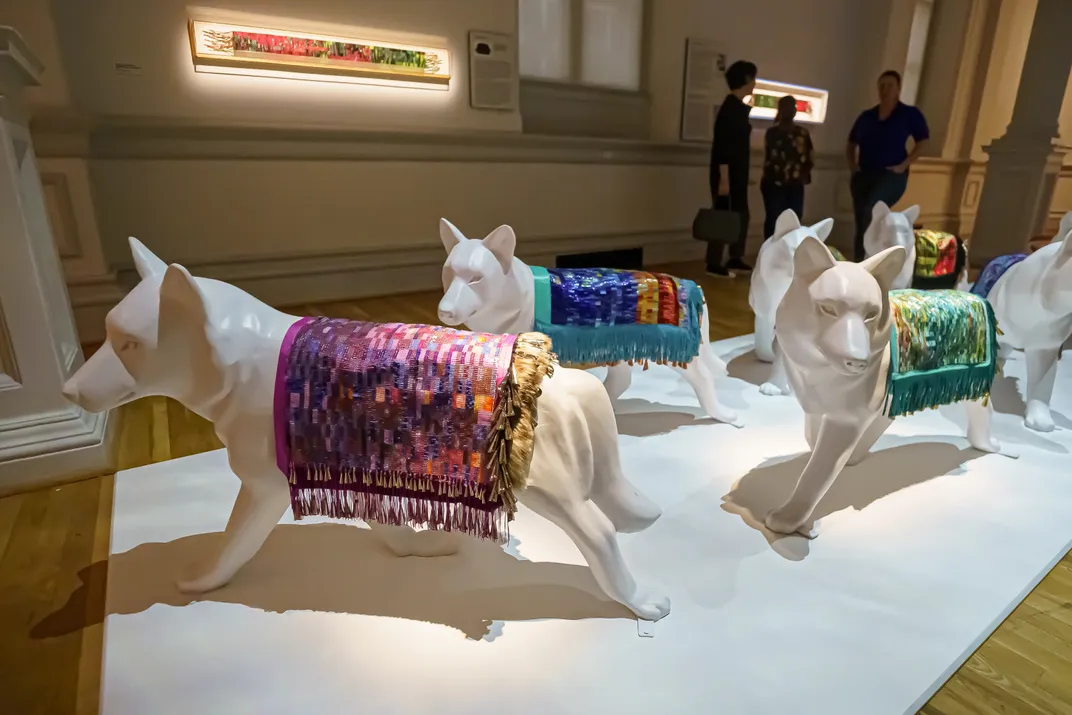 Similarly, Lord transforms burden straps—woven belts used to carry heavy loads or babies—into colorful beaded representations of DNA and RNA microarrays for various diseases, including leukemia, diabetes, breast cancer and multiple myeloma.
Thompson—a textile artist who learned quilting, knitting, crocheting and sewing while growing up in Minneapolis—also addresses community loss in a piece called On Loving. Created for the exhibit, it features three beaded star quilts sewn onto vinyl purposely shaped to look like body bags. The bags were created in honor of the Native Americans who died from Covid-19.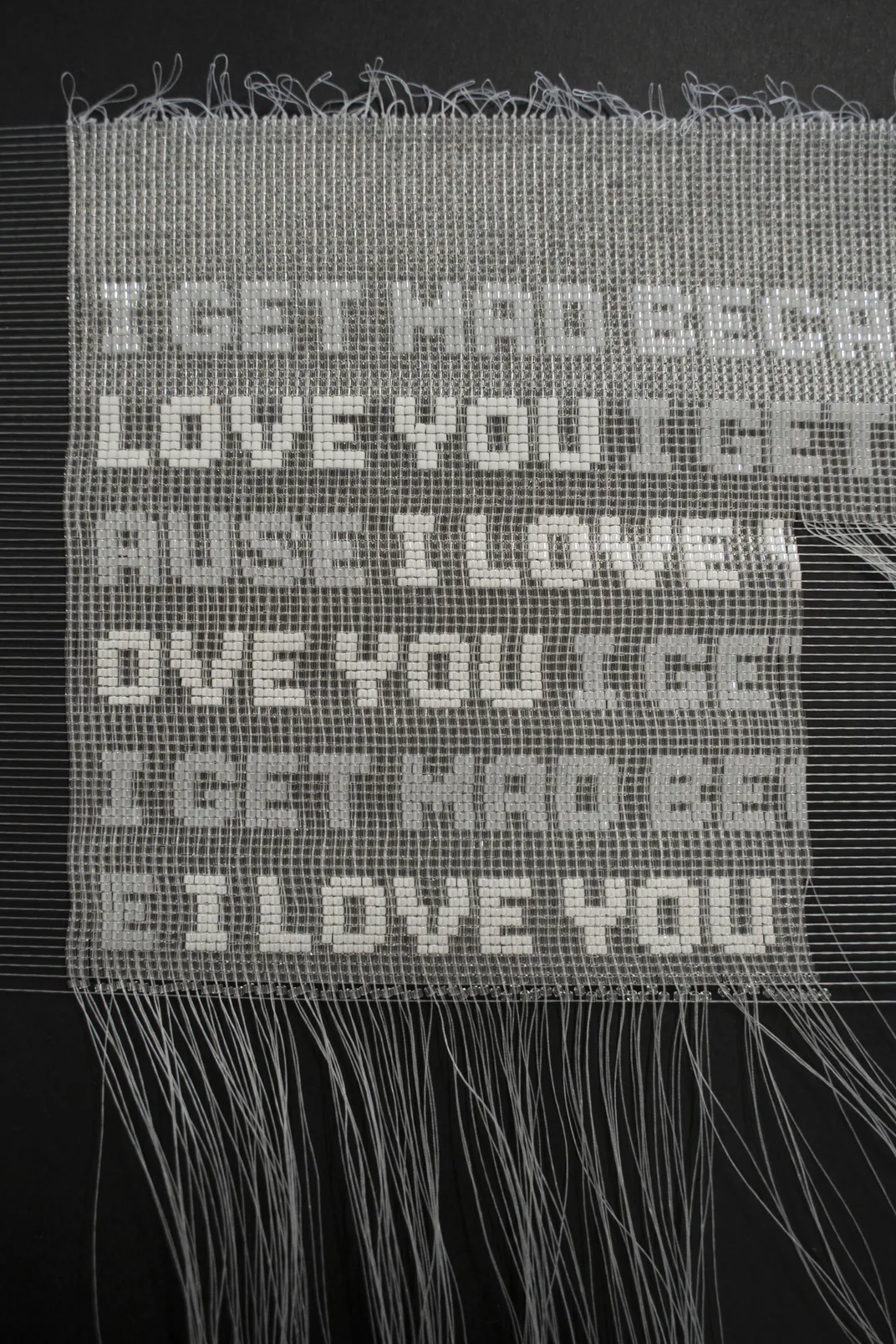 Thompson's I Get Mad Because I Love You, looks from a distance like a shimmery piece of fabric stolen off an haute couture runway. A closer look reveals the words "I get mad because" and "I love you" repeated as if written by a student in detention. The words "I love you" are fabricated with white beads, whereas the words "I get mad because" are fashioned from clear beads that appear a bit opaque. Thompson notes that she chose the contrasting colors "because when you're in a psychologically abusive relationship it's really hard to differentiate what's actually being said and the intentions behind what's being said."
Neptune's stunning and colorful baskets—woven from the branches of the disappearing black ash trees—are both firmly rooted in Passamaquoddy traditions and imbued with modernity. The nonbinary artist learned basketry from their grandmother, Molly Neptune Parker, a National Endowment for the Arts national heritage fellow. They have continued making baskets in their grandmother's traditional style, but also they've branched out—literally, for instance, in Feast of the Hummingbirds, adding a small tree adorned with flowers to the top of a traditional basket. Neptune also uses commercial dyes to achieve purples, pinks, yellows and other colors not seen in prior generations' basketry. "I am giving it a new birth," says Neptune of the Passamaquoddy tradition.
Hudson, like her sister, Hope, draws on the skills and wisdom she learned from her mother, employing both the Chilkat and more geometric and mathematical Ravenstail techniques to create clothing that carries both symbolism and style. She also employs new materials—such as merino wool and commercially dyed fabrics—which she considers an evolution, but not out of keeping with tradition. "For the last 300 years, we've been incorporating trade materials coming from afar," she says. "If we can get something from the other side of the planet, then it's traditionally Tlingit to do so."
Even so, Hudson acknowledges, she had doubts when she started displaying her work in galleries. "At first, I was really, really scared that I wasn't doing the right thing—that I was taking the sacred art form and giving it to the wrong audience." But she and her sister both say they've resolved such concerns. They want Tlingit works to be recognized as fine art, and they also want to see the tradition continue.
As curator, Evans agrees. She hopes that visitors will be inspired to think about "their own relationships with traditions"—how they're preserved and passed on, as well as how they lead to new innovations. As she puts it, traditions are not "a frozen practice." The works in the Renwick Invitational show how each generation can make age-old practices feel brilliantly new and alive.
"Sharing Honors and Burdens: Renwick Invitational 2023"  is on view at the Renwick Gallery of the Smithsonian American Art Museum through March 2024.