The Painter Who Earned His Stripes
Gene Davis, the leading member of the Washington Color School, is celebrated a half century after his striped paintings caught on
Gene Davis spent his career in newsrooms from the Washington Daily News to United Press International to the Fredericksburg Freelance Star, and even served a stint as a New York Times copy boy.
And while he took up abstract painting in the 1940s as a hobby, and was featured in a few local shows, he was never successful enough to devote his full time to art until, after 35 years in journalism, he finally turned to it 1968.
"The idea of my ever making a livelihood out of painting was the farthest thing from my mind," he said in a 1981 interview. 
But he hit on something—a parade of brightly-colored, edge-to-edge stripes—that not only made his name and changed his career, it put him at the forefront at the only major art movement to emanate from the nation's capital, the Washington Color School. 
The Smithsonian Institution, which benefitted from a generous amount of his work donated to the museum after his death in 1985 at 64, may have missed the 50th anniversary of the landmark "Washington Color Painters" exhibition last year, but is making up for it with the newly opened "Gene Davis: Hot Beat" at its Smithsonian American Art Museum.
In a gallery with walls that have been painted as bright as the brightest yellow Davis may have chosen for his works, 15 of his large canvases from the 1960s are on display, some of which have not been seen publicly in decades.
The result is an array of wall-sized canvases, whose stripes of an inch or so (usually the width of masking tape that greatly aided their making) fairly undulate with rhythm and unexpected pattern.
While some artworks stretch more than 18 feet across, other works surprise by their unusual size, such as some that are a foot and a half wide but seven and half feet tall.
Three sets of striped canvass that are 9 inches high and 91 inches across look more like bandwidth we recognize from this century. 
And while his stripe paintings were different from anything else in the abstract art world, just as people expected more of them, he went a completely different way, producing dozens of "micro paintings" in 1966 that were an inch square and transported in Sucrets tins. These were placed randomly on the walls ceilings and floorboards of galleries, but never with a price tag because he was too embarrassed to charge for them.
Davis' fanciful names for his paintings—Dr. Peppercorn, Gothic Jab and Raspberry Icicle among them—were inspired by the whimsy of Paul Klee titles and came after the paintings were complete.
And while his vivid arrangement of color seems to have surely come from careful planning, Davis wrote in 1972, "I never plan my color more than five stripes ahead and often change my mind before I reach the third stripe."
Indeed, on occasion the color was due to whatever was at hand in his D.C. studio. "Sometimes I simply use the color I have most of and worry about getting out of trouble later," he said. 
It all seemed to work out. 
Davis had an early mentor in Jacob Kainen, then curator of graphic arts at the Smithsonian and an artist himself. Kainen would take Davis to the Phillips Collection and Corcoran Gallery of Art in Washington to discuss modern art and give encouragement.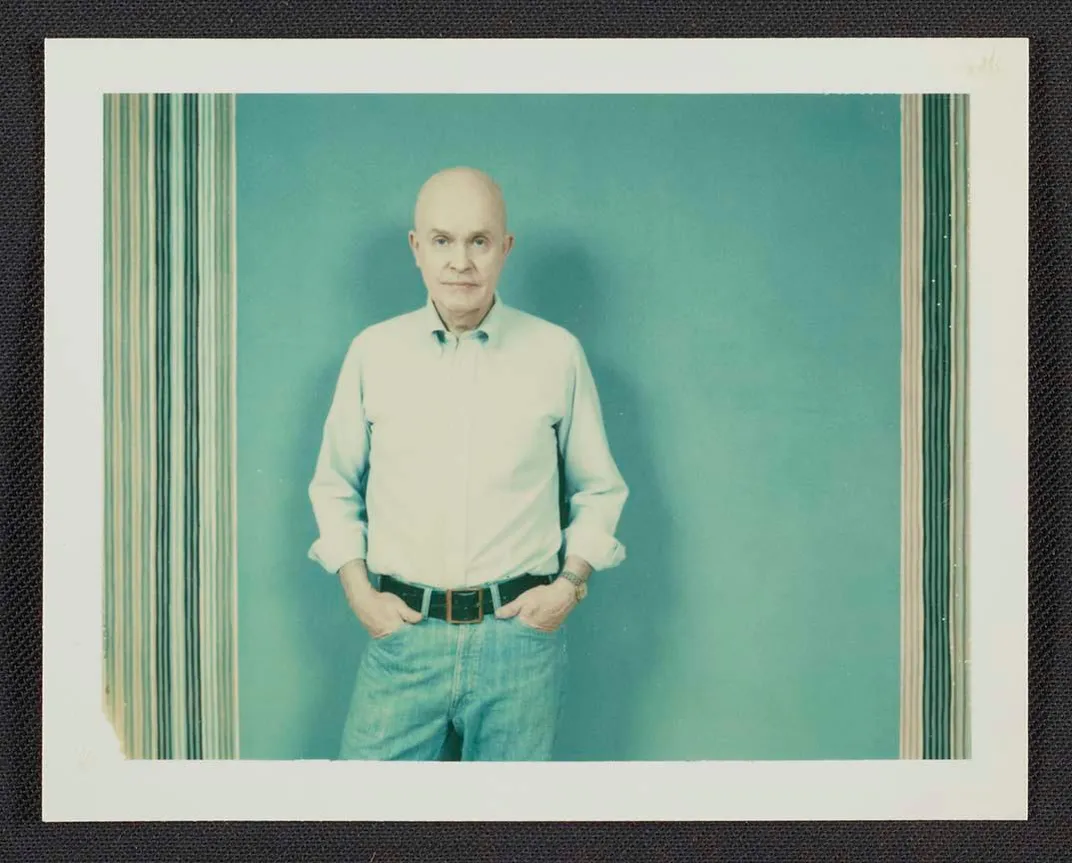 Though an initial show at a Dupont Circle theatre gallery in 1961 drew scoffs from some viewers who compared his paintings to awnings or slipcovers, Davis eventually sold his first artwork of five horizontal planks in 1962.
A similar work is among the earlier pieces featured in "Gene Davis: Hot Beat," which spans just eight years. And, according to consulting curator for the show and Davis friend Jean Lawlor Cohen, the planks may have influenced minimalist sculptor Donald Judd who reviewed them favorably in an 1963 New York show. 
But Wall Stripes No. 3, as it is titled, is the only one of the larger works with horizontal rather than the vertical stripes that would become his trademark. They were, Cohen says, more aspirational in their upward jutting and would never be mistaken for a landscape.
There was something aspirational about the vertical stripes as well, and their frequently bright colors reflected the whole of the hopeful era. "There was something, a common denominator that went through the '60s," he told an interviewer in 1981. "It was an exciting period. The Kennedy era, optimism was in the air, excitement, campus rebellion . . . you can't isolate any of it."
Influential art critic Clement Greenberg selected Davis along for a show that also featured Frank Stella, Ellsworth Kelly and Kenneth Noland for the influential "Post-Painterly Abstraction" show at the Los Angeles County Museum of Art in 1964. All eschewed thick or visible paint strokes and celebrated vivid color. And suddenly there was a movement and a career change. 
Though he had been gaining attention and gallery shows from his work, it wasn't until he received a $40,000 commission for a 60-foot painting for the Empire State Plaza art collection in Albany that he quit his last regular job, as editor of the AAA Magazine, to concentrate on painting full-time. 
Though renowned in the art world, some of his largest work has disappeared altogether. He painted the rotunda twice at the Corcoran Gallery of Art, which gave him one of his first shows and where he later taught. 
He also painted a blocks-long Franklin's Footpath on the street leading to the Philadelphia Art Museum in 1972 and an even bigger piece, Niagara on a parking lot in Lewiston, New York in 1979 that was 43,680 square feet, the largest painting ever made at the time.
The occasion of the new show at the Smithsonian meant restretching some of the canvases and some touching up. With the vivid yellow walls, the show furthers the intent Davis once said he sought: "an intensity of color that almost hurt." 
The riot of color is so vivid that the show's opening reception was billed a "Hot Beat Dance Party." 
"Gene Davis: Hot Beat" continues at the Smithsonian American Art Museum in Washington, D.C., through April 2, 2017.