A 19th-Century Textile Stitches a Tale of Women's Liberation
Beloved by her pupils, schoolteacher Leah Maguire embraced her freedom through sewing this sampler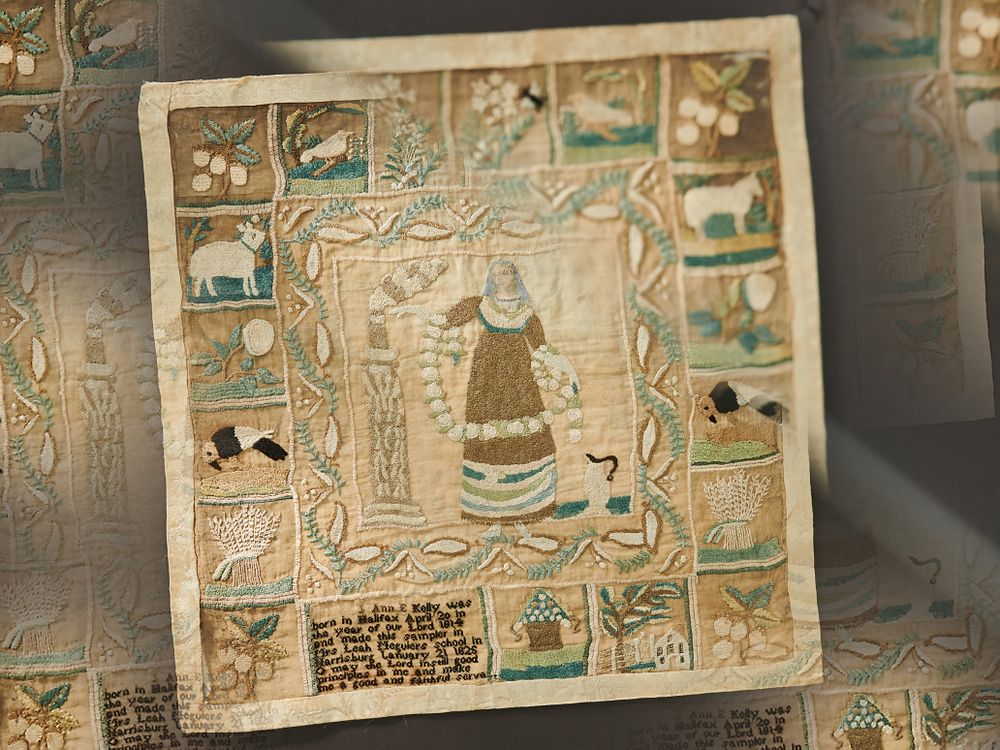 Most 19th-century schoolmistresses are long forgotten, but Leah Maguire of Pennsylvania—known as "The Madam"—embroidered her own legacy. She taught her teenage sewing pupils to replicate her flamboyant style on their blank linen squares, with blocked borders, brassy colors and eruptions of the tricky technique known as queen's stitch, visible in the upper-corner acorns of this 1828 sampler. Working in a typically anonymous art form, Leah's girls boldly spelled their own names in thread—and their teacher's, too.
"It was really important that her name be on there, along with some kind of pious Bible verse," says Jennifer Van Horn, a University of Delaware art historian. At a time when women had almost no control over legal documents and played a second-class role in literature and the arts, Leah's "samplers were tools of reputation-building."
Indeed, the sewing teacher's reputation was often sorely in need of restitching. The name that her students traced with their needles would change multiple times.
Born Leah Bratton in Delaware, the virtuoso married Francis Galligher in 1791 and, as Leah Galligher, set up shop in downtown Lancaster, Pennsylvania, in 1797.
Her customers were the daughters of the city's fast-rising middle class. Whereas working-class women created samplers as a demonstration of their proficiency for prospective employers, the samplers stitched by well-to-do girls were typically more decorative, used more costly materials and "acted as signifiers of their gentility," says Susan Brown, a curator in the textiles department at the Cooper Hewitt, Smithsonian Design Museum.
Yet as the Madam busied herself burnishing adolescent reputations, her own public image took a major hit. In 1802 she filed for divorce. The reason? Her husband's impotence. When it emerged in testimony that the marriage had not been consummated, Francis Galligher struck back: "CAUTION," he wrote in a newspaper advertisement, warning local merchants that he would not foot the bills of the woman who "hath absconded from my Bed and Board, without any lawful cause." In a subsequent letter to the editor, he accused Leah of adultery—and of trying to kill him. To save herself from defamation, Leah and her brother rebutted in the press, saying she'd been a "much injured woman" and denouncing Francis' "long-continued UNMANLY deception."
What the parents of Leah's pupils made of these developments is unclear, but Van Horn writes that "an atmosphere of spectacle and gossip" descended on the school. Perhaps that's why two samplers from 1802 appear without her tarnished moniker.
The next year, though, her restored maiden name, Bratton, graces multiple embroideries, indicating that she was able to resume teaching "almost immediately after her public humiliation," Van Horn writes. By 1805 she had achieved her desired legal status of feme sole—a free single woman who could manage her own affairs.
Snipping ties with Lancaster, Leah moved to Harrisburg and married again, to a quiet shoemaker, Isaac Maguire, taking his name. They opened a popular school, with plenty of students to embellish Bible verses.
Why did local parents overlook Leah's past, by then as checkered as her trademark borders? Perhaps not all the salacious details followed the "maiden lady" the 45 miles from Lancaster. Or maybe by then her body of work was proof enough of her worth: Even today, textile scholars consider her samplers among the finest of their form.
Certainly, Leah's students found her immensely fun. Fond of loud clothing and "fantastical headdress … of every variety of flowers," she played the fiddle at parties into middle age and urged "the young folks to dance, which was thought to be very fine," one contemporary observer wrote.
By the 1830s, sewing schools in the Northeast went out of vogue. "The emergence of the public school system in the 1840s meant that girls from all classes could attend," explains Amelia Peck, decorative arts curator at the Metropolitan Museum of Art. Sewing became a crafty pastime.
This 1828 sampler is among the last we have from Leah's school. The student who made it, Ann E. Kelly, has even conjured smoke with her needle. The lone maid in the center—bedecked in flowers, tending the fire and generally running the show—is likely inspired by a biblical or classical character, but it's possible to see a glimmer of the sewing teacher in her, too: the Madam, the maiden lady, the feme sole.