Leo Villareal's 23,000 Points of Light Illuminate the Renwick Gallery
With tens of thousands of individual LEDS, a dangling light sculpture majestically redefines the grand staircase at the Renwick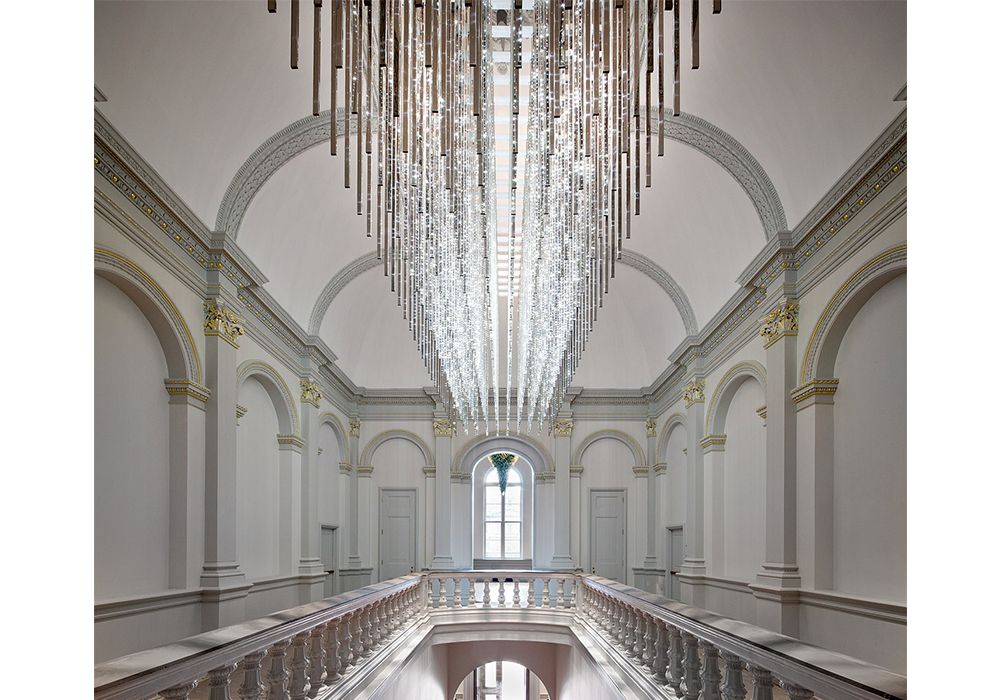 Many sculptors use clay, plaster or metal. Leo Villareal prefers LEDS.
The New York City-based artist has pioneered a particular type of "light sculpting," using tens of thousands of individual LED bulbs and a customized computer program to illuminate them.
It's all a bit futuristic, which makes his latest work particularly intriguing: a site-specific light sculpture created for the reopening of the 156-year-old Renwick Gallery of the Smithsonian American Art Museum, and featured as part of the new "Wonder" exhibition, showcasing the works of eight other contemporary artists. 
"Above the doors of the Renwick, it says 'Dedicated to Art,' which is pretty wonderful and as I understand it, James Renwick was inspired by the Louvre," says Villareal, of the self-taught 19th-century architect who designed and built the museum. 
Inspiring something new from something old is appropriate to his own approach to art. "I start with what's there, what's given, and try to figure out how I can augment—not use the building as a pedestal or add a bunch of things that don't feel appropriate," says Villareal, whose work has been shown in MoMA, PS1 and LACMA. But he says the Renwick stands out as a historic location. 
Villareal's piece, titled Volume (Renwick), holds pride of place installed above the museum's historic grand stairway. It uses LEDS embedded in 320 mirrored stainless steel rods. He describes the reflective metal as a kind of "camouflage" that takes in the surrounding environments and almost becomes invisible.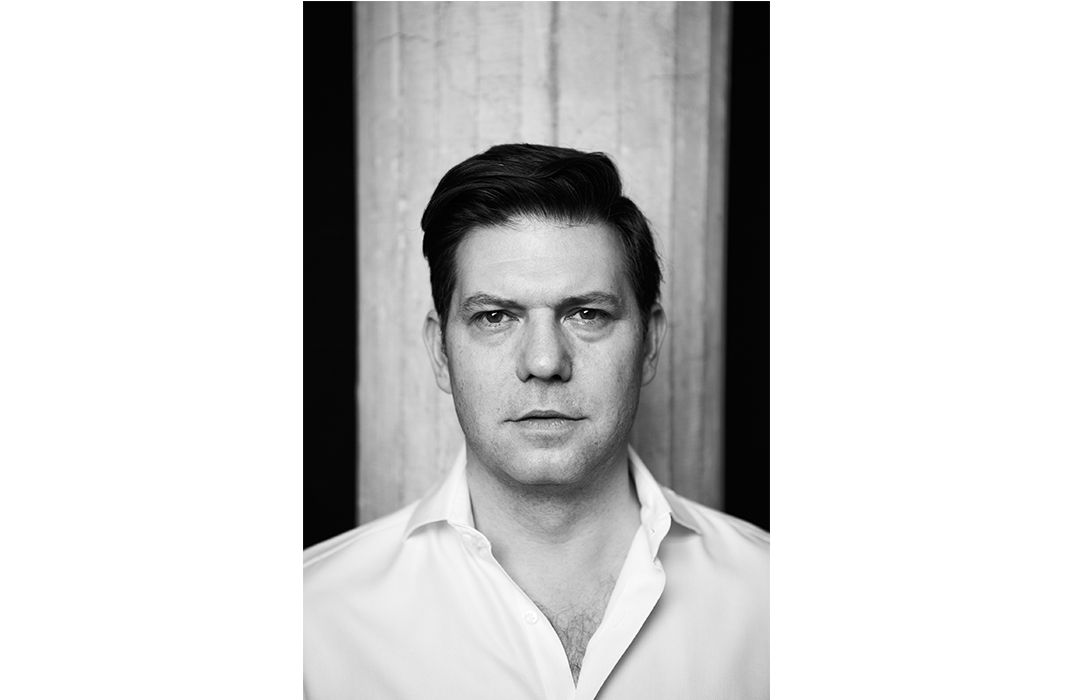 "Fully engaging in each of the environments is part of the goal," says Villareal. Even without the LEDS he aims for the work to be an "optically potent object" and function as a standalone sculpture itself. All the hardware is custom-made, so "it's exciting to not be limited to what you can get off the shelf."
But lights are key to the piece, with 23,000 individual LED bulbs densely packed into the area. It requires hours using his custom software to tune it, adjust it, and refine the light patterns to create the right brightness and tempo—part conductor, part programmer. 
"The most exciting moment for me is to sit down in front of the piece and actually have control of it with my laptop," he says. "There's a lot of testing with these things. The installation is complicated because it's a historic building. Hopefully all this planning will pay off."
Villareal began using lights in his work "as soon as I could afford them"—creating his first light sculpture in 1997 with strobe lights and eventually moving into LEDs. He prefers them over incandescent bulbs or other types of illumination since they offer reliable, solid-state lighting, with long lifespans and energy efficiency.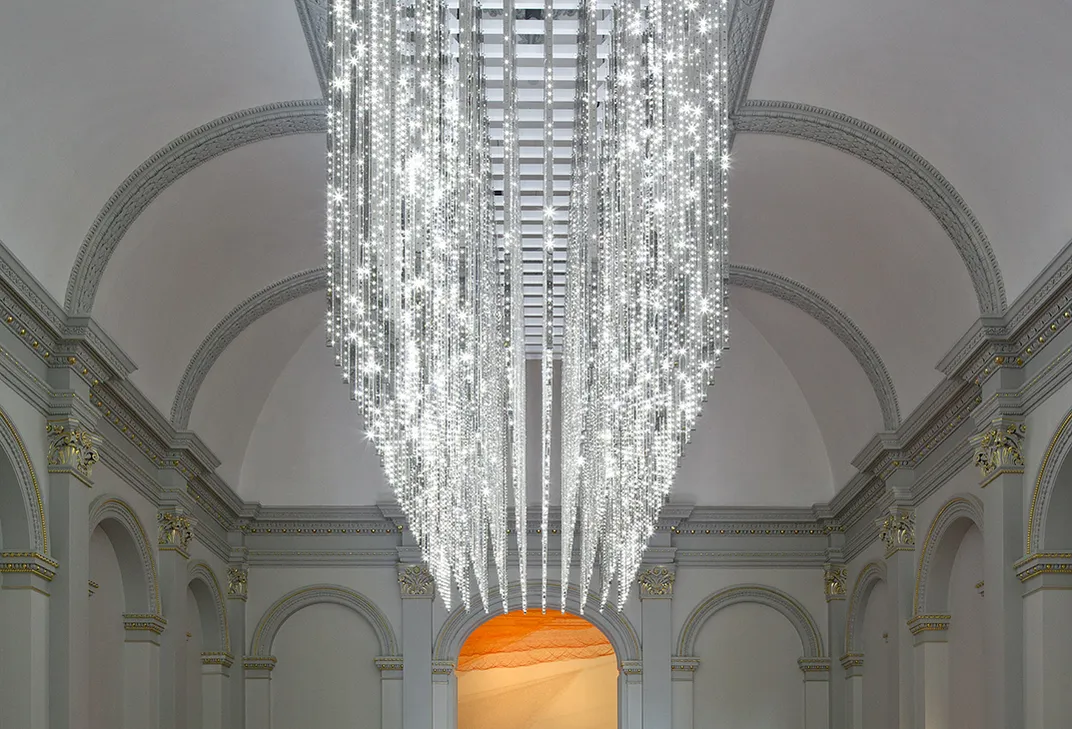 "It's important to me personally that it be energy efficient," says Villareal. 
Some of these projects can take years, from the early planning stages to the final adjusting. His largest work so far is The Bay Lights, when 25,000 lights were strung almost 1.8 miles across San Francisco's Bay Bridge. As for efficiency, he estimates that the work costs less than $30 a night to operate. They also have a solar farm that offsets that cost. (He has yet to determine the expense of the Renwick work.) 
The Renwick piece is much denser, measuring about 20-feet long by 9-feet wide and installed over the museum's grand staircase. The work is indicative of his growing interest in three-dimensional works. Having mostly worked in height and width, this "volumetric display" allows Villareal to be even more of a "sculptor." 
He was sending fabricators down to install the work at the end of September. The work breaks down into fairly compact pieces, fitting into crates that he has to figure out how to get into the gallery.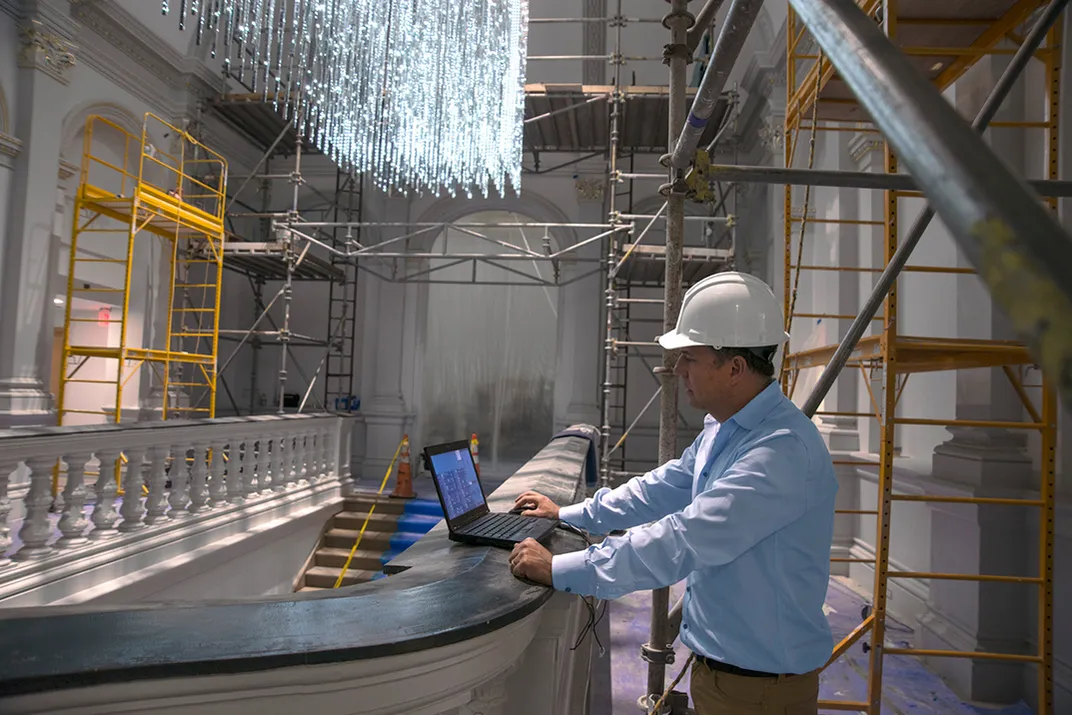 "Seeing how these things interact with space and with the historic element of the Renwick is really interesting," he says. "It's exciting to put new things together with historic."
Even though he's using a computer, this is partly an improvisation as Villareal and his team have developed custom tools and software over the past decade, which ensures that the sequences never repeat, keeping things from getting predictable, even for the artist himself. He works with programmers and "a pretty great team of engineers," who develop the actual software, but "at the end of the day I'm the one using the tool to actually sequence pieces."
He aims to create what he calls "ephemeral"—which will have a presence but will also be very fleeting.
"There's a lot of subtlety to these pieces," he says. "These are digital artworks, but the exciting thing is to put them into the real world, actually put them in the space." 
Leo Villareal is one of nine contemporary artists featured in the exhibition "Wonder," on view November 13, 2015 through July 10, 2016, at the Renwick Gallery of the Smithsonian American Art Museum in Washington, D.C.