When Jill Biden took the stage during her husband's presidential inauguration on January 20, 2021, she wore an accessory not typically associated with the historic tradition: an ocean blue face mask.
Designed by Alexandra O'Neill to match the first lady's dress and overcoat, the mask reflected the unusual circumstances of Joe Biden's inauguration, which took place in the midst of the Covid-19 pandemic, just two weeks after the previous president's supporters launched an unprecedented attack on the United States Capitol. In his inaugural address, the 46th president appealed to the nation for "that most elusive of things in a democracy: unity."
Later that day, the first lady donned a second inaugural ensemble, this one an ivory-hued dress and coat (plus matching face mask) designed by Gabriela Hearst. In a clear parallel to her husband's speech, Biden opted for a dress embroidered with flowers from every state and territory in the U.S.—a message of unity "needed for the road ahead," as Hearst said in a statement.
Just over two years after her husband's swearing-in ceremony, Biden presented both of her inaugural outfits to the Smithsonian's National Museum of American History. The ensembles will serve as the centerpiece of the museum's popular "The First Ladies" exhibition, appearing alongside 25 other dresses (including 10 inaugural gowns) and more than 160 artifacts.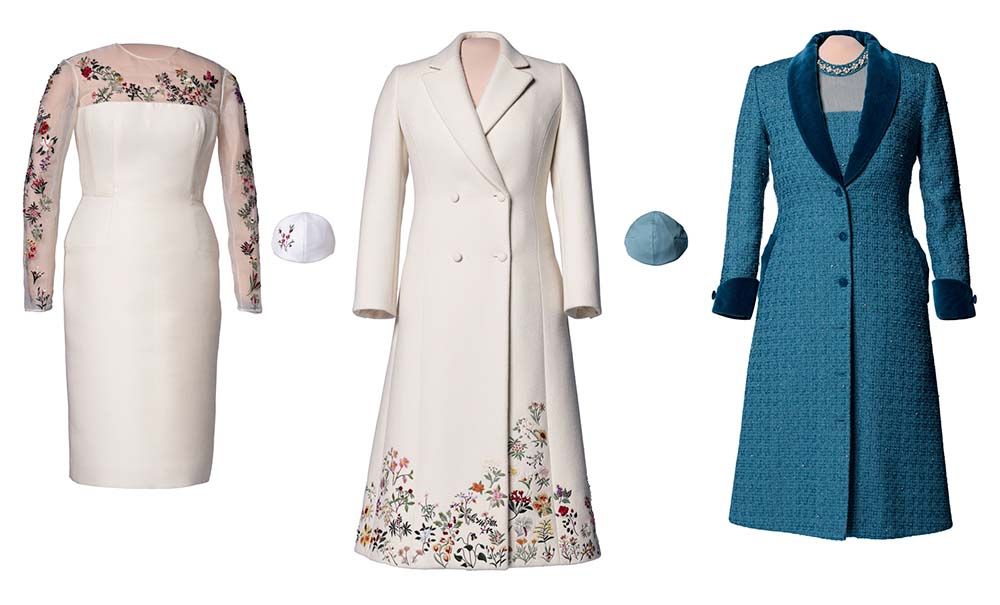 Addressing distinguished guests and reporters during a January 25 ceremony at the museum, Biden referenced the masks placed on mannequin heads beside her.
"They're just pieces of small cloth," she said, "but they represent the enormity of what we all faced at the time. A pandemic that has changed our world forever. Months of closed schools and businesses. A virtual presidential campaign. So much time spent apart. But these masks also represent the moments of courage and kindness … the strength and the resilience [shown when] we vowed to rebuild and move forward."
Biden added, "I want to thank the Smithsonian for memorializing the history that is sewn into every stitch of these ensembles."
Helen Taft, wife of President William Howard Taft, started the tradition of donating inaugural ball gowns to the Smithsonian in 1912, when she contributed the dress she'd worn to her husband's 1909 inauguration to the museum's nascent First Ladies Collection. Every first lady since has donated a dress to the collection, which boasts more than 1,000 objects, including clothing, personal effects, furniture and White House ephemera.
"The First Ladies" was "the first Smithsonian exhibition made by, for and about women," said Smithsonian Secretary Lonnie G. Bunch III during the dedication ceremony. "This exhibit is and always has been about so much more than the gowns. … They're here to tell a story about gender, power and public symbolism. … They tell a story about how each of these women navigated the country's most public and unscripted job."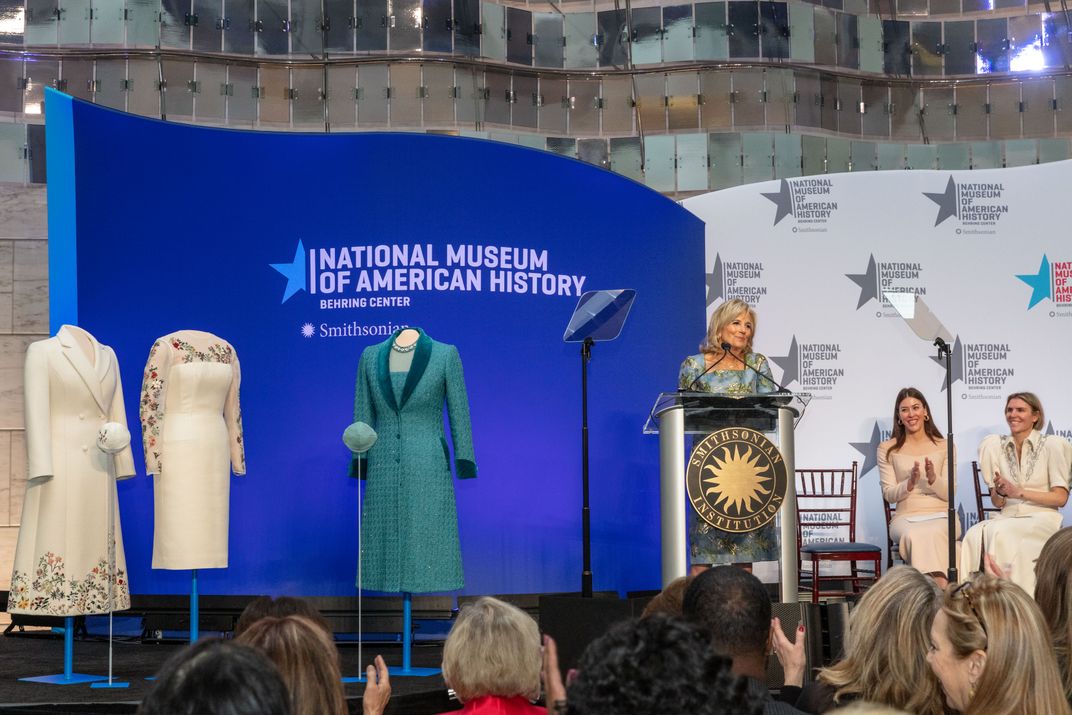 Most first ladies—from Mamie Eisenhower to Laura Bush to Michelle Obama—have donated the gown worn at their husband's inaugural ball. But Biden didn't have this option, as pandemic policies prevented the president from hosting the lavish quadrennial event. (Edith Wilson, Lou Hoover and Betty Ford, among others, also missed out on inaugural balls for reasons ranging from war to financial austerity.) Instead, Biden chose to present the Smithsonian with both the day and evening attire she'd worn on January 20—a historic first for the museum, which has never received both ensembles simultaneously.
Biden's daytime ensemble, which she wore during the official swearing-in at the Capitol, consisted of an ocean blue wool tapered tweed dress with floral embellishments crafted from pearls and crystals. The first lady's matching overcoat had a dark blue velvet collar and cuffs. According to O'Neill, the 36-year-old founder of the Markarian label, the outfit's distinctive blue hue "was chosen … to signify trust, confidence and stability."
O'Neill is known for her whimsical designs, which have been worn by such celebrities as Kerry Washington, Laura Dern and Anna Kendrick. She relied on a small team in New York City's Garment District to produce the first lady's wool ensemble.
In her remarks, Biden said she first encountered O'Neill when the designer "was just getting started, the leader of a young, small team with big ideas. Her designs were both timeless and new. And that was exactly what I was hoping for. Because young people showed up and voted for Joe in historic numbers, and I wanted to reflect the passion, creativity and hope of that day."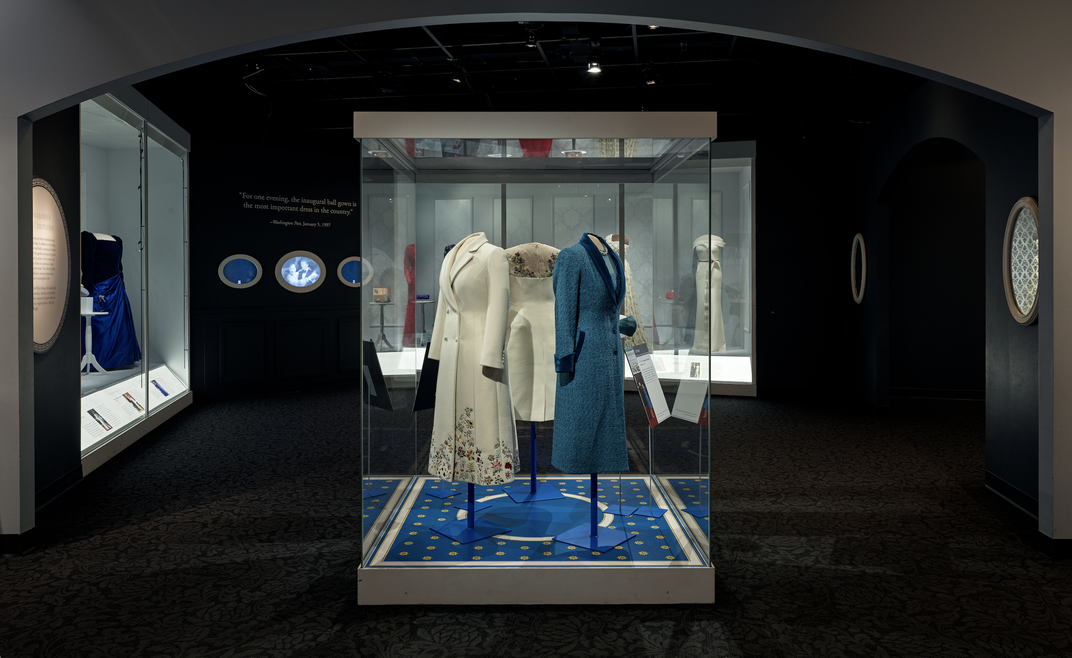 For her evening attire, Biden turned to the eponymous 46-year-old founder of Gabriela Hearst, a brand known for its sustainable approach to fashion. Hearst, who had previously worked with Biden on other ensembles, settled on an ivory silk wool dress and matching double-breasted cashmere coat. Both featured hand-embroidered flowers from the 50 states, the 5 territories and the District of Columbia; as Hearst wrote on her blog, the motif adorns the dress' silk organza neckline and arms, with flowers branching out from a central bloom representing Biden's home state of Delaware. Each flower took two to four hours to embroider.
"It was very important for us to showcase the sophistication … of the United States [while] respecting our environment in doing so," said Hearst during the ceremony. Her team used existing fabrics to create the design, later repurposing leftover materials to craft a navy version of the dress that Biden wore during her husband's April 28, 2021, address to Congress.
As a final touch on the ivory inaugural ensemble, Hearst placed a quote from Benjamin Franklin in the lining of Biden's coat. Alluding to the first lady's role as an educator, the embroidered inscription reads, "Tell me and I forget. Teach me and I remember. Involve me and I learn."
Biden expressed hope that the dresses will help future educators teach their students "about what started on that January day, about how we came together as a nation, rebuilding shoulder to shoulder and heart to heart. I hope they will inspire future generations to learn more about the women behind the dresses."
The first lady closed her remarks by saying this, playfully: "And I look forward to adding some menswear to this gallery in the future."
Jill Biden's inaugural ensembles go on long-term view January 26, 2023, in "The First Ladies" exhibition at the Smithsonian's National Museum of American History.