How One Museum Curator Is Bringing Burning Man Out of the Desert
The outré scene of unrestrained revelry and cutting-edge art in Nevada's Black Rock Desert comes to the Renwick Gallery
Shawn Westfall woke to a cold, dimly-lit morning on Nevada's expansive, other-worldly Black Rock Desert. Stumbling out of his tent and slinging a warm coat over his shoulders, he made his way to the porta-potty a block and a half down the "street," a makeshift, dusty strip lined with colorful campsites. The sun had just begun its ascent; illuminating mountains so far in the distance they seemed unreal, and shedding a soft light on the stillness of the temporary city.
Where hours ago, thousands of people roamed the dried-up lake bed, or the Playa, as they call it, only a hundred or so remained awake: either partying long into the chill of the desert morning or roused early for a sunrise bike ride to the city's focal art displays. On his street, Westfall walked alone, struck by its contrast with the daytime's raucous revelry. Only one other man moved towards him on the other side of the road, and to no surprise for those who have experienced the city's neighborly customs, rather than pass by, he approached Westfall.
"I have something for you," he said, after giving him a hug. Pulling a rock from his backpack, he told him, "This is from Baker Beach, which is the site of the very first Burning Man festival. I want to give this to you, and you take this and remember that this festival keeps going, it perpetuates, and you help make it."
Westfall, sentimental with tears in his eyes, walked on toward the porta-potty, grateful to have the souvenir from that first 1986 history-in-the-making event.
A Washington, D.C.-area consultant and improv comedian, Westfall is what those in the know refer to as a "Burner," a repeat attendee of Burning Man, one of America's largest—and most misunderstood—annual gatherings. He is also a member of D.C.'s own community of Burning Man attendees, many of whom were excited when the Smithsonian American Art Museum announced it will capture the spirit of Burning Man at the Renwick Gallery's new exhibition "No Spectators: The Art of Burning Man."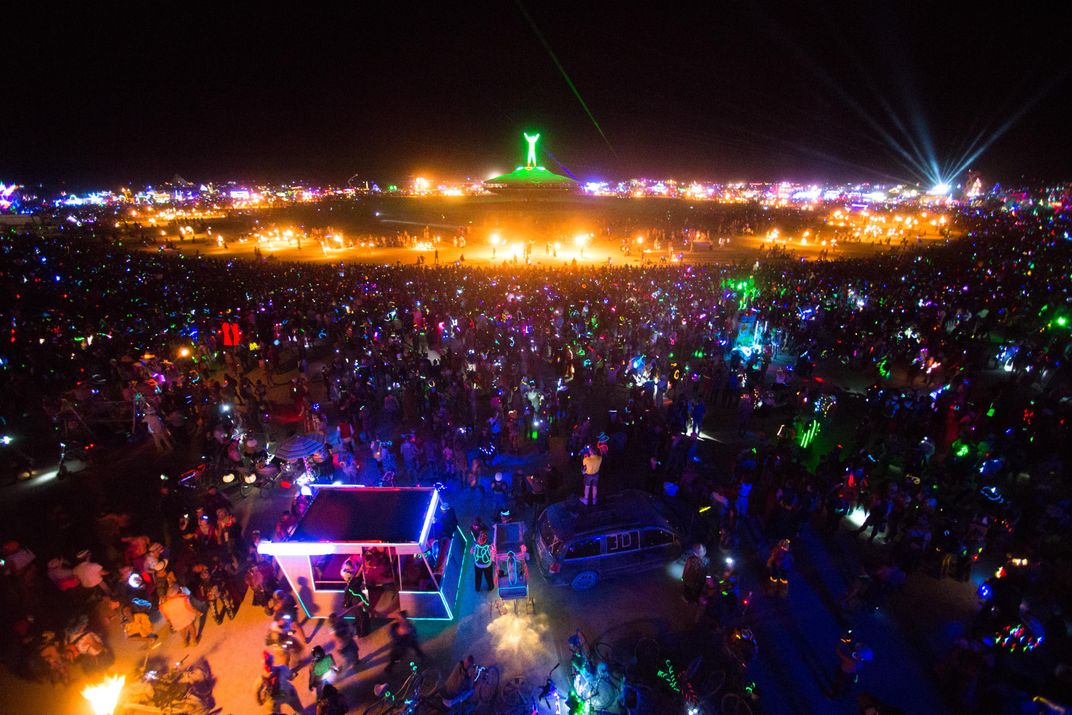 The show will be the first ever major exhibition dedicated solely to the art and culture of "that thing in the desert," as it has come to be known, and will feature artworks and relics from the gathering both within the gallery and outside in various locations within the museum's neighborhood.
Says the show's curator Nora Atkinson, bringing the festival to America's craft museum was an easy choice. "I think Burning Man is America. It's testing our wildest dreams."
Nearly two decades ago, Smithsonian magazine asked reporter James R. Chiles to drop in on the 15,000 revelers at the ninth annual Burning Man in Nevada's Black Rock Desert. To say Chiles was taken aback by the bizarre, unrestrained weeklong party on the Playa would be an understatement. "Bring together the National Lampoon staff, Mardi Gras and a high school science fair in a Woodstocky camp setting," he wrote, "and you'd be getting close to the scathing parody and techno-culture that thrives here."
The name Burning Man conjures images of wild artworks, elaborate costuming, desert raves surging with electronic dance music, survival-style camping, and yes, often drugs. Perhaps its most iconic feature is also its namesake: The annual Man sculpture is ceremonially burned on the second-to-last night of the gathering—in what Chiles described as a "sort of pagan pyrotechnic ritual."
Today, the temporary city—the tenth most populous in the state—of Burning Man welcomes more than 70,000 Burners from all over the globe on its seven square-mile patch of desert. Beyond getting around on bicycles or eccentric "mutant vehicles," blasting EDM at all hours and participating in a unique sharing culture, audacious desert-goers flock to Black Rock for the art. At once outlandish and somber, funky and wondrous—the artworks together create the most interactive, large-scale and experimental exhibition in the country, possibly in the world.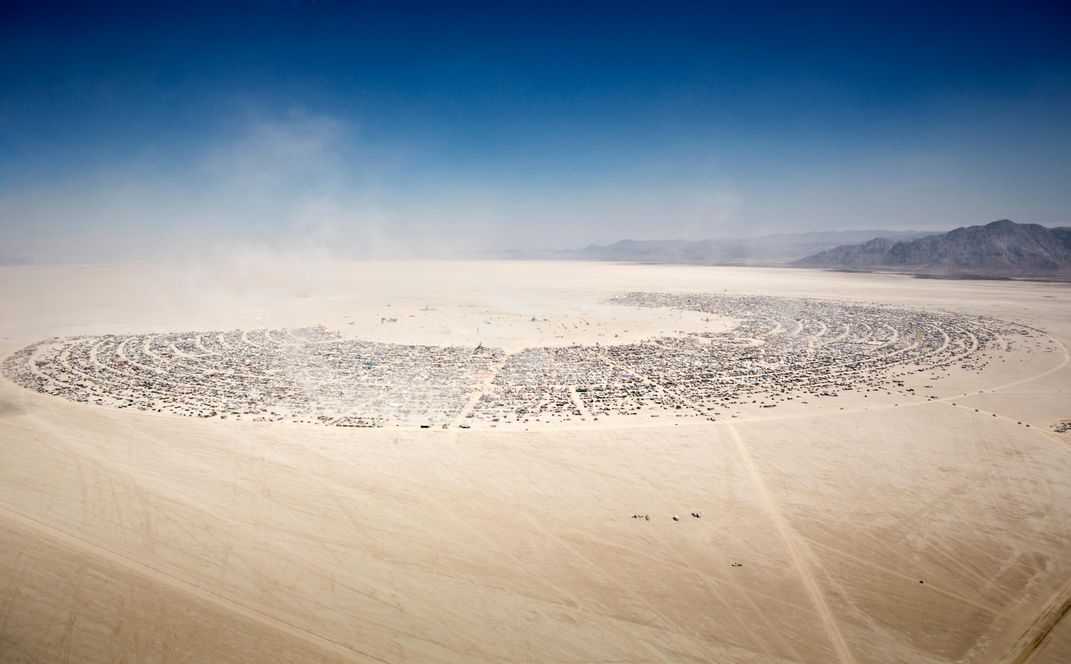 Notable works include a recreation of a Spanish Galleon ship, weathered and half-sunk into the desert floor, a glistening Canada goose perched for flight, its feathers made of 120,000 American and Canadian pennies, and a flaming kinetic metal octopus constructed from junkyard parts.
Collaboration and community is a core Burning Man value and a major point of attraction for many artists, who crowdfund their projects, work together in large art collectives, and gladly accept the helping hand of a group of eager supporters.
Artists also participate for the unique challenge of building a work of art in the desert, as well as for the opportunity it gives them to experiment with technology.
"This is a remote location with harsh conditions," says Stephanie Stebich, the director of Smithsonian American Art Museum. "There's sand, there's wind, there are dust storms. It's 100 degrees during the day time, and it's 60 degrees at night. The works often light up or are kinesthetic. So there's quite a bit of technology involved in creating these."
On top of challenges such as lighting (which is a safety feature required in the Burning Man rules), and powering that light and creating movement (usually done with batteries or small generators), artists also have to keep their artworks protected against the wind and heat. For this reason, they often arrive days to weeks in advance in order to assure their works are secure.
Often, the greatest challenge is simply topping the technology of past artworks. Artists have been known to work for years programming just one project.
In this sense, the draw of Burning Man is purely the opened-ended call for creativity. Artist Christopher Schardt, whose work appears in the Renwick show, has been coming to Burning Man since 1998. He begins each project by challenging himself with the question: "what if I could do this?" Says Schardt, he creates for Burning Man because he "simply wants to do something no one has done before."
Schardt made the switch to LED artwork, after some years creating kinetic artworks powered through pyrotechnic effects or, "fire art." LED is a much easier—and safer—medium. Using a self-programmed app to control coordinated LED and music displays, Schardt's more recent projects feature animated imagery created by tens of thousands of individually-controlled LEDs.
The Burning Man Journal, called Schardt's 2015 artwork, Firmament "a beacon on the playa," and the "the most amazing show of LED lights you've ever seen." Night after night, the work—a canopy of LED grids suspended over the ground—gathered hordes of enraptured viewers.
But art isn't the gathering's only attraction. Some Burners carry a passion for the dusty Black Rock Desert and its flat, Mars-like basin. Patricia Leeb arrived at Burning Man in 1994 in a Ford Taurus during the dead of night. She spent the night in the car and climbed out as the daylight grew brighter.
"I looked around me into the blazing sunshine and instantly fell in love," she says, recalling the incredibly beautiful morning light on the distant mountains. She kept returning, and even met her husband, Stanley "Silver" Morris, at Burning Man. But, the desert is still her favorite part.
Another draw is the city's civic culture, delineated in ten important principles founded on utopian ideals of generosity, inclusion and complete freedom of self-expression.
Merciless desert conditions and lack of modern conveniences—the only available items for purchase during the week are coffee and ice—require a unique self-reliance and altruism that translates into countless opportunities for human connection and community participation—one of the gathering's biggest selling points. The city coordinates volunteering and publishes a schedule of performances and other events. Within individual camps, Burners bring their own entertainment and volunteer to staff medical tents and a radio station. Discussion panels take up topics on everything from the American prison system to tabloid journalism, and campsite activities include Swedish beer aerobics, cookie decorating, improvisational dance, cuddle puddles, tribal ritual reenactments and cooking classes.
"It's an inhospitable place, and you are going there to have an experience, to learn something—to learn something about yourself, and learn something about others," Stebich says. The chance encounters and joyful spontaneity are what drives Tonda Phalen to the festival. A D.C. photographer and mother of two, Phalen first arrived in Black Rock after seeing a Burning Man special on "CBS Sunday Morning" and deciding she needed to try it out.
One of her favorite memories was when she and a friend lost their way in a dust storm, far out on the Playa. They took refuge in an isolated art car that featured a musical light show. The pair crawled inside and watched until morning.
Phalen created an interactive art piece within her campsite one year, called The Bathroom Wall, where guests and visitors were encouraged to leave messages with black Sharpies. She does the ice runs for her camp and volunteers with the city's post office. She's also contributed funds to support the artworks, including the Galleon ship.
"You realize you're one little person, one tiny little speck who's just trying to do your part to make everything else work," Phalen says.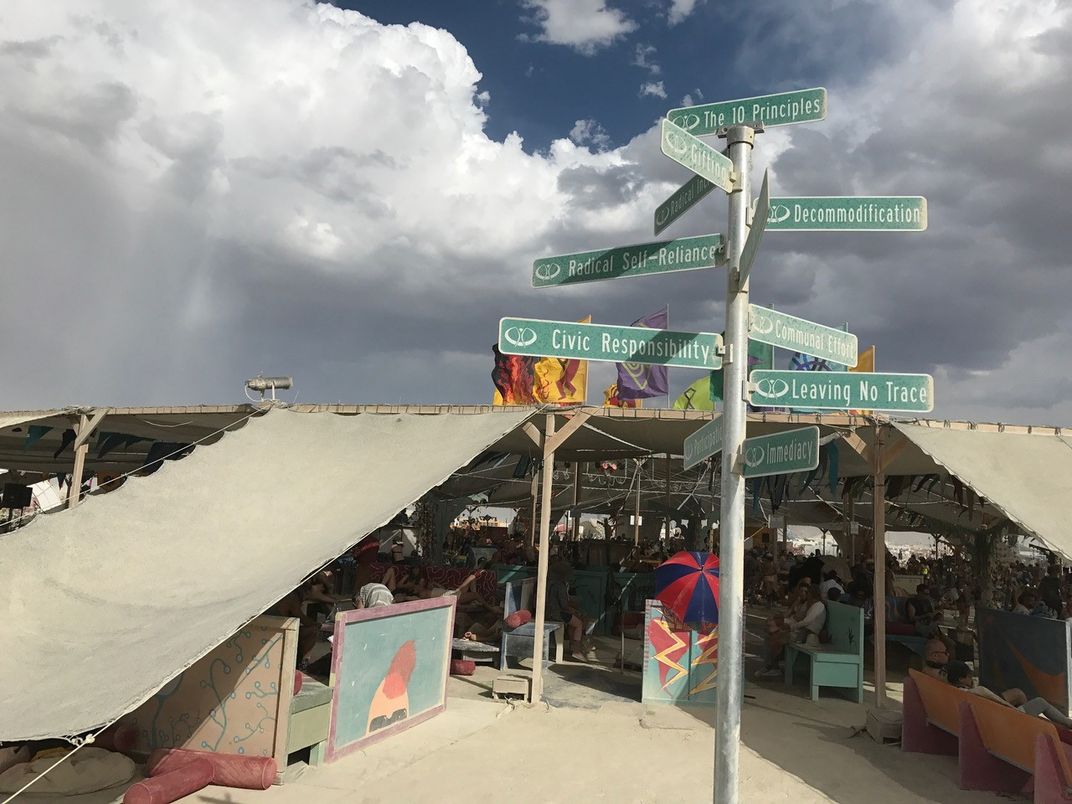 According to Westfall, it's the diversity of experience that makes Burning Man what it is. "It isn't just drugs and sex and music," he says. "It's drugs and sex and music if that's what you're looking for, but it's also art. It's expression. It's vulnerability. It's being present. It's understanding that even a simple trip out of your tent to go to the porta-johns can result in some life-altering event."
One thing most Burners agree on, unsurprisingly, is that a highlight of the festival is the burns. In a chaotic celebration, the Man is burned on the second-to-last night. The Temple—another annual fixture of the gathering—is lit aflame the following evening in a more somber ceremony.
The Temple is notable for its departure from the festival's loud and unruly environment. A coveted commission each year, the non-denominational sanctuary provides a place of meditation—its offers comfort and encourages reflection. Inside, festival-goers are permitted to leave offerings, from scribbled poetry to ashes of loved ones. They are burned together with the Temple, closing the festival on a note of solemnity, and recognizing that the experience of Burning Man, as Atkinson puts it, "is really about immediacy and ephemerality."
And then, everything vanishes. After nine days of the festival and many weeks of set-up, Burners pack up and drive off (or fly out of Burning Man's Black Rock City Airport). The Playa Restoration team stays to help the department of public works comb the desert for anything left behind and restore it to its pre-Burning Man condition.
One of the ten principles, "leave no trace" is a mantra as well as a rule. Just about two months after the first trucks bearing art pieces arrive, the Playa is empty once more.
But, it's not over. Attendees who want to live out Burning Man values in their daily lives and reconnect with those they met at the festival can participate in a local faction of the larger Burning Man community.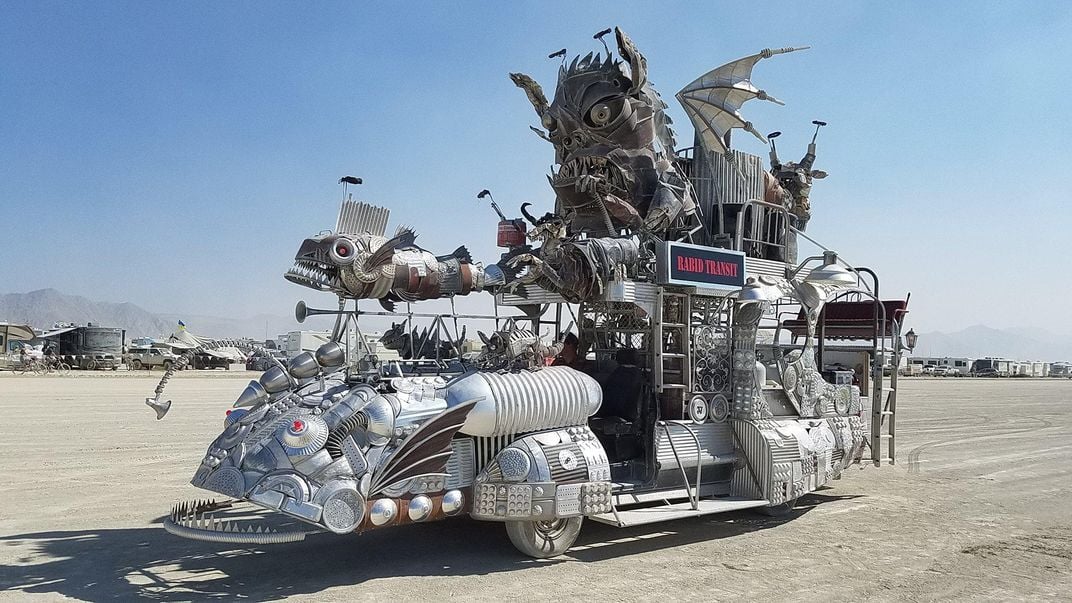 The community in Washington, D.C. is one of the largest in the country. The group organizes volunteering and sponsors local events. Some area residents may recall when they hosted a burn and gathering on the National Mall, called Catharsis on the Mall. Members of the group even work together to bring artwork to Black Rock.
"The people who live in D.C. usually come to D.C. with the idea to change the world in some positive way," Westfall says. "Rather than simply talking about things, D.C. Burners get things done and they get things done really well."
It was this kind of spirit that kicked the group into high action when Atkinson reached out about the Renwick's exhibition. Throughout the entire length of the museum's "No Spectators" show, D.C. Burners will act as greeters and help with crowd control. Others have volunteered their couches for out-of-town Burners attending the exhibition.
While Burners have been waiting months for the show's opening, museum curators and Burning Man officials have been waiting years. One of Atkinson's first acts as a Renwick curator was to propose the idea of an exhibition based on the festival, and then to figure out a way to capture such an enigmatic event inside a (relatively) small 19th-century building.
The first step for Atkinson was approaching Burning Man Project, the organization of about 100 year-round employees that puts together the festival, engages with the art world and connects the thousands of Burners around the globe. Atkinson worried the organization wouldn't be interested in a major museum exhibition.
Her fears proved unnecessary. Kim Cook, director of art and civic engagement at the Burning Man Project, was eager to "create as authentic an opportunity as possible, and [ensure] people who attend the exhibit feel some sense of contact with the culture."
Hours of collaboration and negotiations followed. The team spent months pouring over concepts: from methods of community engagement to artworks to Burning Man street signs.
"The beauty of Burning Man is it's always different," said Stebich. "Our Burning Man exhibition will be unique, just like every Burning Man gathering is unique."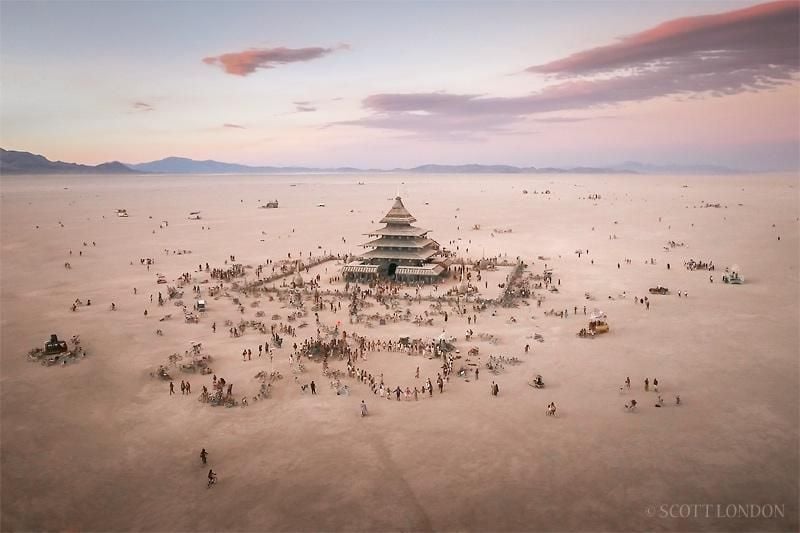 The immersive, gallery-wide exhibition demands visitor interaction—hence the name "No Spectators." An elaborate paper gate rises floor-to-ceiling and sets the tone for the coming works. Made of plywood, fabric trim and photographs printed on hardboard and bond paper, the gate hides diorama scenes inside its posts. The 15-foot creation by artists Michael Garlington and Natalia Bertotti prompts the first of many questions along the lines of, "how in the world did they think of that?"
Museum-goers will see extravagant costumes worn at the event, examples of the "mutant vehicles" and have the chance to jump into the festival utilizing virtual-reality programming created through the museum's partnership with Intel.
An 18-foot replica of artist Marco Cochrane's Truth is Beauty, casts dynamic shadows on the museum walls. The translucent, steel mesh sculpture of a woman fearlessly stretching towards the sky answer's the artist's question: "what would it look like if women were safe?" The 55-foot original debuted at Burning Man in 2013 and resides today on the San Leandro Tech Campus in California. Special lighting effects for the Renwick's smaller version create life-like movement that echoes the women's dancer-like pose.
The museum's Grand Salon hosts the Temple designed by renowned artist David Best. The 73-year-old sculptor, who became famous for his Burning Man temples, has created nine for the festival since he initiated the annual tradition in 2000. Assembled in pieces, the carved-wood Temple, which filters sunlight through intricate, multilayered ceiling panels, is designed specifically for the vast second-floor Grand Salon. This Temple will likely be Best's last, and is the central feature of the show. Just as it would be on the Playa, guests are encouraged to leave personal offerings, which will likely be burned after the culmination of the show. "We do intend to send the offerings to Burning Man," says Atkinson, "or hand them off to our local Burner community to burn after the exhibition."
An archival gallery of Burning Man records and paraphernalia traces the history and development of the festival. Brought to the Renwick by the Nevada Museum of Art, who hosted their own archival exhibition "City of Dust: The Evolution of Burning Man" in 2017, this portion of the exhibition includes posters, maps, signage, clothing patches and other relics from Burning Man past.
The unique technology utilized in the art of Burning Man, is on the cutting edge of a new artistic movement that combines art, light and computer programming. Shrumen Lumen by the art collective FoldHaus is a colorful, interactive constellation of gigantic LED-adorned mushrooms, that first graced the Playa in 2016. The entire piece—complete with Black Rock dust—takes over one entire gallery and entices visitors to control the lighting by standing in different spots on the floor.
Christopher Schardt's Firmament that captivated Burning Man attendees in 2015 with a canopy made of a triangular grid of LEDs has brought a replica, Nova, to the Renwick.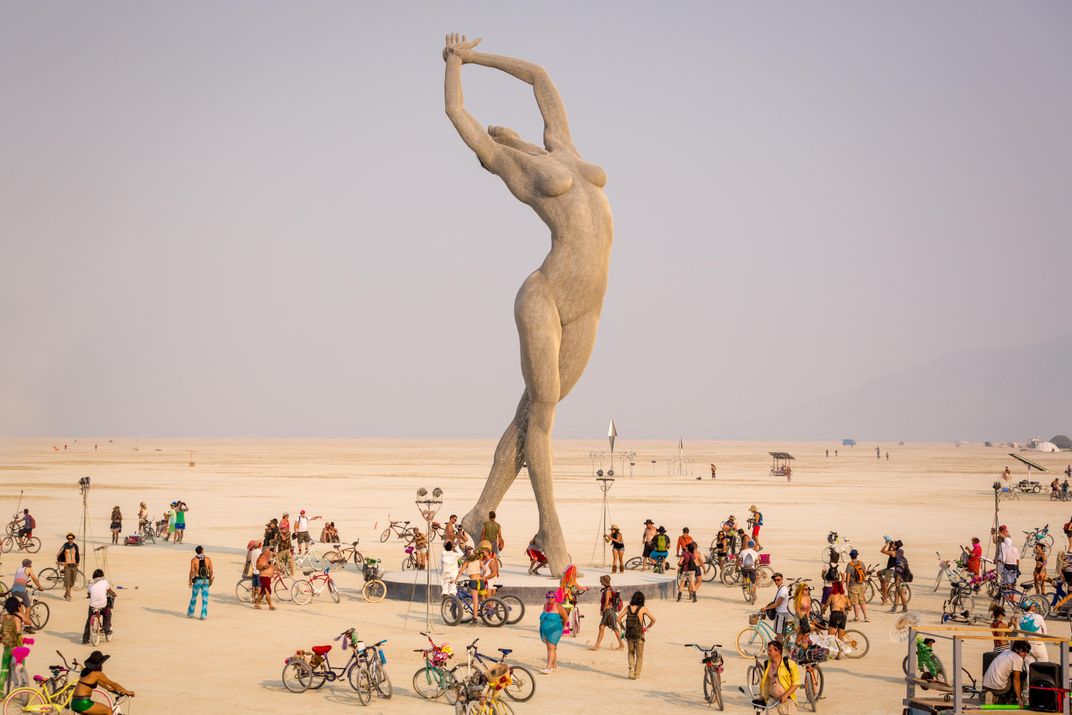 In the neighborhood surrounding the museum, commuters and exhibition visitors alike can experience installations such as the 12-foot steel letters of "XOXO," a concrete bust of Maya Angelou resting on three books (which viewers can actually enter), and another penny-coated animal—this one a bear on hind legs.
"One of the reasons I wanted to do this show was to bring some serious artistic attention to a lot of these artists whose names are not known," says Atkinson.
Burners are largely excited about the show. In addition to seeing it as a way to shine light on a deserving art movement and its artists, they also see it as a way to show friends and family why Burning Man is special to them.
Tonda Phalen says she can't wait to bring her husband, who has never had an interest in making the trip out to the desert with her. "I thought, this is perfect. He'll be able to see some of the art," she says. "Maybe that whole notion of 'it's just crazy hippies out in the desert' will go away when people realize there really is a ton of meaning behind the organization and what they do."
Says Schardt, Burning Man requires attendees to put away their watches and their expectations, and approach the festival with an open mind. He wants exhibition visitors to do the same.
So often there is a distinct separation between museumgoers and the artwork in the museum, and Atkinson created "No Spectators," in part, to challenge that. As the Renwick works to uphold the Burning Man principles of participation, immediacy and radical self-expression, it also tests the limits of a traditional museum environment.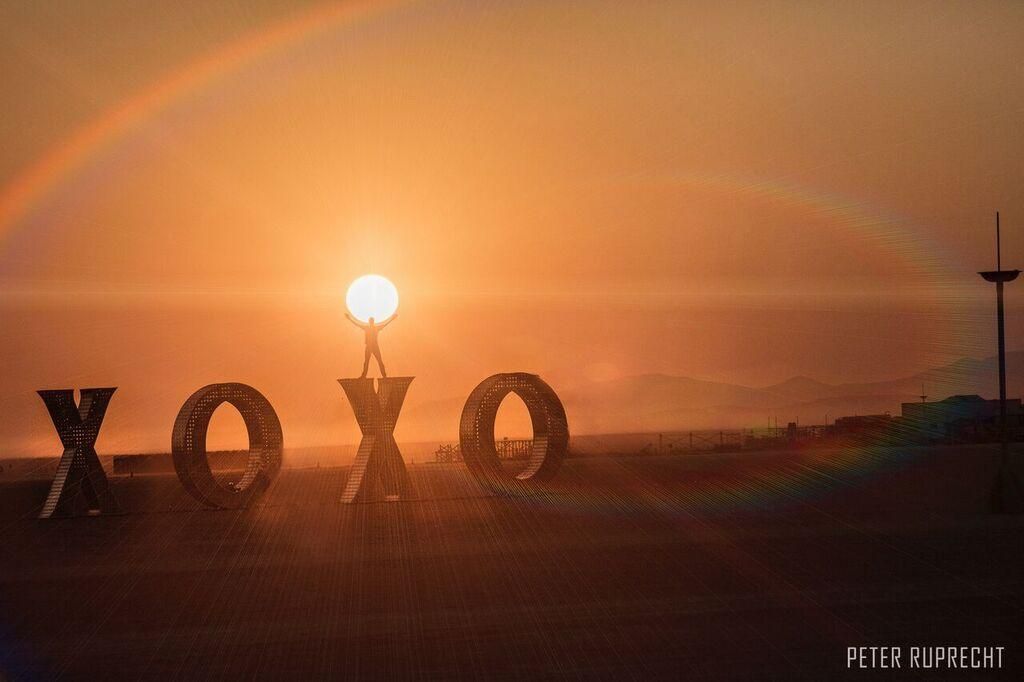 "You forget as an adult about play, and you don't necessarily trust your own instincts," Atkinson says. "I think so many people walk into art museums and they say, I don't get art. And they turn off, and they accept what's there, and they don't get involved. This is a show about breaking down that boundary between people and saying, everybody can be an artist. We want you to engage that imaginative spirit within you and do things that are silly and irreverent. When was the last time you broke out in giggles in an art museum? You should."
Because not everyone can journey to a harsh Nevada desert for a week (and not everyone wants to), "No Spectators" promises to provide a peek into a culture the average American knows nothing about and can't necessarily access. At the very least, it invites audiences to challenge their preconceptions about art.
"I'm hoping it will democratize art and the experience of art, what constitutes it, and the accessibility of it," says Patricia Leeb.
Phalen sees it as a chance for others to understand and adopt some of Burning Man's values. To her, ideals such as civic responsibility and participation are universally beneficial. "It would be nice if [the exhibition] could change our culture, just by people realizing, 'hey, this is your community. You have to be a part of it.'"
"No Spectators: The Art of Burning Man" is on view at the Smithsonian American Art Museum's Renwick Gallery, at Pennsylvania Avenue and 17th Street in Washington, D.C., March 30 through January 21, 2019.