Happy Birthday, Harley Davidson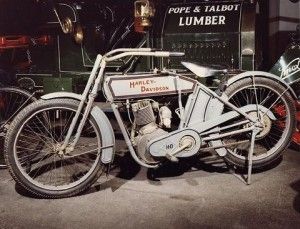 On September 17, 1903, 21-year-old William S. Harley and his childhood friend Walter Davidson incorporated a two-man company that produced motorized bicycles out of a Milwaukee shed. Little did they know that the Harley-Davidson Motor Company would not only be one of two American motorcycle companies to survive the Great Depression, but it would come to define the archetypal modern-day cowboy: the biker.
The American History Museum has a small collection of Harley-Davidson motorcycles, including: a 1913 5-horsepower (hp) model; a rare 1942 Model 74 that belonged to former Guatemalan president Jorge Ubico; Evel Knievel's 1972 XR-750 custom model; and a limited-edition 1993 Electra Glide Ultra Classic touring bike, which Harley-Davidson donated to the Smithsonian to commemorate the company's 90th anniversary.
Curator Paul F. Johnston is a custodian of the Smithsonian's motorcycle collection. In addition to his role as curator of the history of transportation at the National Museum of American History, Johnston is also an avid year-round motorcyclist. We chatted via email about Harleys, and the Smithsonian's collection in particular.
What is the earliest Harley in the Smithsonian, and how did the Smithsonian acquire it? How far have Harleys come in the century they've been around?
Our earliest Harley-Davidson motorcycle is a 1913 5-hp model that was manufactured only ten years after the Company's first bike rolled out of the factory shed in Milwaukee. In 1913, it cost $235 when new; Paul E. Garber of Washington, D.C. purchased it used in 1918. In those early days, Harley-Davidson bikes had single-speed transmissions, air-cooled engines and coaster brakes like today's simple pedal bikes. The 1913 example also has bicycle-style foot pedals and direct chain drive from the pedals to the rear wheel, similar to today's mopeds. Nowadays, Harley-Davidson motorcycles have several speeds and disc brakes, but most of their models still are air-cooled.
Garber joined the Smithsonian staff in 1920 and became the first curator of the National Air Museum when it formed in 1946. Like nearly all riders in the early 20th century, Garber used his Harley as basic transportation until sometime before 1947. In the summer of 1947, there was a Fourth of July motorcycle rally in Hollister, CA. Life Magazine published a sensational article on the rally that included a staged photograph of a motorcyclist sprawled on his bike, surrounded by empty beer bottles. This event's media coverage inaugurated a nationwide bad-boy image for motorcyclists that persists today. Perhaps coincidentally, Garber donated his motorcycle to the Smithsonian the day after the Life article was published.
What's the story behind Evel Knievel's 1972 XR-750 custom? Is there anything special about this bike that is well suited to Knievel's daredevil stunts?
One of famed daredevil Evel Knievel's jump bikes from the mid 1970s was donated to the Smithsonian in 1994, along with a leather jump suit, cape and boots. It is one of the American History Museum's most popular and asked-after items. Knievel lightened and strengthened his jump bikes and their suspension components to withstand the forces of taking off and landing at high speeds of up to 100 miles per hour. He also had special paint jobs for all of them.
Despite the risks he took and multiple bones he broke over his career, Knievel was safety-oriented, and he had a standing offer of $1,000 to anyone who saw him on a motorcycle without a helmet.
How did the museum acquire Jorge Ubico's 1942 Harley?
Harley-Davidson produced motorcycles almost exclusively for wartime use during World War II, but the Motor Company did make a few exceptions. In 1942, they supplied a Model 74 OHV "Knucklehead" V-Twin model to General Jorge Ubico (1878-1946), the President of Guatemala. He used it for personal and recreational use until 1943 or 1944, when he sold it to his nephew. That year he also resigned his presidency and spent the remainder of his life in exile in New Orleans, LA. The bike passed through the hands of a few other collectors before its donation to the Smithsonian in 1981.
What is the 1993 Electra Glide Ultra Classic like?
This model is Harley's largest and most luxurious touring bike. Named the "Electra Glide Ultra Classic," this model is designed to transport two passengers around the country in the finest style and comfort. Three large trunks carry lots of luggage, and the top box even has a mirror incorporated into its lid to repair the ravages of "helmet hair" after a long day in the saddle. This motorcycle also has disk brakes, AM/FM radio, CB radio, cruise control, speakers in the back, and of course lots of air conditioning! It is big, heavy, comfortable, and perfectly suited to long days on beautiful roads.
What is it about Harleys, do you think, that have captured America's collective imagination?
Harley-Davidson motorcycles are all about style. They have a fashionable, bad-boy retro image that hearkens back to the days when things were simpler and more straightforward. They're easy to modify and customize to an individual owner's specific tastes; they hold their value extremely well on the used market; and they're beautiful to look at! The Motor Company has survived two world wars, the Depression and trade tariffs, and their products sell worldwide in the hundreds of thousands every year. They are a quintessential American success story.
Paying homage to the company's centennial in 2003, Smithsonian magazine featured an article about the history of Harley-Davidson by writer Robert F. Howe.