Events: Ethel Merman, Musical Theater, Apollo 13 Memorabilia and More!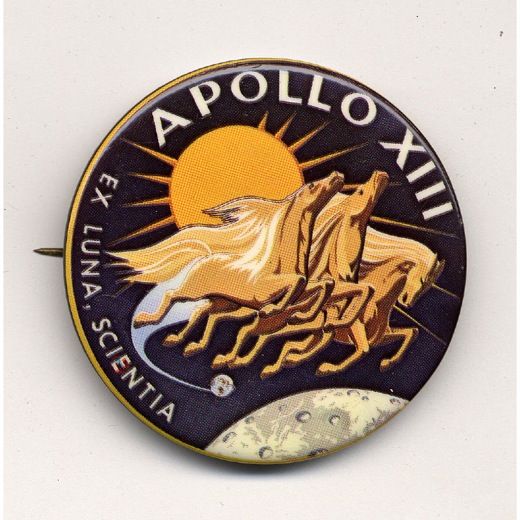 Monday, April 12: The Music in the Musical: The Light in the Piazza and Sophisticated Ladies
The Smithsonian heads out to DC's Arena Stage in a panel discussion that will explore how the sounds of opera and jazz spring up in Broadway musical theater—specifically in pieces like The Light in the Piazza and Sophisticated Ladies. Panelists include the Smithsonian's curator of American music John Edward Hasse from the American History Museum, and author of Beyond Category: The Musical Genius of Duke Ellington;  K. Williams from the National Alliance of Musical Theatre;  David Bunn, the music director of  the Washington Post's "The Classical Beat;" among others. Free, but reservations are required. To make a reservation, call the Arena Stage Sales Office at 202-488-3300. Arena Stage's Crystal City Theater, 7:00-9:00 PM.
Tuesday, April 13: Islamic Art for Christian Patrons: The Painted Ceilings of the Cappella Palatina (Palermo, Sicily), circa 1140
There was a point in time when painting one's ceiling was much more complicated than picking out the right Benjamin Moore color—and even that process can be trying on one's nerves. The Cappella Palatina, a chapel in Sicily, is a shining example of Byzantine art,  and every surface of the building is covered with ornate artwork, from paintings to mosaics. Today,  Jeremy Johns, Oxford University's professor of art and archaeology of the Islamic Mediterranean will discuss the building's ceilings and its unique blend of Islamic and Norman artistic styles. Free. Freer, 7:00 PM.
Wednesday, April 14: Ask an Expert: Memorabilia of a "Successful Failure": Apollo 13
In this lunchtime lecture, curator Margaret Weitekamp of the museum's Space History Division will discuss artifacts from the Apollo 13 space mission, which turned into a harrowing experience for the crew when an oxygen tank burst, threatening their survival. Free. Air and Space Museum, 12:00-12:15 PM.
Thursday, April 15: Ethel Merman: Face-to-Face Portrait Talk
Honey, everything's coming up Ethel in this week's face-to-face portrait talk. Ethel Merman is one of the grand dames of the Broadway stage whose signature pipes never failed to impress in shows like Anything Goes, Annie Get Your Gun and Gypsy. Tonight, curator Ellen Miles will discuss a portrait of Merman by Rosemary Sloat. Free. National Portrait Gallery, 6:00-6:30 PM.
Friday, April 16: DISCOVERY THEATER, Extinction Stinks!
Having to tell a young child that their goldfish died is hard enough—but can you imagine telling them that all the goldfish in the world have gone belly up? It's an intimidating prospect. Get your youngster in the loop about what it means for a creature to go extinct in this musical puppet show. Tickets are required. Rates are: $6 general admission; $5 for children; free for persons under the age of 2. Tickets may be purchased at the Discovery Theater box office or online. Discovery Theater, 10:15 AM. This event repeats today at 11:30 AM.