America's Undead Are Immortalized at the Smithsonian
The cast of "The Walking Dead" donates a set of perfectly macabre Halloween gifts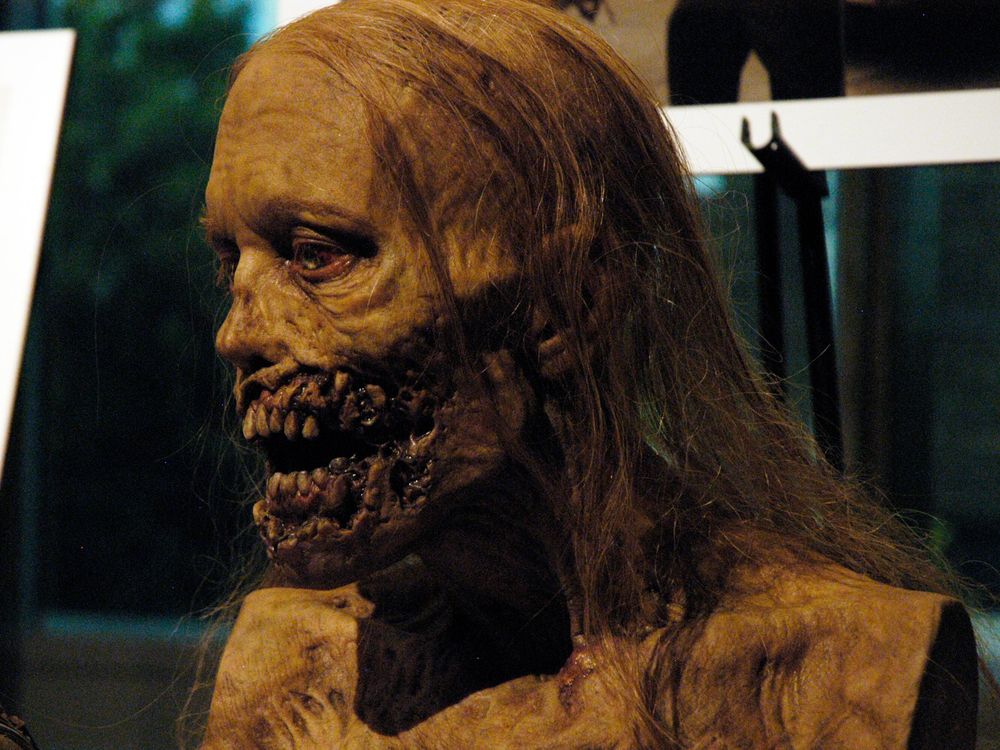 From the harrowing westward trek of Joel and Ellie in the 2013 video game The Last of Us to the epic no-holds-barred battles of the Max Brooks novel World War Z to the sardonic black humor of the cult classic Shaun of the Dead, it is plainly evident that zombie culture in the U.S. is alive and well. Anchoring the zombie scene in the 2010s has been AMC's "The Walking Dead," the TV phenomenon known as much for its diversity and storytelling breadth—the October 22 Season 8 premiere will be the show's hundredth episode—as for its shock value and brutality.
At a ceremony convened this Tuesday at the National Museum of American History, AMC president Charlie Collier formally signed over to the Smithsonian an exotic array of "Walking Dead" memorabilia, including: the pink PJs worn by the child zombie slain in the opening minutes of the very first episode, the lethally precise crossbow of lone wolf Daryl Dixon (played by Norman Reedus), the weaponized prosthetic hand of Daryl's wayward brother Merle (played by Michael Rooker) and the razor-sharp katana of lean mean decapitating machine Michonne (played by Danai Gurira). Speaking of decapitations, the donated spread also contains the severed head of wholesome elderly farmer Hershel Greene (Scott Wilson), which was liberated from the rest of his body by a psychopath called The Governor midway through Season 4.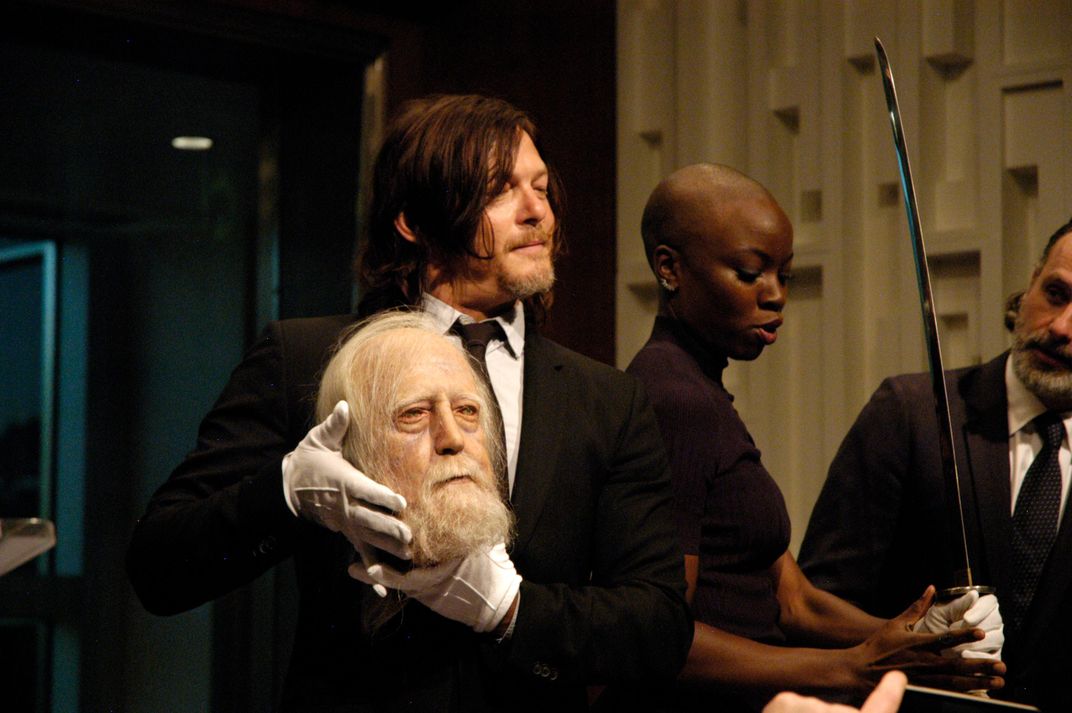 Speaking to a crowd composed in part of "Walking Dead" cast members Norman Reedus, Danai Gurira, Lennie James and Andrew Lincoln, American History Museum director John Gray marveled at the strange assortment of artifacts laid out on the long table at his side. "This is the first time I've ever been onstage with this kind of collection," he mused, drawing laughs from the audience. "It is pretty extraordinary." Gray noted that the museum's new culture wing, slated to open in 2018, will provide the perfect home for objects emblematic of a show that "transcends genres," one which "has become a cultural milestone for the nation."
Culture curator Eric Jentsch acknowledged the power of the program to "help us better understand the American experience" through allegory. As we struggle to come to grips with the "dehumanization of modern life" and the ever-present specters of "terrorism, climate change and violence," Jentsch contends, tense survivalist drama like that of "The Walking Dead" can provide valuable brain food.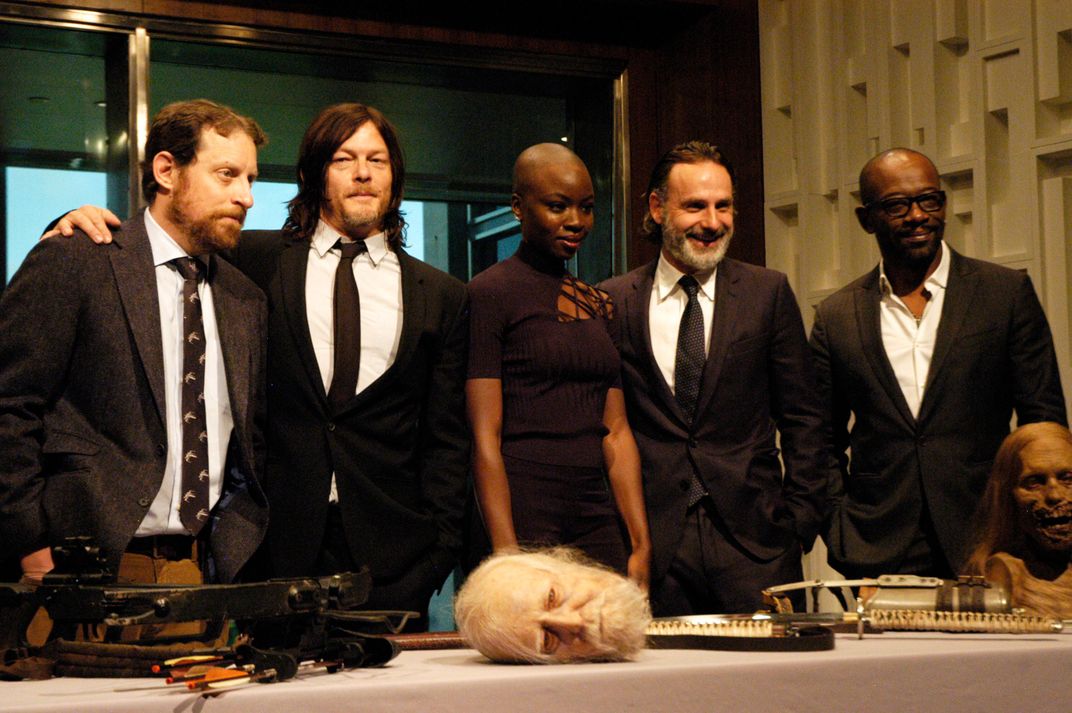 For his part, executive producer and show runner Scott Gimple emphasized the camaraderie and kinship among both the characters of "The Walking Dead" and the members of its sizable fan base. "Different people come together as a family of sorts," he says. "The real legacy of this show is that it brought an audience together."
Andrew Lincoln, who portrays grizzled ex-lawman Rick Grimes on the show, agrees that the audience is paramount. "You're just talking to a man who slays zombies for a living—that's my day job," he says humbly in a one-on-one interview. "But I think there is something that resonates with people, maybe because it's a family drama set in hell. It's about people trying to get through their day no matter what in order to hold on to their humanity." Building on the notion of the importance of solidarity in a troubled world, Lincoln tells me that "sometimes, stories unify people, and get people talking about things, and bring people together in a way that is unusual and fresh."
As Scott Gimple says, "We're in this together. No matter where you're from, who you are, how old, how young, anything." There is only one requirement: "You do have to be breathing."