When Mao Zedong died in 1976, so did China's Cultural Revolution. Marking the end of the long period of brutal repression and deeply controlled artistic expression, the country in the 1980s began to experience an intense and dynamic opening up. And along with it came a rise of photography both as an art medium and in the streets, employed by "citizen journalists"—at least until the brutal repression returned after the 1989 protests at Tiananmen Square.
Cameras would move underground, particularly among performance artists, who used them to document their conceptual work. It was that self-expression, following decades of forced collective action, that fueled a new avant-garde movement.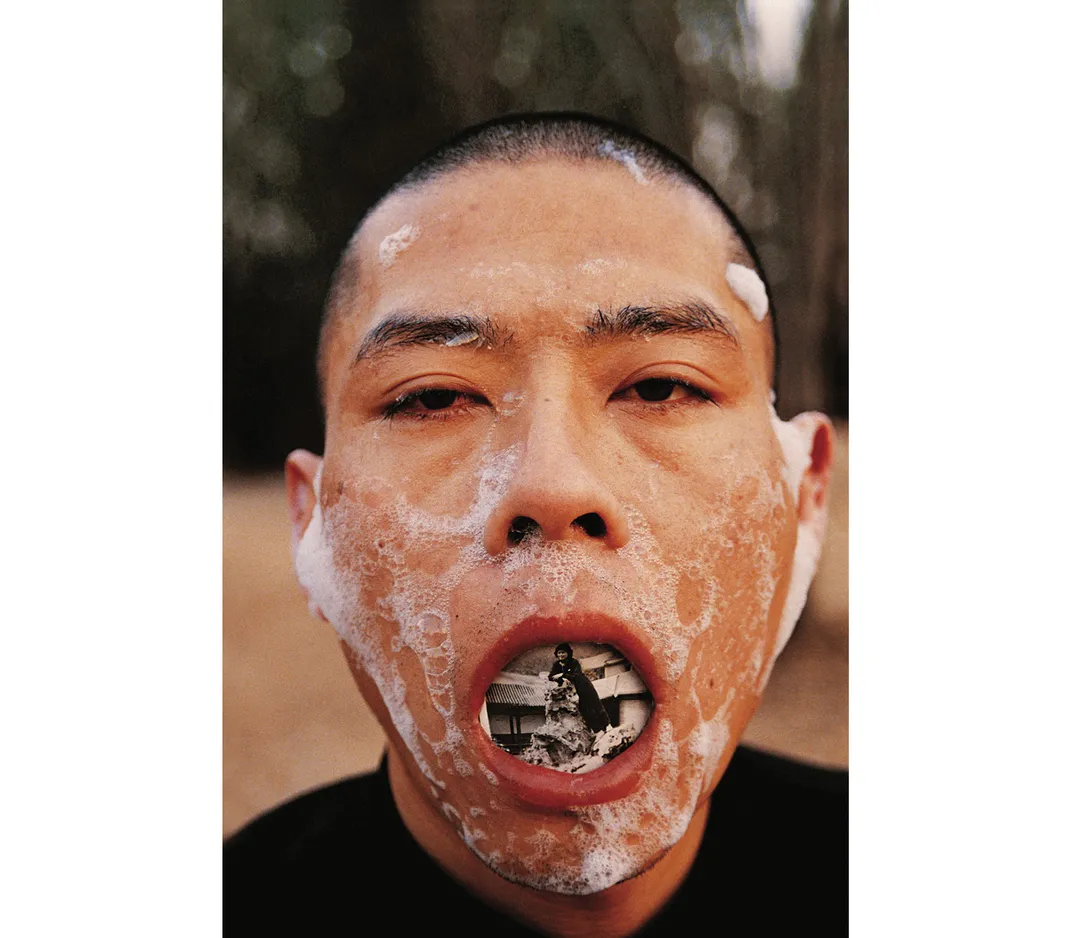 "When concept enters Chinese photography, it is as if a window suddenly opens in a room that has been sealed for years," the magazine New Photo declared in the mid-1990s. The magazine's founders, artists Rong Rong and Liu Zheng, privately circulated the publication. "We can now breathe comfortably, and we can now reach a new meaning of 'new photography.'"
That pronouncement is the inspiration for the title of an eye-opening show at the Smithsonian's Hirshhorn Museum and Sculpture Garden. "A Window Suddenly Opens: Contemporary Photography in China" presents 186 works from the past three decades by 25 artists working in China.
Capturing performances, making statements, harkening back to banned earlier periods of the country and looking forward, the exhibition comes at a time when China is again at the forefront of international attention. All of the works are from the collection of author and art connoisseur Larry Warsh, who makes a landmark single gift of 141 of them to the museum.
"For us, it's transformative," says Betsy Johnson, who curated the Hirshhorn's show. The donation brings the museum's total photography holdings from about 850 to close to 1,000 as it shines a light on a part of the world that's been "very underrepresented in our photography collection currently," Johnson says.
That gap has been filled with some monumental works, many of which, like the eight black-and-white photographs in Song Yongping's 1998-2001 series My Parents and the 30 images in Zhuang Hui's 1995-1996 One and Thirty Series, are presented in large grid forms. The show commands multiple expansive galleries in the inner and outer ring of the museum's second floor.
"We were just blown away by how ambitious they were with scale," Johnson says of the artists. "I think a lot of these haven't ever been shown before, at least at this scale."
Because there wasn't a lot of darkroom access in China in the early '90s, "the fact they were working this large is really impressive." In the post-Tiananmen period, it was only following the Shanghai Biennale in 2000 that a few galleries begin to emerge in China to support the burgeoning field. The Shanghai Center of Photography was founded in 2015, and the Lianzhou Museum of Photography opened in 2017. But even today, academic departments teaching the discipline of photography as an art form are rare, and photography is not well represented in Chinese art museums.
Chinese artists in this period often used the medium to record their conceptual and body work. "Just picking up the camera to document the work that they're doing with their own bodies—it becomes the thing to do," Johnson says.
One such early performance—the artist Xiao Lu firing a pellet gun at her own work, Dialogue—shut down the first officially sponsored exhibition of avant-garde Chinese art on February 5, 1989, at Beijing's National Art Gallery after just two hours. It would prove a harbinger of the impending crackdown that would come months later at the student-led protests that ended with troops firing on demonstrators at Tiananmen Square—an event itself captured in an iconic photograph of a man standing defiantly against a line of tanks.
A longtime collector of Keith Haring and Jean-Michel Basquiat, Warsh became interested in contemporary Chinese art through the work of the artist Ai Weiwei, Johnson says. The museum's director, Melissa Chiu, is a leading authority in the field of Chinese contemporary art and came to the Smithsonian after serving as director of the Asia Society from 2004 to 2014. Her work there dovetailed with the collecting interests of Warsh, the founder of AW Asia. Warsh's "promised gift," Chiu said in a release last October, "establishes the Hirshhorn as a preeminent American chronicle of the introduction of photography as a conceptual practice in China."
Visitors taking the opportunity to stroll the galleries will see works by artists who have not received a lot of exposure, as well as garner an understanding of what's been happening in China over the past 30 years. These artists, says Johnson, were "resisting a lot of what the government was rolling out."
The earliest work in the show is Zhang Peili's 1993 serial work Continuous Reproduction, an example of how using photography offered new opportunities for self-expression to Chinese artists. The piece features a cheery Mao-era farmworker—an image used as state propaganda—repeated across 25 images, with her figure becoming increasingly fuzzy and disrupted.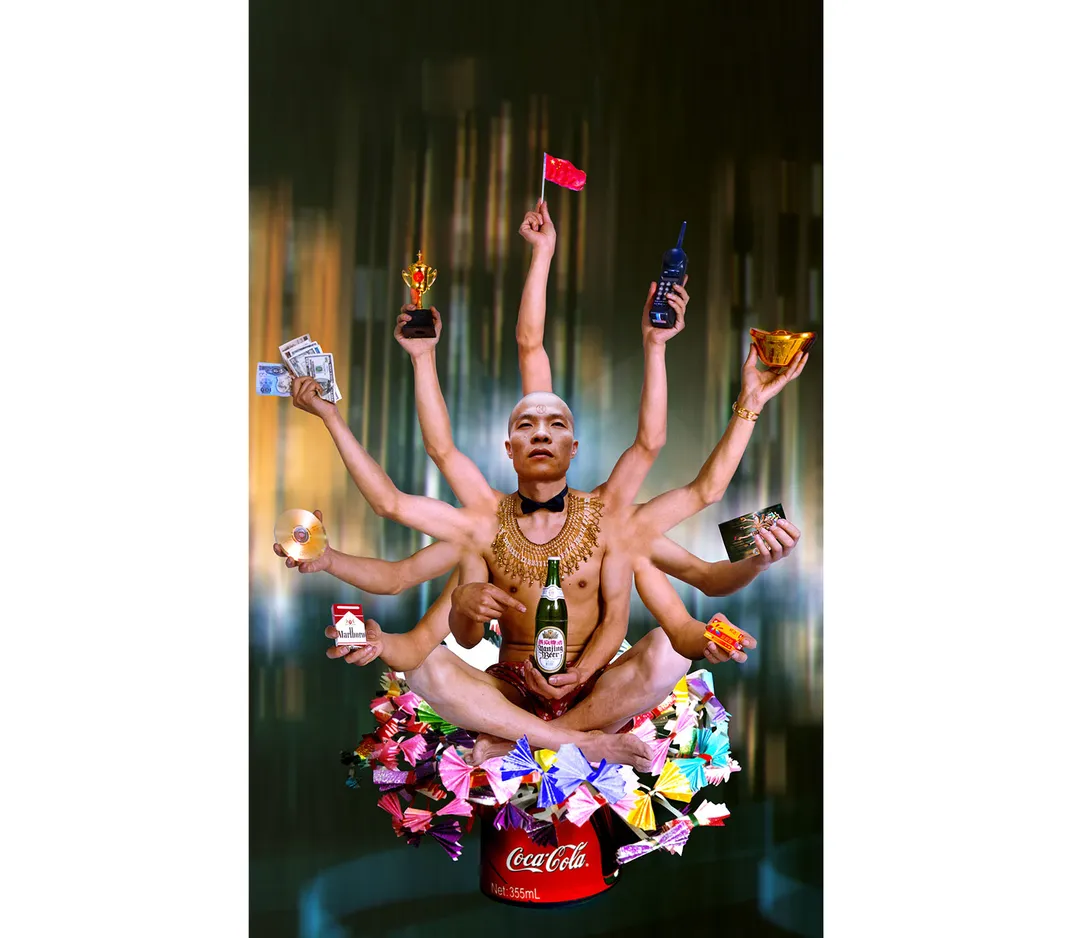 The artist Zhang Huan found an unusual way to keep his memories with him before he moved to New York in 1998. The photographs in his Foam series show the artist ingesting photos of family left behind. (That he was also slathered in foam was an homage to Man Ray.)
A more severe reflection of feeling forced to leave China comes from Sheng Qi, who cut off the little finger of his left hand and buried it in a flowerpot he left behind in Beijing. The vivid image of his mutilated hand is seen in his 2004 photograph My Left Hand (Mother). "He wanted to leave a part of him always behind," Johnson says, "but he also carries a part of his trauma with him very visibly everywhere."
The Hirshhorn has offered a glimpse of contemporary Chinese art before, primarily through the work of Ai Weiwei, whose activist spirit is felt in the photography exhibition. Ai is one of 30 artists pictured in Zhuang Hui's grid One and Thirty—Artist.
Ai's tales of the art scene in New York City's East Village also inspired the name of a Beijing arts community that was called the East Village—but after controversial performance works triggered arrests, police brutally disbanded the enclave.
There is a surprising three-dimensional aspect to the exhibition as well, largely through the work of Lin Tianmiao, a photographer who uses a technique she calls "thread winding" to incorporate textiles into her multimedia pieces. Five of her whimsically designed, thread-covered bicycles are on display.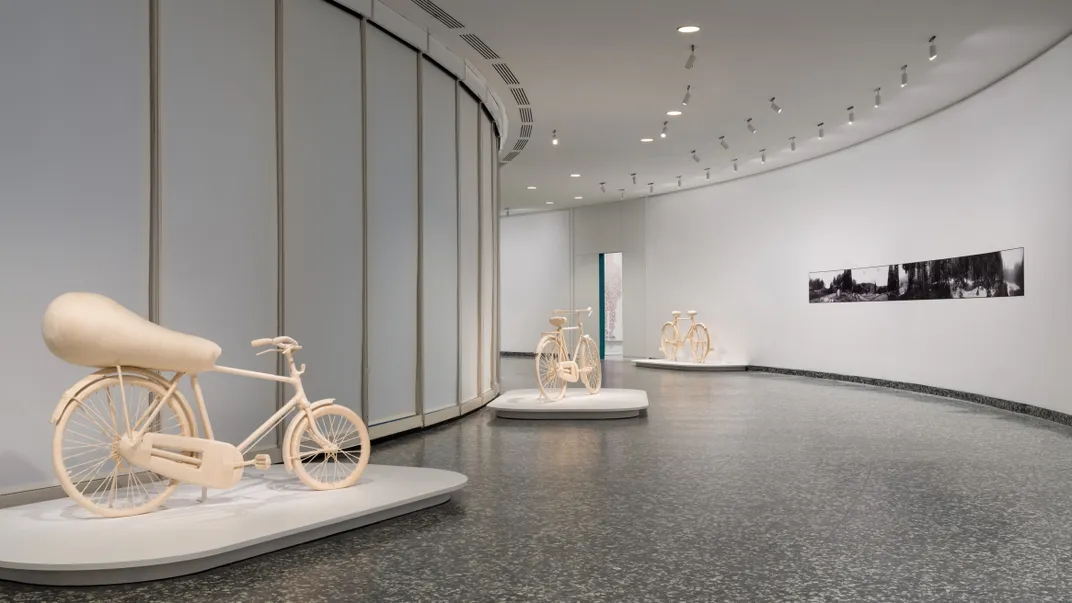 As a new China emerged, artists struggled with how to relate to their national identity. Cang Xin decided to try it through taste. His grid of 54 photographs Communication Series 2 shows him licking various touchstones of Chinese culture, from a feng shui compass to a picture of the Empress Dowager Cixi, the so-called last empress, who died in 1908.
Many artists express a sense of loss for any remnant of imperial Chinese culture, which was wiped out by Mao in 1949. Qiu Zhijie's 1997 Tattoo Series shows photos of the artist's torso painted with extensive Chinese characters. Huang Yan uses his body as a canvas for a traditional Chinese landscape.
And to emphasize that the changes accompanying the rise of communism and the establishment of the People's Republic of China in 1949 did not come that long ago, a couple of artists photographed elders who survived those years. Hai Bo's I Am Chairman Mao's Red Guard, dated 1999-2000, juxtaposes a 1968 portrait of a young Red Book-toting hard-liner with a portrait of her modern-day self. Song Yongping chronicles the decline of his parents from the Cultural Revolution through the end of their lives, depicting hardships as they aged.
Another striking grid, Wang Jinsong's 1996-1997 Standard Family, displays rows and rows of same-sized families, the result of the country's strict one-child law that was in place from 1980 through 2016.
The dizzying changes to Chinese cities (and the demolition of the past) are chronicled in works by Zhang Dali and Chen Shaoxiong. And the jump to high-powered Western-style business practices is parodied in photos by Hong Hao and Qiu Zhijie, and in a video by Cao Fei depicting office workers as a pack of dogs.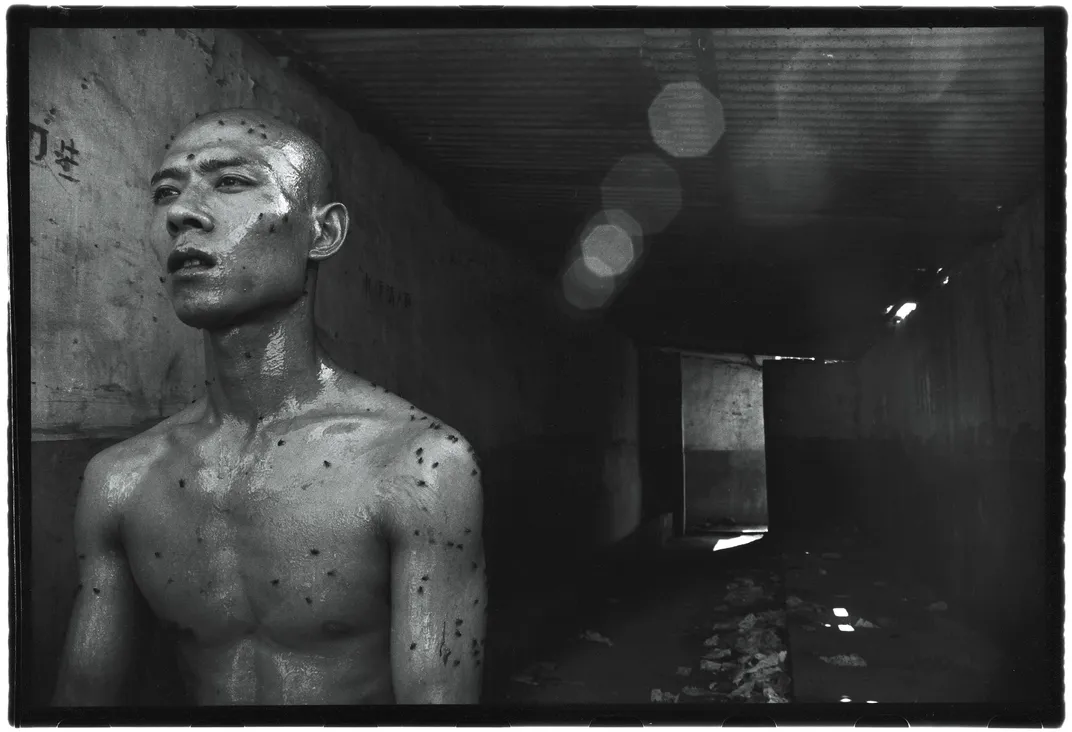 The addition of works by female artists such as Cao Fei and Lin Tianmiao—are meant to add some balance to the show, Johnson says. "The photography scene from the '90s to early 2000s is very male-dominant," even though "women were contributing pretty strongly to the field."
"A Window Suddenly Opens: Contemporary Photography in China" continues at the Hirshhorn Museum and Sculpture Garden in Washington, D.C. through January 7, 2024. The companion catalog, published by Yale University Press, will be on available August 2023.